Explore an elegantly rustic Victorian flat in London
This rustic Victorian flat in London is a serial renovator's thirteenth home in almost as many years – just as well he keeps things simple.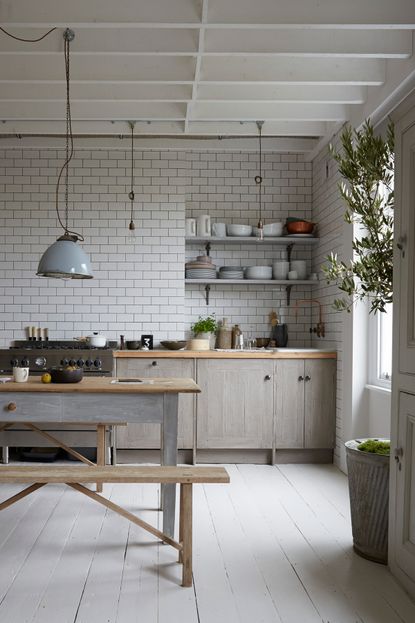 The property
A first-floor flat and modern home (opens in new tab) in an end-of-terrace Victorian house in northwest London, comprising an open-plan living room/office/ kitchen-diner, two bedrooms and a bathroom.
See Also: More beautiful modern homes for decor inspiration (opens in new tab)
Kitchen
The owner started the renovation work within hours of picking up the keys to his new property. To do this, he got building permissions in place and lined up his contractor while the sale was going through, then employed Mark Lewis as project manager.
Structural work was kept to a minimum – the wall between the kitchen and living room (opens in new tab) was knocked through and the ceiling was raised a few inches, but the rest of the work focused on sprucing up the surfaces and fixtures, using a pared-back palette of putty colours, washed-out blues, wood and metal.
See Also: Wood Kitchen Ideas (opens in new tab)

The bespoke cabinets are made from reclaimed floorboards. They and the table are lightened with quick-drying chalk paint, which the owner says is a decorator's dream due to its malleability.
He also found some nifty ways to save money along the way, such as the kitchen tap, fashioned from plumbers' pipes and a steal compared to the one he eyed up in a shop
Most of the furniture is reclaimed or repurposed, which, he says, was the biggest job of all, involving frenzied hunting trips around the UK, France and Denmark.
Living room
The owner says he didn't want to create a show home. He wanted it to feel cosy,like you're cocooned.
He used various shades and textures for tone and warmth and mixed reclaimed pieces with big, comfy seating.
See Also: Cosy living room ideas (opens in new tab)
OFFICE ALCOVE
This space was boarded up, so it was a nice surprise for the owner to find the alcove when he bashed down the partition wall – it's the perfect size for a mini home office (opens in new tab).
MASTER BEDROOM
The bedrooms are decorated in the same palette as the rest of the flat,so the whole space flows.
Guest bedroom
He wanted to create calm and tranquil bedrooms, with enough warmth and texture to stop them being monastic.
The owner's photography work decorates this room too, with photographs taken on his travels, in this case in Kerala, India.
Bathroom
Here he has optimised the small bathroom (opens in new tab) space with wall-mounted taps and a counter-top sink. The cupboard underneath provides storage space.
See Also: Small bathroom layout ideas: How to create the perfect layout
(opens in new tab)
Photography / Paul Massey
Learn more about Mark Lewis's work at marklewisinteriordesign.com
Shining a spotlight on the now and the next in home design and decor, Livingetc is the UK's best selling high end and contemporary home design magazine. As a brand, Livingetc showcases the world's very best homes, breaks and makes the trends, and has access to leading international designers for insight and ideas. It was first published in 1998, and is currently edited by Pip Rich.