Gallery wall ideas - 37 inspiring ways to turn art into an installation
Gallery wall ideas are a wonderful way to add personality to your home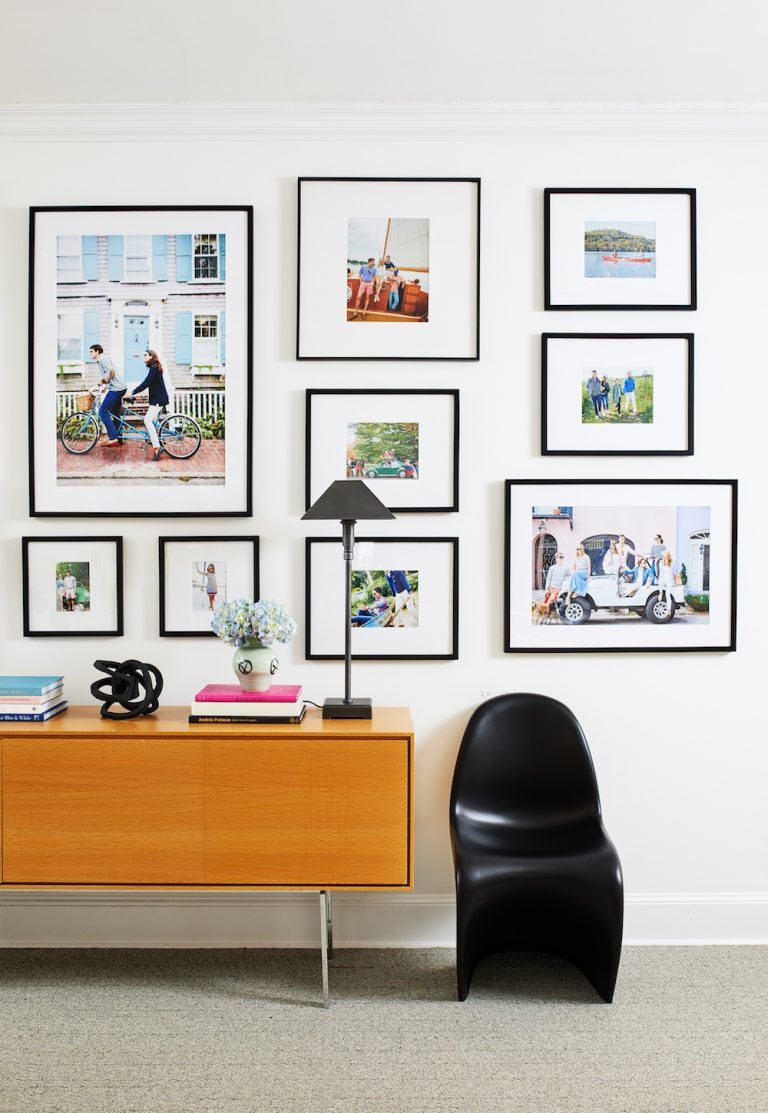 (Image credit: Stacy Zarin Goldberg)
We've found the coolest gallery wall ideas by sifting through our archives. Ranging from colourful, eclectic walls and vintage-inspired looks to rock 'n' roll gallery walls in the homes of Pearl Lowe and designer Rory Dobner, and classic gallery walls of framed black and white photography. We've also found some highly unusual gallery wall ideas including plate walls, hat walls (Studio Peake gives a fresh take with a wall of Fez hats in a bedroom), a wall of mirrors and even antlers.
If there's anything these stylish gallery walls can teach you, it's that a bit of restraint is key to creating a calm and cohesive scheme. For example, curating a collection of prints all within the same colour scheme, be it neutrals, pastels or monochrome. Alternatively, if the prints are a mix of colours and styles then keeping the frames identical. A neat and tidy grid formation is also an easy way to update a gallery wall, giving it order. Use a row of framed letters to spell out a word, or co-ordinate a series of neon-framed cartoons in a structured grid formation. 
Love the vintage look? The best gallery wall ideas contrast vintage oil paintings and traditional gilded frames against contemporary furniture. For something altogether a bit different, layer artworks over wallpaper or contrast it against a darker background for a display that's less conspicuous.
Some of these homes showcase collections of plates, skulls and taxidermy, while some throw out the rule book entirely and mash everything up in an artistic display of, well, everything.
Whether at the top of the stairs, in the hallway, in the bedroom, the kitchen, dining room, study or even in the bathroom (yes really), get inspired by these stylish gallery wall ideas.
1. Edited effect
This living room gallery wall has a very edited feel, owed to the modern furniture, white walls and very pared-back prints. 
2. 'Junk Shop' finds
This collection of colourful portraits was snapped up in a junk shop. 
3. Festive Eclectic
A gallery wall gets a festive feel with eclectic decorations and paper chains.
4. Preppy Chic
This gallery wall is in clothing brand Tuckernuck's head office - proof that a home office can take a gallery wall - and features favourite images from past Tuckernuck photo shoots.
6. Plate Wall
This plate wall keeps growing and is a work in progress; the owner keeps adding to it as he finds new pieces and arranging as he sees fit. 
7. Colour Scheme
The dining area has a pared-down colour scheme of off-white and warm wood tones, while natural wood textures and a gallery of art work add visual interest - its in keeping with the vogue for beige living room ideas. This gallery wall feels cohesive thanks to its cream, beige and black colour palette, further reflected in the dining furniture. 
8. Vintage Mirrors
Vintage mirrors in different shapes and sizes create an eye-catching feature in this black cloakroom space. Vintage inspired portrait drawings were squeezed in between.
9. Breadboards
Interior designer Crystal Sinclair collected breadboards over time, and used them to create a rustic gallery wall. 
10. Light Box
This gallery wall sits in Pearl Lowe's country kitchen and features an eclectic mix of pictures that were collected over time, along with an 'I'm Not Sorry' lightbox by Zoe Grace. 
11. Pastel plates
A wall of pastel plates creates impact in this dining area (the dining plates make rather fitting decor). 
12. Spell It Out
Almost too organised to be deemed a gallery wall, this set of five framed prints spell out a word to create a relaxed snug that's forgiving for procrastinators. 
13. Framed Illustrations
Zoe Feldman designed this office space for Tuckernuck's. The gallery wall features toungue-in-cheek renditions of emojis, done by Tuckernuck's Creative Director Sophie.
14. Vintage Touch
A carefully curated mix of antique and modern gives this home a unique style and sense of personality. Here, vintage oil paintings in gilded traditional frames contrast against the modern rug, chaise long and of course the classic Saarinen tulip side table.
15. Hats Off
We've frequently seen gallery walls of panama hats or straw hats, and they create a relaxed, beachy look. But here designer Studio Peake created an English eclectic look with fez hats. 
16. Colour Coding
Similarly, this pastel themed dining space boasts an eclectic gallery wall that feels calming and unobtrusive. The painted radiators work well with the vintage paintings. It's colour coding, but with the end result feeling fluid and flowing rather than too obvious. 
17. Collectors' Display
A collection of Rory Dobner plates creates a striking display, while the monochrome palette and signature style help to keep it feeling cohesive and uncluttered. 
18. Wall Of Skulls
For an even more gothic take, this cluster of deer skulls create an eery gallery wall. 
19. Monochrome
Again, this gallery wall has a cohesive and organised feel due to the restrained colour palette. The black frames are further echoed in the black wire chair and floor lamp. 
20. Painted Backdrop
Purple offers the perfect backdrop for the eclectic mix ofhigh- and low-end artwork in this study. It helps make the artworks pop without seeming to loud or busy. The artworkscome from junk shops as well as galleries, creating a deliberate collector's mix. 
21. Bold Blue
Similarly, this bold blue hue creates a calming and cocooning effect, and seemingly swallows up the gallery wall – preventing it from feeling too obvious. 
22. Neon
This gallery wall takes a completely opposite approach; multi-coloured frames inject fun and personality, while a structured grid formation creates a cohesive and organised look.The series of cartoons – framed in neon – is by Terence 'Larry' Parkes. 
23. Family Affair
The Novogratz family added interest to a loft staircase by creating a gallery wall of family photos, all in black frames.
24. Three In A Row
A matching trio of illustrations on brown paper, framed in dark wood frames, create a calming and restful backdrop in this dining space.Dark-wood finishes and a chic rust-effect steel table complement each other perfectly, while the artwork makes a striking visual display. 
25. All White
A gallery wall of black & white family photos, all framed in white, hangs above this wall-mounted sideboard in a master bedroom. The effect is calm and grown-up.
26. Butterfly Effect
Along the same lines, this collection of framed butterflies sits together perfectly. By framing the top half of a doorway it doesn't become the focal point of the room, and blends in to the rest of the room. 
27. Pretty Pastels
Serene pastels and white frames create a much softer and more neutral space in this living room. 
28. No Rules
This particular gallery wall has completely thrown out the rule book. It mashes up vintage family photos with illustrations, initials, mirrors, wall tiles and even taxidermy. 
29. In the mix
This traditional style gallery wall adds a funky focal point and makes the most of otherwise wasted wall space. The eclectic group of pictures include postcards by artists such as Billy Childish, from the Royal College of Art's Secret sale. All black frames help tie the scheme together. 
30. Beehive
No all gallery wall ideas require uniformity, but the regularity of spacing here is pleasing. The framed hand drawn bees are by Ryan Chadwick. 
31. Neat and Tidy
Similarly, a neat and tidy grid of framed butterflies create a striking and colourful feature wall in this hallway. 
32. Invisible Box
A mix of framed photographs, children' drawings, illustrations, maps and even a road sign create an eclectic and personal gallery wall in this living room. The all black frames help keep it cohesive, plus the pieces are all kept within an invisible rectangle – any straying artworks would send the wall off balance. 
33. Photo Wall
Columns of black and white photography inject interest and a touch of glamour in thisMoroccan-style arched doorway. 
34. Mix and Match
A mix of prints in no particular order and with contrasting coloured frames creates a dash of organised chaos in this otherwise calm office. 
35. Layer
Who said you can't layer framed prints over wallpaper? It might not sound like a good idea, but this dining room corner proves that it can be done. 
36. Bathroom Beauty
This bathroom is quite a large space, so the wall of pictures makes it feel more welcoming and personal. 
37. Pinboard
Instead of an organised grid of framed pictures, this big picture board offers a much more fluid approach, and can be ever evolving.