25 white living room ideas for an elegant neutral space
These white living room ideas prove that neutral never goes out of style...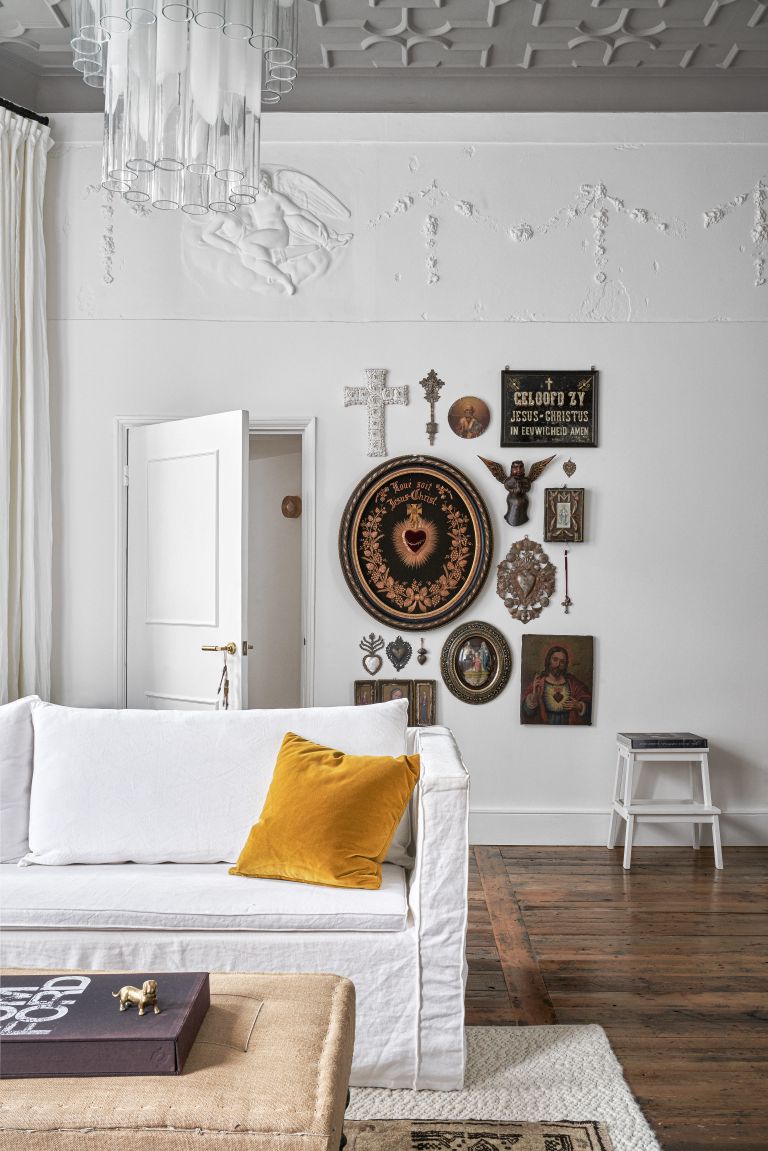 (Image credit: Davide Lovati)
White living room ideas just never go out of style. Whether you are unsure of where to go with your color scheme or a neutral lover that's now willing to give in to the recent trend of more color, you just can't go wrong with white. 
Far from boring, white walls are a blank canvas that can lend themselves to any style, whether that be maximalism or modern country rustic. Plus, we all know white's space expanding and light enhancing abilities, so it's the perfect shade for any sized room too. 
But as anyone who has ever typed 'white paint' into Google can tell you, white comes in more forms than imaginable. Off-white, pure-white, ivory, grey-toned whites, blue-toned whites, pink-toned whites, we could go on. And is it important you pick the right white for your living room, so be sure to look at the aspect of your room, which way does it face? How much natural light does it get? Before deciding on a white. And make sure to order samples too so you can see exactly what a shade looks like in your space. 
White living room ideas
Be inspired by our round up of gorgeous white living rooms, that prove this classic shade can be as striking as any bright...
1. Use a white backdrop to make stand-out furniture pop
This white living room is a calm, serene space, with white walls and edited furniture.
2. Use white walls to perfectly showcase black & white photography
Striking black & white nude photography adds a refined look to this white living room. On skinny legs, the furniture in this room seems to float above the floor, bringing a sense of weightlessness to the lofty space. 
3. Hang foxed / antiqued mirrors for timeless elegance
Aged, foxed mirrors give this white living room a sense of grandeur and work perfectly with the room's plaster work, while modern furniture and a new fireplace keep the space looking fresh.
4. Punctuate a white scheme with black furniture for a bold look
Black pieces punctuate this all-white room. Found objects make this place a home, such as the painted Afghani chest, which rub shoulders with heavyweight Danish designs. 
5. Add interest with oversized lighting, while sticking to white colour scheme
Here, a classic sofa is teamed with a funky pendant and a sleek glass table. It makes sense to mix old with contemporary here. The pale wood flooring brings the whole space together. In addition, a monochrome palette forms the backdrop and a tactile mix of natural materials, including linen, sisal and marble, features throughout.
6. Go for linen upholstery and soft furnishings for a relaxed and rustic space
White walls, a tall, white ceiling, white linen sofa and sanded floors create a relaxed and rustic space.
7. Incorporate sculptural shapes for softness
A simple white theme is made interesting through sculptural, rounded furniture and accessories that echo the curves of the living room. The sinuous pieces of mid-century designer Vladimir Kagan inspired the design of the bespoke sofa. 
8. Go for sharp angles and bold colours for a modern, fresh take
The design of this living room was approached like an exercise in geometry. Shapes are perfectly balanced, so that the corners of the day bed are softened by the rounded mirror and the pastel rugs. The fireplace is inset with black tiles in a herringbone pattern, giving a traditional focal point with a twist. 
9. Choose durable, practical materials for busy homes
With small children and a dog living in this house, surfaces needed to be durable as well as beautiful, so easy-clean materials were used throughout, such as wool and jute rugs and outdoor fabric to cover the banquette by the window. 
10. Add wood panelling for texture
Wood panelling, linens and natural materials work together to create a relaxed and rustic-inspired space. A squishy sofa and rustic bench subvert the grown-up panelling to give a relaxed take on Edwardian style. Chunky oak floorboards prevent the space from feeling too austere. 
11. Modernise a rustic scheme with metallics
Brass wall lights lend a glam touch to this rustic scheme, contrasting against the stone fireplace, rattan chairs and fluffy sheepskins.
12. Welcome Scandi-inspired style
Floor to ceiling glass windows flood this space with light, while the cream walls, matching cream ceiling and soft grey palette of the furniture create a calm and inviting atmosphere.
13. Personalise a white scheme with a display cabinet
Neatly arranged shelves with a few pops of artwork add interest to this bright corner. 
14. A white backdrop is a blank canvas for even retro schemes
Mid-century shapes and a classic Berber rug give this white living room a retro-inspired vibe. 
15. Add bold colour through art pieces
Without the distracting details of period features on the walls, artwork can get top billing. The art and photography collection injects extra dashes of originality into this light, bright space.The large pendant light doesn't feel overbearing – it just hovers elegantly, beautiful and poised. 
16. Stick to grey accents for a calm space
Clean-cut interiors are punctuated with covetable furniture and contemporary art. This family room mixes luxe seating with conceptual art from LA. 
17. Punctuate a calm scheme with thin black lines and angular pieces for a clean, contemporary look
Straight lines in the form of an angular floor lamp, the diamond chair, the shelving unit and the modern sofa all work to make this light space feel modern and sophisticated.The urban garden room is an inspired way to bringgreenery into a slender city space. 
18. Tongue and groove will help create a rustic backdrop
White panelled walls, wood floors, a jute rug and rustic style coffee table create a relaxed and informal living space. 
19. Mix & match eclectic / curated finds to add interest
Although a taxidermy lamb might not be to everybody's taste, it's this eclectic collection of decorative 'objets' that create wit and whimsy in this white living room. It's a masterclass in how to add colour and interest in rental properties. 
20. Keep things simple but textured
The inside and outside merges in this gorgeous extension, where the comfortable window seat is an ideal spot to perch and chat. Furnishings are spare, but not spartan, with pieces – such as the vintage leather sofa and the bench designed by Pinch – chosen for warmth and texture. 
21. Let statement art and furniture do the talking
An animated video artwork, The Night of Perpetual Day, hangs over the sofa. It's a rework of ancient Chinese landscapes – you can peer at it and see a different tiny event unfolding each time. A portrait of Philip Glass takes over the wall next to it.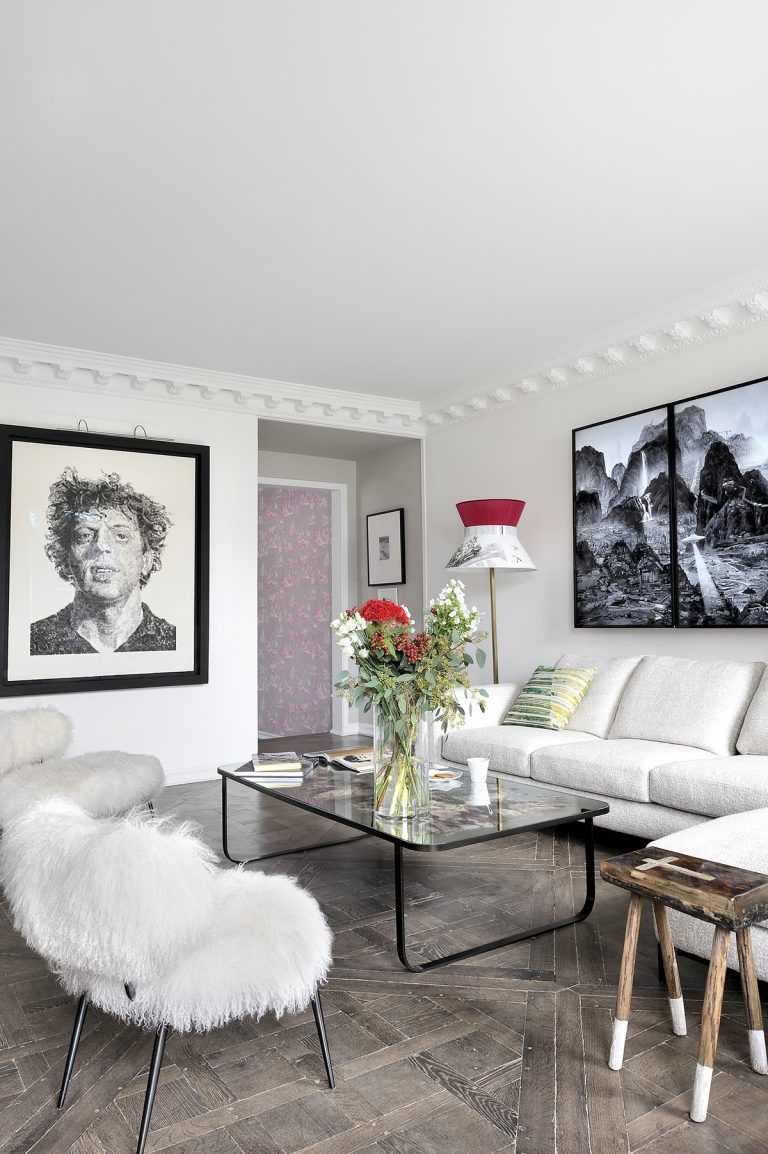 22. Paint the floors
Throughout this apartment, the original oak parquet floor was painted white to enhance the low-key mood. The space is designed so that all the key living areas lead to the terraces at the back of the flat – it adds to that easy living feel.
23. Paint the brickwork, but keep the texture
This flat has minimal possessions, and is all about space, luminosity and tranquility rather than objects. The less is more aesthetic stretches to every detail – the large white panel, for example, is a period roof tile discovered in an antiques market in Girona.
24. You can still create a Western inspired theme
The living area was inspired by The Ranch at Rock Creek in Montana, known for its cowboy-luxe aesthetic. The hide rug, leather armchairs and an antique water buffalo head help to recreate that look. 
25. Add traditional details like chandeliers to complement period properties
These interiors radiate serenity, with design inspiration from Brazil's Jader Almeida and 19th-century France reflected back in sumptuous leather and antiqued mirror glass. Antiques mix with contemporary designs such as the high shine rocking chair with butter-soft leather.The antiqued mirror and crystal chandelier compliment the original marble fireplace and classical cornicing detailing.