17 elegant living room ideas to add grandeur to any size space
Our elegant living room ideas are sure to inspire a chic, classic update whether you are working with a spacious period property or a small contemporary apartment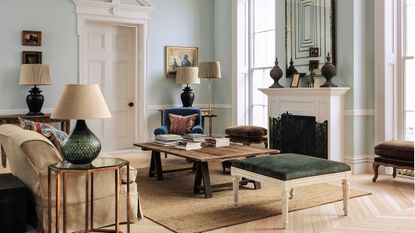 (Image credit: Mel Yates)
Elegant living room ideas can encompass so many styles. What exactly doe elegant mean? What first comes to mind for us is lofty ceilings, chandeliers, antique mirrors, ornate pieces, lots of metallics, brave patterns and bold deep hues. But elegance comes in many forms and no matter what your style or size of living room you can blend in some classic elegant vibes.
From quick switches like hanging an eclectic gallery wall, to updating your space with a new elegant color palette and brave patterns, we have pulled together all our favorite classic living room ideas to get you inspired to give your space a stylish update...
1. Blend old and new in an elegant living room
An elegant palette of soft greys and chalky blues unites the elegant living room of this Victorian home, with unexpected pops of industrial lighting and edgy art. The style may look upmarket, but there's plenty of high street mixed in with high-end. The French Regency-style fireplace, which was in the house when it was bought, goes nicely with the new, more contemporary parquet flooring, while the 'aged' mirror and glamorous gold coffee table adds a vintage twist to the Mid-century style seating.
2. Pick sculptural pieces
Here a simple white living room is given an interesting, elegant twist through sculptural, rounded furniture and accessories that echo the curves of the space. The sinuous pieces of mid-century designer Vladimir Kagan inspired the shape of the bespoke curved sofa.
You'll find more statement seating ideas in our shopping guide to the best sofas.
'Popular in the '60s, curves are having a resurgence and they're here to stay.' explain Jen and Marr, founders of interior design studio, Interior Fox. 'We are moving away from harsh lines in favor of soft, sumptuous curves as a way of embracing a more relaxed feel. Seen across furniture, rugs and lighting, rounded curves work well contrasted against materials such as brass or even concrete. Adding curves into your living room whether big or small helps soften the feel of the place and it doesn't just stop at décor. Using arches in the doors, windows, or even the ceiling can elevate a room's architectural impact.'
3. Enhance heigh ceilings
Soaring ceilings and vast windows are just a few of the grandiose features of the living room in this classic Georgian house. A carefully curated mix of antique and modern gives the home a unique style and sense of personality.
Many of the furniture, lighting and artworks were sourced in Scotland, but with Tom Dixon and Matthew Hilton also mixed in – plus furniture picked up in Thailand, the Philippines and China, as well as some classic mid-century pieces.
4. Don't shy away from bold color
Elegant living room ideas aren't all about neutral color palettes, as this bold blue living room proves. This space is a more playful take on elegance, where modern Tom Dixon pieces are mixed with classic Seventies furniture, and then those Georgian antiques nod towards the origins of the house and give that all-over elegant vibe.
5. Make an elegant living room cozy
Elegant spaces do risk feeling a bit... stark and while there's nothing wrong with a lofty room, you can inject some coziness and still keep the class. As this living room proves. The painted floorboards, log burner, bookcase and layers of soft textures make the space feel warm and welcoming, and yet this room is clearly not lacking in elegance.
6. Choose a soft color palette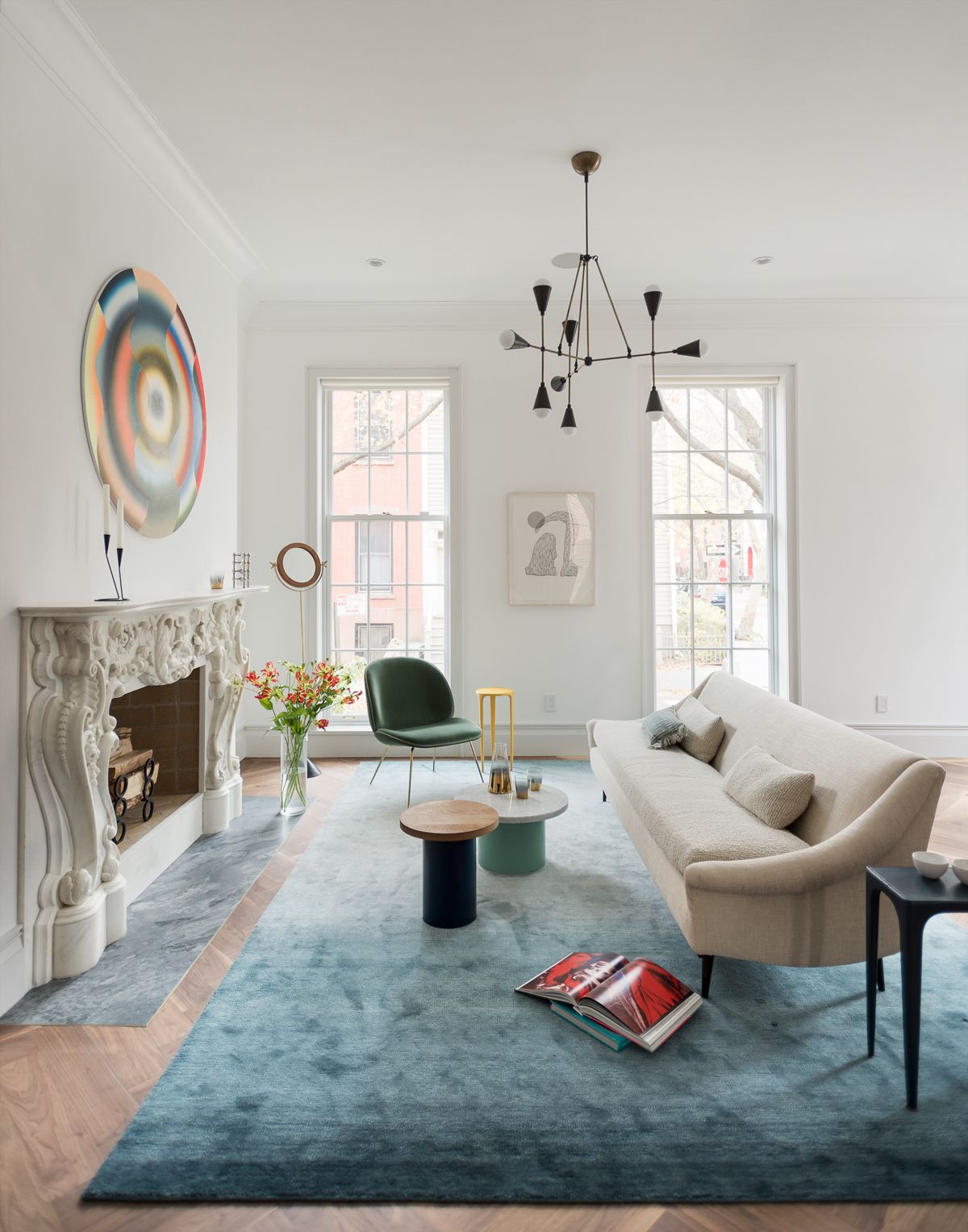 The genteel peach-soft spectrum of pastels in this elegant living room took their cue from its key artwork, an oscillating orb of colors by Charlotte Hallberg. With the shafts of natural sunlight that flow in through the tall windows, this space feels both sophisticated and dazzlingly simple.
Do remember, if you are considering above the sofa decor ideas, choose artworks or wall hangings that are in soft tones as well.
7. Pair pale sky blue with crisp white for instant elegance
An obsession with Dulux's Blue Poppy shade was the starting point for the aquamarine living room in this Victorian apartment. The swathes of blue envelope the space, like that blissful feeling of being submerged in water. If the aquamarine expanses conjure up the joy of swimming in breakers, the white twists and turns of the moldings that frame all doorways and ceilings are their frothy crowns.
8. Embrace the grand-millennial trend
There's an elegant formality to the living room wallpaper that's used here, subverted with tiger print and granny lamps, neon artwork and shaggy sheepskins, chandeliers and chintz, while shell-shaped seating brings a retro vibe to the space. It's an eclectic vintage look that's taken to a new, more elegant level.
9. Create an elegant display with book and curiosities
In this grey living room, a huge disc chandelier injects a bit of Seventies rock 'n' roll to the mix of vintage and modern pieces, creating a gentleman's club vibe. The bookshelves heave with a carefully considered collection of antique leather and hand-painted clothbound books; tucked in between are pieces of vintage coral, framed butterflies, and insects, and old magnifying glasses. Two pieces of raw amethyst on the mantelpiece bring calm. It has a rich mix of tactile materials – velvets, silks, lacquered raffia and gold-flecked cork, plus big sofas and cozy rugs.
10. Mix in Scandi shapes
What makes a living room feel full of interest in personality is a mixing of styles, and while elegant living rooms are often associated with vintage pieces, adding in an unexpected piece of Scandi inspired furniture can give the space a modern edge. See how the clean lines of the coffee table and the striking shape of the rocking table both contrast and compliment the opulent original features of the room.
11. Hang a gallery wall
Gallery walls come in all shapes and sizes and can add instant color, pattern and texture to a living room. For an elegant take on the trend, be inspired by this living room and hang a collection of vintage oil paintings in mismatching frames. Be quite ad-hoc with the arrangement, try and avoid a formal grid layout for a more eclectic look.
12. Choose dark color for a sophisticated vibe
This library area/living room in photographer Paul Craig's Victorian villa was created with a gentleman's club in mind – as a comfortable spot to read a book, make calls and catch up with emails. The dark color palette makes the space feel both elegant and cocooning and the deep plum velvet only adds to the luxuriousness.
13. Create an elegant living room layout
The design of this living room layout was approached like an exercise in geometry. Shapes are perfectly balanced, so that the hard white lines of the day bed contrast with the rounded mirror behind. The fireplace is inset with black tiles in a herringbone pattern, giving the space a traditional focal point with a twist.
14. Blend original features with modern furnishings
This space is a masterpiece of balance and measure, with modern furniture blowing the dust off the house's handsome original features, and adding the odd surprise. Think less English Heritage, more English eccentric.
While this living room dates from the mid-1800s, later additions have brought Victorian paneling and some Arts and Crafts feature into the architectural mix. Final flourishes include pulp fiction art and a sprinkling of offbeat but glam finds.
15. Let classic pieces be the focus
Sometimes less is more when it comes to elegant living room ideas. If you have a really stand out piece of classic furniture, whether it be a vintage French chaise lounge, a hanging egg chair or as can be seen in this space, the iconic Eames lounge chair, let that be the focus of the space and keep everything paired back and minimal.
16. Keep it simple
The furniture in this living room was painstakingly curated until the right Pierre Jeanneret chairs, the perfect Georgian sofa and the most delicately balanced mid-century Italian pendant came along. The result is a space that exercises restraint and balance.
Without the distracting floridity of period features on the walls, photography by Moby, Nan Goldin and Anne Collier can get top billing. The art and photography collection injects extra dashes of originality into this home. A vibrant blocky yellow emanates from the Jessica Dickinson artwork.
17. Make an elegant living room family friendly
The living room feels contemporary, with a scattering of gilded frames glowing against gloss-blue shelves and a sprawling sofa, which accommodates 10 without overwhelming the space. This space is welcoming and punchy. Restored paneling sits comfortably with ocean-blue hues and fronded wallpapers in a setting reconfigured to meet the needs of a modern family.
How can you decorate a living room elegantly?
The easiest way to decorate a living room elegantly is to bring in vintage and antique pieces, no matter what style you have going on already opulent, ornate furniture is sure to add an elegant touch. Mirrors are our go-to – hang a large french mirror above a fireplace or on the main wall of your living room for an elegant upgrade.
Layouts can make a difference too. Rather than have all the furniture pushed up against walls, pull it out in the room and give it space to breathe. You'll often see in larger, more traditional-style living rooms themore bulky furniture, like sofas and armchairs face each other, with an ottoman or coffee table in between to create an almost symmetrical layout.
When choosing fabrics for an elegant living room, go for rich, tactile materials like velvet and chenille that have a weight to them. And be sure to add a large rug to keep things soft and luxurious underfoot.
What colors should you use in an elegant living room?
The best colors for an elegant living room are rich, deep hues like navy blues, plum shades and magenta pinks, red, used in the red quantities, can also add a luxurious feel to a living room. Neutrals hues are often used in elegant living rooms too – whites, creams, greys are beiges all work to create light and open rooms, ideal if you are working with a smaller room that you want to give that elegant lofty feel
Lotte is the Digital Editor for Livingetc, and has been with the website since its launch. She has a background in online journalism and writing for SEO, with previous editor roles at Good Living, Good Housekeeping, Country & Townhouse, and BBC Good Food among others, as well as her own successful interiors blog. When she's not busy writing or tracking analytics, she's doing up houses, two of which have features in interior design magazines. She's just finished doing up her house in Wimbledon, and is eyeing up Bath for her next project.