Grey living room ideas - interior designers share tips for using this moody neutral
The very best grey living room ideas from those who are in the know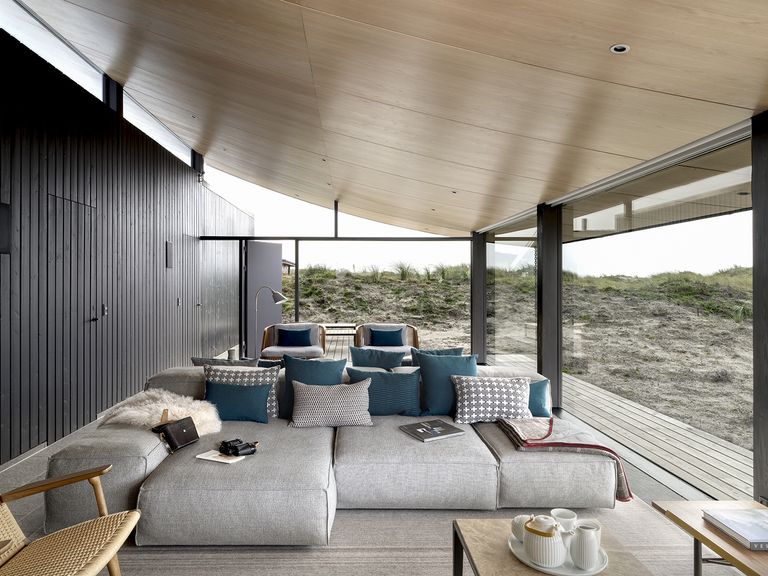 (Image credit: Tollgard/Richard Gooding)
Seeking a truly timeless palette, or some modern grey living room ideas? There are few colours more enduring and versatile than grey. Whatever qualities define your space – square footage, ceiling height, natural light, architectural details or material mixes – you can be sure there's a shade of grey to enhance it. 
We enlisted 10 interior designers and asked them to share their favourite, and most original, ways to harness the understated power of this chameleon colour. Whether you fancy braving a floor-to-ceiling charcoal paint job, exploring the lustrous depth of natural clay, advice for choosing a grey paint shade or the raw beauty of concrete cladding, there's bound to be a look that appeals.
Contrast cool grey with earthy shades, by Simone Haag
"A recent renovation of my own home, which was built in the 1970s, allowed me the opportunity to reconsider the colour scheme," says stylist and interior designer Simone Haag. "The formerly white wood-panelled walls were repainted in a blue- grey tone to create a foil for the wealth of warm, textural elements I introduced in the living space – such as the bespoke joinery with its cane panelling and marble plinths, and the caramel-hued leather sofa."
Simone adds:  "There's a pleasing tension between grey and beige, which will play out well in almost any property, but also feels particularly at home in a mid-century abode. In addition, this soft grey shade is a great backdrop for displaying art and objects, while maintaining a serene, light-filled aesthetic."
Add texture with natural wall coverings, by Emma Pocock and Bunny Turner of Turner Pocock
"We love to use grasscloth and natural wall coverings and have done for many years," says Bunny Turner of the  interior design agency Turner Pocock. "The textural element gives great depth to the walls, which then have a completely different look and feel in various lights." 
Bunny's partner Emma Pocock adds: "The textured surface of these wall covering works particularly well in northern Europe's cool grey light, making rooms feel cosy no matter what colour you choose. The mid-grey shade used in this small grey living room provides a neutral backdrop for the colourful and patterned fabrics used, but (aided by the pale curtains) still helps to reflect natural light around the room."
Be brave with deepest, darkest charcoal, by Julia Thompson of Frank Interiors
"I love working with dark colours, particularly in rooms that don't get much natural light," says Julia Thompson of Frank Interiors. "I'm a big advocate of being brave and painting everything, including the ceiling and floor, for a seamless backdrop. One of my favourite grey living room ideas is to use 'Madison Grey' by Abigail Ahern. It is a very dark grey, it has brown undertones that make it a beautiful match for dark wooden furniture, like this vintage haberdashery chest. Combine with bronze and gold accessories, and lots of greenery to make the wall colour even more impactful. The result will be veritable feast for the eyes."
Use muted greys to tone down a bold pattern, by Tom Parker of Fettle Design
"The wallpaper shown here is in fact a bespoke mural from De Gournay," says Tom Parker of the design agency Fettle Design. "Offsetting a complex, large-scale print such as this with a muted palette means you can get away with choosing an extremely ornate design, with layers upon layers of detail, without it being too busy or intense to live with day to day. The colours used also allow for bolder, more experimental furniture choices, which can stand up to the backdrop without completing with the design."
Create depth with natural clay, by Laragh Bohn of Trinity Interior Design
"The vast kitchen-living area of this Georgian home is bathed in natural daylight," says Laragh Bohn of Trinity Interior Design. "Clayworks sustainable natural clay was the perfect render for the walls as it provides subtle tonal and textural variation throughout the day. We went through a lot of samples to find the perfect warm grey colour, which tones perfectly with the parquet floor.'"
"It's always so important when decorating with greys to look at the samples throughout the day and to try them our where the light will hit the colour at different angles, as a colour can look completely different from morning to night."
Get the look: Similar Isla sofa, from £1,100, Sofa.com
Choose a green-grey hue for timeless elegance, by Fiona Duke of Fiona Duke Interiors
"Our aim was to create a warm, light backdrop for the reception rooms in this Victorian terrace home, so we chose 'Herbal Escape' for the walls and 'Willow Creek' for the woodwork (both by Benjamin Moore)," says interior designer Fiona Duke. 
"Herbal Escape is a rich green-grey hue which has a timeless, elegant feel and this wonderful soft palette was the perfect base layer to showcase a few antique pieces and delicate artwork on a gallery wall. This warm green-grey colour palette allowed us to introduce other green elements into the design such as the beautiful chenille velvet 'Farquhar Feathers' fabric by Iona Crawford." 
Layer tone on tone for a harmonious feel, by Emily Williams of BradyWilliams
"This modern apartment features dark grey Crittall windows, which pick up on the colours of the city views outside, so we wanted the window seat and cushions to add another layer to this calm and cohesive reading corner," says Emma Williams of the design agency Brady Williams. "We chose a soft grey fabric with a linen composition for a relaxed, comfortable feel. When choosing your window seat fabric, it's always wise to opt for a weave as it is more practical and easier to keep clean. Over-sized cushions also help to support your back on a bench seat such as this – here they measure 60 by 60 centimetres."
Harness the rugged beauty of concrete, by John Bornas of Workroom
"We use concrete a lot in our projects," says John Bornas of Workroom. "While some might find it cold, we see a lot of depth and texture in it, which carries a warmth and adds another dimension to both interior and exterior spaces. The concrete shown on the interior walls of this house was poured in situ and is part of the structure of the building. However, a similar result could be achieved using a concrete render. This can be applied over existing surfaces or new lightweight walls to create a raw and textural aesthetic."
Let nature inspire your palette, by Staffan Tollgard of Tollgard Design Group
"We couldn't live without grey because of the way it offers a canvas on which to let other pieces either blend together, or stand out and sing," says Staffan Tollgard of Tollgard Design Group. "For this project on a Danish island, we mixed different shades of grey to echo palettes found in nature and bring the outside in. We layered various textures to provide visual richness and interest, such as the stone-like floor, woven rugs and upholstery in a rough linen mix. In nature, a grey season is so often followed by bursts of colour and the invigorating zing of new life. We mimicked this with accent colours, which add vibrance tothe subtle, comfortable richness that grey can bring."
Add lustre with lime wash paint, by Adele Lonergan and Maria Lindgren of Covet & Noir
"Limewash paint is something we've been using more and more in our projects, particularly in grey and ivory tones," says Adele Lonergan of Covet & Noir. "Compared to traditional matt emulsion paint, it has beautiful textured, chalky finish that we love. To achieve the feathered stroke look, step away from the roller and apply the paint in several thin layers using a long-haired brush. It's a really great option to add character to a more modern interior design. Equally, it looks beautiful against plaster mouldings in traditional homes. We find it creates a really relaxed yet considered backdrop for styling, and adds a warmth that can't be achieved with traditional paint."
How to pair grey with white in a living room
Few shades are easier to implement (and combine with other colours) than this, and  grey living rooms always look good with a dash of white. Slubby grey upholstery, for example, will instantly up the comfort factor in an all-white living space, while a grey-walled room can easily be lifted by picking out white accents in white, such as woodwork, cornicing and shelving. And, for an effortlessly impactful window treatment, try layering white and grey linen panels on a double curtain rail.
How to choose the best grey paint for a living room
The most important consideration when choosing grey paint is how the shade behaves as the light changes throughout the day. Try painting large pieces of card in various tones and moving them around the room as the light changes, so you can see how the paint colour will react in the lightest and darkest corners of the space. If the room doesn't receive much natural light, either go with a pale shade to lift the scheme, or embrace it and choose a dark hue to create a cosy cocoon.
How to use grey and black together in a living room
A grey interior is the perfect backdrop for graphic black elements. Keep the walls light and textural (natural clay or limewash paint would be an ideal choice) and add definition with black accents such as clean-lined industrial-style furniture, geometric patterns and monochrome art. Add warmth with tonal textiles, such as a beautiful hand-woven floor rug.