Floor paint ideas - elevate your home with this inspiring decor guide
Floor paint ideas to help you with wood, concrete and checkerboard floors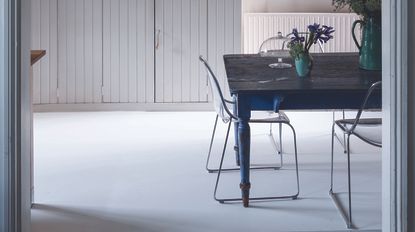 (Image credit: Farrow & Ball)
The Livingetc Newsletter
For style leaders and design lovers.
Thank you for signing up to LivingEtc. You will receive a verification email shortly.
There was a problem. Please refresh the page and try again.
Floor paint ideas need to be hardwearing. Floors have it tough, you see, we walk on them, spill things on them, even drive on them, and still expect them to look good. So give them a bit of care and attention and think about painting them, it's a great way of giving all floor types a brand new look - even beaten-up old floors can be transformed with a lick of paint, and there is a whole range of paints out there for every space, including the garage.
WHAT'S GOOD ABOUT PAINTED FLOORS?
Compared to the cost of laying a new floor and following trends like terrazzo flooring, floor paint ideas are a budget-friendly option, and if you tire of the color, just re-paint it. Or if you decide you've made a huge mistake, hire a floor sander and take it back to its original state.

Painting the floor is a really easy and effective way to change the look of a room or to create a design feature, whether it's an all-over colour, stripes, a chequerboard design or something more complicated.
"Painted floors are such a fun way to both cover up beat-up flooring AND add color to a space," says interior designer Raili Clasen. "Be prepared to either live with the wear and tear or plan to touch up and repaint once a year. We recently painted our office floors in a crisp white and realized soon after that basic wall paint was not the right fit. Invest in a flat marine grade paint which will take all the traffic much better than regular interior paint. For extra fun, paint stripes down the planks or choose a super bold color in smaller spaces like a home office."

Floor paints split into two types, domestic paints which are usually water based, and professional paints which are usually made with a polyurethane, latex or epoxy base. Water-based floor paints are better for indoors and will dry much more quickly - in two-to-four hours, so ideal for a high traffic area like the hallway, stairs or landing. Water-based floor paints are also child-friendly and environmentally safe, hardwearing, durable and with minimal VOC's. Polyurethane and epoxy-based paints are for use in harder-working areas such as porches, patios, concrete and garages. Although some water-based paints can be used outdoors too – see below.
Painted wooden floors are probably the most common floor to tackle in the home, and can easily be tackled by a DIY-er. Water-based paints work best here and there are many colours to choose from. For a traditional or country look, a checkerboard floor is a lovely choice, whether it's black and white or different colours. It does involve a bit more work, the floor will need to be measured, lines drawn and masking tape used to create the grid, before the first paint is applied. This checkerboard technique also works well outdoors on a patio or path, or would be fantastic in a child's room using bright colours. A painted stair runner is another simple but effective idea, and cheaper than a carpet or sisal version. You could add a border to make it even more realistic. Another great idea, and on trend at the moment, is a chevron floor. If you have a wooden floor but want to liven it up, use a different coloured wood stain to create a herringbone design, it will create a whole new look. Or in a kitchen, bathroom or conservatory, why not create a tiled floor-effect with paint and a stencil?
how to paint a checkerboard floor
Painting a chequerboard floor is a lovely way to update a room and is relatively easy to do. "Before you start, test how Chalk Paint and Chalk Paint Lacquer will perform on your flooring, to see whether any stains will bleed through," says color and paint Expert, Annie Sloan. You'll definitely need one of the best vacuum cleaners. "Then clean the floor with warm, soapy water and a sponge - don't use chemicals. Using a tape measure and pencil, draw out the guidelines and apply masking tape to get a sharp edge."
Annie goes to list the specifics. "Choose your color and start at the furthest point in the room from the door using a small brush with a flat edge and fill in the squares," she says. "Once the first coat has dried, apply the second coat and leave to dry fully before applying Chalk Paint Lacquer – you will probably need two to three coats of this. After it has dried, it will go through a further curing process over 14 days to fully harden. You will be able to walk on it, but be gentle!"
How to paint concrete floor
Concrete floors are growing in popularity not only because of their contemporary look but because they are so hardwearing. Garage Floor Paint is a good option for these floors, as it's designed to protect against oil, grease and petrol stains, so it can easily cope with a concrete or stone floor indoors or out, and is ideal for patios and porches. Ronseal and Leyland Trade are good examples.
Or you might want to consider an epoxy coating, which some professionals use. It is strong, durable, and offers long-lasting protection for most surfaces, but is not recommended for patios as it is not UV resistant. Dulux Trade High Performance Floor Paint, from £74 for 1.78L is a water based, two pack epoxy floor paint, suitable for high traffic areas. It is suitable for indoor and outdoor use and has excellent abrasion resistance on concrete floors, drying to a highly durable, mid-sheen finish.
Another choice is T. A. Paints Floor Paint which comes in a limited range of colours but doesn't require a primer or sealer.
To paint concrete floors, we asked an expert for their advice. "Clean and prime the concrete floor, ensuring any glue or old paint flakes have been removed and the surface is thoroughly scrubbed," says Ruth Mottershead of Little Greene. "A thin coat of our Intelligent ASP Undercoat will prime any concrete or metal flooring, after which you can follow with two coats of your chosen color."
What to consider when considering your floor paint ideas
You will often see the letters VOC in regards to paint – this means Volatile Organic Compounds which are the culprits behind the strong smell of traditional paints, a result of pollutants being released into the atmosphere as the paint dries. So choose a paint that is minimal or low VOC which is safer, more comfortable to apply and live with and kinder to the environment. Most modern water-based floor paints come under this classification.
However, make sure the room is well-ventilated before you begin painting.
Don't paint yourself into a corner, start on the side of the room opposite the door, then back your way out.
Dark paint isn't always the best option. The perceived wisdom is that dark colors won't show the dirt so readily, however, dark floors show up dust, hair and crumbs.
Painted floors can create some clever optical illusions. Painting the walls and floor in a light color will make the space feel bigger. If you choose a gloss or satin paint, light will bounce off it. Choose a dark paint for the floor to add drama.

If you have a long, narrow space, think about painting horizontal stripes to make the space seem wider.

HOW TO PAINT A FLOOR
First remove any furniture. Preparation is key, so before starting any kind of painting, ensure that the floor has been thoroughly cleaned. Mask off skirting boards and door frames before starting to paint.
For a wooden floor, if the wood hasn't been painted before, first seal any knots with a Knot Block Wood Primer and fill any cracks with a Multi Purpose Wood Filler, both available from Ronseal, then prime the surface with a wood primer. If your floor has already been painted, it will act as a primer in itself. Then degrease the surface, sand it thoroughly and apply two coats of floor paint leaving four hours between each coat. You can use a brush, roller or applicator pad. Work on two floorboards at a time and paint in the direction of the wood grain.
For a concrete or stone floor you may need to roughen the surface to prepare it for painting depending on the paint you are using. If it has been down a while, it may have accumulated oil and grease stains, so use a specialist concrete cleaner available from hardware stores to prepare before applying the primer. Applying the first coat of paint with a brush is a thorough way of coating the floor initially, and then subsequent coats can be done with a roller.

What is the best floor paint for wood?
For kitchens and bathrooms, where there will be spills, it's better to use a polyurethane paint as it will stand up better to everyday life. But it's also important to choose a paint with slip resistance. Leyland Trade Anti-Slip Floor Paint is a tough, durable, semi-gloss paint which has a light aggregate for slip-resistance although the colour choice is limited.
Little Greene Intelligent Floor Paint comes in many colours and is suitable for interior wood and concrete. "Like all of our Intelligent paints, our Intelligent Floor Paint is child-friendly and environmentally safe, hardwearing and durable, making it perfect for a busy home," says Ruth Mottershead of Little Greene. "Should there be any accidents, it's washable and easy to clean, providing the perfect finish for high traffic rooms, such as stairs, hallways and landings."
For style leaders and design lovers.
Alison Davidson is well-respected British interiors journalist, who has been the Homes Editor of Woman and Home magazine, and the Interiors Editor for House Beautiful. She regularly contributes to Livingetc, and many other titles, and often writes about kitchens, extensions, and decor ideas. She is the go-to for information about green energy, sustainable home improvement and eco design ideas.