Wallpaper ideas - the most chic and stylish new looks
The very latest wallpaper ideas for how to add pattern, print and perfect texture to any room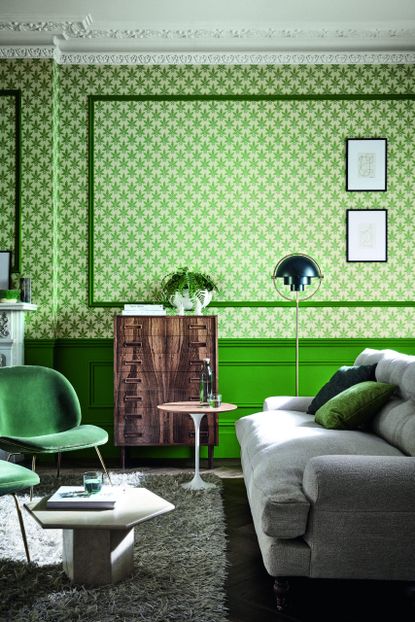 Wallpaper ideas have had a strong and established reputation for being able to significantly transform a space into something extra special. It's understandable why, because with its repertoire of abilities and different uses, various wallpaper ideas are the invaluable friend of the interior designer; print, pattern, colour, texture and scale, all of which can be varied and played with to create a striking interior.
Undeniably wallpaper witnessed a mode de pointe in the 1980s. We can blame Chintz - a trend where every surface was covered and patterned. More recently though "wallpaper is seeing a renaissance. As people are spending more time at home they are seeking out colour and pattern that creates atmosphere, either by injecting joy and energy into an interior or creating a calming, cosy and cocooning sanctuary. The beauty of wallpaper is that there are so many different colour, design and style options available, there's a design for every situation and room" explains Ruth Mottershead, Creative Director at Little Greene. We take a closer look at the popular ways to interpret wallpaper ideas, look at some wallpaper trends, and advise on how to work with and style this wondrous interiors tool.
The most on-trend wallpaper ideas
There are two front-running inspirations which are recurring amongst wallpaper and interior designers. These aren't to be considered on-trend - it's more that they have never fallen out of fashion. First up - flora and fauna. Inspired by nature, these pretty prints bring the outdoors in. Leading brands have opted to put florals on the frontline of their wallpaper ideas, you just need to look to companies such as Paint and Paper Library who have released a full 'Botany' range which takes inspiration from 'organic flora, folia and decorative patterns'. There are different ways to work it. You can make it contemporary with bold abstract pattern, or keep it more classic with the likes of a chinoiserie-style aesthetic. The choice is yours.
See the latest wallpaper trends.
Secondly - geometrics. Whether in an Art Deco and metallic style, or in bright and bold modern colourway, geometrics are buoyant in the wallpaper world. You can keep it subtle or go for something altogether bolder like Timepiece Amethyst, £60 a roll from Graham and Brown, which, coincidentally, has combined both florals and geometrics into one design. It's their Wallpaper Of The Year 2021.
See Also:Bedroom Wallpaper Ideas
Layer up pattern and print for a maximalist aesthetic
Layer your fabrics, lampshades and cushions to match the print of your wallpaper. Interiors brand House of Hackney, who have a boutique department store in London's East End, are great advocates of using print and pattern to 'wow-factor' effect. Their original wallpaper ideas (designed in-house) are rich with intricate detail. First impressions are that most of their designs look traditional but there's often a modern and contemporary twist on closer inspection. The look is enhanced as you extend a matching print design onto your upholstery fabric, cushions and lampshades. The result? A room which sings with design detail. This is maximalism - more is more!
See Also: How to do maximalism with Frieda Gormley, House of Hackney
Tailor your walls with hand-painted or bespoke wallpaper designs, by artists
Special projects often call for unique and hand-painted products, and it's no different when it comes to the world of wallpaper. With the rise in awareness of sustainability, more and more people are, rightly so, seeking out the handcrafted choice. Look for hand printed wallpaper which is produced in smaller batches or by the hand of an artist. Wallpaper brand CommonRoom, based in London, offer wallpaper designs which 'bridge the world of art and interiors' and their papers are available to order by the roll. Similarly, Woolwich Contemporary Studio are for 2020 launching a limited edition run of wallpaper and textile designs by artist members including Zimbabwean artist Tanaka Mazivanhanga. The designs allow 'collectors to fully immerse themselves in fine art through their homes or offices with bespoke wall and soft-furnish coverings'. The new designs will be on show at Woolwich Contemporary Print Fair, which runs from 12th - 15th November 2020.
Handmade murals are also rising in popularity; hand sewn or tailor stitched wall panels, like those of artist and maker Claire Coles, are truly unique and offer the ultimate in bespoke wall covering.
The best way to wallpaper a living room
There's an emerging trend for painting woodwork in hues which either coordinate or contrast with the wallpaper you use, so don't be afraid of veering away from the white shades on the colour chart when painting woodwork in the living room - adding a dash of colour to woodwork is all the rage! By choosing a highlight colour you can really accentuate an already dramatic wallpaper print. Ruth Mottershead, Creative Director at Little Greene, explains. "We are seeing green and blue tones as well as warm neutrals becoming increasingly popular, and weare witnessing people embracing bolder, more colourful designs and pairing these with both co-ordinating or contrasting highlight colours on walls and woodwork.A highlight paint colour can work fantastically well with patterned wallpapers, transforming what might feel like a traditional wallpaper into a more contemporary design statement" says Ruth. "When planning a living room project, first consider all the elements in the room that you're not going to change. This might include flooring, furniture, curtains, architectural details and light sources. These need to feature on your mood-board and everything new you bring to the scheme needs to work with these" explains Ruth.
The demand for creating open plan living spaces is only rising. A wallpapered feature wall can define a space, but choose your wall wisely. Paula Taylor, Colour and Trend Specialist at Graham and Brown, explains "In open-plan living spaces this can be used to indicate different zones, such as a dining area within a combined kitchen-dining and living space. Try to avoid creating a feature wall in an already crowded environment as this will simply feel cluttered and chaotic - the feature wall should be the centre of interest!"
The best patterned wallpaper ideas
See Also:10 stunning wallpaper designs from Maison Pierre Frey
Before you choose your wallpaper, consider what architecture style or period it is being used for and choose a design that suits. Period properties, such as Georgian, Edwardian and Victorian, often carry a traditional or more classic print well. Less so contemporary architecture, where an Art Deco or more modern looking abstract or stylised print tends to work better. Do you want to create a cosy and dramatic space? Then wallpaper every wall, ceiling or surface available, or paint your woodwork in a coordinating tone. It will really draw the room in and make it feel like a cocoon. If you want to keep a light and airy feeling in a room then choose a subtle, smaller or 'barely there' print. It will keep the room feeling spacious and is generally regarded as being easier to live with.
The popular and current alternative is to opt for specifying a bold print in proportion - applying it to just one or two surfaces of the room and painting some of the other walls of the space in a coordinating colour, or matching the wallpaper with a coordinating curtain or cushion fabric. Murals are really popular right now, and can be applied in delicate subtle colourways, or in bright and striking hues.
When asked specifically about current thinking around pattern and print for wallpaper, Pierre Frey Junior explains "In the last few years we have witnessed patterns which used to be restricted to fabrics now veering onto wallpaper, as clients and customers gain more confidence using wallpaper print and pattern on various scales. Using highly patterned wallpaper in small spaces, such as wash rooms, works particularly well. You can go a bit crazy, but in a smaller room it's not such a risk. In our next collection for fall 2020, we are launching a collaboration with an American artist Liz Roache which captures very strong geometric pattern in both monochrome and bold colour combinations. Monochrome is popular for bold print because it's classically eye-catching. However, there's also demand from customers and interior design clients for smaller repeat prints, in softer neutral colourways. These more manageable patterns in neutral hues work very well for living areas and bigger spaces. The key to using either small or large patterns, bright or muted colours, is to apply with confidence!"
See Also:Living Room Wallpaper Ideas - From Contemporary-Cool To Chintzy Chic
The best bedroom wallpaper ideas
First and foremost, bedrooms are the ultimate sanctuary space in a home. A place where you can envelop yourself and recharge your mind and body by sleeping softly. You can go as dramatic as you like, but keeping calm, neutral or soft tones is the safest way to ensure a relaxing and restful room that's best for sleeping. Try a combination of cream and ecru, or add soft colour with pastels like soft pinks or blues. Interior Designer Susie Atkinson has designed calming bedroom schemes for Lime Wood Hotel. "I chose this wallpaper - a woodland scene with a soft pink background - as the bedroom is set within The New Forest and has a beautiful bath within a bay window where you feel that you are almost outside amongst the trees. The wallpaper wraps around the room and feels like an extension of the surrounding forest, enveloping you and transporting you to a different place – an escape, particularly to a hotel, should be just that – an escape from your normal everyday life!" says Susie.
"We have seen a resurgence in people looking to wallpaper all four walls and now even the ceiling. By papering or painting the ceiling the edges of the bedroom appear to blur and you can create a wonderful cosy feel that almost appears limitless." Says Paula Taylor, Colour and Trend Specialist, Graham and Brown. Essentially, bedroom wallpaper can be, well, dreamy!
When it comes to textures and finishes, bedrooms are tactile places, and they are not considered as a 'through-space'. With this in mind you can add flock wallpaper and create a luxurious feel, without worrying too much about practicalities. Harmonise soft wallpaper colours with your furnishings and fabrics in the room. Consider velvets, chenilles and natural linens - dependent on your preference - to achieve ultimate texture and comfort. You'll be hitting the snooze button in style.
See Also:Bedroom Wallpaper Ideas
The best hallway wallpaper ideas
Why is the hallway such an important part of a house or apartment? Because it's often the first impression visitors will encounter. It's an opportunity to set the tone for the rest of your home, and it's the prime space for adding some wow-factor or just making sure it's presentable and welcoming. It makes sense to keep wallpaper away from the main areas where people might brush past or scuff your lovingly decorated walls. Kate Hawkins who is Co-founder of CommonRoom, explains that when it comes to hallways it's best to think pragmatically. "Hallways and landings can be tricky spaces and are often dark. I think it's better not to fight this. You may as well embrace the current popularity for darkness and go for bold, dramatic or 'busy' prints in a hallway. Plus, by decorating a hallway in deep, dark colourful wallpaper, you have the added bonus of hiding mucky paw prints and other general wear and tear that happen in these through-spaces." Decorating a hallway in a darker colour palette makes for a moody entrance - it's dramatic! Wallpapers with gold or metallic detailing make a hallway feel expensive and grand.
You can make a hallway modern by playing with woodwork colours and adding strong tones - such as a punchy blue on the stairs and balustrade.Additionally, a dado rail is stylish but essentially practical too. It represents a natural horizontal point that can separate the scuffs from the wallpaper above. Physically fitting a dado rail isn't absolutely necessary, as you can option just to define the wallpaper-to-paint border with a line of contrasting or harmonising paint. So smart!
See Also:Chic Hallway Ideas
How to choose a textured wallpaper
Surface print wallpapers have a textural surface and they are a perfect choice for spaces such as living rooms where you both stand back from a design, as well as sit up close to it. For a matt, more graphic look, digitally printed wallpapers allow for the printing of extreme levels of detail. Bedrooms and living/dining rooms tend to suit textured wallpapers best, as these are the spaces which are used for sleeping and sitting, and not as 'through spaces'. This means you can sit close to the paper and reallyfeelthe effect.
Textured wallpaper adds a sensual layer to decorating schemes, and as such really work in bedrooms where you can have soft velvet or flock style wall coverings. These feel and look really rich and luxurious and create the ultimate relaxing room.
You can also add in metallic tones with textured wallpaper, which heightens the feeling of luxury and brings added warmth to a scheme. Wallpaper and Paint specialists Farrow and Ball have recently launched Metallic Collection, a range of metallic-focused wallpapers which are sure to add a certain shimmer to spaces. Whether it be texture that's touchable, or surface sparkle that catches the eye, using textured wallpaper will enhance a room.
See Also:Trending: Textured walls. New season wallcoverings are going 3D
The best bathroom wallpaper ideas
See Also:Bathrooms Wallpaper Ideas
Bathrooms represent an opportunity to have fun with wallpaper. You can be colourful, quirky and over the top! Bathrooms, in general, can be livened up with a funky and fun print or pattern. This helps balance out the practical - occasionally unsightly - sanitaryware in the room.
Wallpaper with a maritime or sea-life theme can look super cool especially in blue and green colourways, or alternatively you can go for something completely different and abstract, like the Marbled Decorate Paper above. Being as unusual or individual as possible is the current vibe for wallpapering a bathroom.
Don't despair if your bathroom is internal, as you can always embrace the wonderfully kitsch conception of a trompe-l'oeils. This is where creating a 'scene' that is inspired by nature or organic forms can act in place of a real view. It's a quirky decorating hack that's amusing and interesting to guests. You can paint your own, or alternatively buy or commission a mural panel bespoke. Look out for papers which have a durable, bathroom-friendly finish - and consider applying the paper on walls which are clear of direct splash zones, for example avoid applying behind sinks or right next to the shower unless it's a durable finish paper. "Wallpaper in a bathroom? Your first thought may be that it is an odd concept. In fact, current trends suggest it is increasingly in vogue to cover bathroom walls with bold and wacky designs thought to bring a little joy back into a lacklustre lavatory" explains Jessica Mackie from Surface View.
Bathrooms are a place of beauty; a top tip to choose a wallpaper that not only looks good on the wall but enhances your beauty too? "Papers that have a slight shimmer to them are also great to use in
bathrooms as they really enhance skin tone and add radiance to the room" explains Paula Taylor, Colour and Trend Specialist, Graham and Brown.
See AlsoTrend Focus: 5 Chic Bathroom Wallpaper Looks To Tap Into
The Livingetc newsletter is your shortcut to the now and the next in home design. Subscribe today to receive a stunning free 200-page book of the best homes from around the world.
Rory Alastair Robertson has a long-standing history working across the interiors industry. Raised in Morningside, Edinburgh, Rory grew up surrounded by classically grand Scottish Georgian and Victorian architecture.
His first appreciation for interior decoration sparked when his mother hired scaffolding and decorated their three-storey Victorian staircase in Farrow & Ball Picture Gallery Red, by herself. She then painstakingly gold leafed the drawing room - by hand - over a base coat of Sudbury Yellow. This was the era of Jocasta Innes and Kenneth Turner, when paint techniques and maximalist style were the decorating raison d'être.
With this inherited gene of creativity, Rory went on to study Interior Architecture at the University of Edinburgh, and later, Theatre Set Design and Architectural Illustration at The Rhode Island School of Design on America's East Coast.
Rory's foray with the editorial world started a decade ago at Livingetc magazine, a title which he regularly contributes to today. Specialising with a deep-seated appreciation for historical homes and interiors, Rory often travels far and wide to be inspired by unique properties with a fascinating history.
If he's not uncovering an unusual National Trust property in the UK, then he's seeking out a Neo-Classical clifftop villa in Capri or a Palazzo in Florence.
Based in London's Shoreditch, working as a Senior Interiors Editor and Consultant, Rory's portfolio of work is a creative melting pot of residential and commercial interior design projects and a plethora of editorial writing work. Rory is also Guest Interiors Lecturer at the prestigious KLC School of Interior Design in Chelsea, London. His most cosseted possession is a ramshackle Citroen Deux Chevaux, which he has reupholstered in Pierre Frey yellow and turquoise silk fabric.
Discover more at roryrobertson.co.uk and @rory_stylist.