Living room wallpaper ideas
Looking for living room wallpaper? Peruse these patterns before you purchase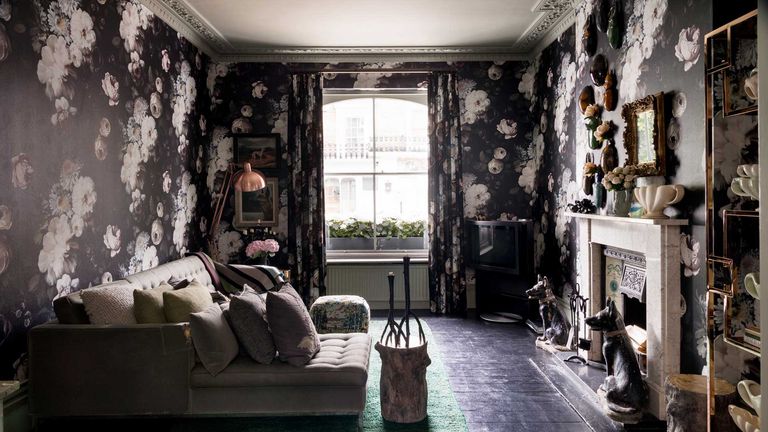 (Image credit: Paul Raeside)
Looking for modern living room wallpaper ideas? Give your living room an instant update with wall-to-wall texture, pattern and colour. Whether you go for a mural-style paper, modern geometric pattern or full-on florals, wallpaper adds so much more depth and interest than paint.
Eye-catching wallpapers also help to unify different living zones in an open-plan space. Theatrical papers often pay off, creating a striking focal point, while more muted textural papers help highlight a room's other features – or create an interesting contrast by offsetting mid century modern or contemporary furniture against traditional designs.
Go maximalist with living room curtains in the same print or tone things down with plain drapes, shutters or other stylish ideas for living room windows.
And who says wallpaper was just for your walls? Make a striking statement by wallpapering your fifth wall; the ceiling.
See the latest wallpaper trends.
MONOCHROME MURAL
Rather than a repeat pattern for a cool and contemporary look, go for a statement mural.
PETAL POWER
Wallpapering a section of a large room is a great way to zone an area. The big blousy blooms on this wallpaper are at a scale that suits the size of the space.
CLOUD NINE
The blustery cloud print on this Nuvolette wallpaper by Fornasetti at Cole & Son brings energy to the room.
The sky was long a recurring vision for Fornasetti and these little clouds are delicately detailed etchings depicting tempestuous, rolling skies.
MEXICAN FLAVOUR
The pale mottled green wallpaper provides a verdant backdrop for the Missoni prints and modern aztec style of this room.
BEAUTIFUL BEASTIES
This darkly graphic wallpaper by Timorous Beasties is reminiscent of a Rorschach ink blot test. Stare at it long enough and who knows what you will see.
ALCOVE PATTERN
This beautiful room is a clever mix of femininity, style and daring. The wallpaper is only featured in the alcoves, highlighting the property's original features. With pops of shocking pink and contemporary florals, it takes mix 'n' match to another level.
Get the look: The floral wallpaper is Caprifoglio Ecru PDG676/02 from Designer's Guild. The rabbit lampshades are by Moooi. The Hayward sofa in Leighton Natural FDG2341/10 is from Designer's Guild.
STATEMENT MURALS
A hand-painted mural, or mural-style wallpaper will instantly transform a wall into a canvas.
Get the look: The mural is by Frederick Wimsett. The artwork is by Mary Temperley.
GOLD LEAF
The living room is a jewel of a space, mellow, with the gleam of gold, copper and crystal set against intense teal. A hand-painted Fromental wall covering combines gold and teal while period pieces add glamour.
Get the look: The blue and gold wall covering is Fromental. This Simplified Crillon leather chair is by Soane Britain and the velvet design is the Small Snooze chair by Ochre. The coffee table is from Carden Cunietti, which also made the bespoke bookcases. The central light and side table were sourced by Absolute Flowers & Home.
DISTRESSED BEAUTY
This mural was inspired by a book on Japanese kimonos. It's painted around a window and provides a lovely golden glow to the space. It's been purposefully distressed to create an aged, weathered look.
Get the look: The mural is by Ian Harper. The antique marble-topped table was brought back from the South of France. The Mercury vessels are from Myriad. The chair is a junk-shop find, reupholstered in Zebra velvet by Neisha Crosland at Turnell & Gigon. The chandelier was found at Lots Road Auctions.
WALL DOODLES
A graphic artwork has been painted directly onto the wall, injecting colour and personality. The integrated futon is both comfy and space-efficient; it's made with a wood base, Ikea mattresses and layers of upholstered cushions.
Get the look: The mural is by Ricardo Cavolo. The futon cushions are covered in Berwick fabric by Prestigious Textiles at House Décor.
FLORA & FAUNA
This dark yet detailed wallpaper creates a cocooning, cosy space for unwinding in.
Get the look: The Moroccan rug is an antique Berber design. For a matching wallpaper, check out Lear Dark by Kristjana S Williams.
GRAFFITI STYLE
You can just about make out the graffiti wallpaper covering the wall on the right, adding lashings of fun.
Get the look: The Graffiti wallpaper is from Murals Wallpaper. The vintage Pepsi-Cola sign is from The Old Cinema. The bean bag is from BeanBagBazaar. The giant Lego storage box is from Store. This is the Star Wars Stormtrooper Battle Buddy figure from Tesco Direct.
ECLECTIC
This original fireplace, printed wallpaper, trailing plants and evocative artefacts give an eclectic, global feel.
Get the look: Find similar artwork at Yellow Korner. The photos of Africa are by Aernout Overbeeke. The poem is by Frieda Mulisch. The antique chest was found in Syria.
MID-CENTURY CONTRAST
This ornate wallpaper came with the property and was just too beautiful to lose, even though it errs towards a more traditional mood. The solution was to paint the other walls and ceiling in a pale green shade and add mid-century furniture for contrast.
Get the look: The wallpaper is hand-painted de Gournay. The Sixties Greaves & Thomas sofa bed is from Scottlorenzo.com. The Sixties side tables are by Max Sauze at Béton Brut.
BOTANICAL
This casual seating area at the bottom of the stairs gets an instant uplift with the modern tropical paper and hexagonal flooring.
Get the look: This is Merian Palm wallpaper by Timorous Beasties. Try Alexander & Pearl for a similar pendant light. Waterworks sells floor tiles like these. The chair is vintage – The Dormy House sells something similar.
OMBRE
One side of this expansive loft space is covered entirely in this eye-catching ombré wallpaper. Proof that you don't always have to fill a big wall with photos or artwork – choose a moody wallpaper to add a more nuanced sense of drama and texture to a space.
Get the look: The Ink Wall Mural wallpaper is by New York interiors specialist Brett Design. The Betwixt Bench is by Brooklyn-based designer Alex P White. The rug is from One Kings Lane, which has recently opened an interiors studio in SoHo.
WOOD WALLS
Seventies disco diva meets Louis XV in a storm of pattern above the fireplace. The artist behind the painting likes to use patterned backgrounds in her collages, so the wallpaper was chosen to display the piece in the same spirit. Meanwhile, the typically French flooring zips up the alcove walls in the living room.
Get the look: This Mickalene Thomas artwork is from Lehmann Maupin. The Rheinsberg wallpaper is by Designers Guild. The Louis XV fireplace was bought in France. The sculpture to the left of the fireplace, called Christmas Tree, is by Lionel Scoccimaro.
MUTED
The roaring fire and striking paintings are the main feature of this room, where the wallpaper offers a more muted backdrop.
Get the look: This is Drag DR 1216 wallpaper by Farrow & Ball. For a similar fire surround, check out Chesney's.
MIRRORED PAPER
To prevent this dark palette feeling oppressive, layers of texture have been woven in, with plenty of reflective surfaces and luxe finishes. Even the ceilings feature bold wallpapers. The mirrored wall in the living room is actually a wallpaper. The light reflection adds another dimension.
Get the look: The Art Deco Ibex table lamps were bought in the US. This is Antique Mirror wallpaper from the Mariinsky Damask collection at Cole & Son. The sofas are upholstered in Rubelli velvet and faux- alligator-skin fabric from Altfield. The zebra-print fabric used for the cushion is by Abbott & Boyd.
MODERN VINTAGE
There's an elegant formality to this wallpaper, subverted with tiger print and granny lamps, neon artwork and shaggy sheepskins, chandeliers and chintz, while shell-shaped seating brings Fifties elegance to the space. It's an eclectic vintage look that's taken to a new, more elegant level.
Get the look: The Oyster armchair and sofa, in the foreground; Fire Monkey armchair; Aroused Rose cushion, on the sofa; and Cheese Plant bolsters, on the armchair, are all by Sera of London. This is Tokai Rose wallpaper by Robert Kime. The floor lamp is from La Belle Étoffe in Frome.
OLD & NEW
Here modern geometric wallpaper offers a chic contrast to traditional wood walls.
Get the look: Oak flooring, Cheville. Fire surround, made bespoke by a stone mason. Fireplace, Neville Stephens. This is an Arctic Pear chandelier by Ochre.
DARK FLORALS
Wild dark florals create a cosy and cocooning space in this sultry living room.
Get the look: The rug is by Caravane. The floor is painted in Farrow & Ball's Railings floor paint.
GEOMETRIC
Marshmallow-like pouffes contrast with the sharper geometric backdrop in this room.
Get the look: The wallpaper is by Kelly Wearstler. The vintage console and pouffes are from Nihil Novi. The sunburst wall sculptures are by Curtis Jeré.
PARROT PRINT
A flamboyant parrot print wallpaper makes a statement in the living room of fashion designer Matthew Williamson.
Get the look: Arini wallpaper by Matthew Williamson at Osborne & Little. Candelabras from Sunbury Antiques Market at Kempton Park. Linen sofa from a dealer on the King's Road. Red beaded cushions by Matthew Williamson. William Morris cushions from John Lewis. Rug from Lots Road Auctions. Bell jar with a light inside and porcelain poppies trailing from it – bought in a store in Rye. Ornate table bought in New York. Seventies chandelier, Indian ram head and perspex table found in New York. Seventies coffee table from Les Trois Garçons. Trift painted wood blocks by Judith Seng (judithseng.de). Oscar sofa in teal velvet from Sofa.com. On walls, Dove Tale by Farrow & Ball.
NATURAL BEAUTY
Adorn your walls with luxury prints inspired by nature for a biophilic and ultra-pretty living room. Annika Reed Studio creates handprinted wallpaper inspired by the everyday beauty of the natural world around us. What could be more relaxing?
Get the look: Climbing Vine wallpaper in Beryl and Porcelain by Annika Reed Studio.
Need more inspiration? Discover answers to the most commonly asked living room wallpaper ideas questions below:
1. Which wallpaper is best for the living room?
The right wallpaper for the living room will be one that suits your personal taste that's also perfectly practical. Choose one that's wipe-clean and easy to maintain while also being the design aesthetic of your choice, whether that's floral, vintage, contemporary, ombre, botanical or tropical.
Patrick O'Donnell, Farrow & Ball Brand Ambassador, says: 'There is no rule of thumb necessarily, but as the living room is likely to be one of the most used in your home, choose something easy to live with that you love.
'Secondly, look at how much art you currently have on your living room walls - you don't want the paper to distract from the paintings. Also, as wallpaper can be a significant expense, try not to err on achingly hip and consider the longevity of the design- will this look good in 10 years from now?'
Wallpaper designer Annika Reed believes you can't go wrong with botanicals, saying: 'I love inviting the outdoors inside, so greens are great for the living room as they are shown to be restful on the human eye and create a calm and optimistic space.'
2. How do I choose a living room wallpaper?
'There are so many options it can be intimidating to start. So it's best to pick a colour and a theme and begin your search that way,' says Annika Reed.
We spend a lot of time in the lounge, so think about how you want to feel in the living room, whether it's relaxed, energised or joyful. Botanicals and florals can create a tranquil yet colourful look that's uplifting as well as relaxing; or you may want to opt for a bold geometric print if you have a love of contemporary design. Tropical prints can lift the feeling of a room with pattern play, while muted tones can be completely calming. Let your personal preference decide, and trust your instincts.
'Firstly, think about the style you are trying to achieve for the whole room,' says Patrick. 'Whether urban, fashionable, or traditional, there are papers to suit all tastes from gothic, dark florals, romantic motifs to elegant graphics. Try creating a digital mood board with all your elements before you commit to wallpaper - it can be expensive to get wrong!'
3. Should you wallpaper the whole room?
'Whole wallpapered rooms tend to be the most successful as feature walls can alter the perception of room size and space,' says Farrow & Ball's Patrick O'Donnell. 'However, if you do choose a feature wall, make sure to select complementary paint for the remaining walls such as the ground colour or print colour of the wallpaper.'
Wallpaper designer Annika Reed agrees, saying: 'If you want to wallpaper a room, I think committing to the paper and decorating the whole room is the way to go. It will bring a cohesive and elegant feel to your living room.
'A patterned wall can actually make the space feel bigger and will bring a newfound energy to the room. '
Of course, you don't have to wallpaper the whole room to create a striking look; if you want to simply give a nod to print, try wallpapering the alcoves, or choose a feature wall or smaller space to play with pattern.
See these Living room lighting ideas