Colors for north facing living rooms - 9 hues designers use to elevate spaces with little natural light
These designer-approved colors for north facing living rooms will help you create elevated schemes even when natural light is lacking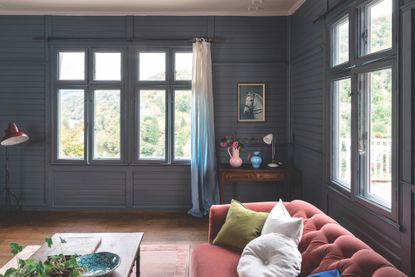 (Image credit: Farrow & Ball)
Choosing colors for north facing living rooms - which are often a dark space - can feel overwhelming.
But we're here to tell you not to be afraid of embracing bold shades as this can create a cocooning, cozy and stylish space; you just need to think about the undertones of the color.
'Before decorating any room, it's important to take note of which direction it faces and therefore how much natural light will enter the space,' says Helen Shaw from Benjamin Moore.
'As a general rule, rooms facing south will be filled with natural light whereas those facing north may lack warm sunlight.
'As a result, north facing rooms can feel a little cool and benefit from strong hues or neutrals with a yellow or red undertone for a hint of warmth.'
Colors for north facing living rooms
Before you choose a living room paint color, it's a good idea to note the floor tone first regardless of what direction the windows face.
'You need to look at the palette of the space and what colors are reflected,' explains Dan Mazzarini, Creative Director, BHDM Design. 'Light flooring will reflect the light brighter compared to dark wood floors. Doesn't matter where you're facing – when choosing a color it's best to figure out how it will be reflected.
'For north facing living rooms, look at lighter tones of your favorite hues and take advantage of the reflective light that comes in off of other buildings (if you live in a city).'
And paint expert Annie Sloan advises: 'In north facing rooms you won't see subtle nuances in the pigment as clearly, or maybe even at all. This can be used to your benefit! Just be sure you're always testing paint options in the room where you intend to use them as this will have a huge impact on how they read.'
Discover the best colors for warming up a north facing living room below...

1. Terracotta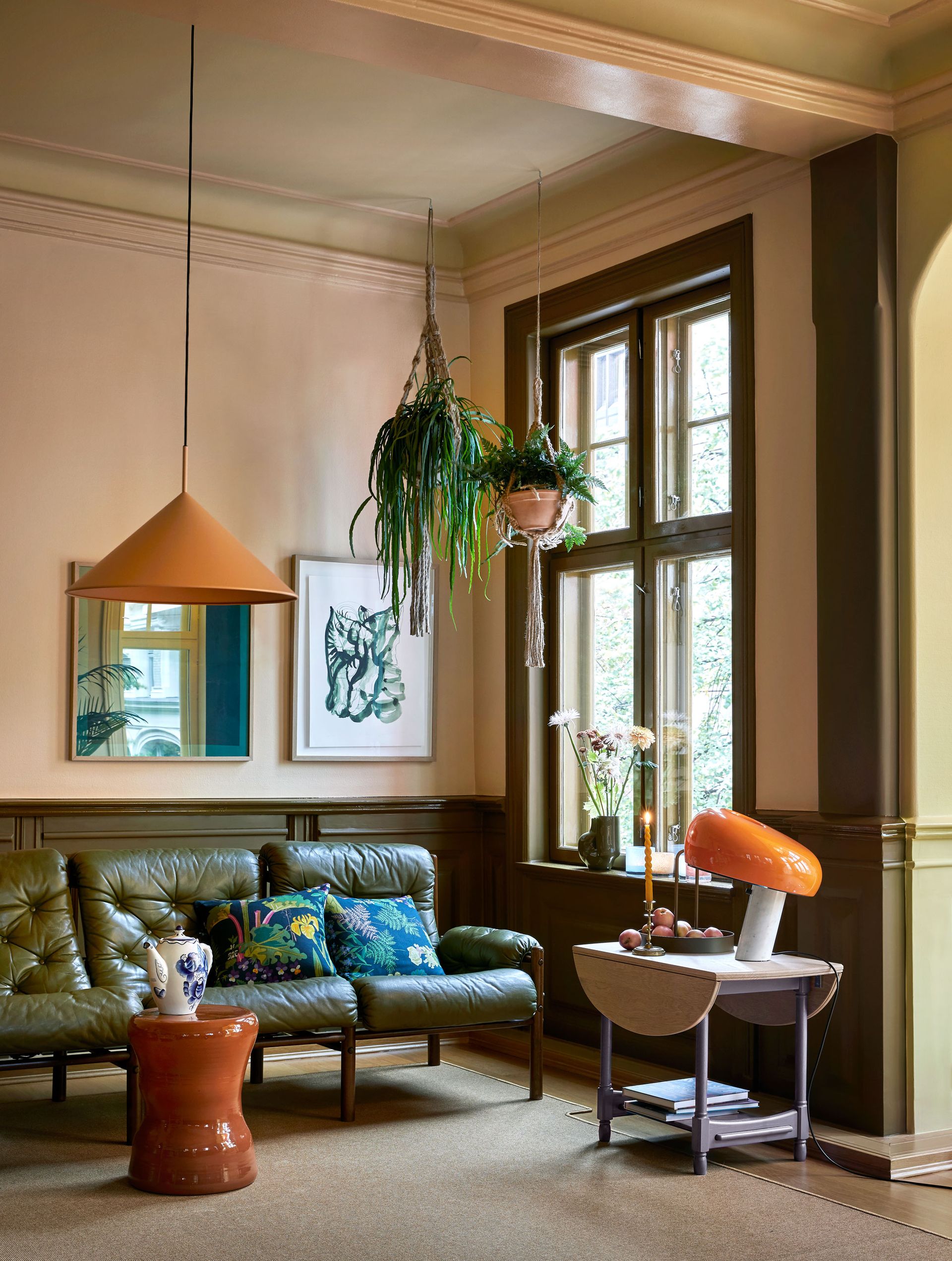 Earthy tones, like terracotta (and colors that go with terracotta), often have a warm undertone that works so well in light-starved north facing rooms.
If you don't want to go for an entirely earth tone living room then it can be effective to brighten a shadowed wall with a warmer hue.
'Consider painting a shadowed wall a vibrant color,' suggests Benjamin Moore's International Director of Marketing, Helen Shaw. 'We always love the warm terracotta of Potters Clay for accent walls in darker spaces.'
Helen adds: 'Try using a higher finish on trim, like semi-gloss or high-gloss, to bring reflection and dimension to slightly darker rooms.'
2. Forest green
Avoid the temptation to layer on the white paint to make a north facing living room feel 'brighter' - jewel tones will help to create a cozy, inviting space in a north facing living room.
'North facing rooms can often feel colder, so it's important to really consider the purpose and size of the room before choosing a paint color,' says Helen Shaw.
'Cozy snugs and small living rooms can lend themselves to a strong color palette, especially when they don't benefit from a huge amount of natural light.
'Painting the rooms from floor to ceiling - a design trick known as color drenching - in rich jewel colors can look particularly striking and you can play with light sources to create a certain mood and ambience.'
3. Grey green
Generally speaking, north facing rooms work best with colors that have a warm undertone so, if you want the room to look brighter, it's a good idea to avoid shades with grey undertones.
However, as an exception to the 'rule', greens with a grey undertone will work nicely, says Helen Shaw - and green living rooms are always uplifting. She explains: 'Try choosing a grey green instead, as the green will lift the overall effect and add much needed warmth.'
4. Dark grey
Just because there's less natural light in north facing living rooms doesn't mean you can't get creative with dark living room ideas. In fact, the experts recommend it.
'In a cooler north facing living room, a darker or warmer color palette will embrace the light-starved limitations to invite a touch of coziness,' says Farrow & Ball's Charlotte Cosby.
'Instead of fighting the existing gloom with a starker white, embrace it and make a virtue of its drama.
'Darker colors for a high-impact feel, such as De Nimes and Down Pipe, will give a living room a magical quality, particularly in the twinkling evening light.'
5. Pinks and reds
Because north facing living rooms are usually lacking in natural light, interior designers often like to warm things up with inviting hues of red, clay, and pink to create a cozy ambiance.
'Soft shades of pink and red, like Templeton Pink and Red Earth, have an understated beauty, enveloping a room for a dreamy, soft environment,' says Charlotte Crosby.'
And Annie Sloan agrees, adding: 'I'd go for a soft or pastel pink in a north facing living room. You have the style kudos of this being an unexpected, chic color choice whilst the warmth of the red pigments balance out feelings of coldness. Pair with injections of mustard yellow to maximize the warmth.'
To take the cozy factor up another notch, embrace color drenching and apply the paint to the ceiling and woodwork too. This is also a clever way to make a small living room look bigger.
Charlotte continues: 'To add an illusion of height, and maximize the impression of space, try carrying the wall color over woodwork and metalwork too. This color-drenching effect emphasizes this cocooning feel in a north-facing living room.'
6. Plum
Plum hues can work well in both north facing and south facing rooms. A plum with red undertones works well in a north facing room, working to add warmth to the space.
'If you have a north facing room that lacks a bit of natural light, the warm energy of a plum purple will really make those darker rooms come to life,' says Tash Bradley, Director of Interior Design at Lick.
'I see this plum purple being used in a living room alongside a softer color, as the pairing looks amazing. If you're using Lick Paint, you could try the light Pink 07 with the Purple 03, or Blue 15 with Purple 03 for a vibrant yet cozy space.'
Annie Sloan's Tyrian Plum (above) is also a great choice. She says: 'If looking for a plum shade to use in a north facing room, to counteract the coldness of the light opt for Tyrian Plum, as it has red tones to create coziness.
'Regal yet mellow, Tyrian Plum's warmth, ripeness and depth of pigment make it the perfect backdrop,' explains Annie. 'But, despite its richness, it's not just for the winter months; deep purples like this pair beautifully with navy blue and can be lifted depending on the season with cornflower blues, soft pinks and whites for a flattering year-round look.'
7. Teal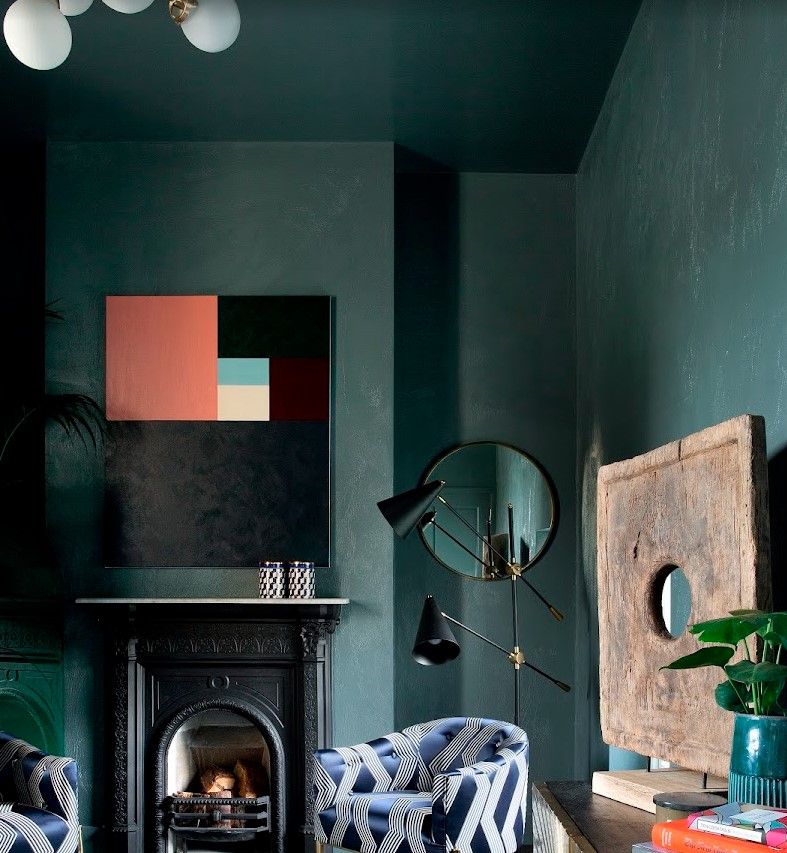 Jewel tones have a rich, elegant, and decadent feel that's ideal for north facing living rooms.
Tash Bradley says: 'Jewel tones have a yellow pigment that makes them super warm. Lick's Purple 03, Teal 02, and Red 05, all have a heavy warmth to them that brings them that opulence. Due to their boldness, these colors look amazing in darker, north facing areas and really help to absorb a shadow.
If going for a rich blue living room like this, she adds: 'Just make sure you really commit to the room when using these colors and paint all of the walls and then go for a complementary color on your ceiling and woodwork. This will make the room feel much more serene and calm.'
8. Beige
Neutrals don't have to be cold or boring; choose a shade with the right warm undertone and it will create a tranquil, snug space in a north facing living room.
'Many people think of north facing rooms as cold or dark, due to the lack of warm direct sunlight; to counteract this, inject warmth by using harmonious light neutrals with a warm base tone, such as Rolling Fog or Travertine,' says Little Greene's Ruth Mottershead.
Finished with an on-trend curved sofa for the ultimate sanctuary.
9. Orange
'North facing rooms tend to make colors look consistently flatter and cooler than they would when bathed in direct light,' says Little Greene's Ruth Mottershead. 'Use warmer colors to avoid this.'
A deep orange-brown has just the right amount of spice without being overbearing.
Ruth adds: 'Deeper tones such as Adventurer and Middle Buff (seen above) work well in north facing rooms, and can be used to create warm, intimate and cozy spaces.'
How can you make a north facing room feel bigger and brighter?
'North facing rooms can be made to feel bigger and brighter by using light reflecting pigments,' says Annie Sloan.
'White is the best pigment for reflecting light, so any color in its lightest iteration can work, as it will be softened with lots of white.'
She continues: 'Blues recede which means they draw the eye outwards, creating feelings of space, but they can feel cold. Better to paint walls and furniture in the same soft colors to reduce the feeling of clutter, thereby emphasizing space, than to create a cold feeling space.'
Annie adds: 'Good lighting is key! Also, choosing a paint that feels luxurious and velvety rather than thin or shiny will make a big difference in the overall feel of the space.'
Ruth Doherty is a lifestyle journalist based in London. An experienced freelance digital writer and editor, she is known for covering everything from travel and interiors to fashion and beauty. She regularly contributes to Livingetc, Ideal Home and Homes & Gardens, as well as titles like Prima and Red. Outside of work, her biggest loves are endless cups of tea, almond croissants, shopping for clothes she doesn't need, and booking holidays she does.