Colors for south facing living rooms - 9 perfect shades that make the most of your light-filled space
These 9 perfect colors for south facing living rooms will show off a light, bright space in all its glory, as designers explain what shades to use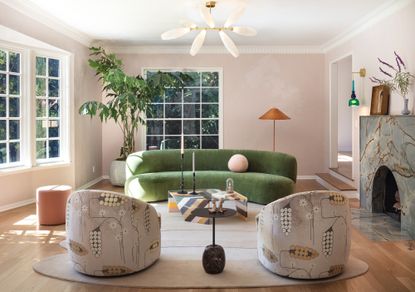 (Image credit: LALA Reimagined)
If you're in the lucky position of choosing colors for south facing living rooms, sit back, put your feet up and revel in the sun-filled space - your task should be an enjoyable experience.
South facing rooms have more light for more of the day. In light rooms you have more freedom with color as you'll see them as they were developed – in well-lit laboratories and under daylight lamps.
When the color palette is so wide-ranging, however, it's always good to get a little guidance from the experts. One top tip? A brightly-lit room can show up small flaws, so always invest in top quality paint.
Colors for south facing living rooms
'As a general rule, rooms facing south will be filled with natural light whereas those facing north may lack warm sunlight,' says Helen Shaw, Director of Marketing, Benjamin Moore. 'As a result, north facing rooms can feel a little cool and benefit from strong hues or neutrals with a yellow or red undertone for a hint of warmth, whereas south facing rooms can embrace almost any color, including whites with grey undertones.'
Ruth Mottershead, Creative Director at Little Greene, notes that, while south facing rooms can carry off almost any color, there are things to be aware of. She says: 'South facing rooms are often bathed in warmer light, making colors appear more yellow, so cooler shades tend to read as more neutral, and warm tones can often be too intense.'
In a south-facing room, you have more freedom to choose any color you want. The sunlight will illuminate colors so blue will glow blue, and yellow will glow yellow—be bold but choose wisely!"
Need a little inspiration to kick things off? We've rounded up a host of experts' favorite hues for south facing rooms below.
1. Keep it light with white
'Whites work well in south facing rooms and they can easily accommodate those without any undertones, such as Chantilly Lace,' says Helen Shaw from Benjamin Moore.
'For something more muted, Decorator's White is a great choice as it contains a little grey which creates an off-white option that doesn't lean in any particular color tone while still feeling soft.'
Charlotte Cosby, Creative Director at Farrow & Ball, concurs that off-whites work wonderfully in south facing rooms to enhance the natural light.
She says: 'In a brightly lit, south facing room, gentle off-white shades will work beautifully to embrace the benefits of the abundant sunlight. Consider something with a soft undertone, like Pointing or School House White, to create a clean and bright space.'
2. Opt for soft sages and gentle greens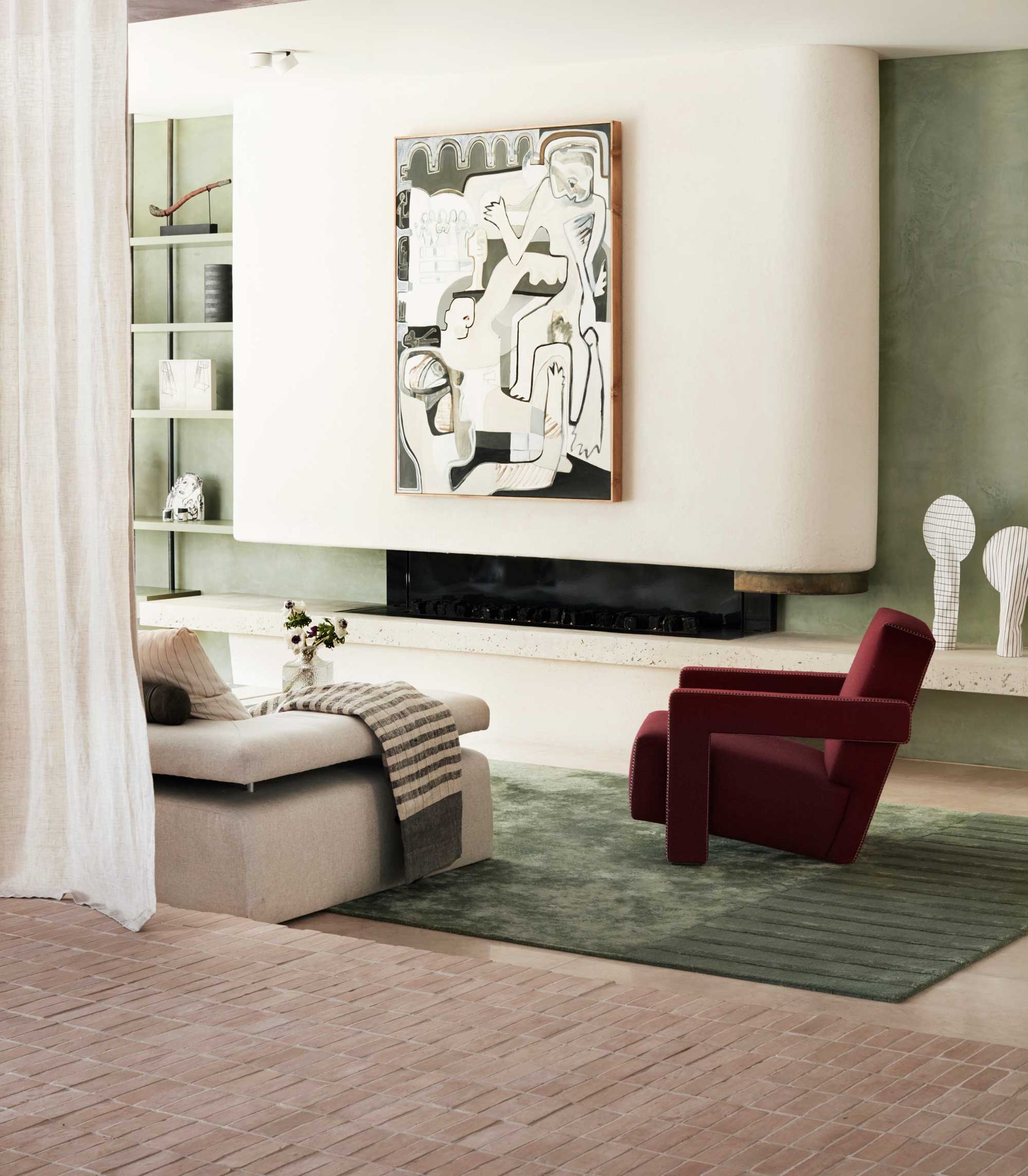 Go green for a hue that works wonderfully in south facing living rooms and also gives a nod to the biophilic paint trend to connect with nature.
'Gentle greens and blues are perfect hues for creating a light-filled sanctuary,' says Charlotte Crosby. 'Teresa's Green, Pigeon and Light Blue are all colors that will shift beautifully with the light, adding a serene touch.'
And Benjamin Moore's Helen Shaw says: 'We recommend keeping a south facing room light and bright, layering together soft blush tones, sage greens, and taupe shades to maintain the airy feeling.
'Gentle and subdued, soft green hues such as sage add more interest to a scheme than a traditional neutral, such as off-white. The light in a south facing room is warm and bright so choosing a green such as October Mist will almost glow in the brightness whilst also help to balance that light and provide a wonderful canvas for other colors.
She adds: 'Throughout any home, pale greens make a great alternative to white: Halo and Meadow Mist are both light green paint colors that are breezy and inviting.'
3. Channel a delicate feel with blush pink
If you want to add a little color but don't want a richly saturated shade, choose a soft, dusky pink to brighten your south facing living room even further.
Helen Shaw says: 'A blush pink, such as First Light can work in every room of the home, from the bedroom to the living room, and a dining room setting.
'With the intensity of a south facing room, it will look fresh and polished. In natural light it produces a subtle, almost neutral, hue which can be used from ceiling to floor or combined with crisp whites.'
The beautiful room above was designed by LALA Reimagined. Principal Lia McNairy says of the space: 'This pink living room is done in Roman Clay by Portola Paint in a gorgeous hue called Bardot. It's a soft pink color that evolves throughout the day with the daylight. Sometimes it's truly blush and other times it's a hint of blush. The Roman clay gives it a plaster finish that feels like silk to the touch. I think the unevenness of the color contributes to the magic. It reminds us of a Venetian Palazzo.'
Lia adds: 'The rug is by Liesel Plambeck. The curves of the rug mimic the Pierre Augustine sofa and the India Mahdavi chairs to create a subtle wave in the space.'
4. Keep cool with grey
With colors for north facing living we tend to suggest deeper shades. But south facing living rooms are drenched in the sun's rays for most of the day so can take softer hues. And they are more forgiving when it comes to paint colors.
So if you would like to soften the warm light, choosing to go with a grey living room works best when paired with green, blue or violet undertones. These will work to balance the visual 'heat' and keep the space looking fresh, as seen in the living room above by BHDM Design.
5. Embrace a deep, rich plum
Because a lot of light streams into a south facing room, it can take rich, saturated tones that create a cocooning, cozy vibe.
'Use rich, jewel-toned, deep colors with strength and backbone and heart to bring coziness to a south facing room,' says paint expert Annie Sloan. 'They'll look stunning in daylight, stay cool on hot days, and create a cocoon-like feeling in lamp-lit evenings.'
She continues: 'Plum is a lovely option; it can be a bluer, damson-leaning shade or a redder cherry hue. In a south facing room that sees a lot of warm light you might be happier with bluey-toned plums.
'On contrast, in a north facing room, if you wanted to counteract the coldness of the light, opt for red undertones to create coziness.'
6. Spark joy with 'hot' hues
A south facing living room is your chance to go get creative and go all-out with color.
'I love playing with tonal families as you can really tell the difference between different hues in good natural light,' says Annie Sloan.
'For example a strong earthy pink, a joyful spicy orange and a rich indulgent red will look fabulously hot and their contrast won't be lost – these are colors we frequently see in warm climes, such as Mexico, India, or Spain, so you know they'll work well with sunshine.'
She adds: 'I recommend whichever bright, bold, or brilliant color sparks joy for you. Choosing an excellent paint formula is the most important consideration in this room. Anything with a sheen can look cheap under direct sunlight. You want something rich, matte, and deeply pigmented.'
7. Pick a blue hue
'To counteract the warmth of sunshine, many homeowners opt to paint south facing living rooms in a cool-toned shade,' says Annie.
'Blues, greys, and cool-toned greens will feel fresh and breezy rather than cold under this lighting.'
Blue living room ideas have recently enjoyed a resurgence in popularity, taking over from grey as the go-to hue for adding color that's so calming it's almost seen as a neutral. Its associations with nature, the sea and the sky, also give a nod to the biophilic interior design trend, along with green.
Ruth Mottershead, Creative Director Little Greene, says: 'Dark blues like Marine Blue and Hicks Blue can be used in place of greys to achieve a neutral scheme with added depth.'
8. Add a dose of happy with bold yellow
Embrace the warm sunlight streaming through the window with a joyful yellow paint shade.
'When yellow is used in a south facing room the tones are really enhanced, with the natural lighting making sunshine yellow really sing,' says Tash Bradley, Director of Interior Design at Lick. 'I love the addition of bright colors in bright rooms, it really gives the hues a chance to shine.'
And what particular shades are a good choice for south facing yellow living room ideas? Little Greene's Ruth Mottershead suggests: 'Strong, bold yellows such as Mortlake Yellow or Giallo will radiate warmth in a south facing room.'
9. Embrace the warmth with a terracotta red
While it's often suggested to counterbalance the warm light of a south facing living room with cool undertones, this joyful, color-clever space by LALA Reimagined shows why you shouldn't always follow the 'rules'.
It's luxuriously drenched in Farrow & Ball's Red Earth to create a sumptuous, bright space that layers warm yellow undertones with warm natural light.
Lia McNairy, principal at LALA Reimagined, says: 'This room is bathed in Farrow & Ball Red Earth. We painted the walls and the ceiling to create a Red Earth cocoon! We lacquered the built in bench in the same color for a pop of high gloss sheen.
'It's our clients' private living room off the master suite where they go to unwind at the end of day. The color is soothing, making it a little sanctuary without it being a bore.'
The Livingetc newsletter is your shortcut to the now and the next in home design. Subscribe today to receive a stunning free 200-page book of the best homes from around the world.
Ruth Doherty is a lifestyle journalist based in London. An experienced freelance digital writer and editor, she is known for covering everything from travel and interiors to fashion and beauty. She regularly contributes to Livingetc, Ideal Home and Homes & Gardens, as well as titles like Prima and Red. Outside of work, her biggest loves are endless cups of tea, almond croissants, shopping for clothes she doesn't need, and booking holidays she does.