Above the sofa decor – 10 brilliant ideas to fill the space over your couch, from the classic to the creative
The wall above your sofa is the perfect spot to get creative with decor. These are 10 of the best ideas to try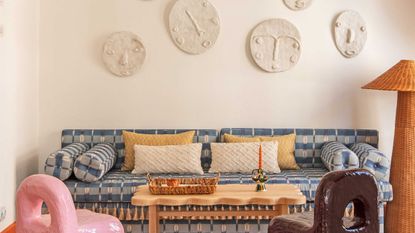 (Image credit: Karel Baras. Design: Dorothée Meilichzon)
The wall above your sofa has great design potential - it's often the focal point of a living room, after all. However, it can be an awkward space to fill, both in terms of finding the right decor to style it, and getting the proportions right.
Fortunately, there are plenty of ideas that work particularly well for the blank wall above your sofa, and we've found 10 of the best living room wall decor ideas to inspire.
1. Create interest with a mural
A living room wallpaper will allow you to convert this surface into an accent wall, establishing an overarching design theme for the space. This is also a great way for renters who cannot paint or modify their homes. A wallpaper will add color, texture, and movement to the room, and in small spaces even boost dimensions.
'Choose accent colors in the wallpaper,' says Kim Armstrong, owner and principal designer of Kim Armstrong Interior Design. 'There's a trend lately to go bold in tones, especially with colors such as emerald greens and purple. Consider even wrapping the ceiling in this bold choice of color and paper.'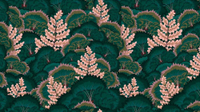 Electric Poppies wallpaper, Lick
Fancy a tapestry of blooming botanicals? Consider this wallpaper that focuses on one floral and one fern, and inject your living room with personality.
2. Choose art with an interesting texture
A great, elegant living room wall decor idea is to hang a sculpture, giving the room an artsy vibe that no other element can do. Consider interesting materials for the sculpture, perhaps wood, stone, metal, or mixed media, and make it the conversation piece in the room.
'I commissioned the rose-metallic artwork on the wall from Australian artist Anya Pesce,' says Shona McElroy, principal at Smac Studio. 'It looks like metal, but it's made from perspex. The art is the jewel in the crown of this house. I deliberately left walls bare so I could bring art in because I think a home without art doesn't showcase the owners' personalities. This living room is fairly neutral apart from the artwork, which is bold; the focal point. I love the movement in it – it dramatically ripples off the flat, blank wall.'
3. Frame wall decor with paneling
Instead of lots several small pieces, for an elegant living room, consider hanging one large painting and framing it perfectly with wall panels. A big advantage to using one large piece is that it makes the room feel cleaner, more polished, and less busy. The wall panels stop the piece from feeling too one-dimensional, giving depth and movement to the space. If this idea appeals to you, find that one piece of art you love and stick to it.
When it comes to considering the height and dimensions of the piece, Victoria Holly, principal and founder of Victoria Holly Interiors suggests it's best to hang the piece 8-10" above the height point of the sofa. 'People make the mistake of going too high and having the piece closer to the ceiling than above their sofa, which creates a disconnect between the two,' she says.
4. Decorate with baskets
For alternative wall decor above your sofa, consider decorating walls with baskets for a modern, Bohemian look.
Maximize their aesthetics, and install these on the wall, for a cozy living room that feels liveable and real. Consider baskets in different shapes, sizes and even weaving for an interesting wall decor. If hanging an empty basket isn't something that appeals to you, you could stock artificial plants within them.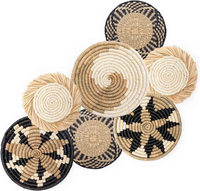 Woven baskets gallery set, Amazon
Make these baskets a unique, focal point in your living room. Their rich textures, earthy colors, and unique handcrafted details will add homey warmth to any space.
5. Hang textile wall art
Try something unexpected – consider a fabric hanging. Largely, textile wall art is having a moment, and with good reason. Woven tapestry, crochet blanket, an embroidered wall hanging, rug, or macrame not only add depth, texture, and character to the home but also tell a story – about its maker, where it came from and of course, is telling of the homeowners' taste.
If you have a long, L-shaped sofa or several armchairs against a wall, hang a sizable textile wall hanging and cover the stretch of the wall with it. And if you're working with limited square footage, try two or three smaller textile hangings, for a cozy boho living room.
'For this earthy living room, we chose this art piece made by Mariela Motilla; its a textile made in dyed cotton yarn,' says Mariana Morales, founder of direccion. 'The piece is mounted on a wooden rod with two bolts from which you can suspend it to the wall.'
6. Mix materials on your walls
Wall paneling can add depth and luxurious texture to the room along with providing durability, insulation, and protection to the space. Panels give the room a finished feeling along with a sense that the room's aesthetics have been carefully curated.
If you want to add more interest to your walls, consider painting the paneling. You could also consider different designs for it, perhaps square grids, or long, vertical panels. Long panels, incidentally give the room height.
'For this living room, we decided to add interest and personality to the walls with panels made of veneer and brass,' says Priya Lakhotia, founder of Chicago Studio. 'We added a clear polish on them to make them look seamless and neat.'
7. Create a gallery wall
If you want a living room that is modern and with a touch of eclectic, consider a living room gallery wall that has a bold mix of art, old photographs, small prints, and random items. Choose frames of different sizes and tones, and create a multi-faceted wall that becomes a reflection of everything you like.
When building one above a sofa, create a large display out of smaller images for a fraction of the cost of one giant and expensive piece. Note the clean horizontal edge along the bottom that unifies and contains the collection. If yours is a double-height room, take the gallery up to the ceiling for a bold look.
8. Hang a mirror
The thing about mirrors is that these aren't just glittering, pretty, decorative pieces. Mirrors can make a space look larger, more open, breezy, and well-lit. Plus, mirrors can add dimension and depth to a space, and create the illusion of more space. Whether you consider a single living room mirror or hang multiple small ones, use this important tool to make an impact.
While choosing frames for multiple mirrors, consider using ones that share the same frame, as they will naturally look like they belong together. Play around with spacing, and hang the mirrors at random distances . The randomness will create a sense of movement.
Mirrors can also help establish the theme and style of the home. Mirrors finished in gold or silver frames tend to look more ornate and go well in traditional properties, says interior designer Noorein Kapoor. 'If yours is a modern interior, consider brass finishes and simpler, sleeker, and contemporary styles.'
9. Fill the wall with storage niches
Multiple small or large shelves above your sofa will not only increase functionality but also add depth, dimension, and versatility to your space. These small living room storage shelves will become tiny display units for you to showcase some of your best collectibles, framed pictures, travel souvenirs, books, vases, plants, curios, art, and accessories.
'For this space, the shelves are dug directly into the wall,' says Hélène Pinaud, founder of Heju. 'We made an insulating wall in front of the old wall that enabled us to create these niches within the thickness of the two walls. These add an interesting touch to an otherwise plain pink wall.'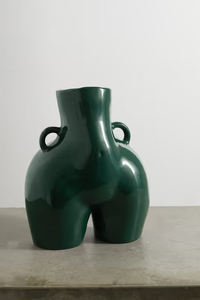 Fill the wall niches with this charming vase made by artist Anissa Kermiche. The green ceramic piece called 'Love Handles' will add a pop of hue to your interior.
10. Try plaster molding
When we think of adding texture to our walls and ceilings, usually traditional wooden moldings come to mind. But if you are looking for something distinctive and subtle, then there are some truly unusual, beautiful, and fun alternatives. One among them is plaster moldings.
Usually done on-site, by creating decorative swirls, squares, and grids on the plaster wall itself, you can create a surface that stands out, looks textural, and makes even the plainest wall look eye-catching. Since the moldings are directly on the wall, their presence is subtle and significant. Consider this effect for a modern rustic living room that looks eye-catching.
The Livingetc newsletter is your shortcut to the now and the next in home design. Subscribe today to receive a stunning free 200-page book of the best homes from around the world.
Aditi Sharma Maheshwari is an architecture and design journalist with over 10 years of experience. She's worked at some of the leading media houses in India such as Elle Decor, Houzz and Architectural Digest (Condé Nast). Till recently, she was a freelance writer for publications such as Architectural Digest US, House Beautiful, Stir World, Beautiful Homes India among others. In her spare time, she volunteers at animal shelters and other rescue organizations.