16 cozy fireplace ideas for the heart of the home
Fireplace ideas from statement marble designs to hybrid designs that work as seating, storage and hearth all at once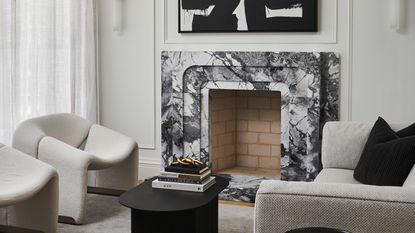 (Image credit: Jules Lee. Design: Wolfe Interior Design)
Fireplace ideas aren't just about how you light a working fire. Many of us are embracing the architectural feature of a fireplace and creating a beautiful design-forward focus of the room. Perfect for hibernation season, a cozy fireplace can create a warm and welcoming ambiance whether it's active or not. From elegant marble designs to more contemporary styles, from beautiful bedroom fireplaces to living room mantelpiece decor, we've got some great ideas to elevate your current set-up.
'Besides being a sculptural element in the living room, it creates cozy atmosphere,' says Karoline Burg of Studio Gild, an interior design firm based in Chicago and Los Angeles. Emily Lauren of Emily Lauren Interiors agrees. 'When done right, fireplaces can be the heart of the home,' she says.
'They can activate our senses of touch, scent, sound, and sight, creating a calming and cozy atmosphere. Historically, fireplaces functioned to heat the home during cooler temperatures. Today, they are a place where families gather for conversations, sip on drinks, or a spot where we create memories during the holidays.' Read on for our favorite fireplace ideas, designed to inspire your own home this winter.
Fireplace ideas to transform your home
'When lit, the fireplace adds warmth (literally and metaphorical), when unlit it forms part of the overall design and becomes more a sculptural piece,' explains David Puckering of The Stylesmiths.
'Beyond anchoring a space via warmth and that beautiful flickering light, I suspect it comes down to something more primal when fires were the literal heart of the home providing warmth, cooking facilities, and by that default, bringing people together.
1. Try a floating fireplace for extra seating
Use the positioning of the fireplace as a space for seating, as exhibited here by Studio Gild. The result is sleek and sophisticated, yet cozy all at once, welcoming guests to take a seat by the fire and cozy up in the evenings.
'This apartment has this one-of-a-kind open plan, with very few columns and structural walls,' explains Karoline. 'For this we tried to enhance this freedom atmosphere and avoid visual obstacles such as a conventional fireplace.'
'Since It is floating, the flooring can continue, creating the perception of fluidity and creating a gathering point in the apartment, perfect for reading, talking and relaxing.'
2. Create a dramatic focal point with jet black herringbone bricks
Austin-based Emily Lauren Interiors has turned this fireplace into a real focal point, contrasting with the minimalist color palette of the rest of the living room with intense, jet black bricks in a stylish herringbone pattern. 'We used firebrick paint to darken the existing herringbone bricks inside the fireplace which immediately gave the fireplace a modern yet timeless look,' explains Emily.
'This particular fireplace was a bit tricky. The original fireplace was very chunky and had a front made of wood and mirrors that the previous homeowners added. It is the first thing you see when you enter the home, so we knew it had to be a stunning focal point.
'We first proposed to tear the whole thing out and start from scratch, but that wasn't in the budget. Instead, we demoed the fireplace back as far as possible. To our surprise, the shape of the original structure was very clean and simple, and we only had to frame out a few areas to get the form we desired. We connected the fireplace up to the 14' ceilings, which united it with the rest of the interior architecture and felt more purposeful.
'We then covered the structure with American Clay plaster for a warm, minimal, and textural look with an old-world feel. The herringbone bricks inside the original box were painted black with firebrick paint to keep a modern aesthetic that ties into the rest of the home.'
3. Go for statement marble
Marble is a key material used throughout this home in Toronto, and it culminates with this fabulous fireplace at the heart of the home, designed by Wolfe Interior Design. They are a popular choice of material as they are fire-resistant, last for decades and are a sign of timelessness and sophistication in the home. You can also pick from a surprising amount of designs, from red, greens, browns to the more traditional white with black veining as seen here. This marble works fabulously in this neutral living room needs.
4. Use the fireplace as a feature wall
Why not emphasize the feature wall with some interesting wall paneling, showing off your fireplace in all its glory. This design from Reena Sotropa uses a fluted style of wall paneling, which helps to create the optical illusion of making the room look bigger.
It's also a double sided, connecting the kitchen with the adjacent living room. 'We added a fluted millwork detail that wrapped around all sides of it. This provided a subtle texture that allowed us to completely obscure the location of the pantry doors, minimizing the visual clutter on this elevation and creating the perfect accent against the dramatic fireplace stone – one of our favourite marbles, Pietra Grey!' explains Reena. 'We then carried both the fluted detail and the stone from the fireplace onto the custom design of the new range hood.'
5. Go for an out there color
This burgundy-toned fireplace packs a punch and adds extra warmth with its dark red and brown tones. 'The red marble is just beautiful and the family just loved getting together in front of the fireplace so it was a no brainer to pick it as the centre piece for this renovation,' says Alexandra Ansari of Ansari Architects.
'This particular marble is called Rosso Lepanto and on this fireplace it has a polished finish.
'What the grate here conceals is that this fireplace has a huge opening behind, so there is not an inset fireplace behind but it is more like a fireplace in a medieval castle where you could roast a piglet on a spit over the fire. So it is a fully open fireplace once you take the grate away.'
6. Choose a monochrome scheme
Is there anything more elegant than an all-white living room scheme? While monochrome may sound blah, sticking with just one color and taking it all over walls, ceilings, floors, and furniture can be just as striking as a bold color palette – as this beautiful space proves. A dark fireplace sitting the center of the main wall would ruin the effect, breaking up the sea of white, so the simple solution was paint.
Paint is a really easy update for a fireplace and can cover a multitude of sins if you have inherited something that doesn't quite work with your style. Matching it to the walls makes it less obstructive but you still get details of the surround, just in a more subtle way.
7. Pare back on the design for a modern country feel
And of course, not all fireplace ideas have to be ornate and traditional. A sleek and simple fireplace can still add a heavy dose of coziness and work in a more minimalist space. In this neutral, laid-back style of living room the fireplace's simple white surround blends with the wall, providing a subtle mantle that is the ideal spot for decor. The beige tiles used for the interior of the fireplace add a warmth to the crisp white that's in keeping with the warmer neautrals used throughout the rest of the room. The overall look is modern but there's a rustic touch here too.
8. Tile the chimney breast for plenty of texture
Tiled chimney breasts are becoming increasingly popular, adding an unexpected texture and offering a sleeker and more versatile alternative to the more traditional brick. Plus, they are an easy and relatively quick way to update a tired fireplace facade. The looks you can create are infinite, from large slabs of marble for a chic and elegant look to something more rustic like the zellige tiles used in this living room.
9. Keep it simple and forgo the surround
Another beautifully simple fireplace that would be perfect for a more minimalist space. Traditionally, you find fireplaces at floor level but by raising it up off the ground you can actually be more flexible with where you can install a fire. See in this small bedroom, having a fire lower down wouldn't work, there's not enough space and it would barely be seen amongst the furniture. Raise it up a few inches and it becomes a focal point of the room.
10. Create a striking focal point with a black fireplace
Fireplaces tend to be on the main wall of any room, meaning it's in a space your eyes tend to naturally be drawn to. So use that to make your fireplace the focal point of the room, use it to ground the space and contrast the color scheme.
A white fireplace in this colorful living room would be lost, no matter how detailed the design, but a black fireplace even in a simple style stands out in the colorful scheme, grounding the bolder hues giving it more of a dramatic, elegant edge.
11. Go for a dramatic all-over black
Take inspiration from this dramatic fireplace idea and blend the surround into inky black walls. Despite the dark shade, you can still clearly see all the details in the ornate fireplace, so you get all the textures and shapes it adds to the room but it doesn't break up the deep, striking monochrome scheme. It's a decor idea that honors the original style of the fireplace but gives it a quirky, contemporary update
12. Make use of a corner
Corner fireplaces that tuck neatly into an underused space are perfect for smaller rooms. They add all the warmth and coziness of a larger fireplace and can be a statement focal point of a room too. Despite often having a small footprint they are more unique in design, with two or more sides open into the room. This unusual shape means you can get creative with materials (within reason) and creating something that's far from the traditional fireplace.
Case in point this concrete design that works so well with the industrial rustic vibe of the room. You can also find very sleek glass designs which looks almost to be suspending in the wall and totally open styles which would suit a minimalist space.
13. Go low and long
In a more contemporary home, clutter-free fireplace designs that sit low to the ground and often stretch horizontally along the main wall are best suited if you want to maintain a minimalist aesthetic. However, lack of ornate carving doesn't mean these designs lack interest, instead, that interest comes with the texture of the materials used. Natural materials like stone and marble are not only practical choices (they are incredibly heated resistant and hard-wearing) but they add depth, subtle colors, and textures to a room.
14. Fill a disused fireplace with decor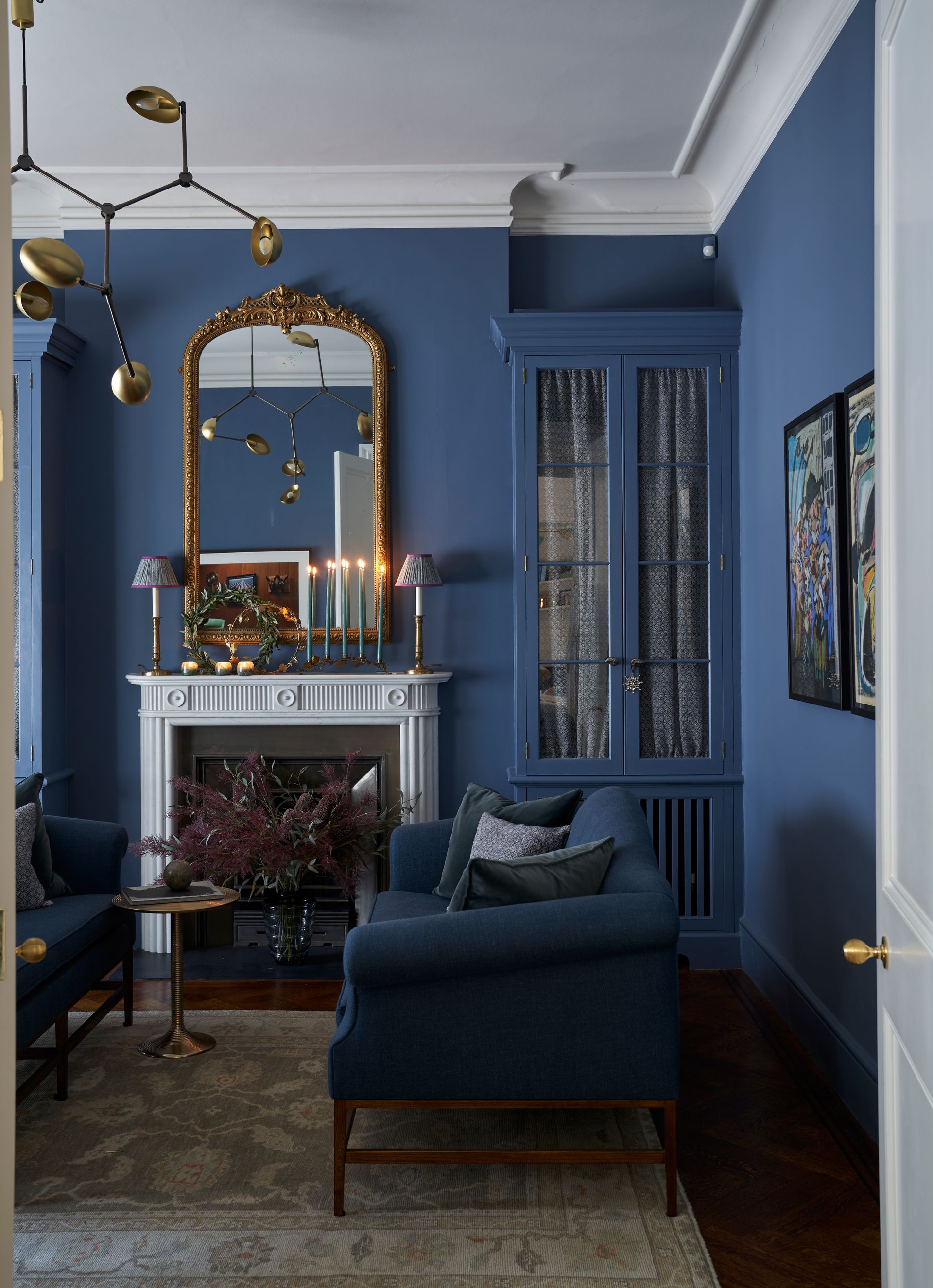 An incredibly easy fireplace idea that can save you from staring into the dusty abyss of an empty grate. Fill the unused space with something beautiful. You often see old fireplaces filled with logs, but a more elegant alternative is to bring in greenery or disguise the unsightly hole with a beautiful vase of dried flowers as can be seen in this blue living room. It doesn't distract from the beautiful surround or the mantle decor going on above but it does add some wonderful texture and is just as pretty as a roaring fire.
15. Make room for log storage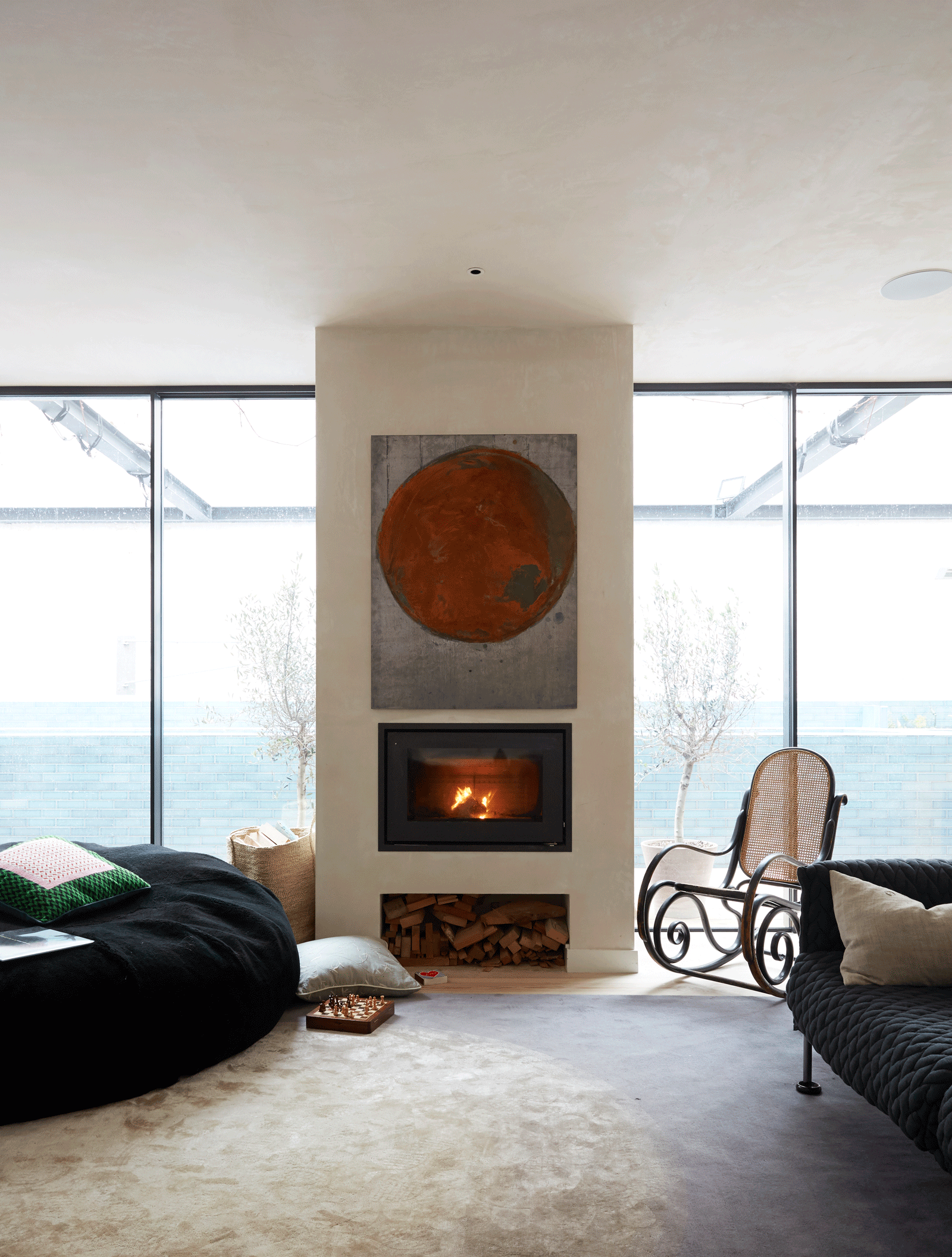 Logs don't just add rustic texture to a room, having a spot to store even a small amount of wood near to your fire is obviously a practical move too. Build a wood store into your fireplace design for a sleeker alternative to a log basket. Make it a key part of the design, mirroring the dimensions of the fireplace so the overall look is sleek and symmetrical.
16. Choose a double sided design
Double-sided fireplaces not only add a striking centerpiece, but they are perfect for open-plan living spaces, offering warmth to both rooms but also acting as a divider between the two spaces. This design is more common in more contemporary spaces, with clean lines and modern materials like glass and concrete, but they can sit in homes of any style and era, as this Victorian apartment proves.
How can you make a fireplace look nice?
There are plenty of creative ways to make a fireplace look nice. If you have inherited a fireplace that doesn't suit your style the easiest way to update it is with paint. If it really is hideous, paint it the same color as your walls to blend it into the background, but if its more the condition that's letting it down rather than the look, tiles can cover a multitude of sins whether you just redo the backplate or tile over the whole chimney breast.
What's trending in fireplace surrounds?
Speaking of tiles, they are a growing trend in fireplace surrounds. Rather than just being kept to the interior of fireplaces, they are coming out onto the surround itself. Frameless fireplaces that sit flush to the wall are also a big trend, particularly in more modern, minimal spaces. Corner fireplaces and peninsula fireplaces are also becoming a popular choice as they can add coziness to an open plan space and double up as a room divider too.
The Livingetc newsletter is your shortcut to the now and the next in home design. Subscribe today to receive a stunning free 200-page book of the best homes from around the world.
Hebe is the Digital Editor of Livingetc; she has a background in lifestyle and interior journalism and a passion for renovating small spaces. You'll usually find her attempting DIY, whether it's spray painting her whole kitchen, don't try that at home, or ever changing the wallpaper in her hallway. Livingetc has been such a huge inspiration and has influenced Hebe's style since she moved into her first rental and finally had a small amount of control over the decor and now loves being able to help others make decisions when decorating their own homes. Last year she moved from renting to owning her first teeny tiny Edwardian flat in London with her whippet Willow (who yes she chose to match her interiors...) and is already on the lookout for her next project.