10 mantel decor ideas to make your fireplace a focal point all year round
Because mantel decor ideas aren't only for Christmas...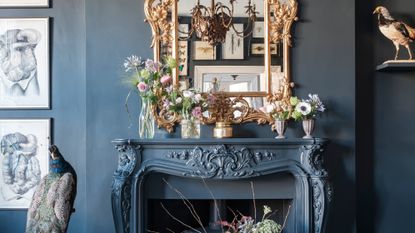 (Image credit: Future)
Mantel decor ideas do seem to come into their own during the holiday season, and while of course, we are partial to a mantel overflowing with ivy, spruce and glowing taper candles, we think this space deserves equal attention all year round. The humble mantel, whether it be over a fireplace, a wood burner, or even a stove, is prime decor real estate. It's the perfect spot to display your collections, adding color, texture, and personality to any room.
Artworks, mirrors, candles, vases, plants, the list for what you can use to decorate a mantelpiece really is endless. And there are designs to suit all styles, whether you are a minimalist looking for a simple way to showcase your decor or prefer an eclectic look with lots of colors and layers. We've rounded up our favorite mantle decor and fireplace ideas to get you inspired to get that underused space looking beautiful whatever the time of year.
How can you decorate a mantle?
How you decorate a mantle will come down to your personal taste, it's the perfect spot to really lean into your unique style and display pieces that reflect you and your home. As Sarah Vanrenen of Vanrenen GW Designs says, 'My feeling is that mantelpieces should be crowded, full of sentimental photographs, a lovely clock that you inherited from a grandmother, a posy of pretty flowers and perhaps a stack of stiff invitations for some fun social events. This means someone real lives there, and that is my motto, that a house should look lived in and not a showroom, a mantelpiece tells a story and can be ever-changing with details too. We also love placing beautiful mirrors above a mantelpiece too, it's the perfect spot.'
But minimalists don't run now. Mantles can look equally effective and add plenty of personality with a more pared-back approach too, as many of our lovely mantel decor ideas prove. It's all about experimenting, playing around with the pieces you want to display until it feels right for your space.
1. Switch out elements of decor with the seasons
Now we will avoid mentioning too much about Christmas decor here, but there's no denying that mantels were made for the holidays. So consider as you decorate how you will switch up the space with the seasons, and we aren't just talking Christmas either, the mantel provides a decorating spot for all the holidays in the year.
Lucy St George, Co-founder of Rockett St George, recommends, 'When styling and curating your mantelpiece, it's important to choose pieces that you can keep on display all year round and jazz up during different seasons. For example, once you've put together a display that you adore, all you need to do is add fairy lights and it's ready for Christmas!'
'Changing weather makes for the most perfect time to change up your mantle décor making them cozier and more enticing than ever.' agrees Abigail Ahern. 'Opt always for something large scale like artwork or mirror as it creates an instant focal and then embrace seasonal décor and decorate around it with simple seasonal touches. Candles, grasses, earthy textures always work. If your mantle is minimal decorate low and around the floor space with baskets, logs, ottomans, and little stools.'
2. Layer framed prints for a relaxed approach
A beautiful example of how a mantel can be a focal point of a room and still remain chic, uncluttered, and simple. Overlapping a couple of pieces of artwork with similar colorways but with varying heights and widths can add all the interest needed. Add in some extra texture by choosing vintage frames, even in a modern space, the contrast will add character to the room and give a slightly rustic edge.
3. Play with symmetry
Mantels encourage symmetry, naturally, you want to bookend the edges and have the majority of decor in the center. But going too symmetrical, as with anything in the world of interiors, can look forced and overly curated. So instead opt for of slightly off symmetrical design. Still add decor at the ends of the mantel, but rather than have them match choose two similar items – say vases in the same color but different shapes, different types of greenery, candlesticks in different heights. Then position your print(s) or mirror(s) front and center. The overall is equally satisfying, just without the fussy formality.
4. Make a mantel reflect your personality
Mantles are a wonderful spot to really let loose with your style, test out looks on a microscale, and have fun with what you choose to display. Where else can you layer so many colors, textures, and shapes without them overwhelming a room? Use the relatively small space to curate a setup that feels personal to you and your home.
'Importantly, make sure to go for treasures that you are drawn to, things that make you smile, and special mementos that can be mixed in accordingly.' says Lucy St George. 'By using a variety of heights, textures, and colors, will result in something boldly beautiful that will stand out in your living space. For this reason, don't worry too much about your layout, the more eclectic your accessories are, the more each piece will make a statement on your shelf. I love to use a selection of scented candles in amongst my display for a glorious glow and to bring a calming feel to the room. On top of this, meaningful adornments and quirky ornaments will always make the most fabulous pairing. So don't forget to have fun with your display and use unique pieces that bring personality and fearlessness to your interior!'
5. Disguise a TV above a mantel
Since the fireplace tends to be on the main wall of the room and what the entire living room layout is based around, it seems like the most sensible place to wall mount the TV. No shame here that the positioning of the TV comes above interior design, but avoid ruining your beautiful fireplace with a distractingly bulky piece of tech by going for a TV that can double up as artwork.
Jen & Marr, founders of Interior Fox say, 'we love the look of large scale art over the fireplace as well but equally love watching TV, so get the best of both worlds and install a Frame TV. You can change out the art as often as you like and not have to sacrifice the optional TV watching position. But be mindful of the height of the fireplace so that the TV isn't too high.'
And you don't have to forgo decorating your mantel either. Just pick pieces that sit low to the surface and won't distract from the screen. The collection of ceramics used in this living room work perfectly.
6. Crowd a shelf with greenery
How lovely do the pops of greenery look against the sunny yellow walls in this dining room? While a houseplant or two might be an obvious choice for mantle decor, take it further and crowd the space with plants. For a more cohesive look stick to matching pots, or pots of the same material like these terracotta ones, but then choose an array of plants of different heights and shapes.
Arrange them in a way that makes sense to you – see how the larger plants sit in the center of this setup but you could go larger at the edge or vary the heights. Play around with the pots until you are happy with the finished look.
7. Keep it classic with a large mirror
A mirror is a classic mantel decor idea, they bounce light around, adding depth and even creating the allusion of more space if you are dealing with a small room. However, they are often in the background, placed above a mantle sitting behind any decor. But what's really striking about this setup is the simplicity, the mirror is the focus and because of its ornate design and towering size, it's all that's needed in this space.
Can we also talk about how much of an impact a monochrome scheme can have? All white feels as bold as a rainbow of color in this dining room and the clutter-free mantel looks equally as throughout as one covered in decoration. A room that's proof sometimes less is more.
8. Think about scale
When decorating a mantel, no matter what you are choosing to use, scale can turn it from cluttered to curated. There's a bit of simple strategy to ensure that mantel decor looks purposeful and well thought out but also not overly planned and neat. Once you have a general idea of what you want to display, start with the tallest pieces at the back – prints, mirrors, etc. and get smaller as you come forward. Of course, this isn't a strict rule but a guideline to get started.
And overlapping is totally fine, encouraged in fact. The best-styled mantels have depth to them, don't always think about how the space will look front on, move around the room as you decorate, and see how it looks from different positions. And always work with odd numbers!
9. Go for simplicity
Not all mantles have to be spilling over with decor to be effective. Be inspired by this mantel decor idea and take a more minimalist approach, choosing a select few pieces to sit in front of a sleek, frameless mirror. The mirror doubles the decor so it doesn't feel sparse or unfinished, rather carefully curates and purposefully simple.
10. Add a flourish of blooms with stem vases
Bring in some natural textures and colors by decorating a mantel with an array of small posies in a collection of mismatching vases and jars. It's a really easy look you can switch up with the seasons, using finds from your garden or breaking up a larger bouquet. If you have darker walls or a dramatic scheme as in this dark living room, the delicate flowers can add an unexpected, contrasting softness to the room. Plus the colors stand out beautifully against a dark background.
How do you decorate modern mantel pieces?
If you want to achieve a modern look with your mantle, we'd recommend keeping it simple. Use a large print or a mirror as the starting point and either leave it bare for a clean and striking look or keep the center clear and add some decor in the form of candlesticks or vases as bookends.
And just because the room, or the mantel design, might be modern, don't be afraid to mix in some more ornate pieces – vintage candelabras or ornate mirrors can look just as at home on a modern mantel as a more traditional one and that mixing of styles is a sure way to give the room character.
How can you style a long mantel?
When decorating a long mantel, really just treat it as any other mantel, but be sure to think about the scale as we talked about earlier. With a longer space you'll really notice the shapes and heights of each piece so constantly be stepping back as you decorate to see that nothing looks out of place or is sitting too high for its position on the mantel.
For longer mantels, we recommend have the focus in the middle and don't draw attention to the furthest sides unless you want to accentuate the length. Instead, make the middle the focal point and tail away with the decor as you reach the edges.
The Livingetc newsletter is your shortcut to the now and the next in home design. Subscribe today to receive a stunning free 200-page book of the best homes from around the world.
Hebe is the Digital Editor of Livingetc; she has a background in lifestyle and interior journalism and a passion for renovating small spaces. You'll usually find her attempting DIY, whether it's spray painting her whole kitchen, don't try that at home, or ever changing the wallpaper in her hallway. Livingetc has been such a huge inspiration and has influenced Hebe's style since she moved into her first rental and finally had a small amount of control over the decor and now loves being able to help others make decisions when decorating their own homes. Last year she moved from renting to owning her first teeny tiny Edwardian flat in London with her whippet Willow (who yes she chose to match her interiors...) and is already on the lookout for her next project.