Corner fireplace ideas – 11 cozy looks to make the most of an underused space
Perfect for smaller space, these corner fireplace ideas can be squeezed into even the tiniest of living rooms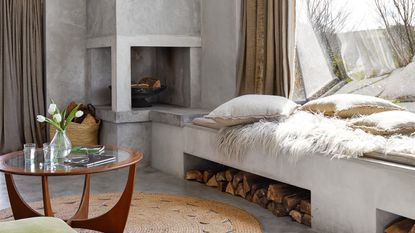 (Image credit: Paul Massey)
With the night's drawing in and the days feeling a little chillier, it's the time of year we start to pull out the extra throws, layer up the rugs, and light every candle we own. But nothing creates a cozy vibe quite like a fireplace. The warmth, the smell, the sound.
However, for those of us who have limited square footage or are short on wall space, the idea of a fireplace seems unrealistic. A bulky surround breaking up the space? Just sounds awkward and inconvenient. Enter corner fireplaces. Corner fireplace ideas are perfect for smaller spaces. They make the most of an unused nook and don't break up the room, still allowing for expanses of wall that can be used for furniture.
And there are so many different designs to suit all styles, from compact contemporary log burners to rustic stone styles. We've rounded up some of our favorite fireplace ideas to inspire...
Corner fireplace ideas that are both chic and cozy
1. Blend in a corner fireplace
The one qualm we have with corner fireplaces is that they can dominate a room, and having a focal point at an angle can make things tricky when it comes to layout. But in this colorful living room designed by Romanek Design Studio the fireplace doesn't dominate the room. It adds shape, interest, and a nice original quirk to the room but doesn't distract from what's going on in the rest of the room. And the solution was simple really, plaster and paint the fireplace to match the walls. That way you still get the lovely outline of the design but it almost blends into the background, only becoming the focus of the room when it's in use.
2. Opt for an understated style
This beautiful design by Emily Henderson is one for the minimalist. Again the design doesn't take all the focus of the room, the simple flush glass design ensures that's. But despite the contemporary style, there's a rustic touch too to this corner fireplace – the recessed log storage is not only practical but brings some lovely natural texture to the room and turns the fireplace, along with the minimalist prints into almost a feature wall.
3. Go rustic with a stone corner fireplace
Stone fireplace ideas always add such a cozy, cabin-esque vibe to a room and a classic fieldstone style fireplace works perfectly with a corner fireplace, adding subtle texture and an instant Scandi chalet vibe.
In this modern rustic living room, also designed by Emily, the original corner fireplace was a classic stacked stone design, very clear differentiation between the stones – cute but a little busy for a minimalist style. So to keep the texture of the stacked stones, but to create a more subtle look a technic called German schmear. It was the first we'd heard of it, but it's actually a really straightforward DIY that involves well... smearing plaster over the brick to create almost a white-washed effect. So simple and yet so effective. Works on brick too!
4. Open up a chimney breast to create a corner fireplace
In this gorgeous Scandi style lodge in Scotland (available to rent on Unique Homestays FYI) a standard log burner has been transformed into a chic corner fireplace by removing one side of the brick surround. It opens up the wood burner which from a practical perspective heats the room faster, but the asymmetrical design is also really eyecatching and works perfectly with the open plan layout of the room.
5. Keep it open for a chic industrial design
Be inspired by this beautifully simple concrete corner fireplace idea and raise a corner fireplace off the ground so it sits more at eye level and becomes more of a feature of the room. And rather than a more traditional grate, choose an on-trend fire bowl to sit within the chimney.
We love how this corner fireplace extends along the wall to become a window seat, and the built-in log storage underneath is practical, whilst also adding some nice natural texture in amongst all that concrete.
6. Break the symmetry with an off center fireplace
Corner fireplace ideas aren't only for smaller spaces, as this living room designed by Orlando Soria proves. They can work really well in larger, more open spaces as they are more flexible in their design than more traditional fireplaces. Rather than sitting front and center, a three-sided stove can disperse heat more evenly around a room and you can see view the fire from different angles of the room.
In this open and airy room, the fireplace adds some needed coziness and yet is simple enough so it doesn't draw attention away from the rest of the decor and the impressive gallery wall that dominates the other side of the room.
7. Highlight a corner stove with a feature wall
A freestanding stove can work just as well in a corner as a more traditional fireplace and can be tucked into the smallest of spaces so an even better option if you are tight on space. Wood burner ideas are also a good option if you have inherited an outdated corner fireplace – strip it down and replace it with a more minimalistic stove. You still get all the benefits of a roaring fire without the bulk of a more traditional fireplace.
Take inspiration from this Scandi-inspired living room and make the fire more of a focal point by painting the surround in a contrasting color to the rest of the walls. Now we know we aren't all fans of a feature wall, and they have got a bit of a bad rep in the world of interiors, but in certain circumstances, they can work, and this is one of them. The grey wall, rather than just being painted with a flat matte, has a natural texture to it, designed to imitate polished concrete so it stands out in the room but isn't too much of a stark contrast against the white walls.
8. Go long and low for a minimalist design
If your style is on the side of contemporary, simple corner fireplace designs that sit low to the ground and often stretch horizontally along part of the main wall work well with a more minimalist aesthetic.
However, a lack of an ornate surround doesn't mean these designs lack interest, you can add just as much interest with the choice of materials. Natural materials like stone and marble are not only practical options to go for for a corner fireplace (they are incredibly heated resistant and hard-wearing) but they add depth, subtle colors, and textures to a room. Bring the same material onto the hearth too for a seamless, sleek look.
9. Offset a corner fireplace with a mantle
So where to position a mantle above a corner fireplace? If your fireplace sits in the center of a corner wall, the choice is obvious, stick with directly above the surround. However, with a three-sided design, the ideal position is less clear. So do something unexpected and copy this mantel decor idea – add a mantel off-center, with half over the fireplace and half continuing along the wall. It creates a really balanced look with the fireplace on one side and your decor on the other.
Consider keeping the mantel really simple and painting it the same color as the wall, so it won't add any extra visual clutter to the wall and so anything you do add appears to be almost floating.
10. Or extend the mantel to incorporate log storage
Make the most of those awkward nooks that you often find on either side of a fireplace and extend the mantle to one side to create a cubby that's perfect for storing logs. This can work with corner fireplaces, but it's also a way to almost fake the corner fireplace look with a more traditional hearth. A clever trick to give a central fireplace more interest.
Can we also just note the white tiled mantel used here? An unusual look that's far from the rustic style of a wooden beam, but it's one we can definitely get on board with to give a fireplace a more contemporary look.
And, a quick health warning, when storing logs just always be sure there's either plenty of space between the logs and the fire or there a solid wall of non-combustible material between the firebox and the log storage.
11. Forgo the flue
Notice anything different about this wood burner? It's flueless. Bio fireplaces, which have the traditional log burner look but are run on gas, don't need a chimney or a flue so you can add them to any room, perfect for adding instant coziness to your home. And they are idea for small living rooms, or any small space, as they tuck into a corner without the need for any extra space for the flue. Plus, with these designs, you can skip the expense and hassle of having a traditionally log burner installed.
How do you arrange a room with a corner fireplace?
Corner fireplaces are often seen as tricky when deciding on a room's layout as they don't give you that very obvious focal point you get with a more traditional fire. However, we see this lack of rigid format as a blessing and one of the big pluses of having a corner fireplace is that you can often be more flexible with your layout.
Your arrangement will of course depend on the size, shape, and amount of furniture you want to fit in the room. But there are two obvious options, either make the corner fireplace the focal point by angling the majority of furniture to the corner or, our preferred option, choose a main wall that adjoins the corner fireplace and angle your furniture towards that, leaving the fireplace side of the room open. E.g one sofa parallel to the main wall and one sofa facing the fireplace wall to create an L-shape.
The Livingetc newsletter is your shortcut to the now and the next in home design. Subscribe today to receive a stunning free 200-page book of the best homes from around the world.
Hebe is the Digital Editor of Livingetc; she has a background in lifestyle and interior journalism and a passion for renovating small spaces. You'll usually find her attempting DIY, whether it's spray painting her whole kitchen, don't try that at home, or ever changing the wallpaper in her hallway. Livingetc has been such a huge inspiration and has influenced Hebe's style since she moved into her first rental and finally had a small amount of control over the decor and now loves being able to help others make decisions when decorating their own homes. Last year she moved from renting to owning her first teeny tiny Edwardian flat in London with her whippet Willow (who yes she chose to match her interiors...) and is already on the lookout for her next project.