Small living room fireplace ideas – clever ways to style a fireplace in a tiny space
Our small living room fireplace ideas are just the inspiration we need to create those optimum hygge conditions even when space is tight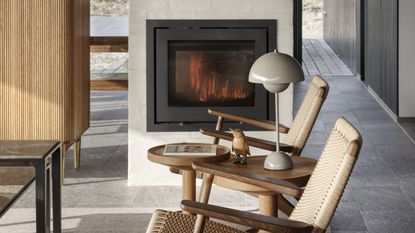 (Image credit: Tollgard)
When space is limited, adding a fireplace or navigating around an existing fireplace isn't the most straightforward task. However, as all these small living room fireplace ideas prove, you can make a roaring heath work in a tiny space, just takes some clever ideas and an innovative approach.
The ritual of having a fire is something that connects us not just with the people sitting around the fire – igniting conversation and creating a cozy atmosphere with its mesmerizing glow but also with the natural world outside. And you shouldn't miss out on this essence of hygge that we all yearn for in the winter months, just because square footage is limited. So we've pulled together all our favorite small living room ideas that incorporate a fireplace, so you can be inspired to add one (or see how to work around one) in your home...
Small Living Room Fireplace Ideas
1. Add character with exposed brick
Exposed brick can be a divisive subject but if done well can prove to be an elegant and characterful focal point. As a general rule, the older your house the more beautiful your bricks are likely to be – if your home is pre-1950s, you've probably got some beautiful bricks under all that plaster. While it may be a weekend project for those who are inept at DIY, exposing a fireplace is a messy job, so we would recommend getting a builder who can better advise on what you'll find.
We love how the brick contrasts the steel blue-grey walls in this small blue living room. The brick surround isn't too fussy so doesn't overwhelm the small space as a large ornate surround might, but it does add the perfect amount of character and warmth.
'Consider the architectural era of your home. I always advise sticking to whatever fireplace style is local to that area,' says Owen Pacey founder of Renaissance London. 'This is for aesthetic, rather than practical reasons. Something from the wrong era will stick out like a sore thumb.'
2. Use a fireplace to create a room divider in an open plan space
Figuring out where to position a fireplace in an open plan room or studio apartment living room, especially when space is tight can be tricky but with a little clever spatial planning, it can be used as a device to create partitions and section off areas. This smart fireplace has been built into an existing wall in this living room and takes up no extra room to incorporate into an already full space – but equally a wall can be created wherever desirable.

'A fireplace is an effective way to divide and conquer a room and link two adjacent rooms or spaces together with a double-faced fireplace,' says Stefan Tollgard founder of Tollgard Design Group. 'In an open plan living/dining space in a beach house we designed off the coast of Denmark we used a fireplace in black to stand out from the neutral palette wall and divide and demarcate the space functions.'
3. Surround it with pretty wallpaper
An original fireplace is lovely to celebrate and use to create a statement but can be equally charming to have it feel like it's completely at home in the space nestled into the interior like it's been there forever. Covering the entire wall the fireplace is on with a busy floral pattern can be a way to expand space in a small living too bluring the edges of the room, and by taking it all the way into the hearth too, only helps create a more seamless flow where the dimensions aren't really obvious. It's also a great way to cover up any unevenness on an old wall the fireplace might be in!

'Wallpapers can add another dimension of warmth and textural interest to a room,' explains Patrick O'Donnell Brand Ambassador at Farrow & Ball. 'From small motif designs to the more graphic. They are also a great way to hide flaws if your walls are not in the best order.'
4. Choose a double sided fireplace
Apart from being a fabulous designer feature, double-sided fireplace ideas are great for optimizing warmth – heating two rooms at once ≠ it's also perfect for sustaining visual and light flow in small spaces.
This bright and airy living room features a sleek double-sided glass fireplace built into a concrete wall with a practical niche on the other side which stores firewood and creates a discreetly styled statement. Light shines through the fireplace from one side of the room to the other making the whole concept feel delicate despite the industrial aesthetic.
5. Give a fireplace a face lift with tiles
Giving a hearth a face-lift with beautiful fireplace tile ideas is a game-changer for the look and feel of the whole room. Small decorative tiles are an easy way to add pattern and visual interest or be inspired by this space and add loads of texture to a small living room with zellige tiles. And note how the tiles go all the way up the chimney breast, floor to ceiling, which will help give a small room height and elegance.
6. Think about the materials that surround your fire
This cozy, compact neutral living room fits a large and beautifully designed eco stove surrounded by stylish comfortable furniture in equally elegant neutral hues – a covetable aesthetic in a small room where light colors can 'expand' space but you still get that cocooning feel. Note how the stove sits upon a stone platform, elevating it slightly so it becomes more of a focal point of the room.

'A stove still needs room around it to radiate its heat into the room, so don't be tempted to cram a large stove into a small fireplace opening, as you won't feel the benefit.' says Jon Butterworth, Director, Arada Stoves. 'Apart from that, installing a stove into a small fireplace is the same as installing one into a large inglenook. Make sure to distance to combustible materials such as beams, carpet, and skirting.'
6. Think about style and efficiency
When choosing a stove for a small living room, along with size and shape, you also need to consider energy efficiency. Be sure to choose a stove that incorporates varied rated heat outputs which allows you to take account of the size of your room and provide the space with the perfect amount of heat.
'Before purchasing a stove, you should verify the heat requirement for its intended location,' advises Declan Kingsley-Walsh, MD at Morsø UK. 'To calculate the heating demand of a specific space, simply work out the volume of the room in cubic meters and divide by 14. Buying the wrong size stove will prove problematic due to over firing or more commonly under running the appliance which is potentially more damaging to the stove, flue, and the environment.'
7. Paint it the same color as your walls
In some cases, you may want to downplay your fireplace surround so it doesn't feel too imposing in a small living room. Painting a fireplace the same color as the wall that surrounds it helps it disappear into the room and allows other features to take center stage and of course makes the room feel bigger as a whole.
This room is painted in 'Livid' by Little Greene a soft chalky paint that is soothing to the eye and in this space picks out all the delicate architectural details of the fireplace.
8. Add Grandeur in a Small Room
In a classic Victorian terrace, there is often a common debate, whether to keep the chimney breast and fireplace or remove it for extra floor space. A chimney breast can create dynamism in space, avoiding that boxy feeling you really want to avoid in a small living room. The niches it creates on either side also provide a considered spot for tall furniture pieces or built-in shelves.
If you are not lucky enough to have a beautiful original mantelpiece then take the opportunity to create something out of the ordinary. Not only will it give your living room character, but it can also be a relatively small cost that immediately elevates your room to appear bespoke and high-end.
'In this living room there is a lot going on so I wanted the mantelpiece to have a relatively simple design,' says interior designer Pandora Taylor. 'This also allows the glorious veining of the marble to stand out. This 'Pocahondas' Marble is the last thing I chose and I just loved how it connected the various color tones in the room and added this bark-like texture to the woodland scene of the tapestry wallpaper. When designing mantelpieces in spaces like this I like to go low and wide, this can make the room appear taller than it is whilst adding grandeur with its bulk.'
Can I put a fireplace in a small room?
Fireplaces are a great addition to any room, big or small. There is the impression that they can be architecturally overwhelming in small rooms, but there are plenty of creative ways and contemporary choices that will incorporate them into a floor plan with minimal square feet.
How do you style a fireplace?
Start by thinking about your fireplace decor holistically and how to frame it, either with mirrors or balancing with bookcases. Create a focal point with artwork above or use a cluster of mirrors to surround. Layer eclectic decor or pull up some stools and benches to create a convivial gathering area.
Rohini Wahi is Content Editor for Livingetc Online. With a decade-long career in the interiors and design industry working as a journalist for premium lifestyle publications then delving deeper into the business as a trend forecaster, Rohini has amassed a wealth of global design knowledge that informs her work. She loves a period drama and keeps a tidy home.