This viral layout idea is the easiest way to DIY an on-trend "conversation pit" for a cozier, more social living room
The 70s trend is back with a vengeance, but you don't need to have a sunken living room to make it work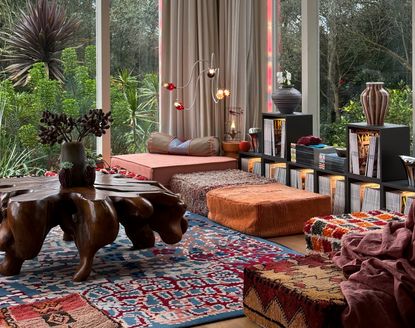 (Image credit: Josh and Matt)
The Livingetc Newsletter
For style leaders and design lovers.
Thank you for signing up to LivingEtc. You will receive a verification email shortly.
There was a problem. Please refresh the page and try again.
If you're anything like me, a 1970s sunken living room probably exists somewhere on your dream home mood board. Also known as a "conversation pit", the striking architectural feature once beloved by designers seemed to have fallen out of favor at the end of this decade, however in recent years, it's a feature we've definitely noticed making a comeback.
The traditional sunken living room has an air of grandeur to it. There is no denying the drama it adds to the room. For most of us, the idea of creating such a space is completely unrealistic. After all, it requires you to have a sunken area in your home - something that can't be achieved without some serious architectural work.
But, the idea of a conversation pit isn't completely out of reach for the everyday home, and I've come across an amazing way to recreate this living room trend that anyone can do. Josh and Matt (@joshandmattdesign) have amassed over 47 million likes on the platform, but it is their creative adaptation of the conversation pit that has caught the eye of so many.
What is the "new conversation pit"?
There is a new version of the sunken living room that is taking over our Pinterest boards and it's called the conversation pit. Unlike the 70s seating fixture, this design requires no excavation or structural work and makes for a cozy reading nook and modern living room.
Josh and Matt have been sharing their design journey with their 477k followers for a few years now. Their mutual love of design shines through their binge-able videos and has inspired thousands to get creative in their own home. Their take on the sunken living room is renter-friendly and super simple to recreate.
'We were inspired by the eclectic look of some of the Roche Bobois Mahjong sets we'd seen and decided to create our own version,' Josh and Matt tell me. 'We actually designed this room in one night and purchased all the floor cushions and rug on the same night too, so it was a very quick and spontaneous decision but that's how we like to work. Don't overthink it and go with our gut!'
If you just can't get the vision of a sunken living room out of your head, this version of the conversation pit requires far less commitment than the real deal.
How did they create it?
This trend favors individuality. There are no strict guidelines to follow, it can be replicated in any space and adapted to match any living room color palette.
'The biggest design lesson from this room is that experimentation is key,' say Josh and Matt. 'We've made many small changes to this room over time and it just keeps getting better.' Trial and error is a large part of making a conversation pit work for your home. It is also a space that can organically evolve as you use it and work out what works for you.
Josh and Matt's home is an eclectic mix of vintage and the conversation pit is no different. 'Facebook Marketplace and Etsy were where we sourced most of the furniture and items for this room,' they explain. 'We've rearranged and slowly changed it over time too, we love a room that constantly evolves.' There is no flat-packed conversation pit for sale, but there are a plethora of vintage and non-vintage options out there to help you create your own.
'We hope to show our audience that your interior should be a reflection of you, so don't overthink it, have fun with it, and always make design decisions based on what we will genuinely enjoy and is authentic to our taste,' Josh and Matt say.
How does it compare to a regular sunken living room?
The process of creating a traditional sunken living room has its difficulties. There are a lot of requirements and considerations to be made in order to successfully pull off the construction.
'A sunken seating area or conversation pit forms a key element of the interior architecture of the space and involves coordination with the architecture and engineering team from the early stages of the project,' explains the CEO of Kingston Lafferty Design, Becky Russell. 'The levels are really important, you want to consider your eyeline from the seated area and also how it will appear from other areas it is linked to. Access and steps are also key for ease of use and how it impacts the circulation of the space,' she says.
Another consideration is the seating area itself. So much planning goes into the construction of the sunken aspect that it's easy to neglect the part that makes it a living room. The feature creates an intimate space to relax and talk, comfort is key to supporting this. 'Sofa sizing is important if using an existing model or planning the detail of a custom upholstered piece,' says Becky. A custom adds another layer of magic to the room, but of course also another layer to the bill.
A sunken living room needs specialist engineering and artistry to be achieved, but luckily there are alternative options that give the same level of comfort and solace without a permanent commitment.
What to buy
For style leaders and design lovers.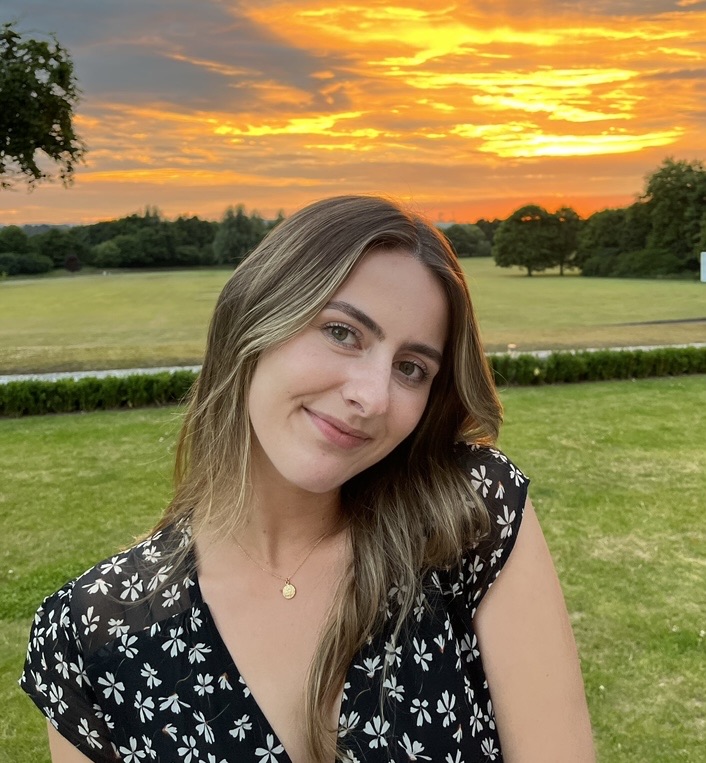 Amy recently completed an MA in Magazine Journalism at City, University of London, with experience writing for Women's lifestyle publications across arts, culture, and beauty. She has a particular love for the minimalist aesthetic mixed with mid-century furniture, especially combining unique vintage finds with more modern pieces. Her previous work in luxury jewellery has given her a keen eye for beautiful things and clever design, that plays into her love of interiors. As a result, Amy will often be heard justifying homeware purchases as 'an investment', wise words to live by.