Sofa trends 2024 – experts reveal trending styles, designs and materials
These sofa trends highlighted by top experts showcase some of the most popular, loved, and purchased designs that will be big next year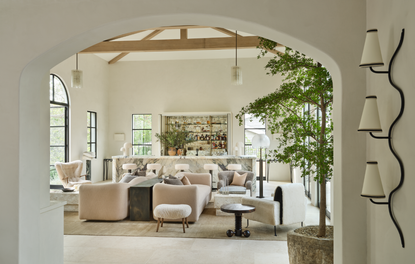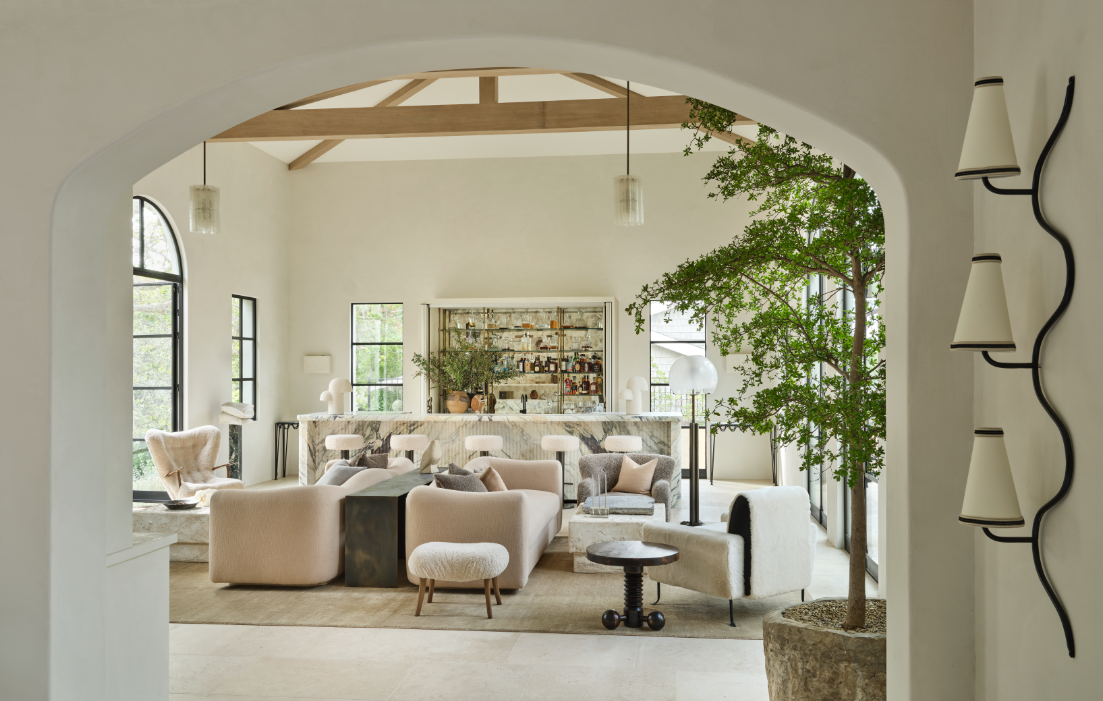 (Image credit: Trevor Tondro. Studio credit Jeremiah Brent. )
The Livingetc Newsletter
For style leaders and design lovers.
Thank you for signing up to LivingEtc. You will receive a verification email shortly.
There was a problem. Please refresh the page and try again.
Sofa trends 2024 point toward designs that will spark conversation and change the way the interiors look. From eye-catching colors, prints, and shapes to materials, sofas are now one-of-a-kind statement pieces.
'Up until a few years ago the tailored rectangular sofa style was strong, but that has given way to new incredible styles,' says Jane Lockhart, founder of Jane Lockhart Design. 'The rectangular sofa has gotten deeper and more puffy, feather-filled so it looks less tailored and more comfy. And, building in this direction, many sofas and chairs have become more curved, sensuous, and lush.'
Take a look at these interior design trends that showcase a joyful cacophony in sofa designs. Find out what experts say about what's going to be hot next year.
1. Curving sofas
The love and popularity for the curved sofa have risen significantly in the last year. Its sinuous shape, cozy appearance, and undeniable mid-century vibe has gripped homeowners. Not only do these seamlessly fill up corners, awkward niches, and more, but they also help create more space, expanding circulation room for people to move about. Plus these pieces have an inherent stylish appeal. In a debate of curved sofas vs straight sofas, the former is gathering a lot of support.
'Curved sofas offer soft lines which add an organic and welcoming feel to any rectilinear space,' says designer Jane Lockhart. 'They also offer small sizes, as they aren't as bulky as a traditional sofa, particularly as some options are offered in tapered or irregular shapes.'
2. Bolster pillows
Bolster pillows go back a long way, traditionally used to offer lower back support and used on beds to make sleeping more comfortable (they're known as 'hugging pillows' in southeast Asia where they originate).
2024 pillow trends for the sofa point directly at bolsters for their three-dimensional, sculptural qualities; the cylindrical design being both incorporated into the sofa body itself, as well as being placed decoratively alongside traditional pillows to add character, contours, and contrast. They also work on couch alternatives like futons, daybeds, and chaises.
'Bolsters continue to be used to add softness and a round element to rectangular or angular furniture,' says Jane. 'However, these have evolved into fully round pillows, much like a basketball! In addition, bolsters have taken on extensive textures like faux fur, cable knit, fringe, etc. Basically, these are adding a dash of fun now!'
Faux Leather bolster pillow
Material: Faux leather
Price: $35
Consider this smart bolster pillow for your sofa and add extra comfort to the seating.
3. Multi-directional sofas
Facing someone on a sofa has always involved a lot of pillow repositioning and folding of legs, and more often than not decamping onto another chair. Until now. The multi-directional sofas of 2024 – as the name suggests – focus on socializing and conversation as their main function, and the result is wonderfully practical, as well as beautifully sculptural. If you're wondering how to find a style of sofa you'll love for years to come, this one checks the box.
'Multidirectional sofas are ideal for people who host a lot of guests,' says Richard Misso, creative director at The Stylesmiths London. 'They help disperse a crowd and create intimate smaller groups which make it easier to converse. They are also great for dual-purpose living zones. For example, one side can be used for a semi-formal living room and the other could be utilized as a TV sofa. This would ideally take up less floor space whilst providing a dual purpose.'
'In general, these sofas take up less floor space than two traditional sofas back-to-back, making them ideal when space is an issue,' says Richard. 'Additionally, in many cases, the purchase of one multidirectional sofa could be less costly than two traditional sofas. Multidirectional sofas can provide a more interesting aesthetic and help break up a room into separate zones, especially in an open concept space.'
4. Color clashing pillows
Complete pillow freedom – anarchy? – has arrived. Gone are the days of buying a matching pair or set of pillows. For 2024, it's the more mismatching the pattern the better, as we embrace maximalism in interior design and mini maximalist vignettes on the sofa. Take two or three patterned pillows you love; it's time for them to unite to create a one-off composition for your home.
'When selecting pillow sofa prints, we tend not to be driven by trends and rather by what can work with the room,' says Richard. 'Approach accessories like pillows as you would with artwork. Look at the color pallet, texture, and pattern. Feel free to be brave if you are seeking a maximalist interior and show restraint if you are aiming for a quieter minimalist approach.'
Be brave while mixing and matching sofas and pillows. If you would just like to dip your toe, opt for designs of a similar scale, with a central color theme throughout. You can then go to town on the designs as much as you like! 2024 is the year to embrace your style.
Crushed Velvet Pillow Cover
Material: Crushed velvet
Price: $10
Want to add a pop of color to your muted sofa? Consider these bright pillows that are both comfortable and stylish; perfect for a modern home.
5. Sofas with shelf ends
A wonderful small living room furniture idea, is this the year we say goodbye to the coffee table in favor of a built-in alternative?
'These brand-new seating configurations – which feature coffee tables or shelves jutting out at the back, or at the end next to the seat – are becoming increasingly popular because they allow people to live more comfortably,' explains architect Roberto Minotti, co-CEO of Minotti. '
'The modern living room is evolving more and more, as each area is becoming increasingly multi-functional,' explains Patrizia Colombo, a director at Arflex. 'Contemporary seating has a dual personality: a soft soul for sitting and a second identity, that reveals a more dynamic and service-oriented attitude. Integrating tables into soft seating elements makes them more useful and practical, as well as enhancing their spirit.'
'Sofa shelves can be used both as pure surfaces – somewhere for books and small objects – or as storage units to be positioned in between seats or at the end of them,' says Robert. 'The shelves make the sitting experience more comfortable and life easier: people can adapt their seating system to their own living habits, creating convivial corners and areas of pure comfort in accordance with their personal needs.'
What color sofas are in style ?
The year 2024 is going to be about bold and daring designs, statement-making hues, and more. Colors such as deep blue, punchy red, charcoal grey, and moss green will be big for sofas. Muted tones such as cream and mushroom brown will be popular as well.
For style leaders and design lovers.
Amy Moorea Wong is a freelance interior design journalist with a decade of experience in contemporary print and digital editorial, previously News Editor at Livingetc. She writes on a broad range of modern design topics from news and interior zeitgeist to houses, architecture, travel and wider culture. She has a penchant for natural materials, surprising pops of colour and pattern and design with an eco edge.
With contributions from