Sofa trends 2022 - the key seating styles and shapes explained
Sofa trends are set to be big news, as 2022 becomes the year of lounging around in style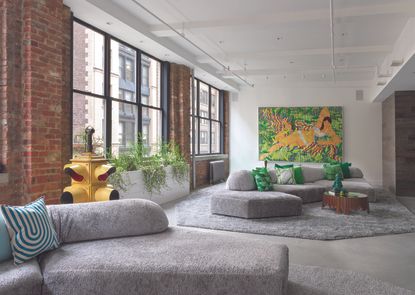 (Image credit: Edra)
Sofa trends may sound like a niche topic, but there's more to this universal piece than you might imagine. For when is a sofa not just a sofa? When it's a design set to dominate in 2022. The hottest seats on the sofa scene are not only sink-into-me soft, they're also rather clever. These pieces will prompt conversations, offer help with storage and styling, and take on illusionary hints of the architectural.
If you have an image of a sofa in your mind it's time to wipe the slate clean and get involved with the updated sofa 2.0 – these interior design trends are so much more than somewhere to sit. In styling, we're heading for are truly one of a kind, personal cushion combos, where prints, patterns and colors come together in a joyful cacophony which can be easily updated or changed in a moment and endlessly appreciated. Join the experts as they discuss the significance of sofa design of the near future.
Sofa trends
What are the big sofa trends for 2022?
Angular sofas
Bolster cushions
Multi-directional sofas
Color-clashing cushions
Sofas with shelf ends
Sofa trend 1: Angular sofas
It's the corner sofa, but not as you know it: it's undergone a softening and angles are wider (on an obtuse angle, math fans), less sharp, not as rigid. Fitting tightly into a corner has been totally abandoned – this modern living room trend is for the center of the room, to walk around and admire.
Why are sofas becoming more angular?
'Contemporary sofas have become multitasking islands in the center of the living room, adapting to their new function of being one of the places where we rest, sleep, play, share experiences, even work,' says Monica Mazzei, Vice-President of Edra. 'Angular sofas allow you to create multiple customized configurations, they are micro environments where you can be alone or share moments with family or chat with friends.'
'The reason why sofas are becoming more angular is the fact that they allow us to use spaces in a room, which are usually left unfurnished,' explains Paola Ciribilli, Marketing & Communication Director of Bonaldo. 'They are often made up of various modular elements that can be combined in different ways thus for maximum customization. Many contemporary houses have open spaces where there's the need to divide rooms and an angular sofa is a solution to this.'
In a debate of sofa vs sectionals, these type of designs offer benefits of both.
How do angular sofas make a room feel?
'They become a real architectural element within the home,' says Edra's Monica Mazzei, explaining why they're now such a key part of modern living room ideas. 'The angular sofa tends to be modular and customizable, creating the possibility to change the way a room is used without touching the structural parts. It can create more or less intimate spaces within a single environment, so different functions can coexist. As Francesco Binfarè said (talking about our Grande Soffice sofa): "The sofa is the most mysterious object among the pieces of furniture that populate the universe of interior architecture. It is a sculpture that enters the house like a monument or an obelisk or a cathedral enters the urban space. It is architecture itself, a primordial and sophisticated nest". Angular designs really tie into this poetic aesthetic.'
'Angular sofas are the protagonist in a room,' says Bonaldo's Paola Ciribilli. 'They are, by their very nature, a sociable piece of furniture designed to be wrapped around a low table and, they have a very strong and elegant presence, adding a stylish flair to the space.'
'The voluptuous volumes and organic compositions of an angular design form a free, natural and very comfortable way to enjoy the living room and to make your space flexible and a comfortable place to live,' says Poliform's Giovanni Anzani. 'Enveloping, sensual and warmly charismatic, angular sofas represent modern comfort, refinement and elegance.'
What does a sofa with sharp angles but soft upholstery achieve?
'An angular design and paired with soft upholstery creates a structural contrast,' says Bonaldo's Paola Ciribilli. 'A geometric look with a soft touch is unexpectedly appealing, adding creativity to a room.'
'The combination of an angled design and upholstery is pleasant to the touch and creates maximum possible comfort,' says Edra's Monica Mazzei. 'The pieces are expressive and surprising, merging sensory experience and ergonomic comfort.'
'Angular sofa designs are tactile architectural landscapes,' finishes Poliform's Giovanni Anzani.
What types of room are angular sofas suitable for?
'An angular sofa can be put in the living room, in an open space to divide the room, or in a larger hallway to welcome guests,' explains Bonaldo's Paola Ciribilli. 'With modular designs, the size of the sofa can be edited depending on how much space you have.'
'Traditionally, angled sofas like corner designs were more suitable for large spaces,' says Edra's Monica Mazzei. 'However, our sofas can also be configured with just two modules, allowing a small space the same of feeling, functionality and performance. They create micro-islands of comfort, relaxation and sociability.'
Sofa trend 2: Bolster cushions
Bolster cushions go back a long way, traditionally used to offer lower back support while sitting and used in bed to make sleeping more comfortable (they're known as 'hugging pillows' in south east Asia where they originate).
2022 cushion trends for the sofa point directly at bolsters for their three-dimensional, sculptural qualities, the cylindrical design being both incorporated into sofa body itself, as well as being placed decoratively alongside traditional cushions to add character, contours and contrast. They also work on couch alternatives like futons, daybeds and chaises.
Why are we being increasingly drawn to bolster cushions at the moment?
'Traditional interiors and craftsmanship in the home is a trend that has been rising over the past year – bolster cushions are classic in feel and add something a little different to an interior space, says Kirkby Design's Clare Leith. 'They're a fun and practical way to add intrigue and statement to a sofa. Recently, the home has become a blank canvas where people want to introduce something unusual, and that adds a new element to a space – the bolster could well be the answer.'
What do bolster cushions offer to the living room?
'Bolster cushions are becoming increasingly popular,' says Asa Hirst, Commercial Director of Ligne Roset. 'They introduce an extra layer of interest to chairs and sofas thanks to their pleasing round shape and length, which acts as a contrast to the usual square or rectangular cushions.'
'Historically bolster cushions were used as part of modern bedroom ideas, where they add a decorative accent at the front or back of a bed and provide support by comfortably aligning your body,' explains Clare Leith, Senior Textile Designer at Kirkby Design. 'For 2022 I see the bolster cushion being introduced a lot more into the living room, providing additional comfort and style.'
Is a 2022 bolster a standalone cushion, or part of the make-up of the sofa?
'The benefit of a bolster cushion is that you can really use it however you want,' Kirkby Design's Clare Leith says. 'Make it the feature of a sofa and just have the cushion, or alternatively use it to add a contrasting shape and size to other more conventional cushions – the choice is yours!'
'Weighted bolster cushions make up the body of our Prado sofa,' explains Asa Hirst of Ligne Roset. 'This is a modern, innovative design in both aesthetic and function, as the cushions remain in place without needing to be supported as integral parts of the sofa itself.'
How will the bolster cushion of 2022 be used?
'Bolster cushions are being used a lot more with furniture now and will feature heavily on sofas into 2022 – they act as a way to provide additional arm support, as well as introducing additional curves, a shape dominating design,' Kirkby Design's Clare Leith says. 'The benefit of the bolster cushion is that it is a complimentary cushion – it can easily go in front of other cushion shapes and not block their pattern or color, paving the way for more attention-grabbing styling options.'
'We expect customers will order bolsters in a contrasting texture or colour to the main body of the sofa, to further emphasise their shape and interest' adds Ligne Roset's Asa Hirst.
Sofa trend 3: multi-directional sofas
Facing someone on a sofa has always involved a lot of cushion repositioning and folding of legs, and more often than not decamping onto another chair. Until now. The multi-directional sofas of 2022 – as the name suggests – focus on socializing and conversation as their main function, and the result is wonderfully practical, as well as beautifully sculptural.
Why are multi-directional sofas on the rise for 2022?
'The beauty of multi-directional sofas is that they allow people the freedom to come together in whatever way they please,' says Ludovic Aublanc, Creative Director of Chaplins. 'In 2022 our homes will work harder than ever, and we'll need designs that can keep up, switching modes between spots to relax, socialize or even fire off a quick email in.'
'In recent years we have experienced an increasing desire for flexible solutions in our homes. Sofas now not only represent a comfortable place on which to lie down and relax on, but also an informal place to converse and a place to work.' says Carola Bestetti, CEO of Living Divani. '360° seating solutions are a revolution, breaking down the traditional constraint of choosing a direction: spaces can be lived in complete freedom, continuously experimenting with new uses and compositions.'
'Fresh and fluid, multi-directional sofas encourage a sense of interaction which front facing sofas lack,' explains Asa Hirst, Commercial Director of Ligne Roset. 'Accessible and comfortable, they introduce movement in a room, as well as encouraging relaxation and conversation.'
What do multi-directional sofas offer which traditional designs do not?
'The island configuration – placing the sofa in the middle of the room – offers the possibility of creating versatile layouts, to compose an archipelago devoted to a more flexible relaxation,' says Living Divani's Carola Bestetti, opening up the world around how to design a modern living room. 'A multidirectional sofa is not a simple piece of furniture but a small piece of architecture, both spatial and functional.'
'Multi-directional sofas can be placed floating in a room, rather than pushed up against the wall, to create interesting shapes and angles that regular sofas can't,' says Asa Hirst of Ligne Roset. 'They can be used particularly effectively in open plan spaces which can benefit from zoning.'
'When placed in the center of a room, multi-directional styles allow you to experience your homes from all angles, opening up new possibilities and perspectives,' explains Chaplins' Ludovic Aublanc. 'In their openness and flexibility, they do away with tired adages about what a sofa can and should be. These lovely little shapeshifters will see you through every season of life in comfort, style, and no small degree of luxury.'
Why is the basic shape and function of the sofa morphing for 2022?
'A multidirectional sofa such as our Extrasoft design really changes the function of the room where it's placed. The traditional borders between dining and living, daydreaming and office, outdoor and indoor fall and become fluid,' says Living Divani's Carola Bestetti. 'Upholstery is adapting to our ever-changing situations and particular needs: formal settings can now be transformed into relaxing and enjoyable oasis, and vice versa.'
'It's something that renowned Italian designer Francesco Binfare has been thinking about for years – in 2016 he said that that the sofa will become less and less a piece of furniture and more and more a place. His designs consequently seek to tackle everything from the more practical interior problems such as how to comfortably seat ten friends, to the deeper societal malaises of loneliness, climate change and automation,' Chaplins' Ludovic Aublanc tells us. 'It might seem like a lofty aspiration for something as simple as a sofa, but in a society that reports ever increasing levels of estrangement, a beautiful soft platform in which loved ones can come together in person can make all the difference.'
Sofa trend 4: color clashing cushions
Complete cushion freedom – anarchy? – has arrived. Gone are the days of buying a matching pair or set of cushions. For 2022, it's the more mismatching the pattern the better, as we embrace maximalism in interior design and mini maximalist vignettes on the sofa. Take two or three patterned cushions you love; it's time for them to unite to create a one-off composition for your home. The more decorative the better, and for living room color trends now we're talking patterns, fabrics, textures and colors of every description – throw caution to the wind and let them be friends! This trend is all about self-expression and nonconformity. Florals with geometrics with checks? Yes. Damask with polka dots with leaves? Yes. Animal print with abstract with ikat? Now you're getting it.
Why have we turned to placing clashing patterned cushions together?
'A mismatched scheme creates something truly unique,' says Hannah Bowen, brand manager at Archive by Sanderson Design Group. 'We often spend our days scrolling through Instagram feeds and flicking through interior magazines for inspiration – but why should your home look like everybody else's? Something as simple as a mix-and-match cushion scheme can give your space a certain edge, while helping to stamp your own distinctive sense of style on your home.'
'When done correctly, aligning certain patterns stimulates the sense and heightens the enjoyment you can get from each pattern or design alone within your surroundings,' adds Rosie Axford, Founding Partner of Wicklewood. 'Mixing textures and patterns also adds a layer of interest to a room, helping to pieces stand out more than they would say when featured solely.'
'It's a way of building on an existing, well-loved cushion collection,' explains Frieda Gormley, Co-Founder of House of Hackney. 'The layering of mismatched, individual pieces feels incredibly personal as opposed to just having a pair of the same cushions. It's also quite nostalgic, it reminds me of my Granny's sofa when I was a child, which had a line-up of amazing cushions in different textures and different jacquards.'
What kind of mood do mismatching patterned cushions create?
'Mismatched patterned cushions create a playful element to a room, an elegant yet fun vibe which projects a confident and considered, bold style,' says Wicklewood's Rosie Axford. 'Clashing often implies that something is not complimentary, however contrasting shades and bold colors are often just what a room needs to pull it together and tip it into a realm of comfort while infusing it with personality and character.'
'The beauty of a mismatched scheme is that the end result is what you make it, it's entirely down to the prints, patterns and colors you choose,' says Hannah Bowen of Archive by Sanderson Design Group. 'No matter which styles you go for, you can layer, lounge, plump and pile to your heart's content, knowing you've created something truly individual.'
Why are we starting to be more adventurous with our cushion pattern combos?
'Bold patterns, chintz and colorful combinations are more on trend than ever,' says Wicklewood's Rosie Axford. '2021 saw the role of our homes change, transforming into a place of experimentation and fun in addition to offering sanctity from the outside world. We were able to harness self-expression through what we surrounded ourselves with, and we became more inclined to experiment and creates spaces filled with joy, excitement, character and rebellion.'
'We're increasingly unleashing color and personality on our homes and there's no better place to start than with soft furnishings, particularly if it's new to you, explains Hannah Bowen of Archive by Sanderson Design Group. 'Maximalist interiors are deep-rooted in a resurgence in nostalgic, vintage fabrics and patterns, and is a style that looks set to stay for the foreseeable. Cushion patterns are an excellent starting point if you're looking to adopt this style in your home, but aren't sure where to begin.'
What are your tips of choosing clashing patterned cushions?
'It depends how confident you are with mixing and matching, cautions Wicklewood's Rosie Axford. 'It is a very personal decision about how much pattern in the room you choose, but I would advise that you keep either the sofa, walls or floor plain and then add pattern to the others. However, in some instances, like small cozy nooks, the more the merrier when it comes to pattern.'
'First of all – be brave!' encourages Hannah Bowen of Archive by Sanderson Design Group. 'If you would just like to dip your toe, opt for designs of a similar scale, with a central color theme throughout; the trick to any mismatched scheme is to find an anchor color that links your varying patterns together. You can then go to town on the designs as much as you like! 2022 is the year to embrace your own individual style; why not clash a vibrant patterned sofa with mismatched cushions? There's no rulebook, and if you find one, rip it up!'
Sofa trend 5: Sofas with shelf ends
Sofa design has become a lot more thoughtful of late, the newest addition joining the seat saving both space and effort. We've seen the odd sofa with a shelf-like platform before, but for 2022 sofas integrated with shelves have truly come into their own. These built on shelves are no afterthought, designed with tray style lips, in juxtaposing, statement materials, and offering multiple level and styles of storage. A wonderful small living room furniture idea, is this the year we say goodbye to the coffee table in favor of a built-in alternative?
Why are sofas with built in shelves becoming more popular?
'These brand-new seating configurations – which feature coffee tables or shelves jutting out at the back, or at the end next to the seat – are becoming increasingly popular because they allow people to live more comfortably,' explains architect Roberto Minotti, Co-CEO of Minotti, 'People are now looking for tailor-made living solutions that can simultaneously offer a wide range of seating options and ensure a variety of functions, such as resting, working and conversing.'
'The modern living room is evolving more and more, each area is becoming increasingly multi-functional,' explains Patrizia Colombo, a Director at Arflex. 'Contemporary seating has a dual personality: a soft soul for sitting and a second identity, that reveals a more dynamic and service-oriented attitude. Integrating tables into soft seating elements makes them more useful and practical, as well as enhancing their spirit.'
What benefits do sofas with inbuilt shelves have?
'Sofa shelves can be used both as pure surfaces – somewhere for books and small objects – or as storage units to be positioned in between seats or at the end of them,' Minotti's Roberto Minotti tells us. 'The shelves make the sitting experience more comfortable and life easier: people can adapt their seating system to their own living habits, creating convivial corners and areas of pure comfort in accordance with their personal needs.'
'For me it's about space efficiency,' says Daniel Aram, Managing Director of Aram Store. 'In recent years we have seen a preference for sofas with slim arms. City apartments often have small lounge spaces and wide arms tend to take up unnecessary space – removing the arms can further reduce the footprint of the sofa, and adding a small extended shelf can perform as a side table saving even more space.'
'Having a place to display or store something on within your sofa design is a great way of combining something busy with something calm,' says Els Van Hoorebeeck, Head of Design at &Tradition. 'It declutters part of your space and mind, solving two problems at once: you get space to display books, lamps and art; and you don't need to go through a whole selection process for a side table. It is a minimalistic solution for a practical problem. What is better than having a drink or a cup of coffee in the sofa and being able to put your glass or mug right next to you?'
How does the hard surface work next to soft upholstery?
'The hard surfaces of the shelves juxtapose the upholstery, creating a strong visual impact, says Minotti's Roberto Minotti. 'This contrast makes the living environment more considered and sophisticated, adding a design twist.'
'Sofas can turn a bit chunky when wanting to look comfortable – by adding a shelf the design becomes more elegant,' says &Tradition's Els Van Hoorebeeck, 'An integrated shelf creates a balance between hard and soft surfaces.'
'This visual contrast between hard and soft surfaces is particularly successful when mixing natural woods with neutral fabrics or leathers' adds Daniel Aram of Aram Store.
Where do you see this design style going next?
'This new design approach will continue to progress and develop, and we will increasingly go in the direction of sofa modularity and personalization, giving life to ever-increasing fluid and unique seating systems,' says Minotti's Roberto Minotti.
Flexibility of our living space is key now more than ever,' says &Tradition's Els Van Hoorebeeck, 'Adding shelves to sofa designs is an easy way of replacing the function of the coffee table, which could make you want to add a footstool or ottoman in the middle of the space instead to form a more comfortable setup for lounging.'
Amy Moorea Wong is a freelance interior design journalist with a decade of experience in contemporary print and digital editorial, previously News Editor at Livingetc. She writes on a broad range of modern design topics from news and interior zeitgeist to houses, architecture, travel and wider culture. She has a penchant for natural materials, surprising pops of colour and pattern and design with an eco edge.