Window seat ideas – how to turn an awkward space into a cozy nook
Designing built-in seating into your floor plan comes with plenty of practical and aesthetic advantages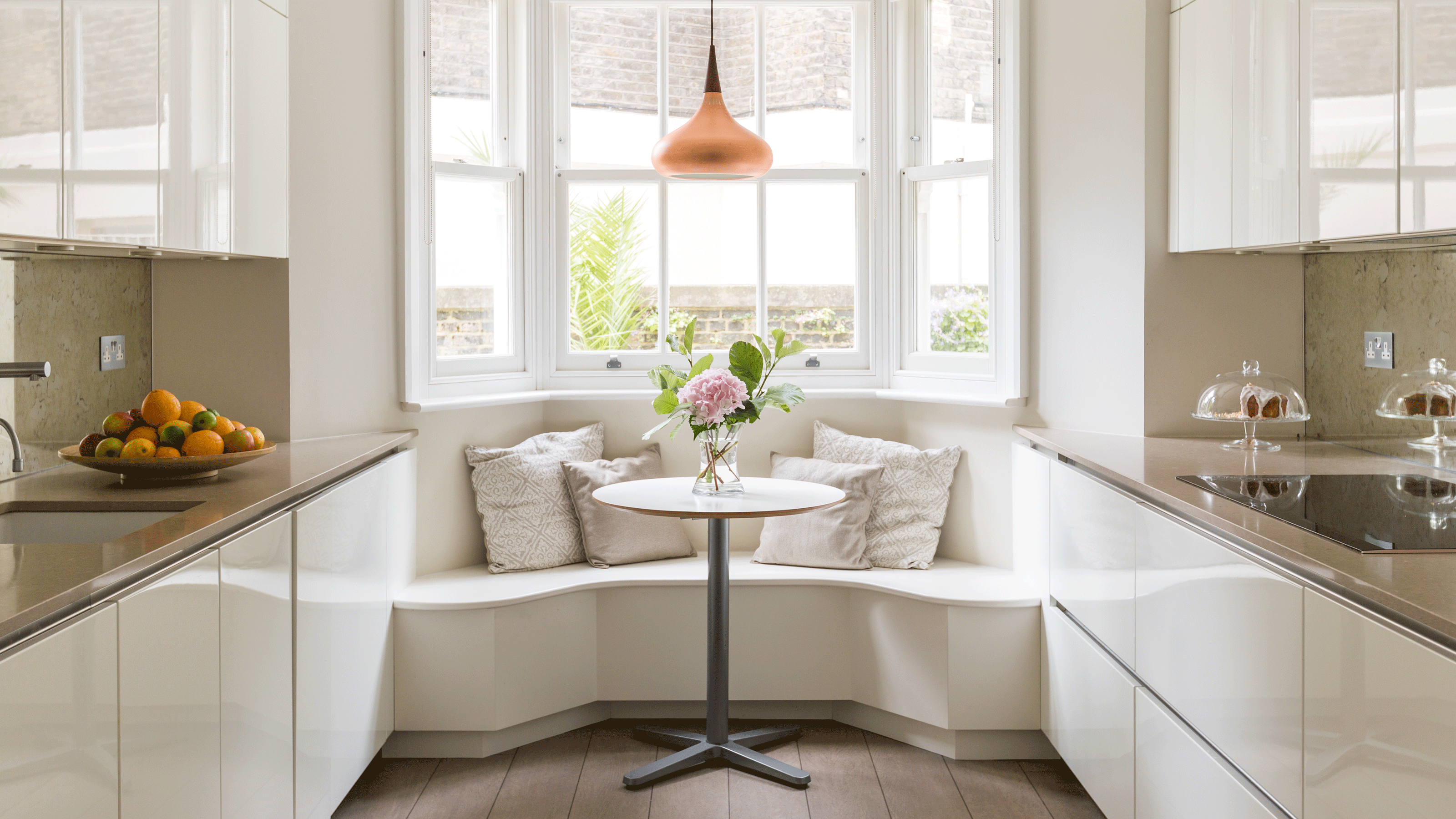 (Image credit: Sidika Studio)
If there's one feature that will instantly make any room feel more inviting, it's a window seat. As well as allowing you to maximize sunshine and garden views, well-designed window seat ideas should be multi-functional. For example, it might provide a work from home station during the day and transition effortlessly into a casual dining room idea in the evening.
'A window seat is part of the fabric of the window, so the seat itself becomes part of the frame,' explains Phil MacMahon, director at Foreign Bear Studio. 'They offer lovely places to sit, read, and contemplate. Plus, there's the added benefit of built-in storage underneath.'
Cushions, books, and even gardening tools can be hidden in the ample space that a window seat provides. Hidden drawers or seats that lift will establish a sleek, streamlined look. 'Our designs have mainly focused on being an extension of another object in the room. For example, a long bench seat to a dining space that wraps around a corner into a nook, or a work surface that steps down to a lower level to form a platform in front of the window,' says Chris Hawkins, director at Forgeworks Architects.
Window seat ideas to maximize space in any room
From an architectural perspective, incorporating a window seat will help frame views and draw the eye through to the garden beyond. 'They also offer an alternative to the idea that you need to have full-width glazing at the back of the house in order to create a connection with the outdoors,' says Chris.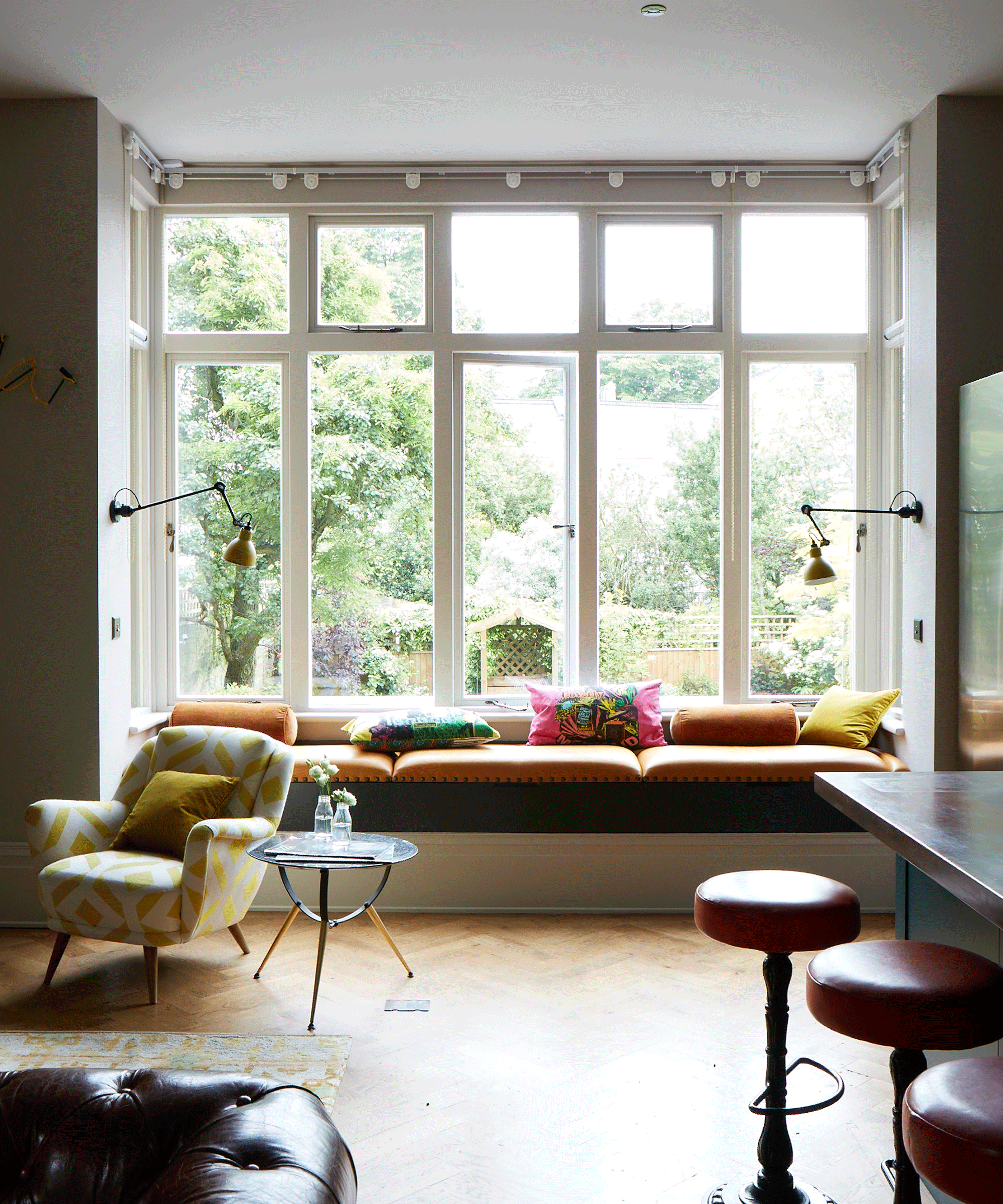 As with any piece of built-in joinery, it's important to plan the design carefully with your designer and builder/joiner in advance. That way, you'll all be on the same page about the aesthetic and function your window seat should deliver. When the seat is installed, careful detailing is required to ensure fixings and joins are hidden. 'Typically, it's best to position your window seat at a similar height to a standard chair – not too high, not too low,' says Amos Goldreich, director of Amos Goldreich Architecture.
Choosing a material that's practical and hardwearing is key. Tactile finishes, such as birch-faced plywood, will complement a natural palette of materials beautifully. However, if you have a bigger budget, the natural grain and texture of hardwood like oak will bring instant character to a living room or dining space.
Concrete offers an extremely durable alternative, plus it can be molded and cast into any shape. 'Choosing a different material for the interior finish of the seat will help differentiate it from other parts of the living space. On the other hand, selecting the same material will establish continuity,' says Amos.
Here are five inspiring ways if you want to incorporate a window seat into your renovation project...
1. Add a side or rear extension to maximise your window seat potential
Amos Goldreich Architecture unlocked the potential of this Victorian house in North London by introducing a side and rear kitchen extension to re-jig the space. The window here seat is one of the key design features and was a must-have for the homeowners, who are both keen gardeners.
The window structure itself projects out over the fish pond, creating the feeling that even when you're sitting inside, you're in the garden. Pushing the up-and-over window out into the garden brings more light into the kitchen, too. An oak finish was used internally to maintain continuity with the rest of the materials in the kitchen.
2. Use a material that seamlessly connects the window seat to the kitchen worktop
Designed as a social hub for the whole family to enjoy, this kitchen-diner is the result of a full refurbishment and extension to a Victorian terraced house. But you don't always have to have a full extension as these kitchen-diner ideas show.
The bench-style window seat plays an important role in the space, both as a seating area and for storage ideas for small spaces. Micro-concrete was chosen as the material for the bench seat top as it can be poured into virtually any shape, allowing it to be seamlessly connected to the kitchen countertops without any joints. Plywood units beneath provide a place to hide away shoes, toys, and cushions. A bespoke cutout was incorporated in the plywood units to provide a cat flap and tunnel, leading to the garden outside.
3. Retain as much of the original character of the space as possible
When the owners of this house embarked on their refurbishment and extension, they were keen to retain as many of the property's characterful period details as possible, including the bay window looking out onto the back garden.
Forgeworks reinterpreted the space as a built-in window seat, which has become a social space to enjoy coffee with friends. The plywood bench seat has been finished with white wax to maintain the light feel of the material over time. Concrete flooring, one of a number of cool flooring ideas, which wraps over the step leading to the window seat, was chosen to add an industrial edge to the natural palette of materials.
4. Mix materials for an interesting finish which engages the eye
This kitchen was designed by Mustard Architects as a place with plenty of nooks and crannies for the homeowners to display their cookware collection. The ash-framed picture window at the back of the room draws the eye through to the garden, with an informal bench seating area just in front. The concrete part of the bench was cast on-site and finished with a matt sealant. This structure sits atop a birch-faced plywood base.
5. Create a curved seating nook for an intimate feel
Studio Sidika crafted the design for the renovation of this North London apartment, including the conversion of the coal vaults in the cellar. The curved window seat functions as a cozy breakfast nook separate to the main family dining area.
Made from MDF, the seat was spray-painted in the joiner's workshop to establish a matt lacquered finish. The matt effect was chosen to harmonize with the window reveal, while the color - Farrow & Ball's Wimborne White - matches the kitchen cabinet color.
How much does it cost to build a window seat?
The cost to build a window seat can vary significantly according to the size and the materials used. It is worth budgeting a minimum of £2000 per m2 for a bespoke, built-in window seat. However, this could easily rise to more for higher-spec materials and finishes.
What is the best depth for a window seat?
The best depth for a window seat is between 18 and 22 inches. If you plan to lie on it often, it is worth having a depth of 24 inches. One key pitfall to avoid is building a window seat that isn't deep enough to sit back in comfort. If the seat is too shallow, it will become a perch that you don't want to spend any time sitting on.
Don't forget to incorporate lighting and an electric socket, either – especially if you're keen for your window seat to double up as a home office idea or an area where you can plug in laptops, phone chargers, etc.
The Livingetc newsletter is your shortcut to the now and the next in home design. Subscribe today to receive a stunning free 200-page book of the best homes from around the world.
After starting my journalism career at a luxury property magazine in Bangkok, I re-located to London where I started out as a sub-editor and features writer. I later became the features editor of a popular self-build and renovation magazine, where I delved into the world of structural systems, eco tech and smart homes. I went freelance in 2017 to pursue my dream of becoming a yoga teacher, but I still write for numerous titles in the homes and interiors sector, including Grand Designs, Ideal Home, Livingetc, Homebuilding & Renovating and Build It. I write a range of articles, from design-focused features to real life case studies.