Take Inspiration From This Strikingly Colourful Family Home Designed By Novogratz
This seriously stylish house has since been snapped up by actors Norman Reedus and Diane Kruger...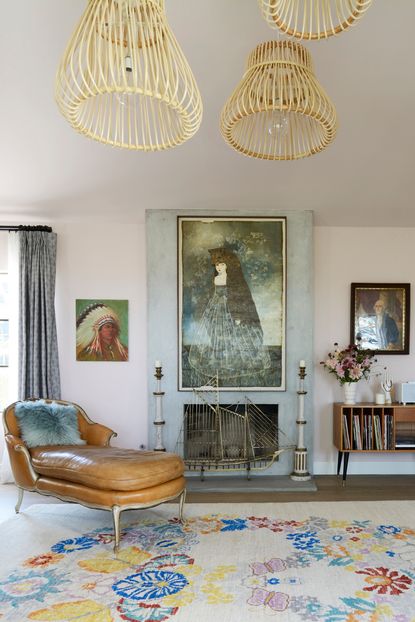 The Livingetc Newsletter
For style leaders and design lovers.
Thank you for signing up to LivingEtc. You will receive a verification email shortly.
There was a problem. Please refresh the page and try again.
PROPERTY
The Novogratz bought and renovated what they call 'The Castle' – a modern home in the Hollywood Hills built in 1926 that has belonged to everyone from a silent film star to a silent film director. The property came with many problems, but the biggest challenge the design couple faced was to keep the charm and period feel of the house while modernising the entire space. The Novogratz opened everything up to give the space a loft-like look, and created a seamless flow between the indoors and outdoors.
Together they transformed the large 100-year-old house with a byzantine floor plan into an open family home with a good flow from room to room. They kept as many original elements as they could, including the railing of the home's staircase, and opened up the floor plan to allow all 9 of them (the couple have seven children together) to live and hang out in the same spaces. They also added multiple spaces for entertainment, including a game room, music room, home cinema, and bar, as well as a giant family room with adjoining kitchenette and a spacious guest suite with outside entrance, plus a large, loft-like gym and a recording studio.
It was a total gut job and the renovation took 10 months to complete. When the design couple were done with it, the home was bought by actors Norman Reedus and Diane Kruger. The project is featured in the Novogratz' latest book; Novogratz Design Fix: Chic and Stylish Tips for Every Decorating Scenario, by Robert and Cortney Novogratz, published by Rizzoli.
Read More: Chic, Family-Friendly Design Ideas For Stylish Family Homes
EXTERIOR
The property is perched on a gated promontory in the foothills behind the illustrious Chateau Marmont Hotel, presides over almost half an acre and holds more than 7,700 square feet of interior space spread over three floors.
The house used to have many different roof lines and a number of turrets that were unattractive, so the designers replaced the entire roof with a grey slate shingled roof, giving it a more uniform look.
Read Also:Explore a West Sussex modern country house with playful interiors
In order to retainthe original character and integrity of the 1920s villa, the Novogratz restored the facade to its original aesthetic, a white and black colour scheme. They were also able to save the circular staircase, the rotunda ceiling, and the original front door.
The original front door to the home entered straight into the kitchen area which felt anticlimactic and took away from the grandeur of the house. The Novogratz added a gated entrance which felt more elegant and provided more privacy.
Read Also:Explore A Modern Farmhouse With An Ice Hockey Rink In The Basement
LIVING AREA
Remarkably, there had been only 3 owners in 100 years, but all 3 clearly had very different tastes from one another. There were many small rooms, many types of hardwood flooring, and the house felt like a maze with tiny rooms and multiple doorways that led to more doorways and even more tiny rooms. In a nutshell: everything had to be gutted and redone.
The poorly designed original floor plan had numerous hallways and staircases that created a confining— and confusing—layout, so the Novogratz opened up the entire space by knocking down several interior walls, converting 7 small bedrooms into 4 larger ones.
Read Also:Design Project: An Incredible Open-Plan, Modern Family Home That Brings The Outside In
They moved the living areas to the main floor and the bedrooms and other spaces that were used less often to the floors above and below. They then rid of all of hodge-podge of different types of flooring, replacing them with reclaimed oak floors to create a better flow.
Now a thoroughly modern, open-plan interior includes a colossal, bilevel combination living and dining room, with a huge, high-end kitchen arranged around a marble-topped island and an adjoining breakfast room that spills out to the backyard though chic, steel-trimmed French doors.
Read Also:Pile on: 6 of the Best Corner and L-Shape Sofas
The Novogratz are known for incorporating a mix of high and low decorative elements and furnishings, and for this project they scoured flea markets, garage sales, and roadside antique stores. Furniture and accessories from these sources bring a lot of fun into a space, make a room or home less serious, more interesting, and most importantly, make it personal.
Incorporating flea market items into their projects started out as a necessity, and now it's an essential part of their style. They find everything from quirky decorative objects, accent furniture, interesting lighting and lamps, and inexpensive but interesting art to someone else's family heirlooms.
Read Also:Stylish Gallery Wall Ideas
When it comes to bookshelves, the Novogratz' signature style is to incorporate decorative items such as action figures, keepsakes, photographs, and art. They also arrange books by colour or size, and often shelve the books in horizontal stacks to create a fun look.
The blending of interesting objects, heirlooms, photos, and books on a library shelf is an affordable way to create a space in the room that has personality and life. Let the books be the main feature, as a beautiful book is timeless, elegant and affordable, and use the decorative items to bring colour, humour, and variety. Their advice? 'Bookshelves should evolve over time—collections don't just come together in a single day, so be patient'.
Read Also:BOOKCASES AND HOME LIBRARIES TO LUST OVER
DINING AREA
Hardwood floors were added throughout, even in the kitchen, so all the rooms feel connected. They let in more light by enlarging all the windows and doorways wherever possible.
The windows used to be a mix throughout; some were made with great old steel frames and others had aluminium subpar frames and there were a few made from wood. Unfortunately, the beautiful steel windows needed to be reglazed (to ensure they met current building codes) which was as expensive as replacing them, so the designers sold them, which offset the costs of the expensive steel windows they used throughout the entire property. It was their largest investment in the home and 'worth every penny'.
The Torrance Steel windows and doors were quite expensive but you can mimic the look for less with aluminium alternatives.
Read Also:Crittall-Style Doors, Windows And Room Dividers
KITCHEN
The reclaimed wood floors were also quite expensive but are incredibly durable and well-made, plus they get better with age. The spacious kitchen features a long island with two sinks. The kitchen had the lowest ceilings in the house, and it wasn't possible to raise them, so they were kept minimal, white, and open to make the room feel more spacious.
Read Also:Stylish kitchen island pendant lighting ideas
The kitchen is by Boffi. The Novogratz advise: 'They are beautiful but expensive. In order to save on costs, we always buy a floor model which is at least 50-percent less. We also have designed many kitchens with much less expensive cabinets, in which case we add more expensive hardware'.
Read Also:Modern Kitchen Islands
DINING ROOM
There's also a second dining space, with a gallery wall that pops against a blue background.
Read Also:Laid-back Luxe Dining Room Ideas
MEDIA ROOM
Downstairs there's also a cinema room, with a table tennis table.
WINE ROOM
We like to think a wine room is an essential staple for any family home – let alone one with seven children running around! The wallpaper is a famous design from Scalamandre, featured here in Masai red.
Read Also:Chic Utility Room, Scullery and Laundry Room Ideas
CLOAKROOM
A cloakroom which can be accessed from the garden too is tiled from top to bottom.
Read Also:Cloakroom And Powder Room Ideas
OUTDOOR TERRACE
The tiled outdoor terraces feature an outdoor kitchen...
... and a fire feature – this one is particularly dramatic set inside a concrete column on the patio.
Read Also:45 Stylish Garden Patio Ideas
Hedges were planted around the perimeter of the property for privacy, with an additional 30 fruit trees – both for privacy and for the free fruit.
They hired a local and inexpensive landscaper who drove 30 miles away to get the best and most affordable trees he could find. He had a 'ton of knowledge' and the couple leaned on him for much advice throughout the project.
Read Also:The Top 10 Garden Trends That We'll Be Seeing Everywhere 2020
There are also incorporated sprinkler systems and great outdoor lighting everywhere, all on timers.
The egg-shaped pool was kept because the couple loved the retro style.
Read Also:The Stylish Outdoor Furniture & Accessories We're Coveting
STAIRCASE
There wasn't much to salvage in this house, but the couple did manage to save the railing from the spiral staircase, as well as the original details from the vaulted ceiling.
Read Also:Stunning Statement Staircase Ideas
KIDS' ROOMS
The three youngest boys were put into two adjoining rooms. They share one for sleeping and use the larger room as a playroom.
Read Also:Wonderfully Fun Kids Play Room Ideas
The kids' rooms have a decidedly grown up look, which was no accident: 'Every year since the girls were 8, Robert (Novogratz) has purchased a piece of art for each of them for Christmas. There were many years that they would have preferred clothing or new iPhones, but now that they're older, they're grateful and both girls have an appreciation and growing knowledge of the world of art.'
Read Also:Fun Ideas for Cool Kids' Bedrooms
Even though this house is large, 7 bedrooms were into 4, which means the kids share the rooms.
Read Also:Stylish Sharing Kids Room Ideas
There are homework desk area in each of the rooms.
Read Also:Stylish Homework Nooks & Home Offices For Kids
KIDS' BATHROOM
The Novogratz carried the look of the steel framed windows to the kids' bathroom, which gives it a spa-like feel.
Read Also:Crittall bathrooms: Crittall style steps into the shower
MASTER BEDROOM
The Novogratz raised the ceiling in the master bedroom, knocking through the cramped attic space that sat above this room. 'Raising the ceilings is not easy nor is it even possible in most projects. But if and when it's doable, and we can steal 6 inches in the beams, or add a couple of feet from an unused attic or storage space above the room, we do it', they explain in their new book.
Read Also:Design Project: A Playful House in Martha's Vineyard
French doors open to a small balcony with sweeping views over the city.
The master bedroom also features a walk-in wardrobe that's lined with custom built-in wardrobes.
MASTER BATHROOM
The bedroom has an open doorway that leads through to a spacious master bathroom.
The bathroom features a huge shower obscured behind smoked-glass panels.
The Novogratz used expensive tile in the master bathroom but lots of inexpensive metro tile everywhere else.
Read Also:Beautiful Bathroom Tile Ideas
Old items like this tall candelabra from a church is a great way to display jewellery.
Their final bit of advice? 'Whether you are planning to flip a property, sell it eventually, or stay forever, we think resale is something that should always be kept in mind'.
Courtesy of The Novogratz
For style leaders and design lovers.
Lotte is the Digital Editor for Livingetc, and has been with the website since its launch. She has a background in online journalism and writing for SEO, with previous editor roles at Good Living, Good Housekeeping, Country & Townhouse, and BBC Good Food among others, as well as her own successful interiors blog. When she's not busy writing or tracking analytics, she's doing up houses, two of which have features in interior design magazines. She's just finished doing up her house in Wimbledon, and is eyeing up Bath for her next project.