Home library ideas – 20 striking bookcase ideas worth stealing
20 home library ideas to inspire a reading room transformation – from shocking neon colour and modern design ideas to traditional wood panelling and built-in lighting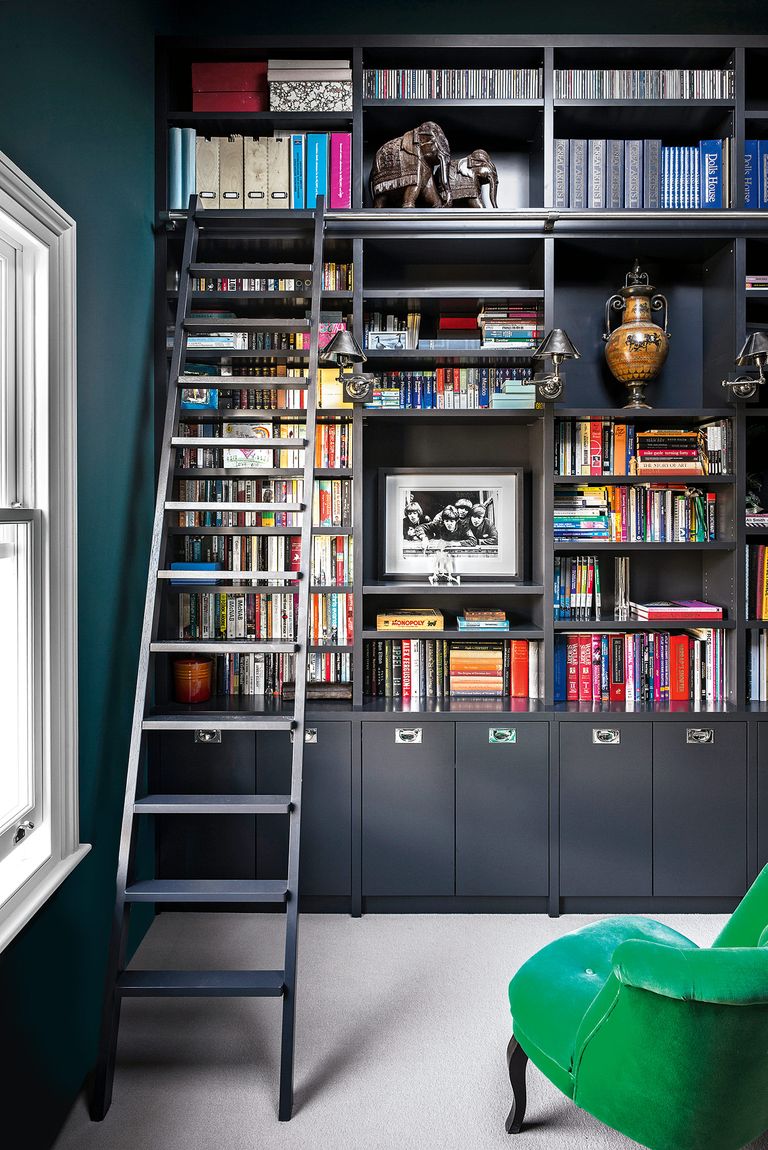 (Image credit: Paul Raeside)
We've pulled together 20 stunning home library ideas to help inspire a book storage revamp – whether you're lucky enough to actually have a dedicated library room or are just looking to transform your hallway or living room bookcases.
We've found modern ideas aplenty, like raw plywood structures for an urban look, square shelving for a structured, grid-like display, flashes of bold neon colour and design classics like the LEMA Booken bookcase. 
Take shelving up to the ceiling to accentuate ceiling height, then add a modern ladder for a fresh take on it. Among our favourite design ideas is a bookcase on wheels (scroll to #10) which is used to conceal – and reveal – a hidden, wall-mounted TV. Clever. Or why not use a freestanding bookcase to separate an open-plan into two different zones? After all, broken-plan is the new open-plan.
1. Colour blocking
Take your wall colour onto the shelves for a thoroughly modern look. Colour blocking not only injects oodles of colour and interest to a space, but it also helps to create a more cohesive scheme.
We love the choice of green in this rustic farmhouse, pictured below.
For a more indulgent, enveloping and cocooning effect, take the colour all the way around the room and even the ceiling.
The same effect was created in the snug below, but with a vibrant purple shade.
Or, for something more calming, simply use the same technique but with a matte grey paint.
2. Contrast shelving
Make your bookcases or shelving stand out by giving them a contrast colour to the rest of the walls.
The bookcase below is enveloped in a rich blue while leaving the walls white – thus turning a plain bookcase into a design feature, and transforming the whole room from bland to bold.
You can tone it done a little by choosing a more muted palette – for example choosing white shelving for a grey living room, and grey shelving for a white living room.
Finally, you could add further contrast by framing built-in shelving, making it look more like a piece of furniture embedded within the wall.
3. Raw and natural
Building shelving from plain plywood has a surprisingly fresh and modern effect when done right. The built-in bookcase below was left as it was, unvarnished and unpainted, and it creates a raw and natural look.
Similarly the snug below features a raw wood shelving structure. It's a modern look for a home library.
4. Go full height
If your space has tall ceilings, make the most of them and accentuate them by taking shelving right to the top. Tall wall space that was previously wasted can now become a feature – a space to display treasured books and ornaments.
Floor-to-ceiling bookshelves below highlight the house's voluminous height and adds drama.
Even for a more modestly proportioned room this trick can still work well. The bookcase below reaches right to the ceiling and was designed to accentuate and exaggerate the height of the room.
5. Add a modern ladder
Modern ladders have become a bit of a trend over the past few years, as the boxy shapes can add structure, definition and minimalist, clean lines to a room – not to mention offer access to added storage.
The floor to ceiling shelves below house a collection of objets, accessible via this smart, purpose-built ladder.
Adding a double height ladder can lend a fresh, contemporary aesthetic even in more traditional rooms.
6. Grid-like squares
The built-in bookcase below is divided into perfect squares, arranging books into an organised, grid-like structure.
7. Wrap around
Shelving wraps around the 'Man Cave' below, providing extra space for books – even right above the door. 
The shelving is painted oak. Sliding doors transform it from an extension of the living area into a cosy, intimate library.
Architects Stiff + Trevillion designed the built-in storage below, which also wraps around the room to create a distinct separation from the library and the rest of the living spaces.
The atmospheric den below doubles up as a cinema room and library. The bookcase wraps around the room, cocooning it.
Luxe paneling and flashes of red keep this room feeling grown-up. 
8. Unusual display
While this is not strictly a home library, book storage has been cleverly squeezed into this home office space, turning a book collection into an interesting feature.
9. Create something unexpected
This playful house in Petworth features concrete walls and ceilings, blush pink curtains and modern design ideas. Here, wall-to-wall shelving and an XL window create a striking feature. It's a very funky home library.
10. Conceal and reveal
Two bookcases were put on wheels in this New York apartment, so they could slide 'open and closed', to reveal or conceal the wall-mounted TV hidden behind it.
11. Give corridors a new purpose
Corridors can be relatively boring spaces – why not incorporate display shelving that's both practical and will make a stunning design feature? We love the way the shelving below stretches across the ceiling too.
This corridor below also highlights how you can use functional bookshelves to add a design element to this often forgotten about space.
12. Add interest to a landing 
Similarly, landings often don't get much attention, but this concrete villa in a Taiwan jungle proves that even simple plywood structures can be enough to add an interesting display to these in-between spaces.
This landing below sits in a family home, and the space leads through to the kids' bedrooms. The built-in bookcase houses the childrens' books, so they can grab a book from this shared library and share the books between them. (See more toy storage ideas)
These bookshelves below stretch right up to the ceiling, making the most of otherwise dead space in between rooms.
13. Neon flash
A powerful shock of incandescent yellow around the architrave instantly saves this home library and adjoining living room from feeling 'too polite'. 
14. Wood panelled
Alice Temperley's Edwardian house in Somerset features this stunning wood panelled library. She preserved the home's original wood panelling, as the house used to be home to Lord Beaverbrook who often hosted Winston Churchill in this home library. But Temperley added her own touch by painting the ceiling, giving it a fresh take.
15. Modular
For rental homes, a modular bookcase is a stylish piece of furniture you can invest in – and take with you when you move. It can be adjusted to fit each space perfectly, and can be switched up to display different sized objets.
16. Built-in lighting
Built-in lighting is a chic and elegant way to illuminate your book collection.
17. Choose minimalist design
For a more minimalist approach, we adore the LEMA Booken bookcase – a design classic.
Your most treasured reads move out of the background to become a design feature in their own right, banding together on a series of oak bookmarks to work not only as a nifty, hanging library, but a stylish side table and shelf for resting your cup of tea on.
While a horizontal rather than vertical library takes a bit of getting used to, soon you won't want anything else – just think, no more neck ache craning to find the right book and, thanks to the built-in bookmarks, no more losing your place or resorting to the sinful practice of thumbing-down pages.
18. Incorporate objects to add visual interest
Break up rows and rows of books by stacking some horizontally, and adding in other objects too to create pockets of space – for example a vase, photo frame or ornament. 
19. Corner nook
Bespoke shelving makes a feature of the unusual angles at play in this study.
20. Use a freestanding bookcase to break up a room
Designer Tara Bernerd used this central, concrete and wood bookcase to not only house her treasured possessions (and her TV), but also as a way to cleverly break up the open-plan living area into two separate areas.