23 home library ideas – striking bookcase displays worth stealing
Show off your book collections with these beautiful home library ideas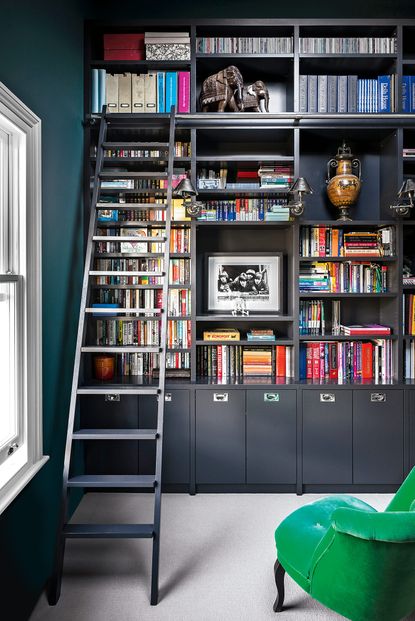 (Image credit: Paul Raeside)
We could peruse home library ideas for hours – all those colorful books arranged so beautifully, towering up to the ceilings, covering every wall, they are just such interesting and personal spaces. And they can be stylish additions to your home too. So we've pulled together lots of lovely library ideas, from uber-modern designs with neon color schemes and industrial style to beautifully traditional spaces with wood-paneled walls and imposing fireplaces.
No home library? No problem. Not all of us are blessed with a dedicated room to house our ever-growing book collection but, you'll still find plenty of inspiration here to give your bookcases, whether they are in a living room, bedroom or home office, a stylish revamp.
1. Use bookshelves to add color
Bookcases, whether in a home library, living room or bedroom, can be a lovely way to bring some color into your space. Be inspired by this home library idea and create a feature wall by sticking with one color across your wall and bookshelves.
We love the choice of green in this rustic farmhouse. Green is known for its uplifting, energizing qualities so makes for the perfect color for a home library, instantly creating a soothing and calming vibe to the room.
2. Add drama and depth with black shelving
Dramatic, inky shades are perfect for home libraries, adding an elegance and sophistication. You'll also find that colorful books pop against a black background more so than they would lighter shades. We love the simple black and white scheme of this home library, warmed by the sumptuous jewel tones of the armchairs – the perfect spot for curling up with a book.
3. Make use of your alcoves
So you don't have room for a dedicated home library? Bring your book collection into your living room instead. Alcoves are the best spot for adding a mini home library, they are usually dead space that's ideal for storage. Opt for a mix of open and closed storage – shelving up top to stack up your books and cabinets beneath for hiding away the clutter that just seems to congregate in the living room.
4. Mix up your shelving
While a wall of shelving, all equally distanced apart with perfectly arranged books can be satisfying to look at, they don't always add the most interest to a room. A mix of shelving sizes and shapes creates a far more varied focal point to a room, and it allows you the space to add decor too. So pinch this home library ideas and design a built in unit that can be home to books, but display your other collections too.
5. Create a modern home library with plywood
Not all home libraries are traditional spaces, as this one proves. Built from plain plywood, this space feels fresh and modern, almost unfinished which adds a very on-trend industrial feel to the room. The mix of open and closed storage is a handy idea too, so you can keep the open shelving for your more aesthetically pleasing books and the closed storage for home office supplies, tech, or paperwork.
6. Take your bookshelves to the ceiling
If your space has tall ceilings, make the most of them and accentuate them by taking shelving right to the top. Tall wall space that was previously wasted can now become a feature – a space to display treasured books and ornaments.
7. Mix decor in with your books
Because home library ideas aren't all about the books. Make the space really personal to you by mixing in some decor. Print, photos, vases, houseplants will all add a more texture and interest to your bookshelves, you can also use these items to divide up your books too. Also don't be afraid of negative space, not every shelf needs to be crammed.
8. Add a ladder for a traditional touch
Ladders may be a very practical home library idea, as they allow easy access to higher shelves, but they make a style statement too. If you like a very clean, minimalist look pick a ladder that blends in with your bookshelves by painting them the same shade as your shelving. For a more rustic look, shop second-hand for a country-style wooden design, just make sure if it's not going to be purely decorative it's safe to use.
9. Create a uniform design with a grid layout
If you want a home library idea that's simple and minimalistic, opt for a grid pattern. It adds structure and symmetry to a room, and feels uniform no matter how eclectic to make your displays. This layout means you don't have to be really neat and precise with your styling – the shelving has done that for you, so you can get creative with what goes inside each cubby Arrange books both horizontally and vertically and add in extra decor too.
10. Wrap shelving around a door frame
Really make the most of unused space by copying this home library idea and taking your shelving around and above a door frame. Make the space feel extra cozy and intimate by painting the shelving in a deeper shade and take that color onto the walls too. If you are feeling brave, bring that dark color onto the ceiling for a really enveloping space.
11. Don't be strict on how you display books
As satisfying as row on row of perfectly aligned books in color order might be, sometimes being more haphazard in your arrangement makes a bolder style statement. Be in inspired by this home library and cram your shelves with books – arrange them both horizontally and vertically and go spines inwards too so the pages are what you see first. You'll find this adds so much more texture and interest then perfect stacks.
12. Make use of usual spaces
While this is not strictly a home library, book storage has been cleverly squeezed into this home office, by turning the staircase into a bookcase.
13. Create something unexpected
This playful house in Petworth features concrete walls and ceilings, blush pink curtains, and a striking home library made up of floating shelving. By keeping the rest of this large space simple, the wall of books really is the focal point plus they make the huge lofty space feel cozier and more inviting.
14. Use a bookshelf to hide a TV
Think this is just a stylish home library idea? Think again...
It's also a clever small living room TV idea, designed to hide the bulky tech that would otherwise take over this small space. The shelving units just easily slide to each side revealing the TV plus even more handy storage. Very clever.
15. Give corridors a new purpose
Corridors can be relatively boring spaces – why not incorporate display shelving that's both practical and will make a stunning design feature? We love the way the shelving below stretches across the ceiling too.
Just be sure to make sure your hallway lighting is planned in too – you want to be able to see your lovely book display. Add downlights or spotlights within the shelves to highlight your collection and stop the space feeling gloomy.
16. Add interest to a landing
Similarly, landings often don't get much attention. They tend to be small, awkward spaces that are tricky to add any decor to as floorspace is so tight. But why not put that dead space to use and turn it into a home library? Books can double up as decor and add plenty of color and texture to a landing without taking up lots of precious floorspace.
17. Wood panelled
Alice Temperley's Edwardian house in Somerset features this stunning wood-paneled library. She preserved the home's original wood paneling, as the house used to be home to Lord Beaverbrook who often hosted Winston Churchill in this home library. But Temperley added her own touch by painting the ceiling, giving it a fresh take.
18. Go modular
For rental homes, a modular bookcase is a stylish piece of furniture you can invest in – and take with you when you move. It can be adjusted to fit each space perfectly, and can be switched up to display different sized objets.
19. Build lighting into your home library
Built-in lighting is a chic and elegant way to illuminate your book collection, plus creates a lovely gentle glow to the room that ups the coziness.
20. Choose minimalist design
For a more minimalist approach, we adore the LEMA Booken bookcase – a design classic.
Your most treasured reads move out of the background to become a design feature in their own right, banding together on a series of oak bookmarks to work not only as a nifty, hanging library, but a stylish side table and shelf for resting your cup of tea on.
While a horizontal rather than vertical library takes a bit of getting used to, soon you won't want anything else – just think, no more neck ache craning to find the right book and, thanks to the built-in bookmarks, no more losing your place or resorting to the sinful practice of thumbing-down pages.
21. Incorporate objects to add visual interest
Break up rows and rows of books by stacking some horizontally, and adding in other objects too to create pockets of space – for example a vase, photo frame or ornament.
22. Build a bookcase into an awkward nook
Awkward angles may be a pain when it comes to decorating, but there's no denying they make for lovely reading nooks. So embrace your unusually shaped spaces and transform them into a home library by building in floor-to-ceiling bookcases. Add a comfy chair and a floor lamp if you have the space too, to create the perfect spot to get stuck into a novel.
23. Use a freestanding bookcase to break up a room
Designer Tara Bernerd used this central, concrete and wood bookcase to not only house her treasured possessions (and her TV), but also as a way to cleverly break up the open-plan living area into two separate areas.
How can you add a small home library?
A home library might sound like they can only exist in large homes with a never ending amount of spare rooms, but to us all a home library means is a spot to store your books, maybe a cozy armchair to enjoy said books from. And really you can create that in any room, no matter what size.
So to add a small home library, find a nook in your home that's going unused – an alcove, under the stairs, in the closet, a home office, an attic space and build in some shelving. For really awkward spaces we'd recommend going bespoke to just make the most of the room you have. Then just fill the shelves up with books, and in a spot to read from and some soft lighting and there you have a home library.
What should every home library have?
Every home library should of course have books, but there are other things you can bring into your space as regards to style and comfort. Seating is a nice addition to a home library if you have the room, providing you with a place to perch and read surrounded by your collection. And getting the lighting right is important too, you want the space to feel cozy but also have a light that's strong enough to read by. Always place a task light next to where you will be reading – floor lamps work perfectly but also dot other light sources around the room to get a lovely all-over glow.
In terms of decor, try mixing in other pieces amongst your books like artwork, photographs, and plants to make the space feel more personal. And always throw down a rug to add some comfort underfoot and make the room feel inviting.
The Livingetc newsletter is your shortcut to the now and the next in home design. Subscribe today to receive a stunning free 200-page book of the best homes from around the world.
Lotte is the Digital Editor for Livingetc, and has been with the website since its launch. She has a background in online journalism and writing for SEO, with previous editor roles at Good Living, Good Housekeeping, Country & Townhouse, and BBC Good Food among others, as well as her own successful interiors blog. When she's not busy writing or tracking analytics, she's doing up houses, two of which have features in interior design magazines. She's just finished doing up her house in Wimbledon, and is eyeing up Bath for her next project.