'It's somewhere you can get lost in a book' - this interior trend is all about creating peaceful spaces for reading
Architects and designers are creating special spaces where you can lose yourself in your latest read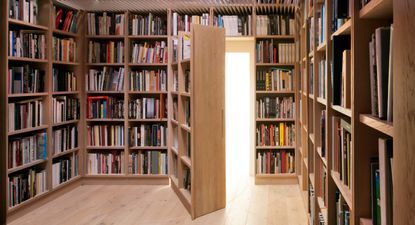 (Image credit: Philip Vile. Studio Seilern Architects)
The Livingetc Newsletter
For style leaders and design lovers.
Thank you for signing up to LivingEtc. You will receive a verification email shortly.
There was a problem. Please refresh the page and try again.
There's nothing better than curling up with a book and spending hours by yourself, away from the chaos of the world, but sometimes, in a modern home, it can be hard to carve out space that's both peaceful, and a space in which you can concentrate.
To create rooms for much-needed 'me-time', designers are creating specific rooms dedicated to relaxation tasks - think music rooms, meditation spaces, and reading rooms.
If you are a big reader too, and consider your literature as precious as any other high-end furniture piece you own, then this interior design trend might be something to consider for your own home.
So how can one create the most soothing and functional reading room? To answer this question, we sought the help of designers who have created these space for their clients.
1. Consider designing a space to mimic a library
Image 1 of 2
If you have the advantage of staying in a larger home with a big, open floor plan, consider building yourself a special reading room, one that mimics your favorite library or bookstore, with floor-to-ceiling shelves, ladders, and a large lighting piece that illuminates the entire room. Add mid-century modern furniture to this space to add a lovely design dose and fill it the interior with books, journals, photographs, and memorabilia.
'This main barn is located aside from the house courtyard setting, out of view from the high street and just inside the private access road, as it enters into the courtyard,' says Christina Seilern, founder of Studio Seilern Architects. 'A lean-to block addition with the asbestos roof was added to the main barn at some stage to the south elevation, obscuring the main barn and forming the boundary wall to the neighboring property.'
'The library is conceived as the focus of the building; a transitional and pivotal space between the private and public spaces,' says Christina. 'The idea was that once inside the library, one should feel fully surrounded by books, rather than walls. The space is galleried, and the ceiling is mirrored, giving the sense that the library extends vertically into infinity. The illusion is then broken by an oversized pink skylight, puncturing the ceiling into a deep void, giving a soft and warm natural glow to the books. The four walls are covered in full-height bookshelves, within which four secret doors have been integrated. When closed, the space seems to have no exit, and one is fully immersed in this extensive and wondrous art book collection.'
2. Convert an addition into a reading room
Image 1 of 2
A front or back porch, or a glass addition are great spaces for reading, as they have an inherent connection to nature. A home library positioned next to your backyard offers the best of worlds – a place that's away from the main house where you can disconnect from people and all the noise. It can also become a nice lounging spot to kick back in, socialize or even spend some pensive moments enjoying the views around.
'I think a reading room needs to be a peaceful, relaxing space, somewhere where you can get lost in a book but also where you can sit and be with your thoughts,' says George King, founder of George King Architects. 'A connection with nature is important to create this sort of tranquil setting. For our reading room a key design feature is its glass walls which can disappear entirely behind three timber bookcases allowing the walls of the building to vanish entirely, creating a surreal outdoor living room.'
'This reading room was designed as an extension to a 17th-century cottage,' says George. 'The historic existing building is typical of its era with small windows and thick stone walls which make the interior a bit dark and gloomy with limited connection to the beautiful surrounding scenery. Our client was keen to open up the cottage, let in more light and create a flexible space that allowed them to enjoy their tranquil garden setting all year round. Creating a strong relationship between the old and the new on this sensitive site was a key driver to the design.'
'The right sort of comfortable furniture is also key,' says George. 'We designed a set of bespoke modular furniture which adds to the flexibility of the space by allowing the client to reconfigure the arrangement and move the furniture inside or outside depending on the weather.'
3. Allow your living room to transition into a reading room
Given that not all homes have the luxury of space, that shouldn't deter you from having your own, reclusive areas. Make your small living room layout such that it functions as a multipurpose space – for socializing and reading. Add a wall-to-wall bookshelf that will hold all your important literature and also double as the room's decor (with colorful paperbacks adding to the room's palette). Place a few comfy chairs close to the shelf to create the perfect, snug reading space.
'The idea was to use the void at the end of the room as the main architectural feature and library where the play of light and shadow creates a monastic experience,' says Henri Cleinge, founder of Henri Cleinge Architecte. 'Along with the use of void, attention was given to materials and details. These days many clients are interested in having unique contemplation places in their houses.'
4. Create a reading room in transitional spaces
If you have a small apartment and no extra room or a corner to make a pseudo reading room, consider the hallway as that 'extra space' that can be put to more functional use. Usually just used as a transitional area, the hallway can be explored as a multifunctional space where you can place a TV, add bookshelves and even keep a few ottomans or stools to sit on.
Built-in bookshelves will not eat into the precious floor area, and allow you to add a few flexible seaters that can be moved in and out at will. If you want to give this space a little privacy, consider adding fabric or wooden screens that can be pulled in when you're in a serious reading mood.
Material: Genuine Leather
Price:$169
Want to create a cozy seating spot by the bookshelf? Add this pouf that is lightweight so can be moved around the house, and is super comfortable to sit on, while immersing yourself in a book.
5. Or simply create a reading niche next to the entryway
Another great option for a small yet useful reading nook is by the entrance. Add a floor-to-ceiling bookshelf, and place a few chairs or even floor pillows, to settle down with a good book. Generally in a household, an entryway is the least frequented space – only used to go in and out of the house. Chances are, for most of the day it will be empty and quiet.
Decorating the bookshelf can be a fun task too, as it will add to the aesthetics of the entrance. Add curios, lamps, artwork, and family portraits to make it pop.
'All that is required is a designated spot that makes you feel cozy and comfy,' says Julia Mack, founder of Julia Mack Design. 'If you have a window seat in this area, add a comfy chair by the sunny spot and read in the natural daylight. If the room does not receive a lot of sunshine, add a directional floor lamp. A small table is helpful to put down a cup of tea or reading glasses. Maybe consider a basket on the floor to hold all of your reading material in one place.'
For style leaders and design lovers.
Aditi Sharma Maheshwari is an architecture and design journalist with over 10 years of experience. She's worked at some of the leading media houses in India such as Elle Decor, Houzz and Architectural Digest (Condé Nast). Till recently, she was a freelance writer for publications such as Architectural Digest US, House Beautiful, Stir World, Beautiful Homes India among others. In her spare time, she volunteers at animal shelters and other rescue organizations.