Back porches are the best way to embrace indoor-outdoor living in spring – these 10 ideas prove it
Get your back porch in order with these suggestions for seating, entertaining and more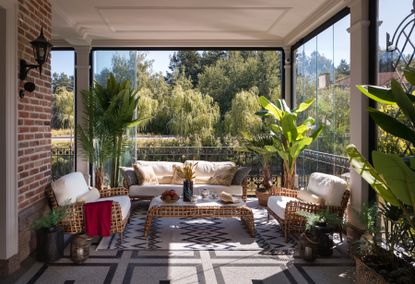 (Image credit: -Andrey Avdeenko. Studio credit Bolshakova Interiors)
The Livingetc Newsletter
For style leaders and design lovers.
Thank you for signing up to LivingEtc. You will receive a verification email shortly.
There was a problem. Please refresh the page and try again.
Back porch ideas are all about living the good life. This is a prime spot to savor the beauty of your backyard with your morning coffee or catching up with old friends over a glass of wine. As long as you have a place to sit, a porch of any size, with wonderful roof coverage is all you need to enjoy the warmer seasons, from spring through fall.
While it may be routine to give your front porch some love when the season's change, we suggest you cozy up your back porch too and extend your home's lounging and socializing spots.
Aditi is an experienced homes writer and editor. She has written hundreds of articles for various international titles helping readers make the best home design choices, and spends her days interviewing interiors industry experts to bring the latest ideas to her readers. For this piece she spoke to the world's best designers to find out how to design and decorate the back porch.
10 back porch ideas to enjoy the changing seasons
1. Create a cozy seating with sofas, rugs and lanterns
Bring the elegance of your interiors to your back porch, as if the seating area is an extension of the living room. Choose comfortable, weather-proof patio furniture like wicker sofas or acrylic seaters, that make it easy for plenty of friends to gather. Add cushions, and even bring in tall plants to complete the scene.
'The most important mindset when purchasing outdoor furniture is to look at the space as a full interior room,' says Emily Munroe, founder of Studio Munroe. 'Folks often forget to include side tables, area rugs, and lighting when creating outdoor spaces and these accent elements are the ones that make the space feel like an extension of the indoors. The ultimate glow is to achieve seamless flow and functionality between indoor and outdoor spaces.'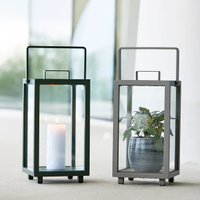 Use these lamps to enhance the mood and look of your garden, terrace, or porch. Made of all-weather, powder-coated aluminum, it's an ideal piece for indoors and outdoors.
2. Install a firepit with round seating
If your back porch tends to be a major point of congregation for your home, make this space more functional by setting up an outdoor fireplace. A good idea would be to add plenty of chairs and stools here so people can gather around, and be comfortable. If you have the budget, consider built-in seating to save space.
'A fire feature is a great element to add to any exterior space you plan to use for relaxation or entertaining,' says Jeff Andrews, founder of Jeff Andrews Design. 'Whether it's a rustic, reclaimed brick firepit in a Spanish style home or polished concrete in a modern home, we always create a feature that blends perfectly with the style of the home. They add warmth and sophistication to exterior spaces earmarked for conversation.'
3. Or install a double-sided fireplace
One of the biggest advantages of the double-sided fireplace is its efficiency. That's because, as opposed to traditional fireplaces heating only one room, a double-sided one can make two rooms or areas cozy at the same time. You save not only money but also floor and wall space.
Consider one for your back porch, so no matter the weather and season, they can all be enjoyed while sitting warm and snug in the outdoors.
'This home's new addition has a roof that slopes slightly upward towards the southwest-facing backyard to expand the view and capture as much sun as possible through a wall of glass,' says David Marlatt, founder of DNM Architecture. 'A highlight of the exterior window wall is the double-sided fireplace, which can be enjoyed from indoors and outdoors,' says David. 'On the patio side, seating by the fireplace makes a great spot for an outdoor dinner or an evening cocktail.'
4. Create built-in porch seating
Have a fully-enclosed back porch with wonderful views of the outdoors? Create a cozy picnic spot with casual, earthy, and organic seaters such as a long wooden bench, different styles of chairs, and a table.
This decking furniture by Tim Cuppett Architects in warm wood melds wonderfully with the material palette of the porch. The seaters make it easy for plenty of friends to gather; plus there's always room for one more to squeeze in more.
5. Keep it simple with flexible lounge chairs
This backyard deck located in the wonderful wilderness is the perfect spot to bird watch or even spend some 'me time'. The matching rocking chairs carve out an intimate seating nook for two that can translate to porches of all sizes.
'A keen appreciation of the ecology of the site and minimizing the house's impact on it guided the project,' says Linda Searl, co-founder of Searl Lamaster Howe Architects. 'The structure was strategically positioned to stand clear of any mature trees. Where shading is not provided by these trees, broad roof overhangs were sized to passively minimize mechanical cooling requirements during the summer while maximizing the reach of daylight into the house in the winter.'
6. Create functional zones in the back porch
Image 1 of 2
Consider designing your porch with multiple areas, or zones, to serve different purposes and break up the back of your house visually. A covered porch can be a great place for eating, lounging, a grill station, or even n outdoor theatre, all enhanced with modern outdoor furniture.
'Our approach to outdoor living spaces is similar to what we do indoors,' says Patrick Sharp, cofounder of Mister + Mrs Sharp who designed this large, beautiful porch for a modern home. 'We consider the physical space, discover how many different areas we'd like to create, and partner with clients on functionality. We love bringing as much comfort and everyday luxury to outdoor spaces as we do indoors. Upholstered pieces in performance fabrics are what we prefer. This porch deserved two separate zones. One for dining and one for relaxing and taking in the views.'
7. Consider an outdoor dining area
When planned carefully, an outdoor dining area can be the perfect setting for the evening repast throughout the year. While several brands offer beautiful outdoor dining sets, do remember that the vibe of a porch is always casual, so you don't always need to go the matchy-matchy route.
Add a pendant light above the setup to give it a little more formal, dining look. If you have a long dining table, consider hanging more than one lantern. Add fresh blooms and candleholders for a quaint look, and add lots of cushions on the chairs to soften the metal and wood pieces.
8. Or even an outdoor kitchen
A great way to have a super functional and often-used porch is with an outdoor kitchen. If you have enough space, you could move the entire cooking area to the exteriors (ensure that the space is covered overhead), but if not, you could have a kitchen that's in a transitional space, right next to the porch. This type of design, also known as a satellite kitchen, will allow you move food back and forth quickly, and if you forget anything, you know the stuff is close by.
You will have to ensure that the kitchen has all the essential spaces: prep, cook, serve, clean. This will make it easy for you to do all the work outside. Also, much like having the dining space close to the kitchen is a great idea, having a living space close by will allow you to interact with guests while they hang out, waiting for the barbecue. And so, place a few chairs, loungers and stools in the vicinity.
In this home designed by Manna Made, the outdoor kitchen sits on a covered porch, meaning that even if the owners want to grill when it's raining out, they can do so without having to step out into any inclement weather.
9. Add a swing for a whimsical vibe
Catch a well-deserved nap and the fresh breeze on an open-air porch with hammocks and swings – the staples of outdoor seating.
While a single wicker swing is a great choice, for a more rustic look, you could go for a wood and rope set, and hang it along the edge of the porch. Long, palette swings that have a large seat and a low hang are ideal for a more formal setup. These can be enhanced with blankets and pillows to make it the ultimate swinging retreat.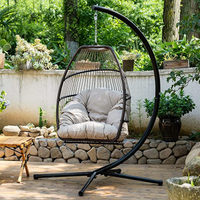 Want a flexible piece of furniture that can be moved around in the house? Consider this UV-resistant hanging chair that can be placed in the garden, porch, and terrace, as you, please.
10. Have a small back porch? Choose conversational furniture
Have a small backyard porch? Make it the coziest spot in the house with the right seating options that will make it a place you love to hang out.
'To get seating right for a small porch, I'd look to a few options,' says Kelsey McGregor, founder of Kelsey Leigh Design Co. 'A conversational set with two chairs and an accent table works well, as does two hanging chairs. You could also try two small love seats facing each other with a coffee table in between, or one small love seat facing two accent chairs with a coffee table in between.'
For style leaders and design lovers.
Aditi Sharma Maheshwari is an architecture and design journalist with over 10 years of experience. She's worked at some of the leading media houses in India such as Elle Decor, Houzz and Architectural Digest (Condé Nast). Till recently, she was a freelance writer for publications such as Architectural Digest US, House Beautiful, Stir World, Beautiful Homes India among others. In her spare time, she volunteers at animal shelters and other rescue organizations.