Small backyard ideas – 10 stylish ideas for small backyards
These small backyard ideas add masses of style to small outdoor spaces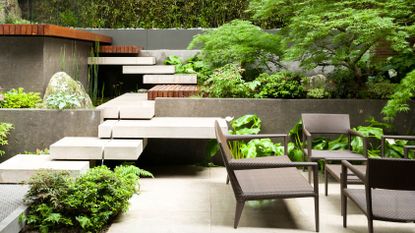 (Image credit: Bartholomew Landscaping)
We've pulled together a few of the best small backyard ideas, to help you make the most of your compact outdoor space.
People are focussing on their backyards now more than ever. "People want to feel enclosed in their own space," says Isabelle Palmer who runs the London-based company The Balcony Gardener. The tiniest of yards can become a secret place, and even a leafy branch filtering the view from a neighbour's house will create an illusion of screening.
The smaller your space, the harder it has to work, though, as you will be glancing at it from your windows at all times of the day and year, so always plan with winter in mind and work from there. By introducing different levels in hard landscaping and plants, you can make your backyard seem so much bigger. And make sure you have somewhere to sit out to enjoy the fresh air and take a breather; a couple of folding chairs and a cafe table can squeeze onto a balcony and be easily stored when not in use. Check out our guide to the best garden furniture for stylish and practical space-saving options.
1. Save space in a small backyard with built-in seating
Save space and avoid clutter by adding in seating to your walls and raised beds. It can become as much a stylish feature as the planting. There's plenty of room for social distancing on this suspended corner bench designed by Daniel Shea. If you are lacking in storage space and want somewhere to keep your cushions, however, you can get this built in underneath the bench.
2. Break up a small backyard with varying levels
Even a dark basement area can achieve great interest and a feeling of spaciousness if you introduce changes of level. Here cantilevering provides several areas, surrounded by gently running water, "creating a thoroughly tranquil space", says Barry Burrows of Bartholomew Landscaping, who designed it.
3. A water feature looks great – even in small backyards
In a small space, a swimming pool has to work twice as hard as it has to be a decorative element, as here in architect Lionel Morrison's invitingly cool pool, with the edges set almost flush with the surrounding paving. You won't be training for the Olympics here but it adds a still, almost meditative feeling to the simple courtyard.
4. Small space, big plants
Don't be afraid of filling up the backyard with large plants and big leaves; if the boundaries recede into the background behind them, it will make the place look larger. Evergreens will keep the effect all year. Planting them in raised beds, as Daniel Shea has done here, will make them seem even taller and more jungle-like.
5. Go for potted herbs
We've all cottoned on to growing your own but sometimes there just isn't the space for spuds. Given there is sunshine for several hours a day, you can always accommodate some herbs though, which are great value - who wants to go trailing down to the shops for a couple of sprigs of thyme?
If you plant them in a stand like this, and you can get twice as many pots for the same floor space. The good thing about most herbs is that they look nice too, their flowers are popular with bees and insects and, as many come from sunny climates, they need little watering.
The principles of the no dig gardening method can be easily adapted to containers, and means a richer soil for herb and flowers.
6. Create a uniform look
If you are going to have containers, give them some uniformity - either by colour and material, or by size. Otherwise the place will look cluttered and untidy. It is probably best to put zinging colours in neutral containers, or keep your planting palate subtle if going for bright containers.
The bigger the container you can fit in your space the better - like the giant one just seen, below; you can always fill the bottom half with polystyrene, unless your plants are hungry feeders, such as trees and shrubs.
7. Welcome nature into your small backyard
We've got used to the sound of birdsong back in our cities and, with time on our hands, have come to appreciate nature even more than before. Attracting birds to the garden has many advantages: we can sit and stare at them for hours as they flock to a birdfeeder and, in the warmer months when the flowers are out, what they see as a wider menu for them, will be a goodbye to many of the lurking bugs and beasties for us.
See the latest garden trend for Rewilding
8. Create a feature with some statement lighting
A good lighting system will not only help you to linger after dark in the warmer months, but create a striking scene to look out on in winter, highlighting special plants and features. This elegant outdoor electric Dome Floor Lamp by Heatsail not only illuminates the seating space, but can act as an infra-red heater and bluetooth speaker as well; the company claims this is five times more energy efficient than the traditional gas-powered outdoor heater.
9. Mix together rough and smooth textures for added interest
Mix up your textures in both the boundaries and surfaces - this applies to front gardens, too. Here a raised wooden yoga space is reached by walking over a stone mosaic and the cool smoothness of yorkstone paving - you are halfway to mindful bliss before you have even started.
10. Make the outdoors more inviting with cosy seating
More and more our gardens are becoming extensions of the house and we are treating them as another room, albeit one without a ceiling. Add a fireplace and a kitchen and you need hardly go indoors. You don't have to be as formal as this set up from Ikea - there are some sophisticated outdoor wood-burning stoves, ovens and chimeras nowadays and a bucket of ice can provide somewhere to cool your drinks.
What should be the focus of landscaping a small backyard?
A small backyard has to work hard all year round as it is likely to be looked out at as a whole from the house, so when it comes to landscaping, make sure there is a good backbone of evergreens, and plenty of layers, in the form of trees and climbers.
How much of a small backyard should you cover with decking?
Whereas it is great to have somewhere firm and even to sit, leave as much space as possible for planting; too often you see mean borders around the perimeters where the plants have little room to thrive. Having plenty of unsurfaced soil is also great for rain runoff, to make sure the decking surface doesn't get slippy.
Can you fit a swimming pool into a small backyard?
You are not going to get an Olympic lap pool into a small backyard but there is always room for water; even raised pools now can look stylish, if you don't have room for the mechanical works. Make your pool work hard though, and provide a decorative feature in itself; dark tiles and spill-over edges will make it wonderfully reflective.
The Livingetc newsletter is your shortcut to the now and the next in home design. Subscribe today to receive a stunning free 200-page book of the best homes from around the world.