Rewilding – The Latest Trend In Garden Design
The rewilding trend could mean that patch of lawn you've mown all summer is about to bloom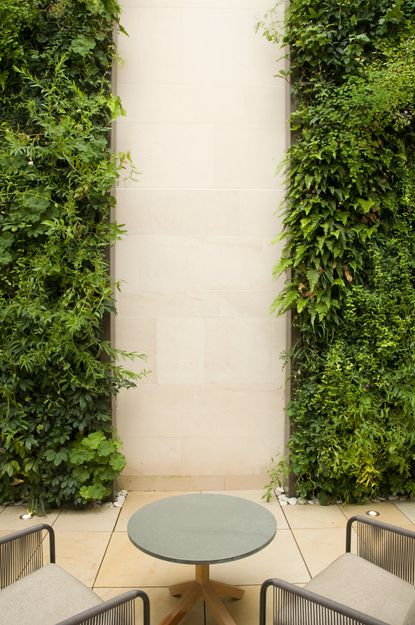 (Image credit: Future)
The Livingetc Newsletter
For style leaders and design lovers.
Thank you for signing up to LivingEtc. You will receive a verification email shortly.
There was a problem. Please refresh the page and try again.
The rewilding gardening trend could mean that patch of lawn you've mown all summer is about to bloom...
What is rewilding?
Rewilding is all about allowing plants to lose their manicured neatness without letting them take over.
See Also: Revealed: These are the Top Garden Trends
How do you rewild a garden?
1. Swap chemicals (herbicide, fungicide, pesticide) for organic methods; use nematodes to deal with slug issues or introduce predators such as ladybirds if you have problems with aphids (greengardener.co.uk). Swap fertilisers for an organic seaweed feed.
2. Choose flowering plants that are best for pollinators – a single or semi-double rose with an open shape is far preferable to a densely petalled closed bloom.
3. If you are wilding grassy areas then choose plants that can cope well with competition, such as wild roses, meadow geraniums and poppies.
4. Plant native hedging rather than fencing – it will provide shelter to birds and if it has flowers and berries (hawthorn, cotoneaster, blackthorn, holly) all the better.
5. Create corridors – cut holes into fences to allow hedgehogs to roam.
6. Feed your soil – healthy soil will create a biodiverse garden from the ground up. Top borders and bare earth with a deep mulch of organic matter in autumn or spring to increase soil health.
See Also: 50 Stylish Garden Patio Ideas, Balcony Ideas, Chic Ideas For Small Gardens, and Cool Ways To Bring The Outdoors In
What are examples of rewilding?
Gardening is all about control – when to apply it and when to give nature free rein. A constant workload of pruning, mowing, snipping and shearing. But lately the whole concept has exploded as excitingly as an unexpected patch of a clover in a lawn with the idea of rewilding, in which land is returned in varying scales to natural habitats that can provide water, food and shelter to all creatures great and small. And its principles are now being implied to smaller residential spaces, too.
One of the most famous rewilders is Isabella Tree, whose book Wilding charts the transformation of the Knepp estate in West Sussex and became a bestseller when it was published last year. Over two decades, Isabella turned her 3,500-acre arable farm into a Mecca for wildlife, including turtle doves and nightingales, 13 species of bat, flocks of purple emperor butterflies, as well as free-roaming cattle. She removed fencing, allowed the vegetation to grow freely, and a richly diverse and wild landscape followed; 'Sit back and let nature take the driving seat,' Isabella says. 'Learn not to be in control; we've got to relax and let go.'
Meanwhile at Hawthbush Farm in Sussex, Lisa O'Connor has spent a decade converting arable land to organic grassland, establishing wild-flower meadows. 'The effects on the numbers of wild birds and insects has been overwhelming; numbers built steadily and quickly over the first five years,' says Lisa. But, she adds, all these principles can apply on a domestic scale, too. 'Small wild-flower meadows can be established in a garden area with some careful preparation. They require a cut once a year. If you have a larger garden or a troublesome corner, let it go! Just stop cutting it and watch nature take it over.'
Living walls make the most of your space – perfect for small gardens – and provide habitats for insects.
See Also: Interior Design Trends – the biggest interior trends for 2021
Sometimes a wild patch can be more choreographed. From seeded shed roofs turned into havens for bees and butterflies to curated meadow corners of residential gardens, there are ways to rewild in a relatively ordered way. For gardener and writer Arthur Parkinson, it was a barren verge opposite his family home in Nottinghamshire that he has now transformed into a wild meadow with crabapple trees and spindle bushes that provide fruit for birds, while pollinator-friendly roses, buddleia and cardoons are all underplanted with a succession of bulbs from narcissi, tulips and alliums through to gladioli. It's all beautiful to look at but the focus is on wildlife – annual red millet and teasels are grown for finches, while nettles are tolerated as they are crucial for butterflies to lay their eggs. Arthur suggests reframing how you look at your outdoor space. 'The ivy we want to take off a wall is more of a nature reserve than we could possibly imagine,' he says. 'We need to think more about what we're planting and what we're removing. Organic plants and bulbs are the way forward.'
In Wild Your Garden (£14.99, DK), the Butterfly Brothers, aka garden designers Jim and Joel Ashton, take us through the key steps to inviting nature back into a space. Like Arthur, they highlight how layering plants is crucial for wildlife – a mix of trees, shrubs and climbers will, over time, create shelter for animals. And simple changes, such as planting a native hedge rather than a fence, planting swathes of nectar-rich flowers or adding a small pond, can transform a space. 'A successful wild garden is one that takes its inspiration from natural habitats and offers a home from home for wildlife.'
Provide these things and wildlife will start to inhabit your garden almost right away and, in turn, create a far more soothing and uplifting space for us humans, too. Who doesn't want to wake up to birdsong, marvel at a busy bumblebee or follow a fluttering butterfly through a rich and wild garden on a summer's day?
See Also: Case Study: A Modern, Meadow-Inspired City Roof Garden
For style leaders and design lovers.
Lotte is the Digital Editor for Livingetc, and has been with the website since its launch. She has a background in online journalism and writing for SEO, with previous editor roles at Good Living, Good Housekeeping, Country & Townhouse, and BBC Good Food among others, as well as her own successful interiors blog. When she's not busy writing or tracking analytics, she's doing up houses, two of which have features in interior design magazines. She's just finished doing up her house in Wimbledon, and is eyeing up Bath for her next project.