The past few years have seen lots of creative ideas for bringing the outdoors in – particularly perfect for homes that might be lacking on outdoor space. From lush and flowing living walls to having trees growing right through the middle of your home, we've been getting more and more creative with foliage.
In terms of trends, parlour palms, cheese plants, calatheas and string of pearls are all having a moment right now. Not to mention our on-going love affair with low maintenance succulents - great for those with busy lives or who lack green fingers.
Read Also:The Top 10 Garden Trends That We'll Be Seeing Everywhere 2020
So whether you go all out with an indoor garden, or keep things simple with a display shelf or wall of hanging plants, there are many good reasons behind bringing greenery indoors.
Read Also:Chic &Stylish Ideas For Small Gardens
Aside from immediately adding a touch of nature and life to a space, plants are known to haveair-purifying qualities, absorbing CO2 and releasing oxygenbut also filtering out harmful and toxic chemicals emitted by microwaves, TVs and screens – and they're known to have calming effects on people too.Studies have even shown that simply seeing green lowers stress levels and increases alertness. So it's a win win all round.
Read Also: Stylish Garden Patio Ideas
The spaces below offer a number of cool and inspiring ideas for displaying your house plants and bringing the outdoors in – whether that's a big faux olive tree in your kitchen or a neat grid of mini succulents. There are numerous ways to create a more natural environment, even in an urban indoor setting.
So get on board with biophilic design (to give it its scientific name) and both you and your home will reap the rewards.
Read Also:The Stylish Outdoor Furniture & Accessories We're Coveting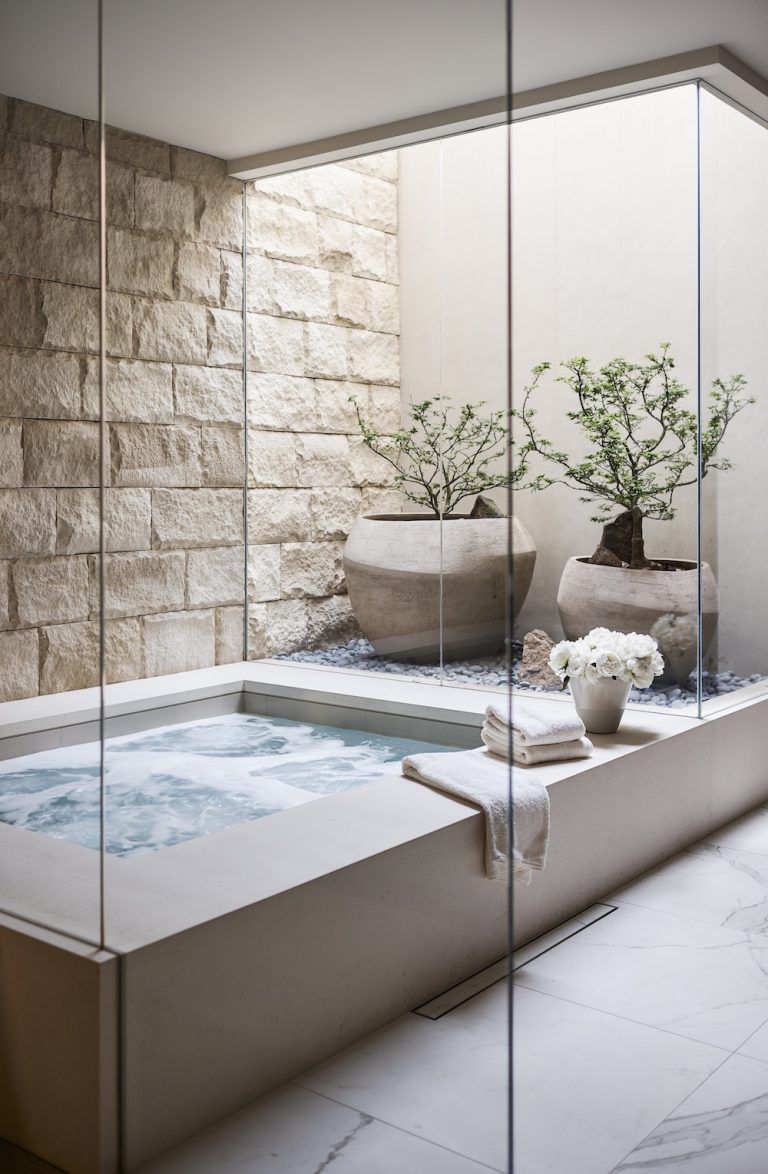 Light Well
Ever thought of a light well not only as a light source but also as a connection to the outside? Here a tiny light-well garden connects with the bathroom space, creating a spa-like, luxe bathroom vibe.
Bathroom With A View
This ensuite bathroom offers intoxicating views, with a floor-to-ceiling glass window breaking down the barrier between indoors and out.
ALL IN ONE
Clad in zellige tiles, this kitchen dining area focuses on a cantilevered table that continues through the bifold window to the terrace outside. Get the look: Similar tiles, Bert & May. Try West Elm's Cosmo side table. Wall lights, Hicken Lighting & Interiors
Indoor Oasis
Tall potted trees transform this room into an indoor oasis.
Indoor Oasis
Tall potted trees transform this room into an indoor oasis.
Kitchen Garden
This kitchen blurs the line between indoors and out. The space is dominated by the jaw-dropping faux olive tree, which seems to have taken root within the Corian-clad island. Get the look: The Esteril Siusi faux-timber porcelain flooring is from Eurotiles & Bathrooms
Maximalist Houseplants
Even more is more when it comes to indoor plants. Hang them high and include large ones in pots to create a true interior jungle. Monstera and ferns live inside if they have good sunlight and are kept moist.
Olive Grove Courtyard
This formal dining room in the front opens up onto the micro-olive grove.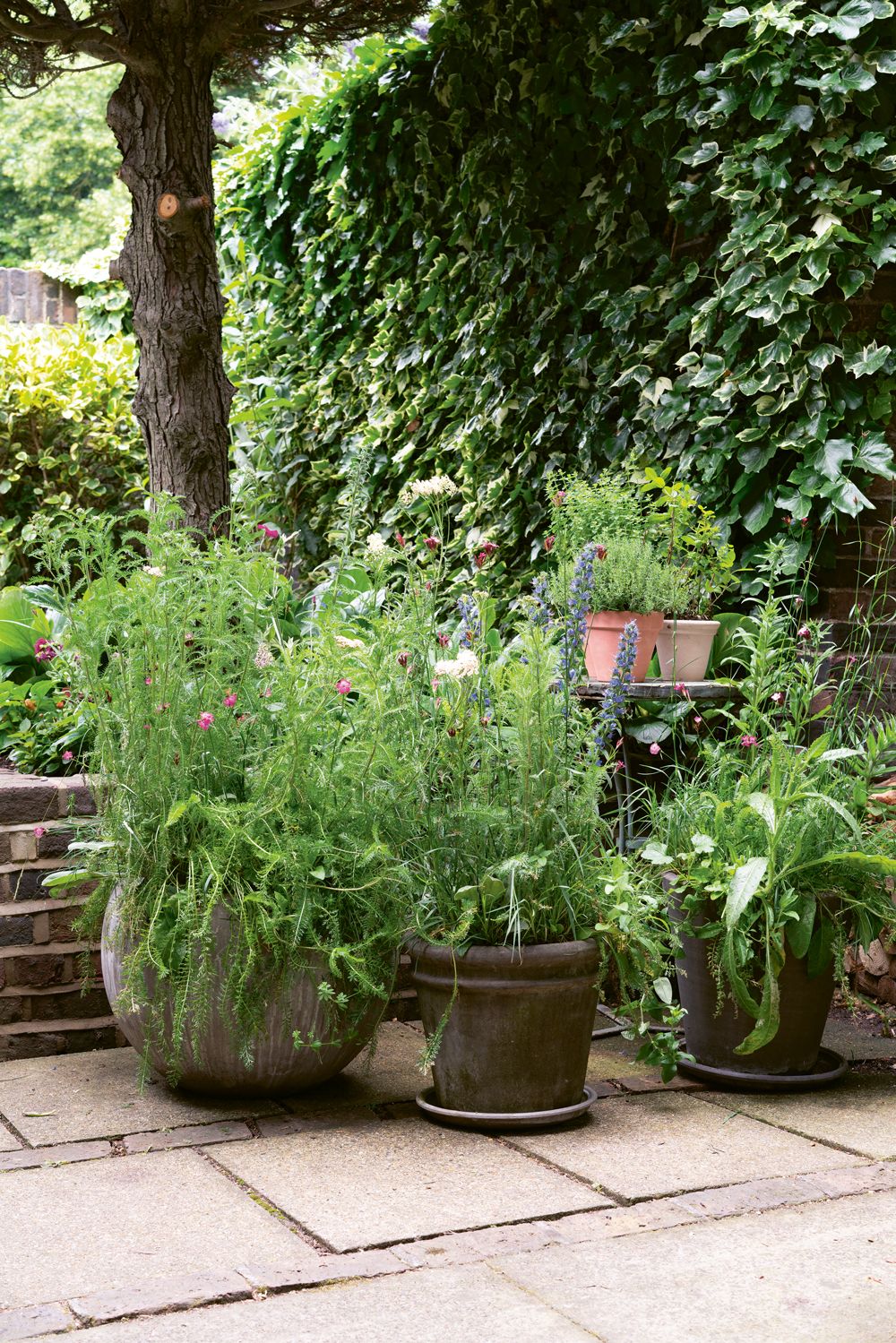 Mobile Meadow
We all dream of fields full of flowers but Isabelle Palmer, @thebalconygardener and author of Modern Container Gardening (£16, Hardie Grant), has a way to get the look in miniature. She cuts circles of wild flower turf (from pictorialmeadows.co.uk) to fit compost-filled pots. 'The turf is easy to establish and these containers will attract bees and butterflies,' says Isabelle.
wonder wall
Handleless eucalyptus wood units and a living moss wall bring verdant rainforest styling to this kitchen. Get the look The kitchen units are by Prototype Design Lab. This is the KWC Eve mixer tap with light. The coffee maker is by Gaggenau.
Glass Wall
A floor-to-ceiling glass panel floods the space with natural light, and shows off the lush greenery outside.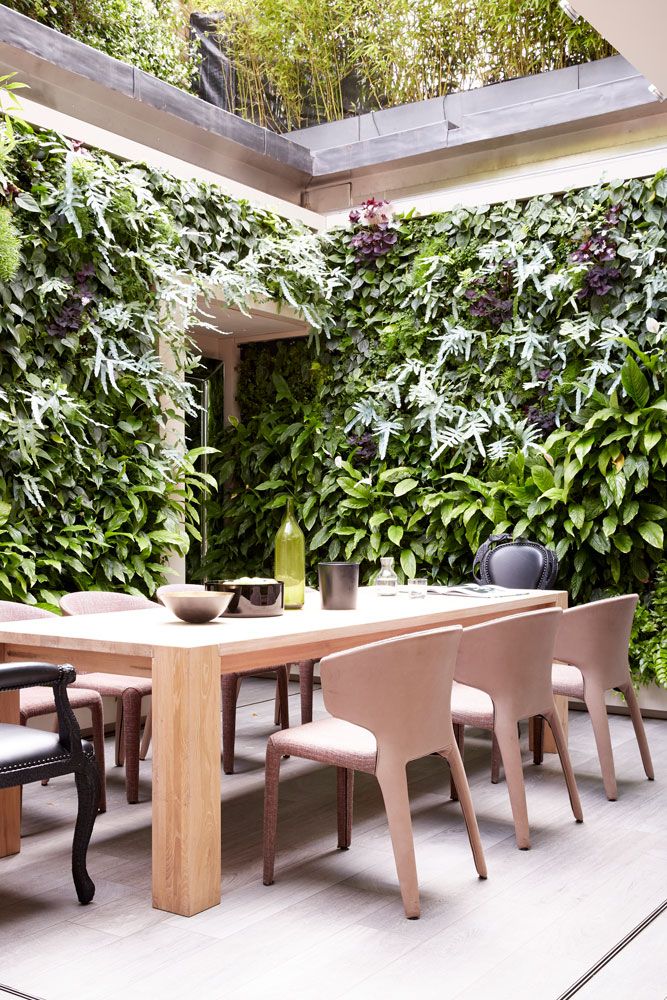 Dining Space
The retractable roof – which opens on to the terrace outside the bedroom above – allows guests to dine alfresco when the weather allows. The mirrored door gives the impression of stepping into a secret garden. Get the look: Dining table, Vitamin. Chairs, Cassina.
Indoor / Outdoor pool
Believe it or not, this is actually an outdoor swimming pool. It's built downstairs in the centre of the property, with a light well above it. When it rains, it rains into the swimming pool and creates a soothing rainfall echo. But better still, the swimming pool laps right up to a stylish home bar, an indoor spa with steam room and shower, plus a cosy TV area that looks perfect for entertaining.
Picture Window
White walls and a vaulted ceiling give a serene quality to the living space. But the real stand-out feature is of course the view. Get the look: Sofa, made.com. Noguchi coffee table, Vitra.
Courtyard Garden
This modern glass home wraps around a manicured courtyard. All the rooms feature floor to ceiling glass doors that can slide open, blurring the line between indoors and out.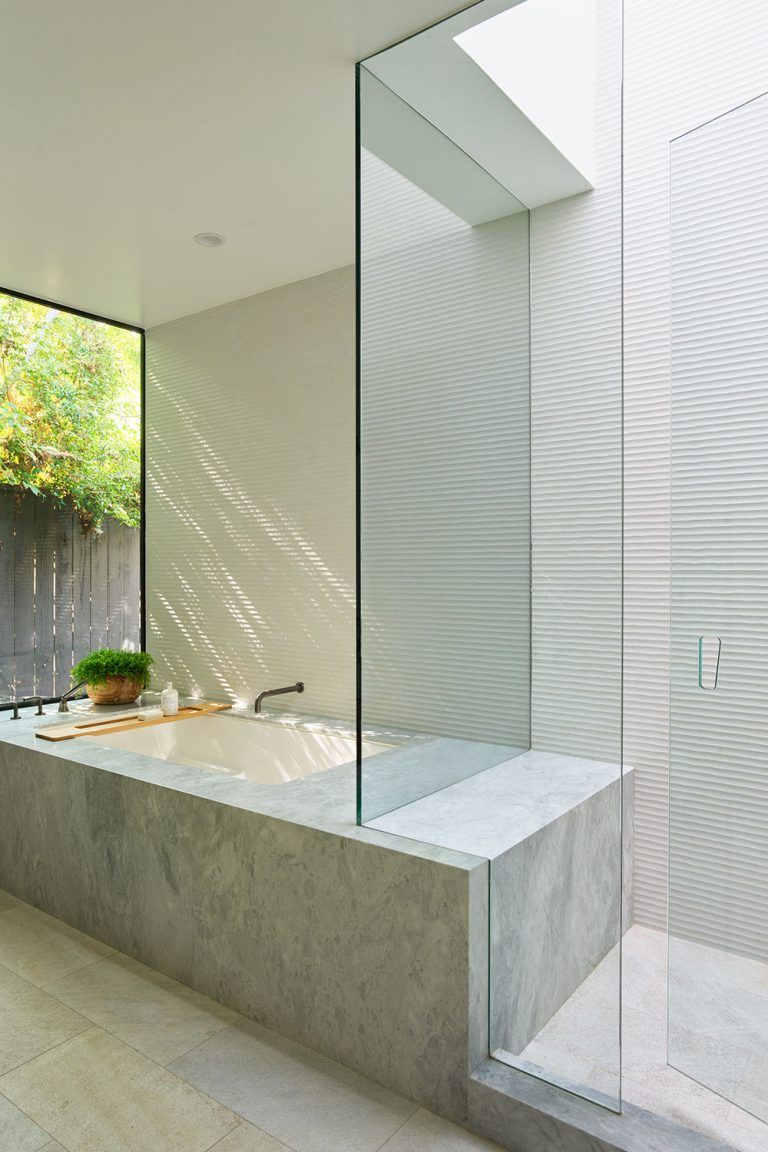 Half In / Half Out
This master bedroom features a striking marble bath that's half inside, half outside, with a glass wall nestled neatly into the marble.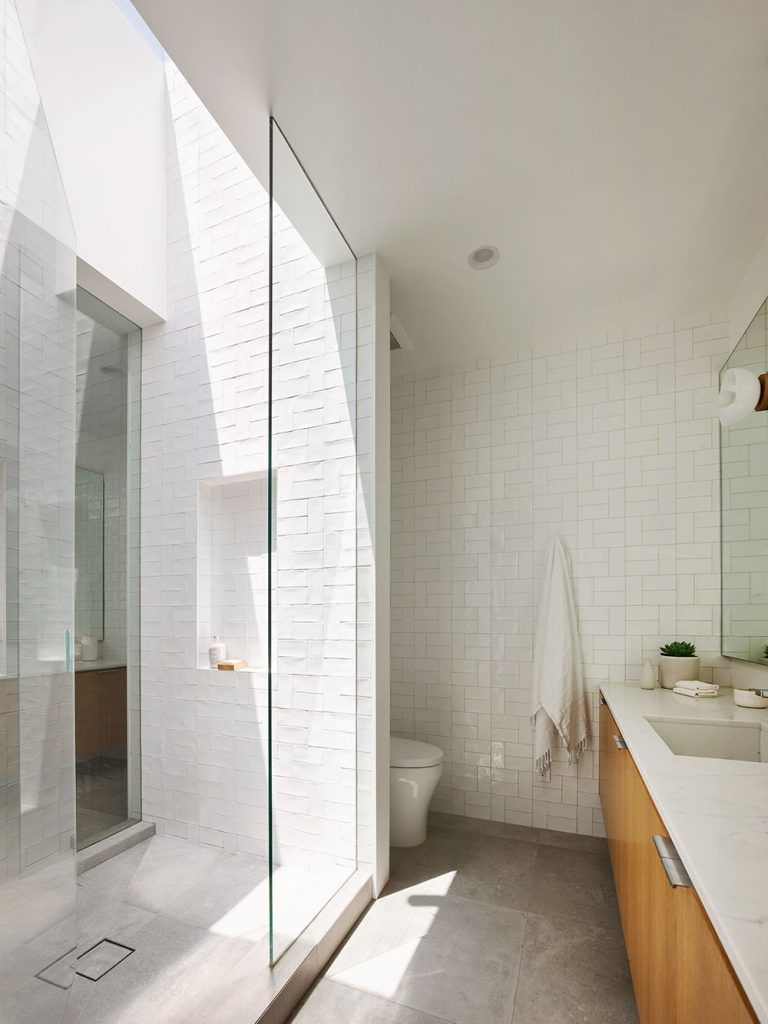 Outdoor Shower
This shower is outside in a light-well, with bathroom tiling that reaches all the way up to the top of this outdoor wall.
Country Views
This house is secluded; it's high on a hill with no neighbours, so the owners had the freedom to play with as much glass as they wanted. The huge picture window provides an ever-changing view of the farm and its resident dairy cows. The ever-changing view of the seasons and livestock outside socks you between the eyes.
Peek Hole
Two 'pavilion' structures connect via this glass box, which offers views into a lightwell that's dotted with aloe vera and boulders for a rustic look.
Low Window
A low window fills this corridor with natural light, while keeping a sense of privacy. A glass window at the bottom gives a glimpse over the aloe vera and boulders on the other side. Large boulders that were originally found in the back garden were preserved and placed throughout the landscape.
Home Roots
This Victorian meets New York loft-style home is full of surprises – including a large fig tree growing through the middle of it… Get the look: The kitchen is the Cesar Maxima 2.2 designed by Ben Jones of Espresso Design. This is the Table B dining table by BD Barcelona. The Vitra Panton S chairs are available from John Lewis.
Glass Corner
This home celebrates the beautiful blurring of lines between interior and exterior.
Living Wall
This living room boasts a lush living wall. Get the look: Sofas, B&B Italia. Tan Egg chair, Arne Jacobsen. Gold-leaf artwork (on back wall) by Marco Grassi.
Hanging Out
Tumbling plants add lovely lush greenery to this minimlist's sun room. Get the look: Try Habitat for similar basket chairs. For pendant lights like these, try Heal's.
jungle fever
This is a house that invites you to reach and touch, following a fingertip trail of rough concrete, strokeable fabrics, smooth metal and faceted glassware. And then there's the greenery… The garden is creeping indoors, it's like Eden in the making. Get the look The pendant lights are flea-market finds. Moroccan Bazaar does similar. The large mirrored light came from Hadeda in Cape Town. The Chandelier & Mirror Company sells mirrored lights. The table came from Lim in Cape Town. Find similar at Fish Fabrications. Head to CB2 for a similar shelving unit. These are Nguni chairs from Vogel Design in Cape Town. West Elm stocks similar John Vogel chairs.
POTS OF STYLE
This dining area combines contemporary lighting with vintage finds, alongside plenty of lush pot plants. Get the look The dining chairs are from Rockett St George. These are Smithfield Suspension pendants by Jasper Morrison for Flos.
FAUX REAL?
A tiny bathroom has been transformed into a functional shower room. The foliage is faux due to limited light. Get the look The bronze wall tiles are by Fired Earth and the faux plants are by Abigail Ahern.
house of bamboo
The family's love of nature played a big role in the design here. In the heart of the house, a lush indoor garden almost screens a Damien Hirst painting. The bamboo will eventually soar through the double-height space. Get the look The Rainforest marble flooring is from Crystal Tile & Marble; the wood flooring is Trendtime 8 Oak Smoked Elephant Skin from Relative Space. The floor lamp is from Palazzetti. The collection of designer Barbie dolls, in fashions by the likes of Versace and Oscar de la Renta, top left, are displayed in a recessed cabinet made by Prototype Design Lab.
eclectic dreams
Decadent is not a word you associate with a busy family home, but visitors love the wildness and sense of the unexpected of this east London home. Moody and atmospheric, the living room relies on luxe finishes – marble, brass, leather and lush foliage – for its air of opulence. Get the look The pendant light is by Soho Home at Liberty. The Tank chairs, rug and mirror salvaged from a train station in the Czech Republic are from Pure White Lines.
delightfully decadent
To keep the look creative rather than confused, designer, Sera of London, artfully employs colour, with a dark ceiling to ground the space. Exposed brick and reclaimed wooden flooring create a handsome, earthy backdrop, that's perked up with plenty of plants. Get the look Green sofa, Tulip and Bustier lamps, Sera of London Privee. Large planter, bought in Sicily.
Light Well
A Victorian-style spiral staircase in the light well leads up to a garden. Get the look: Premier Basements carried out the basement conversion The reclaimed floor tiles are from Bert & May.
Hanging Plants
Hanging plants against the wall add to the relaxed, neutral scheme. Get the look: The plant pots are from botanyshop.co.uk. The basket is by Ikea.
Garden Grid
Free-flowing foliage is contained within a structured grid in this urban version of a garden room. Get the look: The Krossing modular shelving unit by Kriptonite is from The Conran Shop.
On Display
A cool, modern way to display an 'indoor garden'. The copper box was a sterilising box for dental tools found in an antiques shop on the Isle of Wight. It was a lucky find and it fitted on that bookshelf perfectly. Get the look: This is the Network bookcase by Casamania.