Balcony ideas - design experts how to make the most of every inch of outdoor space
These chic and stylish balcony ideas will help you make the most of a small city balcony, and turn it into a space you'll enjoy spending time in.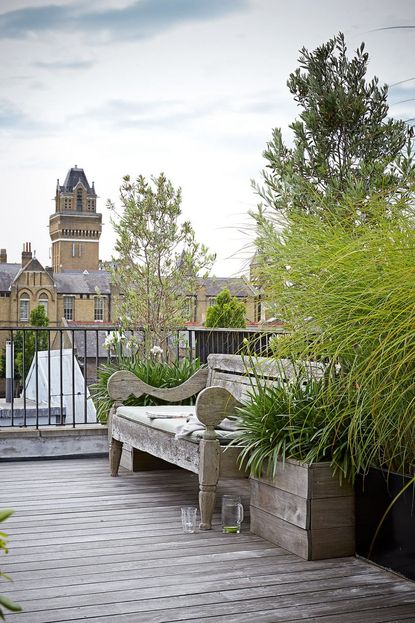 (Image credit: Paul Massey)
Make the most of a small city balcony, and make it a space you'll enjoy spending time.
Add a hanging chair (opens in new tab) or a rocking chair to lure you outside to enjoy your balcony's view. Prefer to have an area for al fresco dining? There are plenty of compact, foldable table and chair options that won't take up too much space but can still have you eating outdoors on sunny days.
With a bit more space you could surround your balcony with potted plants to make it feel like more of a garden, and we've seen terraces with vegetables patches and even ponds. For something ultra chic, built-in planter boxes around the edge can look clean and slick, and you could even make them double up as built-in bench seating too.
Lotte is an experienced homes writer and editor. She has written hundreds of articles helping readers make the best home design choices, and spends her days interviewing interiors industry experts to bring the latest ideas to her readers. For this piece she spoke to the world's best designers who have decorated modern balconies in the most inspiring ways, ideal for compiling this article.
Planting long grasses is a clever way of making a balcony feel more private, while also adding lush, low-maintenance greenery.
As we become more aware of the food we eat, there's been a large increase in growing herbs in city gardens, especially on balconies. These carefree plants are easy to look after and they come in handy for cooking. 'Try basil, rosemary, wild strawberry or chives to start a herb garden of your own; the herbs are also visually pleasing, perfect for a stylish space', say experts at Gardena (opens in new tab).
Making the most of the vertical space on your balcony is important, transforming brick walls into a place for growing your own has been a big trend so far. You could even plant herbs and vegetables in a vertical wall planters which can be either wall mounted, or hang from a wall or even stand on the floor.
'Even painting one wall can transform a balcony - a deep green wall, an industrial window mirror & some faux plants set in front can create a wild & lush greenhouse inspired space; a blush pink wall, round mirror and some grey bean bags a calmer and more scandi inspired zen look', offers Dani, Director of Buying at Cox & Cox (opens in new tab). A window mirror can give the illusion of extra space, and hanging Festoon lights can create a New York rooftop party vibe.
Browse chic and stylish balcony ideas below...
Read Also: Chic & Stylish Ideas For Small Gardens (opens in new tab)
1. Colour Block
walls are getting punchy thanks to sophisticated renders. Deep colours can bring drama to outdoor spaces like this Sao Paolo patio garden owned by set designer Michell Lott, which is featured in the book Plant Tribe (£25, Abrams). The plum wall works brilliantly with the burgundies and purples of the plants, which include Euphorbia cotinifolia, dark philodendrons, begonias and coleus.
2. Create an urban oasis
An abundance of potted plants make this city balcony feel more like a garden. Get the look: See more of the designer Pol's work at pandtinteriors.com. Find outdoor and balcony plants at Patchplants.com.
3. Chic & simple
Modern furniture and a simple olive tree keeps this London roof terrace looking chic and simple.
4. Create privacy
Low maintenance potted grasses cocoon this roof terrace, giving privacy and a pop of colour.
5. Install a mobile meadow
We all dream of fields full of flowers but Isabelle Palmer, @thebalconygardener and author of Modern Container Gardening (£16, Hardie Grant), has a way to get the look in miniature. She cuts circles of wild flower turf (from pictorialmeadows.co.uk) to fit compost-filled pots. 'The turf is easy to establish and these containers will attract bees and butterflies,' says Isabelle.
6. Add a vegetable patch
Who said you can't have a vegetable patch in a city dwelling? This New York roof garden has raised beds full of vegetables and extraordinary views out across Manhattan.
7. Create a built-in planter box
Built-in planters against the wall make sure there's still plenty of floor space for lounging on this London balcony. A 19th-century advertisement on a now listed wall provides a historic backdrop. The challenge was to create a calm environment that doesn't impinge on the presence of the wall. Simple, shady plants are kept to a minimum, so there's space for all to roam.
8. No space for a pond? Add a pond in a pot
No garden for a pond? A large urn or pot filled with water can create a fun feature, especially with additions like water lilies and pretty pond plants, live fish or a water feature / fountain.
9. Create a games space
Got a long, narrow or wrap around balcony? Make the most of it with a fun games space for entertaining. Design firm Angel O'Donnell created this shuffleboard area on a London city balcony, perfect for outdoor entertaining.
10. Add a rocking chair
Simple wooden rocking chairs and a handy side table offer the perfect spot for gazing at the view.
11. Layer up with pots
A collection of containers is the new way to garden, but there are tricks to make it work. 'Sticking to either angular or round pots leads to a coherent finish, as does limiting the materials,' says Tom Harris, author of Pots for All Seasons (£20, Pimpernel Press). Here, Tom combined spiky cordylines and phormiums with soft Japanese maples for a low-maintenance scheme.
12. Add reflective surfaces in compact balconies
This Danish property features floor-to-ceiling sliding doors onto the balcony, so the view can be enjoyed from inside too.
13. Brave a bold colour
This space leads out to a tree-level balcony, where chairs inspired by husks of corn add vibrance.
Lotte is the Digital Editor for Livingetc, and has been with the website since its launch. She has a background in online journalism and writing for SEO, with previous editor roles at Good Living, Good Housekeeping, Country & Townhouse, and BBC Good Food among others, as well as her own successful interiors blog. When she's not busy writing or tracking analytics, she's doing up houses, two of which have features in interior design magazines. She's just finished doing up her house in Wimbledon, and is eyeing up Bath for her next project.