Balcony ideas – 13 thoughtful design touches that will make your apartment's outdoor space rival any backyard
These chic and stylish balcony ideas will help you make the most of a small city balcony, and turn it into a space you'll enjoy spending time in.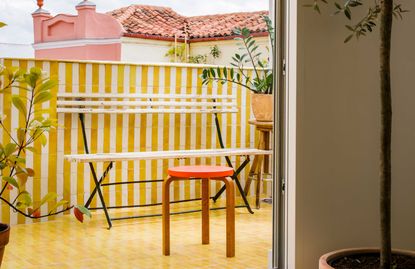 (Image credit: German Sáiz. Design: Sierra + de la Higuera)
The Livingetc Newsletter
For style leaders and design lovers.
Thank you for signing up to LivingEtc. You will receive a verification email shortly.
There was a problem. Please refresh the page and try again.
A balcony is a magical feature for a home, especially if you're used to apartment living without any outdoor space. All of a sudden, you've got the perfect spot for a sundowner cocktail, somewhere for morning yoga. The opportunities are endless when afforded even a modest balcony.
However, while we might pay attention to decorating an apartment, it feels as though the balcony can easily become an afterthought. But don't these spaces deserve to be shown some love, and for you to be proud of your outdoor space, no matter how small, as much as your home's interiors?
We've found 13 of our favorite designs for balconies - everything from tiny platforms to large terraces, to inspire you to make more of yours.
13 balcony ideas that will upgrade your apartment's outdoor space
1. Introduce shade to exposed balconies
If you're dealing with a communal building, there may be some ordnances to what you can do with your balcony. However, if there isn't, or you're designing a balcony for a stand alone home, being bold with your decisions can turn an everyday space into something magical.
For this home in Melbourne, Australia, the triangulated structure over the balcony has becoming a defining feature of the home. And not only is it a beautiful design element, it will provide outdoor shade in time, too.
'The triangular frame enables deciduous vine growth that, when mature, will provide shading to the west facing windows and walls,' says James Gledhill, an architect and part of the team at Green Sheep Collective, who designed this home. 'This works in tandem with new high performing, double glazed windows that reduce any unwanted heat transfer.'
2. Don't be afraid of color
Outdoor palettes can often be a bit more muted than our interior schemes, and balconies in particular are often guilty of being void of personality.
For this Madrid apartment, design studio Sierra + de la Higuera challenged this notion by introducing sunny yellow clay tiles across the floors and parapet. Colorful tiles have been used inside the Madrid apartment too, including the same yellow Zellig tiles in the living room, creating an indoor outdoor feel.
'The tiles are handmade, and the imperfection of the finishes is what gives beauty,' Inés Sierra, co-founder of Sierra + de la Higuera, tells us. 'It has high resistance, durability and low absorption, it provides that timeless, fresh and natural style.'
3. Don't neglect comfort
When dealing with a compact outdoor space, whether that's a small backyard or a balcony, it can be easy to move towards furniture that doesn't take up lots of space, potentially sacrificing on comfortability. Is there a way to get the best of both worlds?
'Comfort, whether inside or out, starts with flexibility,' says Kristen Pena, founder of K Interiors. 'Creating a seating area on a balcony that is easy to use with multiple seating options is key for outdoor use. The ability to cozy up and move around with the wind or the sun is important, and soft textiles that feel good on your skin are a must.'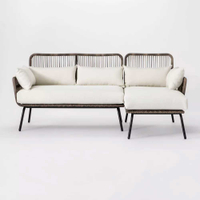 3. Think about function
The key to designing a balcony is in what you want to use it for, paired with its aspect - whether it catches the sun at certain times of day, for example.
'In one project our client had two balconies, one with south exposure and we opted to add a bistro table with a couple of chairs, a perfect spot for an intimate home cooked meal or morning coffee,' interior designer Ahmad AbouZanat tells us. 'The other balcony had south-west exposure, it was an opportunity to add outdoor chaise lounges with small side tables. A great spot to relax and enjoy Manhattan's views.'
4. Make it a green space
For Oshir Asaban's own Tel Aviv apartment, the architect wanted to give the feeling of a private house and create a real garden feel.
'This is a place where you forget that you are in a tower and in the center of an urban area,' Oshir says. 'I planned in two large planters, with plants with stepping stones on them and garden furniture, and along the entire balcony, there are tall planters that can accommodate larger trees.'
5. Go all in on a container garden
A collection of containers is possibly the best way to bring foliage to a balcony, but there are tricks to make it work. 'Sticking to either angular or round pots leads to a coherent finish, as does limiting the materials,' says Tom Harris, horticulturalist and author of Pots for All Seasons.
This balcony design embraces container gardening to the fullest, combining trees of different colors and textures to bring visual interest to this outdoor space, while keeping the planters consistent.
6. Create a built-in planter box
Built-in planters against the wall double up as casual seating and make sure there's still plenty of floor space for lounging on this London balcony. A 19th-century advertisement on a now listed wall provides a historic backdrop.
The challenge was to create a calm environment that doesn't impinge on the presence of the wall. Simple, shady garden plants are kept to a minimum, so there's space for all to roam.
7. Make it flexible
If you have a small balcony that you want to be multi-functional, look to furniture that can adapt. For a Berlin apartment, designer Agi Kuczynska, founder of Takk Studio, commissioned a bespoke drop leaf table, fixed to the parapet, that means outdoor dining with a view is possible, while keeping the space free from bulky furniture.
'The balcony was quite small, but the clients wanted to have a possibility to eat breakfast there so I designed a foldable table,' Agi explains. 'When its folded it still has a small shelf for coffee/drinks and unfolded can hold a meal for two.'
8. Add a pond in a pot
Most landscaper designers recommend introducing running water into an outdoor space. Not only does it help create a relaxing backyard, but it helps to train your ear away from other noises, which may otherwise distract you. For an apartment balcony in an urban setting, this could be the perfect addition.
Of course, a balcony isn't exactly the setting for a pond. Consider filling a large urn or pot filled with water can create a fun feature, especially with additions like water lilies and pretty pond plants, live fish or a water fountain.
9. Bring the outside in
In an apartment in Barcelona with a covered terrace, designer Marta Castellano created an outdoor living space with indoor furniture.
'It is a covered terrace, and that permitted us to have some furniture that is not properly outdoor and facilitates fluidity between the interior of the house and the exterior' Marta explains. 'It doesn't rain too much in Barcelona either, even so, the furniture is protected with exterior varnish.'
10. Get creative with flooring
For this Chicago apartment with a large terrace, architects Searl Lamaster Howe wanted to make the different zones cozier.
'The grandiose scale of the terrace is broken down into three distinct zones,' explains Greg Howe, architect and co-founder of Searl Lamaster Howe. 'A circle of low lounge chairs sits outside the study.'
Instead of a rug to group this seating, material changes in the flooring help create a visual zone, shifting from tile to decking, creating a sense of an outdoor living room of sorts.
11. Consider how to light your balcony
Often used at night, incorporating good, atmospheric lighting should be a top concern for your balcony design. In this project, LED lighting along the balcony and a custom pendant were used.
'We were keen to incorporate a custom-fabricated perforated metal light shroud into the living area terrace for this project,' Jasper Brown, founder of Jasper Brown Architects, explains. 'The way the perforations both capture and diffuse light gives the pendant a delicate presence, and this material beautifully softens the intensity of the light source.'
12. Consider landscaping a terrace
Many a designer's answer to designing a balcony is to pave or deck it and simply add furniture, but for Chicago-based Studio Dwell Architects, actually landscaping the terrace of their modern build was important.
'Because the lot was so tight, it did not have much space for landscaping on the ground level,' Mark Peters, architect at Studio Dwell Architects, says. 'Instead, we decided to spread the landscaping throughout the different floors of the house, including the terrace. This way, we created landscaping that was in view and accessible from all levels of the house.'
13. Include storage for furniture
If year-round sunshine just isn't your local climate, you'll also need to consider how you store outdoor furniture during wet weather months.
'Balconies need to be spacious and flexible regardless of size,' Melissa Amarelo, architect at toi toi toi creative studio, tells us. 'Our Berlin apartment balcony features foldable furniture, so pieces can easily be placed in storage when they are not in use or to accommodate large parties.'
This flexible approach was taken with the outdoor lighting, too. 'The space also features portable lights to help set the mood and extend the living space to the outdoors. We love mixing natural materials and textures, giving the balcony a warm and inviting feeling,' Melissa says.
For style leaders and design lovers.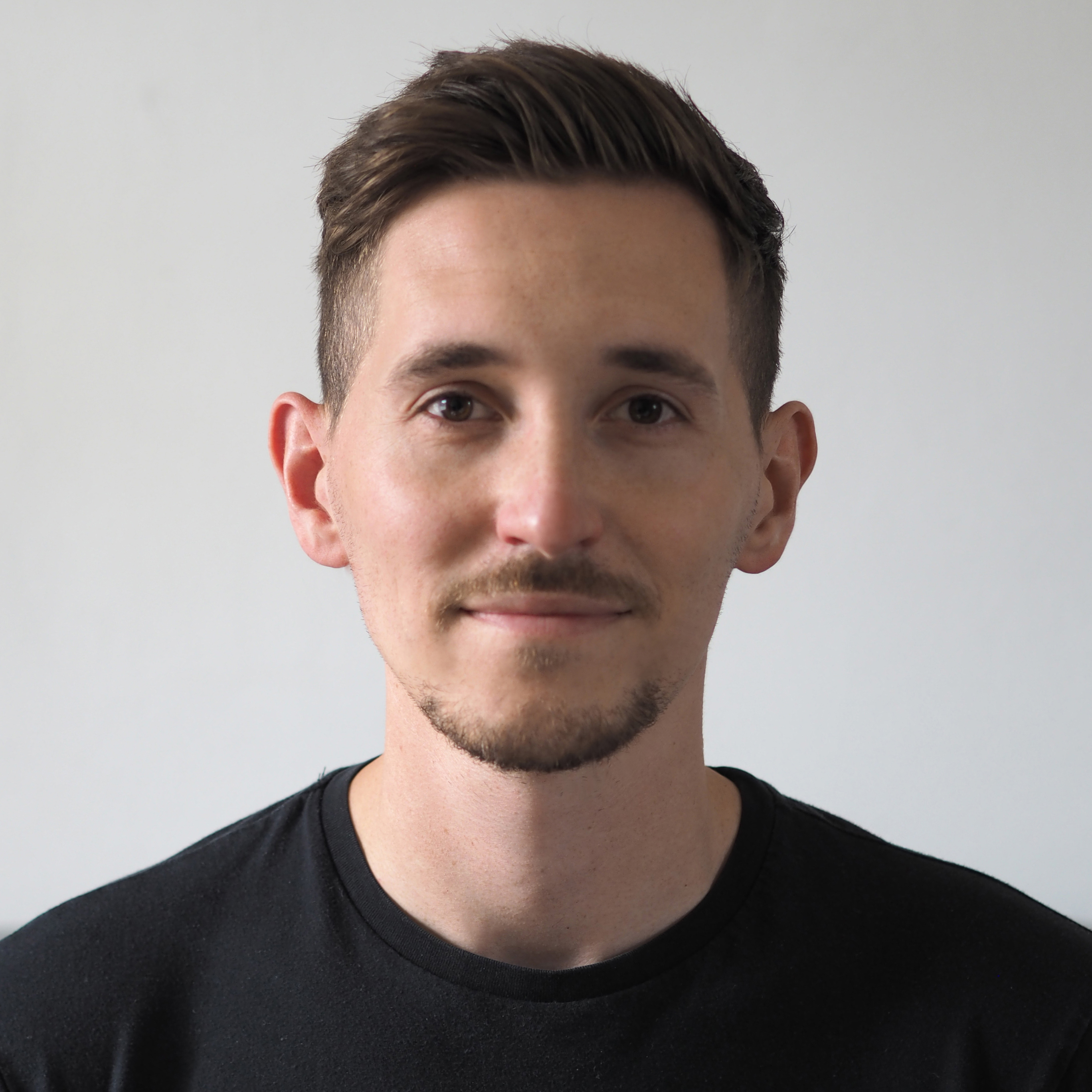 Hugh is the Deputy Editor of Livingetc.com. From working on a number of home, design and property publications and websites, including Grand Designs, ICON and specialist kitchen and bathroom magazines, Hugh has developed a passion for modern architecture, impactful interiors and green homes. Whether moonlighting as an interior decorator for private clients or renovating the Victorian terrace in Essex where he lives (DIYing as much of the work as possible), you'll find that Hugh has an overarching fondness for luxurious minimalism, abstract shapes and all things beige. He's just finished a kitchen and garden renovation, and has eyes set on a bathroom makeover for 2023.