12 ways designers make backyards more relaxing - peace, calm and tranquility can be yours
From lighting to layering, these expert tips on how to make your backyard more relaxing will help you create a serene outdoor retreat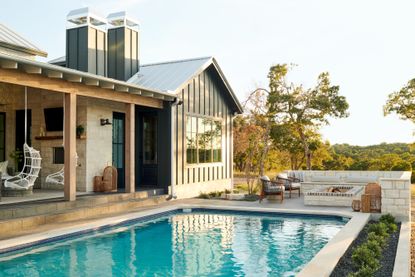 (Image credit: Design by LH.Designs / Photos by Lauren Taylor Creative)
The Livingetc Newsletter
For style leaders and design lovers.
Thank you for signing up to LivingEtc. You will receive a verification email shortly.
There was a problem. Please refresh the page and try again.
Your outdoor area is somewhere you should be able to escape to and unwind. Brushing up on ways to make your backyard more relaxing will help you create a restorative retreat for socializing, snoozing or reading.
There's a host of ways you can ensure your backyard or patio area is a soothing spot to take in those balmy days, from layering soft furnishings to warming things up with a chic fire pit.
We've curated a roundup of expert tips on how to create a relaxing backyard below, so you can make sure you maximize the space in every part of your home, as well as optimize every minute of your me-time.
12 ways to make your backyard more relaxing
1. Install a fire pit
One of the best investments you can make for outdoor oasis is a firepit. Warming, inviting, relaxing, it's the ultimate way to wind down after a balmy day or carry on the party into the evening.
'An outdoor fire pit is totally worth it,' states Joshua Smith, Principal and Founder of Joshua Smith Inc. 'It enhances the ambiance of outdoor entertaining visually and also provides warmth on cooler evenings.
'It's the perfect spot to gather at sunset with a drink in hand, connecting with nature and watching the moon rise. In the backyard above, we chose a circular shape for easier flow and gathering, and pulled in the texture from the exterior structure for cohesiveness and balance.'
2. Hang string lights above your outdoor seating area
If there's one type of lighting that brings a magical atmosphere to a space, it's string lights.
Try hanging festoon lights above your outdoor seating area for a lovely way to brighten the space after dark as well as adding a zen vibe to the space.
'We love adding in string lights overhead, which offers a whimsical layer and visual interest to the design,' says Kate Anne and Ryan Gross of Kate Anne Designs.
Using cable ties to attach your string lights to permanent structures, like pergolas, or using festoon poles and shepherd's hooks set around the space to attach them to are among the best ways to hang string lights in your backyard.
'String lights are a stylish and functional addition to your backyard,' says Sheva Knopfler, creative director and co-founder of Lights.com. 'They provide overhead lighting after dark and give off a romantic ambient glow.
'I love the look of vintage bulbs on a dark wire, giving the illusion of floating bulbs at night. Vintage-style bulbs have a warm color temperature, making the otherwise dark and cool outdoors warm and inviting. You can also customize how brightly lit your space is based on how many string lights you use.'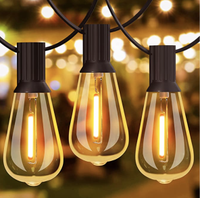 3. Utilize different types of lighting
'One way to create a cozy, tranquil atmosphere in the backyard is to bring in ambient lighting throughout the space,' says Linda Hayslett of LH.Designs.
'Using, hurricane lanterns at different heights on the floor and/or adding smaller ones on countertops or seating really can make an outside glow and make it feel magical.'
The key to really successful garden lighting is layering. Multiple sources of light will offer different types of throw, and create depth and dimension in the space, adding to that tranquil retreat aesthetic.
Try installing different types of lighting, including outdoor wall sconces, lanterns, candles, and string lights, either wrapped around tree trunks or pergolas, or hung overhead.
4. Go green with a plethora of pots and plants
'We like to cove in our lounge spaces with surrounding plants and pots,' say Kate Anne and Ryan Gross of Kate Anne Designs. And it's certainly a tactic that will evoke a feeling of serenity in your outdoor area.
A living wall, as seen in the stunning space by Brad Ramsey Interiors above, is one of the more beautiful patios, but you can bring greenery to your backyard on a smaller scale to great effect. Joshua Smith created a green oasis in the backyard below with potted plants placed at different levels, weaved in with climbers and trees.
He says: 'I love being surrounded by nature, both outside the walls and planted within the outdoor space. It transforms this space from a normal backyard pool into a personal oasis that elicits heightened relaxation.'
Connecting with nature has been proven to reduce stress, while the inclusion of fragrant shrubs or flowers can also induce a relaxing environment. This is also why we're such a fan of fruit trees you can grow in pots - ideal for small spaces, they evoke a feeling of the Mediterranean.
5. Create an outdoor living room
To create the ultimate backyard entertaining space and chill-out zone, try establishing an outdoor living room that's as inviting to relax in as your indoor one.
'Creating a serene, peaceful backyard is similar to creating an interior,' says Linda Hayslett of LH.Designs. 'First you look at what major pieces you want to stand out, such as a sofa or dining table, then add in the background singers to help highlight the space.
'Items like potted plants, outdoor ottomans, or a bar cart help to make your outdoor space feel like a usable outdoor living room that you want to be in all the time.'
And Mary Maydan, Founder and Principal of Maydan Architects, says an outdoor living room is just what you need to make the space relaxing, adding: 'In the past, outdoor furniture generally included a mix of a couch and a chaise, but now we now see seating configurations that feel very much like an indoor living room, but adopted for outdoor use.
'Everything we used to do indoors is making its way outside, so that hosting and living in general can move outdoors. These outdoor living spaces are cozy and fun and reframe our way of living.'
6. Layer the space
As with interior design, layering a space is essential for making it cozy, welcoming and relaxing.
Make sure to include soft furnishing like pillows, throws and blankets to up the restful factor.
LH. Designs' Linda Hayslett says: 'A cozy, restorative backyard starts with layering the space. For example, a nice throw blanket and textured pillows on outdoor seating starts to create a warm environment.
'Then, adding a nice size outdoor rug that blends in with the furniture pieces really starts to create a relaxing space that you want to hang out in.'
And Kate Anne Designs agrees, adding: 'Don't forget to incorporate throw pillows, which are another easy way to create adjustable style over time and a relaxed and laidback outdoor environment.'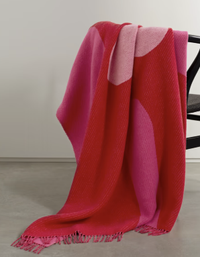 Blanket by RAAWII, Net-A-Porter
Nothing invites you to nestle in your backyard for hours like having a blanket on hand for when the temperature drops. This colorful cashmere one is the height of cosy luxury.
7. Introduce color and pattern
While neutral tones are always peaceful, don't forget that you can add color and print and still create a relaxing outdoor space. A splash of color works particularly well for small backyard ideas.
'When we think about creating a comfortable space in our homes, we often look to include color and pattern as they create a welcoming feeling, especially when seen on cozy pieces such as cushions and throws,' says OKA's co-founder, Sue Jones. 'And it's no different when designing an outdoor space in which to relax. I always like to add soft furnishings to my outdoor seating area, as it makes for a really inviting look and, of course, gives extra comfort that's essential for long afternoons in the sun.
'For added tranquillity, I'd choose calming blue tones that pair nicely with surrounding greenery.'
8. Include an outdoor kitchen
One thing that can interrupt a calming lunch al fresco is constant return trips to the kitchen inside.
Negate the need for tedious back and forth by installing an outdoor kitchen. It's certainly one of the more expensive ways to create a relaxing backyard, but the investment is worth it. Start by finding out how much it costs to install an outdoor kitchen and then decide if it's something that can work in your budget.
'We love adding outdoor cooking areas to truly create an inside/outside living area,' says Lauren Lerner, Principal and Founder of Living with Lolo. Of course, this need start with just one of the best gas grills if you're not into construction.
9. Invest in weather-resistant materials
When you're planning your patio it's important to make sure you invest in materials that are weather-resistant to avoid the stress of having to frequently replace your outdoor furniture. Aluminum is good for furniture frames, acrylic is key for fabrics.
Living with Lolo's Lauren Lerner says: 'Furniture and lighting is equally important to our outdoor living spaces and investing in pieces that will hold up in the elements is the key to a lasting, relaxing space.'
Look to the best outdoor furniture brands to ensure you're buying quality pieces that are specifically designed for outdoor living.
10. Throw some shade
Burnt skin and overheating are not a recipe for a calming afternoon in the garden , so ensuring you have some shade is an essential way to make your backyard more relaxing.
There's a host of ways to add shade to your garden or patio, including canopies, sail shades, pergolas, awnings and hanging foliage.
However, a backyard umbrella or outdoor shelter is probably the easiest way to add instant shade to your outdoor space that's also aesthetically pleasing and versatile. An umbrella helps to create those vacation vibes in your own backyard, which is sure to instantly relax the senses.
Go for a neutral shade or opt for some stripes to channel a chic holiday aesthetic, as seen in the beautiful backyard in the Hamptons below, by BHDM Design.
11. Clear the clutter
There's nothing relaxing about tripping over piles of children's toys, or being surrounded by a hotchpotch of mismatched old furniture.
Create a blank canvas to work from by decluttering your backyard before giving it a style refresh. If your space feels less chaotic then you will too.
A clutter-free outdoor area will help create a sense of calm and add to the appeal of heading outside for a breath of fresh air, a read, snooze or well-deserved sunset cocktail.
12. Hang a hammock (or a swing chair)
Conjure images of rocking yourself to sleep with an ocean breeze wafting over you by hanging a hammock in your own backyard.
Ok, you might not be coastal, but a hammock or swing chair always transports you to your last vacation, while the rhythmic motion is sure to impart a relaxing sensation.
String it up between two trees, or use hooks to attach it to a fence in the corner of a patio. Aaannnd relax.
For style leaders and design lovers.
Ruth Doherty is a lifestyle journalist based in London. An experienced freelance digital writer and editor, she is known for covering everything from travel and interiors to fashion and beauty. She regularly contributes to Livingetc, Ideal Home and Homes & Gardens, as well as titles like Prima and Red. Outside of work, her biggest loves are endless cups of tea, almond croissants, shopping for clothes she doesn't need, and booking holidays she does.