10 fruit trees you can grow in pots to elevate even tiny outdoor spaces so they feel like the Med
There are many practical benefits to growing fruit trees in pots – for the gardener and the tree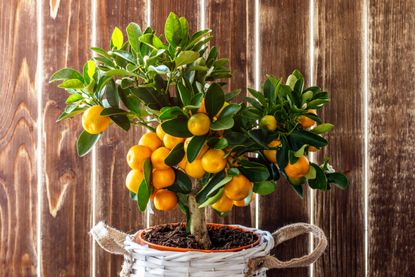 (Image credit: Alamy)
The Livingetc Newsletter
For style leaders and design lovers.
Thank you for signing up to LivingEtc. You will receive a verification email shortly.
There was a problem. Please refresh the page and try again.
Bringing pops of color, sweet scents of blossom and not to mention tasty snacks to your backyard, fruit trees in pots are a fantastic addition to any outdoor space. And there are a number of reasons why growing fruit trees in pots might be a more practical option – perhaps you have a patio or balcony, or want the flexibility of bringing your fruit tree inside during winter. The good news is that all fruit trees can thrive in pots, if provided with the right conditions and care.
Choosing a fruit tree that is best suited to the climate of your backyard or outdoor space in is essential. To find out what fruit trees will be happiest in your area, type your Zipcode into the US Department of Agriculture's Plant Hardiness Zone Map. The growing zones range from zone 1–13, from the coolest temperatures in areas like Chicago to the warmest in places like Miami respectively.
Shopping from a local grower will help you find the right fruit tree for you. "I tell people to stay away from big box stores," says Karly Ray, a horticulturalist and specialist at plant doctor app Plenthero. "Often, the trees are all grown in California and are pumped full of fertilizers. Usually when you put them in your home garden they tend to not do as well. Plants from a garden center in your area have acclimated to those conditions, so they tend to do a lot better."
And the reason we like them comes from a vibe point of view, too. All you need, really, in space is an outdoor umbrella, a gas grill if you can fit one in, maybe even a small backyard bar in the form of a bar cart. And a fruit tree in a pot. Instant vacation feelings.
10 fruit trees that you can grow in pots
1. Lemon and lime
Lemon and lime trees make beautiful potted trees and will be happiest in warmer climates, or zones 8–11. However, as with all fruit trees, you may find a grower that's developed hybridized varieties that can be grown anywhere. They are relatively easy fruit trees to grow and bear plentiful fruit. However, make sure you get a citrus-specific fertilizer, as these trees have particular nutritional needs.
Getting the right fertilizer and sticking to a feeding schedule is essential for any kind of fruit tree. "You are in charge of giving it the nutrients that it needs," says Timothy Hammond, a Houston, Texas based urban gardening expert otherwise known as Big City Gardener. "If it was growing in the ground, the soil life would help feed the tree. I often see people forgetting to fertilize their trees in containers regularly. Anything in a container will need fertilizing once a month."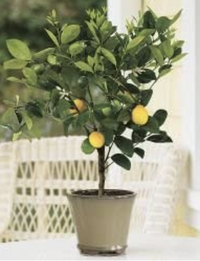 2. Orange
With fruit that'll brighten up any backyard, orange trees are another kind of citrus tree and can happily grow in pots. Like their lemon and lime cousins, orange trees prefer warmer climates, zones 8–11.
The Calamondin tree, pictured, is one particularly hardy variety of orange – although its fruit is better suited to decorative purposes than snacking. "Originally from China, the Calamondin is a heavenly-scented bush that bears a small, sour fruit that resembles both a mandarin orange and a kumquat," says Cate Kowalsky of the New York-based growers Dahing Plants. "Unlike most fruiting plants, the Calamondins are hardy and can survive in temperatures as low as 20 degrees. With bright light and a regular watering schedule, these self-pollinators can bear fruit year-round!"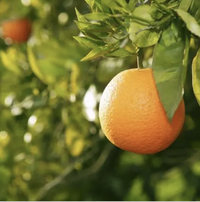 Dwarf Valencia orange tree, Yardzen
At only 3 feet high and in a 1 gallon pot this orange fruit tree is ideal for a small space. Place in a super-sunny spot like a balcony or courtyard that's protected from wind.
3. Persimmon
Persimmon trees are a more tropical garden tree and will be happiest in an area that's warm and humid, with different varieties suiting zones 5–11. If you're in a particularly warm climate (zones 9–11), and have a sweet tooth, the black sapote variety of persimmon tree bears fruit that tastes like chocolate pudding.
Left to its own devices in the ground, a persimmon tree can grow 30–70 feet tall. "One of the advantages of growing things in pots is the ability to regulate the size of the tree, so you're able to plant more fruit trees in your garden space," says Hammond.
Of course, eventually a tree's roots will expand to fill the walls of its pot, at which point it will need repotting. "At that time, you'll start to notice a few problems with your fruit trees," says Hammond. "You might see some leaves dropping or yellowing leaves. That's the plant signalling, 'Okay. I need some help'."
You can come to its rescue by either upgrading your tree to a bigger pot or cutting the roots back and adding fresh soil. "The size of the pot that you plant your tree in dictates the height and the width of the plant," adds Hammond. "So if you're short on space, but want to grow the biggest fruit tree that you can, purchase the biggest pot that will fit in your area."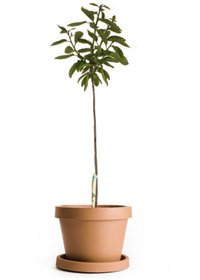 Tanenashi persimmon tree, Yardzen
Alreasy 3 - 4 feet high, and in a three gallon pot this isn't a fruit tree for the tiniest outdoor spaces. But that's not to say it won't stay relatively compact, and can't be placed in a small backyard. The fruit, by the way, is delicious.
4. Fig
Bearing delicious fruit that can taste as good in a salad as it does in a dessert, fig trees are an excellent option for your potted orchard. They grow in warmer climates, zones 8–10, and are loved by outdoor and indoor gardeners alike for their broad green leaves.
"Figs grow exceptionally well in containers, though you can grow just about any type of fruit tree in pots," says Deanna, a California-based gardening mentor and creator of Homestead and Chill. "The key is to choose dwarf or semi-dwarf varieties that naturally grow on the smaller side; they'll be more healthy, productive, and manageable long-term compared to larger varieties that will eventually start to feel cramped." Brown Turkey is the oddly named but perfect variety you want.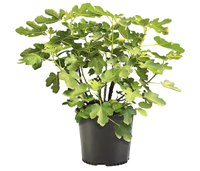 Brown Turkey fig tree in a pot, Amazon
Brown Turkey fig trees are hardy - they survive frosts and produce a small number of fruit from an early age, getting better each year. They're also the most affordable tree we've mentioned so far, at just over $20.
5. Olive
With their dusty green foliage, olive trees are another are one of the best trees to grow in pots - they truly thrive this way. Although be careful to choose the fruiting type, if that's what you're after. Olive trees grow in warmer climates, or zones 10–11. This Mediterranean tree is particularly tolerant of droughts, and is therefore well suited to life in a pot.
In general, cooler climate fruit trees will need more watering than warmer climate fruit trees which are more drought resistant.
"Water is the most important care tip for fruit trees," says Planthero's Karly Ray. "For newly planted trees, water daily for the first one to two weeks, and then every two to three days for the next three to 12 weeks. This schedule can fluctuate depending on rain and season. What is most important is that the soil is never allowed to go completely dry."
For established trees, water one to two times during the week in summer, every two weeks in spring and fall, and just once a month during winter to keep roots alive while the tree is dormant.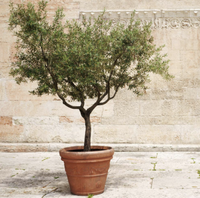 Frantoio olive tree, Fast Growing Trees
The fruit of the Frantoio olive tree is better for pressing for oil than it is for eating - you won't find much joy in its bitter taste. But it does evoke pure Mediterranean holiday vibes, even in the most urban of spaces.
6. Apple
The first cooler climate fruit tree in our list, apple trees grow in zones 3–8 depending on which variety you choose. Hardy varieties, like snow apples, suit zones 3–5, and long season, like Beverly Hills apples, suit zones 5–8.
"It does take apple trees a few years to fruit," says Ray. "Cold climate trees take a little longer, I'd say three to four years before they begin fruiting, whereas warm climate trees fruit within the first year or two. If you buy a tree that's already established and larger, you may notice a little fruit sooner." But you will get this beautiful blossom, from which you can make tea.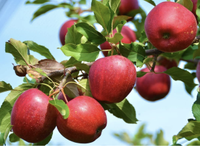 Directly from California these apples - when they eventually grow - taste like sunshine. This is an investment in a future - you won't get apples for some time. But it'll be worth the wait when you do.
7. Plum
Stone fruits with a pit are cold climate fruit trees. Plum trees grow in zones 4–9, and will produce the best fruit when potted in well-drained, moist and fertile soil.
"By planting fruit trees in pots, you're able to provide their ideal soil," says Hammond. "This means that they're able to grow, thrive and produce fruit faster than they would if we put them in the ground."
Fruit trees will love high compost potting soil with manure mixed into it. Plenthero's Ray also recommends using a water absorbent clay or ceramic pot. "Then, when you plant the tree, make sure that the root ball is right at the top," she adds. "One big mistake people make is burying the tree root ball way too deep. Trees have pretty shallow roots that spread across the top of the soil. If you bury them too deep, they just don't get enough oxygen and suffocate."
Another tip is to plant early in the spring or early in the fall before conditions either get really hot or really cold. This gives the plant a chance to acclimate and not get too stressed out.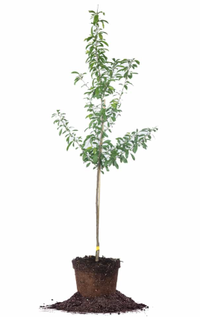 Bruce plum tree, My Perfect Plants
The beauty of this plum variety is how hardy it is - it'll withstand cold winters if you need it too. And it's fruit! Juicy, sweet, perfect.
8. Pear
Pear trees can be grown in pots in zones 4–8, but if you want your tree to bear fruit make sure you go for a dwarf variety. "If you put a traditional pear tree in a pot, it'll try to grow massive and you may end up with a tree with a lot of foliage but no fruit," says Ray.
In case you're wondering if this means you'll end up with bite sized pears, dwarf fruit trees don't diminish the size of the fruit. "Dwarf root stock determines the size of the tree, while the scion (top growth) determines the size and quality of the fruit," says Ray. "Dwarf varieties bear fruit sooner and produce the same size fruit as larger trees."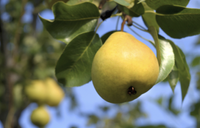 The juicy, fleshy pears from this tree are great for cooking, canning or just eating when ripe and ready. This tree can be transplanted into the ground if you have space, or potted in a big pot and regularly fertilized.
9. Peach
Stone fruits usually prefer cooler climates, but peach trees are an exception, growing in zones 5–9. They grow happily in the Southern United states like Georgia, known as the Peach State.
Peach trees can also be grown in pots, just make sure you give your tree enough sunshine. "This goes for all fruiting trees – the best thing is to place them in the sunniest part of your yard, which is usually a south-facing spot," says Ray. "All fruit trees need between six and eight hours of sunshine to really thrive."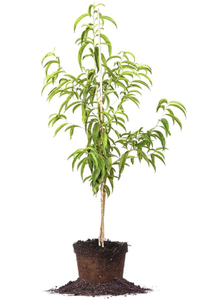 Flordacrest peach tree, Amazon
The peaches off this tree are super-sweet and juicy. Leave against a sunny wall so that the heat reflects back into the tree.
10. Cherry
Cherry trees can not only bear delicious fruit, perfect for garnishing cocktails on your outdoor bar, but have a particularly magical blossom in spring. Cherry trees grow in zones 4–8.
Note that there are three types of cherry tree to be aware of: sweet, sour and tart. "Sour and tart cherry trees are self-fertile, meaning you only need one tree," says Ray. "But for sweet cherries, you need at least two for them to pollinate each other and grow fruit. All three types can produce fruit, but with a different taste."
While many hybrid fruit trees are now self-fertile, you may still see better success by having at least two of the same tree to help with pollination.
For style leaders and design lovers.
Kate Hollowood is a freelance journalist who writes about a range of topics for Marie Claire UK, from current affairs to features on health, careers and relationships. She is a regular contributor to Livingetc, specializing in reporting on American designers and global interiors trends. Based in London, Kate has also written for titles like the i paper, Refinery29, Cosmopolitan and It's Nice That.