What's the best way to shade a patio? These 9 brilliant ideas will help you keep covered and cool in style
Looking for chic shade ideas for a patio? These pretty pergolas, awnings, shade sails and parasol designs will inspire how you keep covered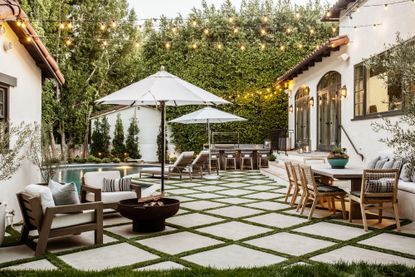 (Image credit: Kate Anne Designs/Jeffrey Brian Reimer)
The Livingetc Newsletter
For style leaders and design lovers.
Thank you for signing up to LivingEtc. You will receive a verification email shortly.
There was a problem. Please refresh the page and try again.
Spending time outdoors is known to boost your mood and improve wellness. But, to make the experience more enjoyable, you'll need to source shade ideas for your patio to keep you protected from the sun or covered against the rain.
There's no point investing in stylish patio furniture only to rush indoors as soon as the sun gets too hot. Not only are shade ideas like pergolas, shade sails and awnings, a practical investment to keep you cool and covered, they're also an opportunity to lift the design aesthetic and add color or pattern to your outdoor oasis.
They also work to extend your living space, creating that coveted indoor/outdoor flow and providing the perfect intimate spot to host friends and family, or simply put your feet up and relax.
Not sure what to choose? We've rounded up a host of patio ideas for creating shade to give you the ultimate inspiration for your next purchase. Bring on those long, languid summer days dining al fresco...
1. Put up a pergola
A very popular patio shade choice, a pergola is an outdoor structure that supports a grid of beams, often constructed with wood.
Pergolas are often attached to a house, but can also be freestanding. They can also be covered to provide even more shade, or left open to allow dapples of light to shine through.
'A pergola is a more high-end option for your patio shade ideas,' says custom landscape and garden designer, Amber Freda.
'A custom-built 10'x10' pergola can cost upwards of $10,000, so it's definitely a pricier and more built-in looking option,' Amber adds. 'Pre-fabricated pergolas are also available and cost around half that when installed by a contractor.'
'However, If you have a few strong and handy friends to help out, you may even be able to get the total costs down less than that if installing yourselves.'
Amber adds: 'Many people prefer the look of pergolas because they create a sense of enclosure and intimacy within the space and are an attractive focal point within the garden. A possible add-on item for more shade would be a retractable awning installed inside the pergola.'
You can further create a cozy atmosphere by attaching festoon lighting to the pergola beams, or wrapping string lights around the structure.
You can also use the beams to hang swing chairs from for an inviting spot to relax, socialize or catch forty winks.
Lauren Lerner, founder and owner of Living with Lolo, says: 'We love using pergolas because they expand your usable living area and allow you to have a semi-shaded area while still having light.
'We often add retractable awnings as well so the tops can be completely covered as needed.'
2. Install a partial pergola
If you're seeking shade for a bijou area, a partial pergola is a chic small patio idea.
A wall-mounted half pergola is a great space-saving option, as seen in the image above by Esther Dormer Designs.
Esther says of the space: 'The outdoor patio area was located behind a garage, it was actually a carport. The client wanted a prolific garden, so we reworked it and added an outdoor space. I created a bit of shade with a partial pergola, while creating height for the space. The cedar wood was used throughout for wearability and the aesthetic appeal as it ages. The theme of open slatted wood was used for climbing plants as well as to create a space for herbs and flowers.'
She continues: 'The home is located in an urban area of Pittsburgh, so it was all about giving the client a dose of nature, even though they are living in an area without much green.
'It's a place for the owners to relax and to entertain, yet still retains its urban sophistication.'
3. Seek shade under a pretty awning
An awning offers solace from the sun's rays without taking up any floor space, so makes the perfect shade for your outdoor furniture. You can buy affordable retractable awning at online stores like Wayfair, but can also have custom-made and installed.
'Awnings are typically installed by an awning dealer and usually require some sort of masonry to attach to,' landscaper designer Amber Freda comments. 'The maximum width awnings can extend to without additional posts or supports will be around 10', so that's something to keep in mind when you're planning the space.'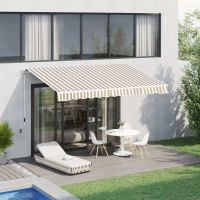 4. Sit under a shade sail
A UV-resistant fabric cover that's attached to poles, walls or trees, a shade will provide outdoor shade from the sun's rays. They're affordable and easy to install, but are still a stylish option for a patio.
A shade sail was the choice of cover for the patio above by landscape designer Amber Freda. 'Shade sails often require posts to attach them to, usually made of metal so as to avoid any possibility of bending or warping,' Amber explains. 'It is possible to install shade sails yourself, with the correct planning and materials on hand.'
Shade sails are usually triangular or rectangular in shape, and come in all different sizes, making it easy to find one to suit your space.
Use a shade sail to cover a bar or dining space, or opt for a larger choice to cover an outdoor living room or chillout zone.
Amber Freda adds: 'Shade sails can be a nice alternative to umbrellas because they can stay outdoors without any worry of being blown over by the wind. They tend to look a little more built-in, too, and take up less floor space than an umbrella base.
'They can be attached to posts, metal railings, or masonry work like brick on the exterior of a building, and come with adjustable hardware. I recommend installing them as taught as possible, so there's less flapping in a breeze.
'Shade sails are also a lot less expensive to install than a more substantial shade structure, like a pergola or a gazebo. It's a good idea to take down shade sails before the winter months and store them out of the elements, since they will last longer and won't have the heavy burden of snow potentially weighing them down.'
5. Keep cool behind a curtain
Curtain shades are an increasingly popular choice patio shade ideas. You can attach them to pre-existing structures, like pergolas, for extra privacy and protection from the sun.
Interior designer Lindye Galloway used curtains on patio pool area to create a relaxing outdoor retreat and hotel-smart aesthetic.
'We created this covered pool for a boutique feel that provided privacy and allowed for usage year-round,' Lindye says. 'The sheer curtains are great for ensuring privacy and shade from all sides but can be left open to allow more natural light and a light breeze for that perfect indoor-outdoor feel.'
6. Pep up your patio with a parasol
Ooze vacation vibes by popping up a parasol, or outdoor umbrella, on your patio.
Probably the most versatile option, a parasol is a chic way to enjoy the balmy weather; choose from pretty stripes - deckchair stripes are a backyard trend right now - or keep it neutral with creams and greys.
As well as looking pretty, a parasol can also often be moved as the sun changes position throughout the day, ensuring all-day coverage.
Amber Freda says: 'The least expensive and easiest-to-install option will be an umbrella, since these come right off the shelf and are simple to put up yourself.
'For very windy locations, we recommend that people choose an umbrella with vented canopies and the biggest, heaviest base possible.
'There are a variety of options to choose from, including upright, cantilevered, tilting, and illuminated, plus endless sizes and colors to suit your space as well.'
Interior designer Kate Anne adds: 'Umbrellas are very useful if you want more flexibility in the space and if a structure just isn't working out from a space or proportion point of view.'
7. Construct a retractable canopy
A light and versatile option, and retractable canopy offers a perfect blend of practical and pretty.
You can keep the sun off your face at the hottest points of the day, and then slide the canopy back to enjoy the soft glow of the evening sunset.
Kate Anne and Ryan Gross of Kate Anne Designs, created the inviting look above. 'Over the years we've tried many shade solutions with style and functionality top of mind,' says Kate. 'If our goal is to feature architectural elements, we tend to incorporate pergolas into our design. However, we also love slide-on wire shades for their full coverage and European feel.'
Make like Kate and style yours up with with hanging planters and pretty pendant lights.
8. Create a 'living canopy'
If you love the look of a pergola but are craving more coverage, a canopy of vines is a beautiful - and natural - option.
Wisteria, with its beautiful blooming display, and clematis are popular climbing plants to use as a living canopy. You can use gardening ties to encourage your plants to climb in the right direction, and don't forget sufficient watering, particularly in the early stages of growth.
This option may take time and a little patience, but is certainly one of the prettiest patio ideas and is a lovely way to add greenery and shade into your backyard.
9. Build a veranda for a permanent source of shade
If you're working with a large patio area, you may want to create a permanent outdoor structure, like a veranda, as part of your house build.
The inspirational patio veranda (above) by LH. Designs shows how you can truly expand your home's square footage by creating an outdoor living space, including an outdoor kitchen, games room, shower area and outdoor living room.
Linda Hayslett, of LH.Designs, says of the project: 'It's always a good choice to extend a house to make usable living space outdoors because it helps make the home feel bigger than it really is.
'It also gets the family outside more to enjoy more of the nature aspect to the home. Having a finished outdoor space, like a veranda, can also add a lot of value and more enjoyable experiences for a family,' Linda says. 'The covered patio was preferred here, as opposed to a pergola, in order to create another home outside with a living room that has a TV and a BBQ area that acts like a second kitchen.
'When creating a pergola, you are a bit limited in having some items such as a TV or upper cabinetry in the space as they are usually open on all sides including the slatted top area,' Linda adds.
This elegant veranda by Lindye Galloway (above) shows how you can style a patio veranda to make it as cozy and inviting as an indoor space.
Add swing chairs and layer up the area with an outdoor rug and cushions to add ambience and extra comfort factor. Potted plants and an outdoor firepit will further inject a welcoming aesthetic.
For style leaders and design lovers.
Ruth Doherty is a lifestyle journalist based in London. An experienced freelance digital writer and editor, she is known for covering everything from travel and interiors to fashion and beauty. She regularly contributes to Livingetc, Ideal Home and Homes & Gardens, as well as titles like Prima and Red. Outside of work, her biggest loves are endless cups of tea, almond croissants, shopping for clothes she doesn't need, and booking holidays she does.