Roof garden ideas: 21 fun and stylish ideas to make the most of your rooftop garden
Got a roof? Transform it into an inviting oasis with these stylish roof garden ideas...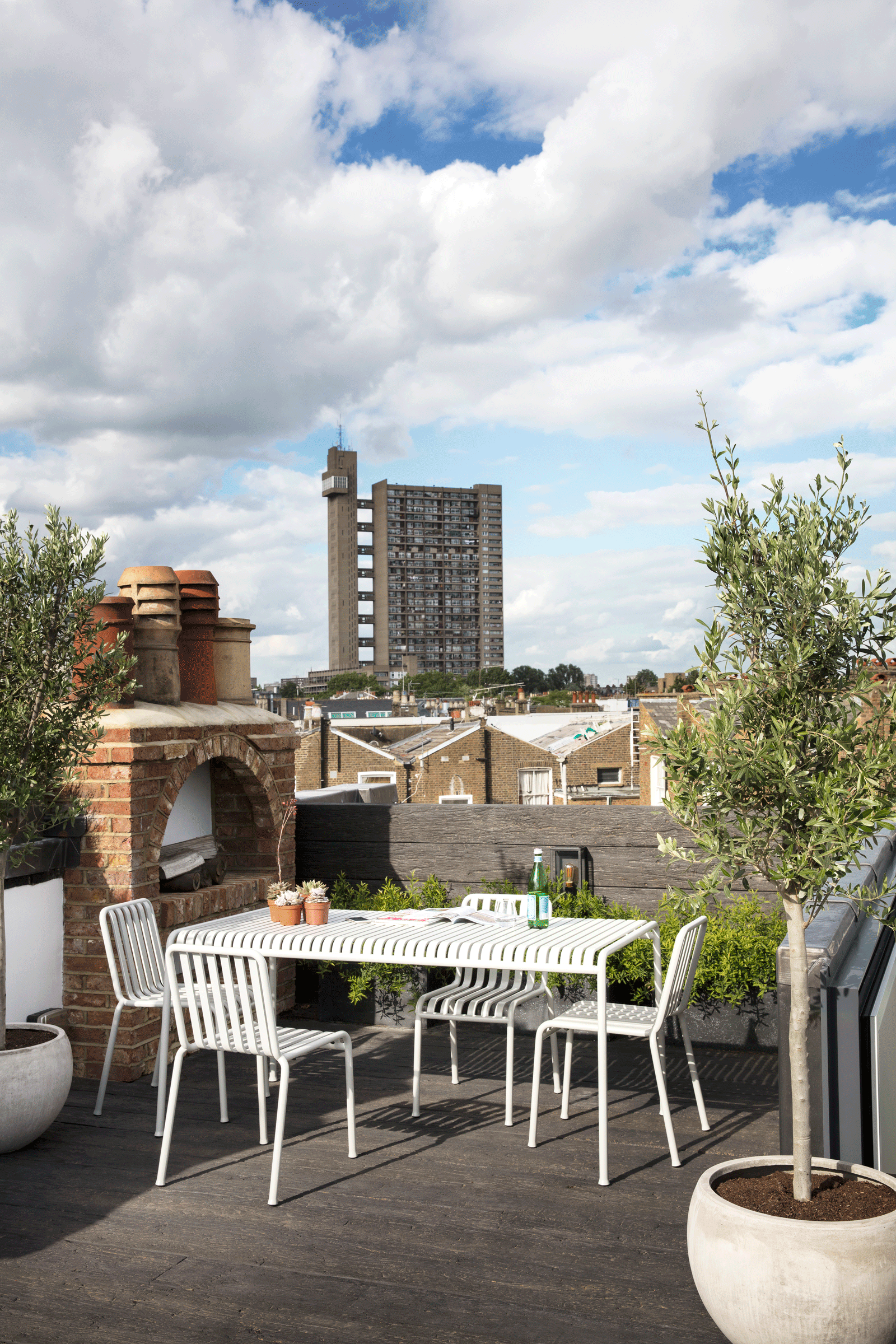 (Image credit: Paul Raeside)
We've pulled together 21 different roof garden ideas to show you that there are lots of ways to transform a roof into an inviting oasis. Make the most of a flat roof area to create a space that's perfect for sun bathing during the day and sundowners at night. From small rooftop gardens to sprawling roof terraces complete with ponds, hot tubs and outdoor kitchens, you're bound to find an idea here that works for you.
When it comes to gardening, every roof terrace has its issues. Strong winds and extreme exposure can desiccate even the toughest plants while weight restrictions, safety regulations and getting materials to the top of a building all make vertiginous outdoor spaces among the most challenging sites.
The below roof garden ideas navigate these challenges with clever ideas like sunken seating to avoid cold winds, and potted grasses for low-maintenance greenery.
1. Welcome the rewilding trend
One of this year's biggest garden trends is the emergence of 'rewilding', which is all about allowing plants to lose their manicured neatness without letting them take over. Free-flowing plants help to give sleek, minimalist gardens a more relaxed, informal feel.
This meadow inspired city roof garden is a prime example. Designed by Aralia's Alastair Henderson, this eighth floor city roof garden feels immersive and naturalistic thanks to wildly planted garden borders.
Despite neighbouring blocks, the city roof garden feels private thanks to the layered planting and carefully placed trees.
The main planting included osmanthus hedging with its rich jasmine-scented flowers in mid-spring as well as several trees; amelanchier (with beautiful blossom in March), small olives and multi-stem heptacodium trees that flower in autumn and are beloved of bees. Dotted in between are ilex balls, pittosporum and Pinusmugo – a tough, slow-growing shrub. The terrace is always buzzing with bees and there are often birds, too.
2. Consider building a conservatory for year-round indoor / outdoor living
The top of this stylish home features a private conservatory space that opens onto a roof terrace. French doors swing open during warmer weather, blurring the line between the indoors and out. But the space is used during colder months too, and the conservatory is the perfect space to curl up with a cup of tea while watching the the rain fall on the glass roof.
The roof garden features a covered area too, perfect for shade as well as drizzle, plus it means the owners got to invest in comfy, upholstered seating. It means that this rooftop gets used all year round.
3. Add a fence for privacy
This Brutalist apartment in Paris is crowned with a tiny roof garden. Yet despite it being compact, it fits a lot in – including an alfresco dining and lounging area, a herb garden and even an outdoor kitchen.
There's a covered barbecue area, and a patio area perfect for warmer months. Tall fencing provides privacy.
4. Or use tall plants and grasses instead
Meanwhile low maintenance potted grasses cocoon this roof terrace, giving privacy and a pop of colour.
5. Zone a large roof terrace into different seating areas
The Hollywood home of Olympic skier Gus Kenworthy features a stunning two-storey roof terrace, complete with outdoor kitchen, fire pit, al fresco dining area, and this sun deck for sunbathing and sunset drinks.
The roof terrace features sun loungers for sun bathing, a bar table with bar chairs for sunset cocktails, and a lounge area at the back for socialising and relaxing.
6. Add built-in bench seating
The roof garden is the piece de resistance of this stunning art-filled home in Covent Garden, designed by Studio Ashby.
Plants sit on a raised level, with a sunken level for seating. Featuring lush evergreens, meaning that the space is green all year round, the plants have been arranged in such a way as to appear wild and spontaneous. The stunning roof terrace was designed and created by Hay Joung Hwang.
The stylish built-in banquette seating is upholstered in chic stripes. Built-in bench seating not only lends a more designed look to your space, but it can also seat more people than regular garden chairs.
7. Refresh garden walls with colourful tiles
Tiles work just as well on the walls, and colourful gloss tiles work particularly well. They give a roof garden a fresh, clean, shiny and colourful look.
8. Short on space? Plant vertically
The wall of this tiny roof garden boasts a living wall of cascading foliage. It's a clever way of introducing greenery in compact spaces.
9. Create a canopy for shade, shelter – and a place to hang your hammock
Extending a canopy or roof into the roof garden space will not only give you shelter from the sun and the rain, but it's also a structure from which you can hang a swing seat or hammock.
10. Accessorise with a pizza oven
Decorate a roof garden how you might any other garden space. Always dreamt of having a pizza oven one day? What are you waiting for? A rooftop is as good a place as any – plus unlike ground floor gardens, you get to enjoy home-baked pizzas with a view.
11. A fire feature will add a focal point
The homeowners made the most of this tiny roof garden space with some simple seating and a stylish Morso fire feature. Great for toasting marshmallows, and for keeping warm in the evenings.
12. Add potted olive trees for a Mediterranean look
Modern furniture and a simple olive tree keeps this London roof terrace looking chic and simple.
13. Choose a clear balcony to maximise views while keeping things safe
If a rooftop is open, then of course it will need a barrier of some sort to avoid lethal accidents. A glass barrier will offer safety without obstructing views...
14. Add a vegetable patch
Who said you can't have a vegetable patch in a city dwelling? This New York roof garden has raised beds full of vegetables and extraordinary views out across Manhattan.
15. Keep plants along the border to free up space
Built-in planters against the wall make sure there's still plenty of floor space for lounging on this London balcony. A 19th-century advertisement on a now listed wall provides a historic backdrop. The challenge was to create a calm environment that doesn't impinge on the presence of the wall. Simple, shady plants are kept to a minimum, so there's space for all to roam.
16. No space for a pond? Add a pond in a pot
No garden for a pond? A large urn or pot filled with water can create a fun feature, especially with additions like water lilies and pretty pond plants, live fish or a water feature / fountain.
17. Create a games space
Have a little fun with your roof garden space by creating a zone for games and entertaining. Design firm Angel O'Donnell created this shuffleboard area on a London city balcony, perfect for outdoor entertaining.
18. Dip your toe into Palm Springs style
Take inspiration from The Berkeley hotel with some bright parasols and sun loungers. The effect will be a Palm Springs inspired look. Add potted lemon trees for an Italian twist.
The below roof deck also achieved a Palm Springs style vibe, with potted palms and pastel furniture.
19. Use potted plants to create an urban oasis
Can't dig down to plant your trees, shrubs and flowers? Transform your rooftop garden with potted plants instead.
A collection of containers is the new way to garden, but there are tricks to make it work. 'Sticking to either angular or round pots leads to a coherent finish, as does limiting the materials,' says Tom Harris, author of Pots for All Seasons (£20, Pimpernel Press). Here, Tom combined spiky cordylines and phormiums with soft Japanese maples for a low-maintenance scheme.
20. Consider a raised border or sunken seating for cosier vibes
The below roof garden is in Notting Hill, and features a rooftop office pod as well as a roof garden area surrounded by wild, meadow-inspired planting.
The sunken seating area keeps things cosy, and keeps wind chills at bay.
The architects at Boundary Space wanted to create an antithesis to London by incorporating wild planting.
21. Go all out like this rooftop garden achieves
For a sprawling roof garden, why not approach it as the homeowner below did? This roof terrace incorporates grassy areas, a pond, a hot tub and even a garden shed, all on the roof with London's skyline as its backdrop.
A garden room at the end provides storage and a space from which to work.
Lotte is the Digital Editor for Livingetc, and has been with the website since its launch. She has a background in online journalism and writing for SEO, with previous editor roles at Good Living, Good Housekeeping, Country & Townhouse, and BBC Good Food among others, as well as her own successful interiors blog. When she's not busy writing or tracking analytics, she's doing up houses, two of which have features in interior design magazines. She's just finished doing up her house in Wimbledon, and is eyeing up Bath for her next project.