Low maintenance garden ideas: 12 ways to make your outdoor space chore free
If you want a low maintenance garden ideas then follow these suggestions to make sure you get plenty of downtime on the lounger. Gardening doesn't get easier than this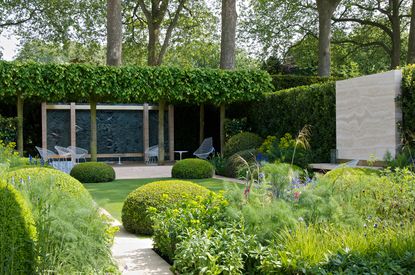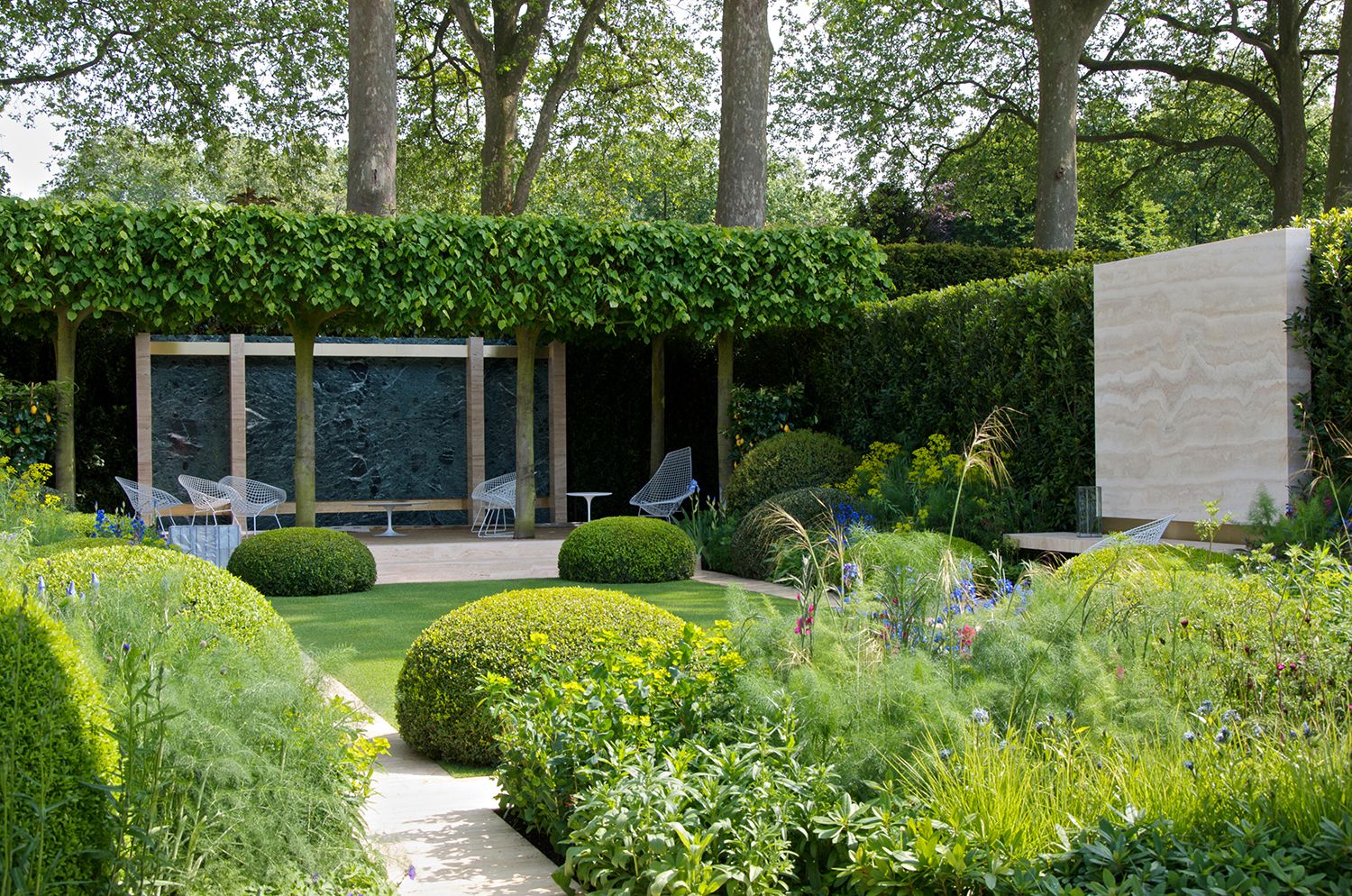 (Image credit: Alamy)
Your outdoor space is for relaxing in - and low maintenance gardens ideas are here to to max up your enjoyment while dialling down the chores.
The very best modern garden ideas allow you to get the most from your outdoor space with the minimum of effort, it could be time to take a moment, especially if your summer generally involves an endless loop of watering and weeding, deadheading and deck maintenance. With a few easy switches you can transform your garden into more of a hangout zone, less of a hamster wheel.
The jobs that are most time-consuming include lawn care, weeding, and keeping patios looking good. But extra work is created by choosing the wrong plants too, the ones that need lots of TLC such as watering, feeding, dead heading and pruning.
How long do you want to spend on stuff like this? The amount of time you have to devote to your garden on a daily, weekly or monthly basis should be a major consideration when thinking about the overall design.
When it comes to planting, steer clear of anything that's too needy (staking, spraying), complicated (espaliering) or stressful (the Chelsea Chop). Instead come up with a list of low maintenance planting ideas and don't be tempted by random buys. Make planting a pushover by sticking with easy options that give months of pleasure - and no dead heading.
Read on to find out everything you need to know about low maintenance garden ideas that work.
1. Choose plants that keep on giving
Opt for plants that are hassle free, bounce back if you neglect them and quietly do their own thing for months - the simplest of low maintenance garden ideas. Wondering how to choose plants for your modern garden? Bamboo, ferns and ornamental grasses are good choices as they add structure, a cool design element and year round interest. All they need is a quick comb through with your fingers occasionally to get rid of dry foliage.
Try planting up containers with succulents such as echeverias and sempervivums for another easy planting idea. Use cactus compost and make sure there are plenty of drainage holes in the bottom of your pot. Position in the sunniest spot in the garden and enjoy. But remember: they need to go indoors at the end of summer.
If you want colour and fragrance, lavender 'Hidcote' is a good bet, and popular among modern front garden ideas. It does its own thing for months on end. Another easy plant with staying power is Salvia nemorosa 'Caradonna'. The handsome inky-blue spikes bloom from May to September.
2. Cut down on watering
Choose the largest pots you can find and group them together. As well as making an eye-catching statement, watering them and tidying up is easier too as they're all in one place. Another benefit to this simple low maintenance garden idea is that there's only so much growing plants can do in a pot, which means less pruning.
Some of the latest pots also have reservoir systems, such as Lechuza's self-watering planters, which keep your plants hydrated for up to three months for another time saving hack. You can also get drip devices that you insert in the pot.
Water thoroughly once a week rather than watering little and often, which encourages roots to stay near the surface where they will dry out more quickly. Instead they drill deeper to find moisture. Applying a thick mulch of organic matter around the base of plants in spring helps lock in moisture too.
3. Go for chore-free patio maintenance
The more hard landscaping you opt for, the less garden maintenance you generally need to do. If you're considering some patio ideas, think about possibly extending it to create a more generous space and cut back on a high maintenance lawn area.
The 'harder' the hard landscaping, the easier it will be to look after. This means slabs and pavers are less work than decking, which are less low maintenance garden ideas because they need regular cleaning and varnishing. The latest products like Symphony Vitrified Plank Paving by Marshall's look like natural stone but are stain resistant, which makes them maintenance free.
Always choose pavers and slabs wherever possible. Think about using one of the newer materials like Bradstone's Halus. A hardwearing paver that looks like natural stone, it's stain resistant, hard wearing and maintenance free. Another plus is that it doesn't need sealing either.
4. Opt for easy evergreens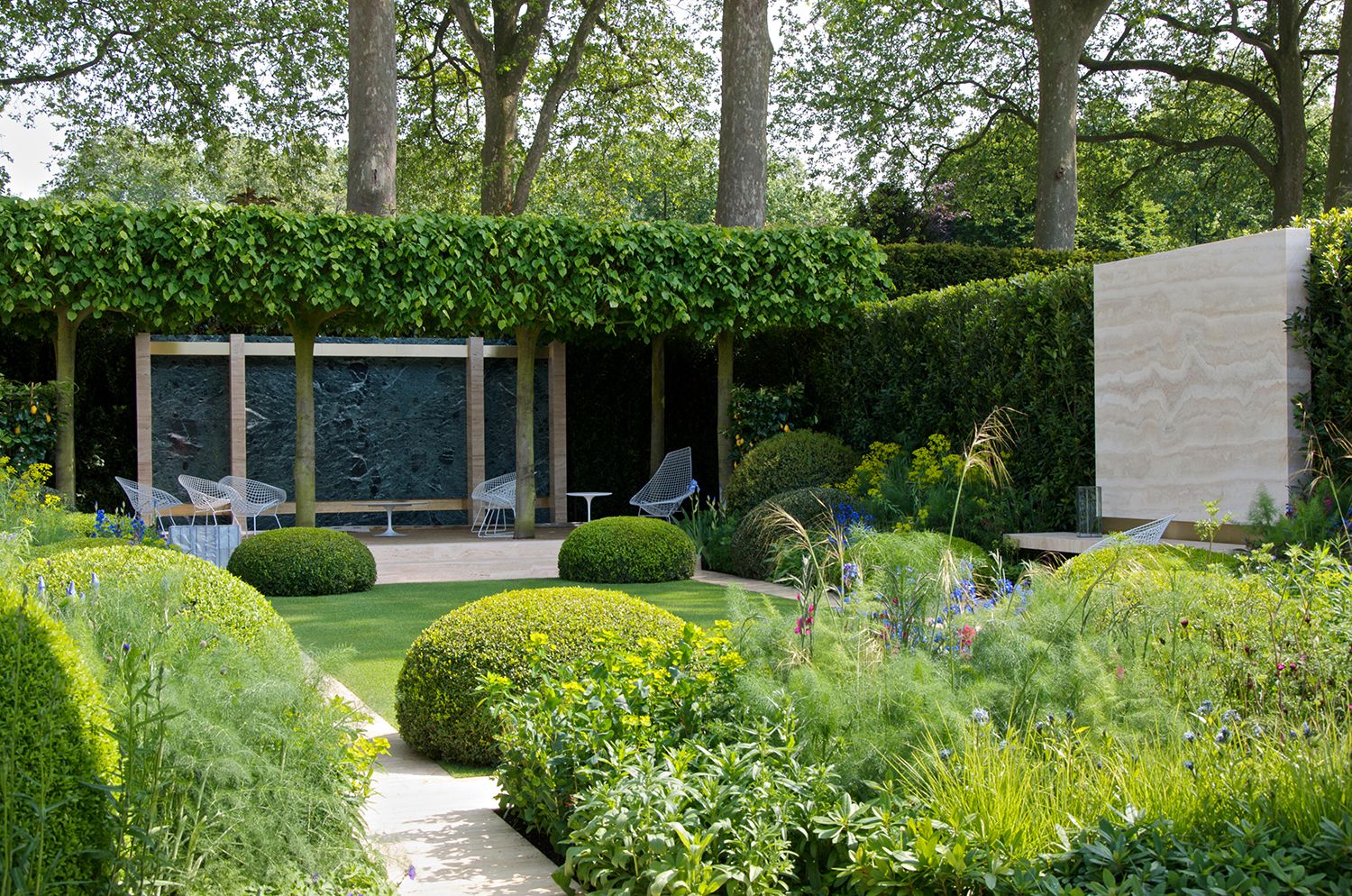 They look smart and provide a cool green backdrop for your garden design. Evergreens require minimal maintenance too, and their structure extends the seasonal appeal right through late autumn and into winter. Neat greenery such as standard box trees clipped into pompoms look effortlessly smart every time.
Another easy to look after plant with staying power is viburnum, which keeps on giving whatever the month. It's a looker too. Try 'Aurora' with its clusters of glossy black berries in autumn and leaves that turn red to switch up your colour palette.
Evergreens are generally happy-go-lucky shrubs, settling into pretty much any soil or position in your garden with the minimum of fuss. Sit back and relax as you don't need a lot of plant know-how to achieve spectacular results. What's not to like?
5. Ban the hoe
Dandelions, bindweed, nettles and the one that's everywhere but you don't know the name of – weeds are just so demanding. Cut down on time spent on them with these easy tricks.
Avoid leaving patches of bare soil at all costs as weeds will move in fast. Plant as densely as you can with super spreaders in drifts like herbacious perennials so every inch of soil is covered and becomes a no-go area for weeds.
Choose landscaping materials such as slate or decorative chippings to cover any areas of bare soil that can quickly turn into weed beds that demand your attention. Try a heavy duty weed control fabric that can be cut to fit around any existing planting and cover it with a thick layer of chippings. As well as looking professional it will save time and effort as it creates a barrier. Voila – no more weeding!
6. Try the no-dig approach
Wise up to the benefits of no dig gardening fast - we're big fans of this at livingetc.com. It's one of the best low maintenance garden ideas because it allows you to grow while giving you a space that's all about relaxing and entertaining. So, going 'no dig' should be top of your list as it frees up more time for enjoying your outdoor space.
Gaining control of weeds is easy this way as undisturbed soil grows fewer weeds than you would see after digging.
Use cardboard and compost to smother existing weeds, then plant directly into the compost. The surface compost will feed the soil and plants, so there's no need to buy fertilisers either. Roots pass through the decaying cardboard after a couple of months. Then all you need do is mulch the beds with an extra layer annually.
7. Opt for easy containers
Always choose containers you can plant up then forget about. Avoid wood, which needs regular maintenance, and ceramic and terracotta, which can be a nightmare when it comes to winter frosts as they can crack.
The latest low maintenance garden ideas include styles are made from weatherproof resin that looks just like stoneware. Even better, they're lightweight and some even have discreet wheels to make your task easier when it comes to styling up your space for hosting.
Other good choices include pots made of regenerated polypropylene and fibrecotta, a blend of fibreglass and clay that's durable, weather resistant and maintenance free. Meanwhile beaten and aged metals such as zinc and Corten always look good. Shop around to find a style that suits your aesthetic.
8. Decide on no-paint fences
The latest fences come in materials that don't need an annual refresh with paint, wood stain or varnish to keep them looking smart. What's more, they're built to last.
Metal garden fencing is guaranteed to stay looking smart for 25 years with no maintenance. They don't rust even if they get scratched or chipped, and come in a range of colours from traditional greens and browns to a more contemporary palette of soft creams and greys (colourfence.co.uk).
Another maintenance-free fencing option is the latest lightweight and easy to install eco panels that slot into existing concrete fence posts. Made of PVC, they come in a range of styles and colours with a 20-year guarantee (ecofencing.net).
9. Shrink that lawn
Lawns take a fair amount of annual work, and one of the ultimate low maintenance garden ideas is to reduce how much you have. There's all that business with raking out moss, repairing bald patches, returfing bigger sections, scarifying (like using a comb but harder), liquid nitrogen feeds, weeding, when to cut with high blades, when to cut with low blades… Despite all the science behind lawn care, come August yours will invariably be brown and scorched looking if it's anything like ours.
If you really want to keep your lawn but make it easier to look after try reducing the size of it or simplifying the shape for easier mowing. Think about replacing some sections of lawn with gravel, paving or decking.
Alternatively, turn your lawn into a wildflower meadow patch to attract pollinators. Leave some (or all) of your lawn to grow until the end of summer. Or wait longer in between times before getting out the mower.
10. Pick the latest decking
Composite decking is here to stay, and with more recycled materials used in the manufacturing process, it's a sustainable and conscience-friendly purchase too. With little maintenance and cleaning required compared to traditional timber decking, it's a practical and affordable option.
The choice has improved too. There are now modern dark oak shades available that look super stylish paired with lush foliage, and pale-grey boards for a more classic Hamptons look.
If you love the look of timber decking and prefer to stick with this, be sure to keep it looking good by using a sealing product to protect it. This will cut down on the amount of time you have to spend on annual maintenance.
11. Snap up off the shelf planters
Look out for ready-planted containers from garden centres or online that you can slot into any gaps as instant fillers. This is the best low maintenance planting of all, where it's already been done for you and there's the option of getting it delivered right to your door.
Pre-planted options come in the right-sized containers to accommodate the mix of plants and often include enriched compost with all the nutrients your plants require, so there's no need to mix up liquid feeds either.
So you can forget hefting around bags of compost, having too few or too many plants to go in your container, and mountains of discarded plastic flower pots as all the faffing around has been done.
12. Get smart with apps
The 'smart' garden can change your life, making outdoor living so much easier with the range of virtual tools now on offer. From watering the pots via an app on your smartphone or tablet and setting a timer for the barbecue to turning on lights or sorting out the music with a simple voice command, they're now affordable and easy to set up.
App-controlled irrigation watering systems are wire-free and can be placed around the garden, then connected to an outside tap on a timer. Once you've downloaded the app, you need to set up the system and connect it to your home Wi-Fi, then all you have to do is follow instructions via the app on your smartphone or tablet.
Convert your existing outdoor lighting, whether that's wired-in lights or festoons, with a smart plug that works with both Google Assistant and Amazon Alexa speakers so that you can control your lights by voice - one of the most amazing modern garden lighting ideas.
'Alexa, turn on the fairy lights - the guests are arriving.'
The Livingetc newsletter is your shortcut to the now and the next in home design. Subscribe today to receive a stunning free 200-page book of the best homes from around the world.
Lifestyle journalist Sarah Wilson has been writing about flowers, plants, and garden design and trends since 2015. Having already studied introductory garden and landscape design as well as a course in floristry she is currently adding to her list of qualifications with an RHS Level 2 course in the Principles of Plant Growth and Development. In addition to livingetc.com, she's also written for homesandgardens.com, gardeningetc.com, Modern Gardens and Country Homes & Interiors magazines.