15 dining room lighting ideas to create the perfect mood for dining and entertaining
Versatile, practical and stylish our dining room ideas are sure to inspire, no matter how you use your space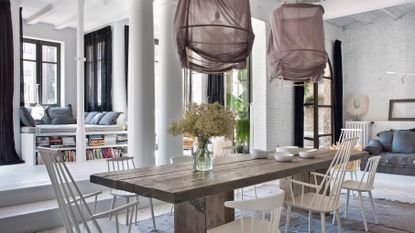 (Image credit: Montse Garriga Graru)
Dinner parties, informal family meals, workspaces, meeting rooms, we ask a lot of our dining rooms and therefore their design needs to be perfect. And a big part of creating a dining room that can wear all these different hats is to nail your dining room lighting ideas.
You want your lighting to work for all the different tasks you require of your dining room, from strong task lighting you can work by to slow and glowy ambient lighting that sets the mood for more formal dinners and parties. So you'll need to tick all three types of lighting – task, ambient and accent – in order for the room to really work for any use at any time of day.
Task light is as it sounds, lighting that's used for a task, so something strong and focused. Ambient lighting is for creating that all-over light, distributing light throughout the room. And accent, our personal favorite, is for adding extra drama and highlight a certain object or area of the room (ideal for dining rooms that are used mostly in the evening and mostly for entertaining).
And of course, as well as thinking practically about your dining room lighting, it's of course got to look lovely too, adding stylish, texture and even color to your room. Use lighting as a focal point, see it as a piece of artwork, and get creative with mixing styles...
1. Spotlight the dining table
Whether your dining space is in a room of its own or part of an open-plan kitchen diner layout, the main focus is always going to be the dining table. Hanging lighting directly above is not only going to help enhance that point of focus it's also the most practical place to start with your lighting scheme.
Pendant lights always work well in dining rooms. Piero de Marchis, Director, of Detail Lighting says, 'Decorative pendants are very popular for above dining tables as people want to make a statement and a feature. For an additional lighting source in the room, consider LED lighting within shelving or wall lighting or spotlights to highlight pictures on walls or decorative accessories.'
Pendants look chic and can provide that all-important task and ambient lighting we mentioned early. They could even become accent lighting too – surrounding the dining table in a pool of light which can be very effective for diner parties when the rest of the room is only dimly lit.
2. Create clean lines for a simple but striking effect
To make a statement, your dining room lighting needn't always be oversized and super bold. If you prefer a more minimal look but still want your lighting to stand over a design with clear clean lines always works. Pick a color that's going to contrast the walls and ceiling too so the structure really pops against the background.
We love how this contemporary chandelier floats above the simple dining table, adding depth and focus to the neutral color palette and natural textures. Also note how the black mirrors the chairs, balancing the room.
3. Group pendant lights in threes
'If the room's sole purpose is a dining room, we are big believers in creating a focal point of drama by choosing a chandelier or low hanging cluster of pendants which will float prettily as a centerpiece in the room and atop the dining table as a practical light source for wining and dining.' says Helen Pett of Arteriors London.
And while it may be tempting to keep things symmetrical and opt for an even number of lights above your dining table, good things do come in threes, and going for odd numbers creates far more interest. By hanging your lights at varying heights will also mean they can be multifunctional, a low hanging light is ideal to work by whilst the higher lights contribute to the overall lighting of the room.
4. Let your table influence your lighting choices
Since most dining room lighting ideas are based around the dining table, be sure to consider the shape and style when choosing your lighting. As Rohan Blacker, founder of Pooky explains, 'For those with round or square dining tables, a centrally positioned pendant or pared-back directional chandelier with one or multiple light sources would work really well, as do a cluster of pendants hanging at different heights. Both statement-making as a pretty feature while providing optimal lighting for dinner time.'
'For longer rectangular tables, these require light which spreads across the length of the table. We recommend opting for either a linear chandelier with multiple light sources as part of its design or a trio of pendants styled side by side which will have the same effect. For a playful touch, use different colors, finishes or even different pendants but complementing shapes and styles. This will draw the eye and add a dash of quirky personality to the room.'
5. Make a statement with a quirky chandelier
We always say when it comes to designing a dining room, since they are often spaces used for special occasions and entertaining, you can have fun with the decor. Bring in quirky, unexpected pieces that might overwhelm a more lived-in room like a living room in a bedroom. Perfect case in point, this amazing chandelier made from glass bottles.
You could recreate a similarly dramatic vibe with a large low hanging crystal chandelier or a statement art deco design. Just be sure it's going to be practical. As it hangs above the table you don't need to worry about being able to fit underneath it but we'd recommend hanging it no lower than three feet above the table top.
6. Add texture with natural materials
Being practical spaces it can be tricky to add textures to a dining room, but if you like that layered, laid-back style lighting is an easy way to add in those natural materials. Rattan pendants are a classic and work with so many styles from minimalist Scandi spaces to modern rustic rooms. Plus, if you are just switching a shade it can be an easy switch with no electrician needed. Just be sure to choose a shade that not only looks lovely but is going to disperse the light nicely too.
7. Use floor lamps for softer dining room lighting
Pendants do tend to be the focus when it comes to dining room lighting ideas, but the humble floor lamp can be an important addition too. They add a glow around the edges of the room where pendant lights might not reach and ensure that not all your lighting sources come from directly above so you don't get any harsh shadows. The key to a good lighting scheme in any room layering, so to have different sources at different levels.
'Lighting is one of the most influential elements of any interior and it's particularly important to get right in the dining room. The key is to create little pockets of light that work together to create a level of lighting that feels at once restful and atmospheric.' says Matthew Williamson. 'In the dining room, use table lamps either on the dining table or on credenzas and sideboards in the room. Pair these light sources with a chandelier or pendant light with dimmable bulbs for added decadence. You can opt for antique or antique-style, tendrilling models with toleware florals and antiqued brass finishes.'
Floor lamps can be used as task or accent lighting too if you want to highlight a piece of furniture like an occasion chair or a bar cart. And they are flexible too, you can move the light source around the room should you need to.
8. Play with scale with an oversized pendant
Going oversized is a really easy way to make a statement and add an instant focal point too. What we think is most effective is to really play with scale but also to create balance, you want to avoid a huge light floating over a room of tiny furniture. So even out a large light by choosing a selection of other pieces too. See how in this dining room the large pendant light feels big yes but not crazily so as the mantel to ceiling mirror and larger dining chairs balance out the size.
9. Use dining room lighting to blend styles
Something that gives dining rooms real personality and intrigue is a mixing of styles. It doesn't have to be anything too bold. If you like Mid-century modern for example you can still go with that on the whole, but to bring in just a touch of something from a different era or style can add an unexpected twist.
Of course, lighting is an obvious way to blend styles – a vintage chandelier in a minimalist space, a retro sputnik pendant in a more traditional dining room, or an industrial wall light blended into a rustic farmhouse style. Lighting is usually easy to switch out so you can get creative and experiment with different styles without the commitment.
10. Keep it minimal with exposed bulbs
It's a classic look that's never going to date. Exposed bulbs or simple glass drop pendants work perfectly as dining room lighting ideas, flooding a dining table but also omitting enough of a glow to provide light for the rest of the room. Hang them low and in groups so they create just enough of a statement they don't totally blend into the background and always choose warm tinted lightbulbs for a softer look.
11. Mix and match for an eclectic rustic style
If you have a small dining room, so going for a larger statement chandelier might not be the most practical option, be inspired by this dining room lighting idea and hang a collection of smaller chandeliers.
Mix and match the designs for a look that's equally as striking as a single light and ideal for adding a slightly eclectic rustic touch to a dining room. Consider adding in dimmer switches so you can control the amount of light. Chandeliers can have a lot of bulbs and while that's perfect when you need a strong overhead light you also want the option to dim them to candlelight-like levels for diner parties.
12. Reduce clutter with spotlights
Spotlights might not be the most glamorous of dining room lighting ideas, in fact in terms of styles they don't add anything, but that's the point. Spotlights are ideal for adding bright lighting that can mimic natural lighting without taking up any space or adding any visual bulk to a room. So they are perfect for smaller dining rooms but also a good option for ones that lack natural light and are used for more than just evening meals. Again, dimmer switches are best with spotlights so you can control the light throughout the day and for different moods.
13. Double space and light with mirrors
It's design 101 that mirrors expand space but they can also be used to bounce more light around the room. So if your dining room lacks natural light or just you want to make it even lighter, position mirrors near your light sources to create an extra glow.
You could go opt for a large mirror opposite your main light source for maximum effect or for a more subtle, romantic look position a floor mirror behind a floor lamp or a wall-mounted design in between two sconces. Mirrors also have a lovely effect when the lights are dimmed and the candles are lit as they can create the illusion of even more flickering lights.
14. Switch pendant for statement wall lights
In this dining room pendant lights are switched for plug-in wall lights so there's no need to have the fixtures fitted from the ceiling. And yet they have much the same effect as a row of pendant lights would. For extra flexibility consider choosing a design that has a moveable arm so you can position it based on what the space is being used for.
'If you plan to use the dining space as a makeshift study – the room's lighting will need to be adapted with additional light sources to accommodate its multifunction.' explains Helen Pett. Complementary wall lights on three of the four walls, for example, will allow for a sufficient spill of light while still adding a decorative element, or you could install rows of downlights across the ceiling to ensure there is light evenly spread across the space.'
15. You can't go wrong with a chic paper shade
Never underestimate the humble paper shade. Go slightly oversized and be sure to pick a good quality design, they are definitely an affordable option but you want the shade to have some weight and texture to it so it disperses the light nicely around the room and gives off a soft warm glow.
What type of lighting is best for dining room?
As with all rooms, the best way to light a dining room is to layer your lighting and ensure you have the right lighting for all the different uses of the space. First, you want to make sure you have your three types of lighting covered – task, ambient, and accent – but also consider when the space is used too. Dining rooms are often used at night so you can be more dramatic with your choices than you might be in other rooms in order to create that all-important ambiance.
Pendant lights and chandeliers are a popular option for dining rooms as they can be hung low over dining tables. Be sure to add lighting at the edges of the room too in the form of table lamps and floor lamps.
Dimmer switches are also good to add to any type of dining room lighting so you can have control and change up your lighting with the mood. 'Always install a dimmer switch for lights in a dining space, if possible, make sure you have the decorative lights on a different circuit to the functional ones if you do have the two sets.' says Rohan Blacker. 'This gives you options for creating a certain mood depending on the occasion; from bright, practical lighting for daily family meals to subtle and romantic mood lighting for a more formal, entertaining affair.'
How big should a light be over a dining room table?
The easiest way to decide on the size of a light over a dining room table is to use your table to dictate the size. A general rule of thumb is that a chandelier should be approximately one-half to two-thirds the width of the table you will be hanging it over. And it should hang no lower than 36 inches from the table and no closer than 48 inches from any walls or surrounding furniture.
Peter Legg, Lead Designer, at där lighting says, 'To ensure it's a comfortable setting, don't forget to consider the height of the light you're using, choose a position that's not at eye level when seated. You can also use table lamps to help add ambiance and draw attention to artwork or other accessories.'
The Livingetc newsletter is your shortcut to the now and the next in home design. Subscribe today to receive a stunning free 200-page book of the best homes from around the world.
Hebe is the Digital Editor of Livingetc; she has a background in lifestyle and interior journalism and a passion for renovating small spaces. You'll usually find her attempting DIY, whether it's spray painting her whole kitchen, don't try that at home, or ever changing the wallpaper in her hallway. Livingetc has been such a huge inspiration and has influenced Hebe's style since she moved into her first rental and finally had a small amount of control over the decor and now loves being able to help others make decisions when decorating their own homes. Last year she moved from renting to owning her first teeny tiny Edwardian flat in London with her whippet Willow (who yes she chose to match her interiors...) and is already on the lookout for her next project.