How to design a dining room – 10 expert tips to the perfect space for entertaining
Our expert guide on how to design a dining room covers everything you need to consider, from color schemes to furniture choice in just 10 easy steps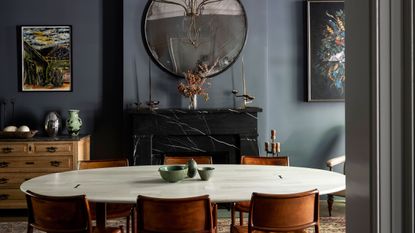 (Image credit: Farrow & Ball)
The Livingetc Newsletter
For style leaders and design lovers.
Thank you for signing up to LivingEtc. You will receive a verification email shortly.
There was a problem. Please refresh the page and try again.
Looking for expert tips on how to design a dining room? They can be tricky spaces to get right dining rooms, there needs to be a balance between function (checking it seats the right of people for your needs, has the right layout so everyone can maneuver themselves around all the furniture that is needed) and form (ensuring the room will wow your guest and gets the ambiance spot on for the vibe you want to create). But don't worry, we've asked the experts on how to design a dining room that gets that balance spot on.
So whether you have a separate dining room you are decorating solely with the purpose of it being a glamourous space to host, or if your set up is a kitchen diner, all of these tips will help you make the important decisions on color, furniture, layout and more...
1. Decide on the function of your dining room
If you are starting totally from scratch with your dining room, before jumping into color schemes and wallpaper patterns, ask yourself what is the room's main function? Is it just for dinner parties or will you be eating casual family meals in there too? Will it ever need to double as a workspace now we are WFH a whole lot more? How many people will you need to seat? Do you want to create an intimate space or something formal and elegant?
Essentially you need to decide who, how, and when the space will be used and let those decisions dictate the furniture you choose, the color scheme, and the layout. If you are unsure where to start, we'd recommend going old school with a mood board – save images you like or take them out of magazines and you'll soon start to see a theme occurring. Take inspiration from your favorite bars and restaurants too as these are great sources for quirky decor.
'We always start by asking our clients how often they use the dining room, how many people would typically be seated at the table and the nature of these dinners – whether they are formal, plated meals, buffets from an adjacent surface or passing dishes around the table.' says Brenda Izen of Izen Architecture.
'Their answers will dictate the size and proportions of the room. If they need flexibility in table size, such as the ability to extend the table, this will help to determine room adjacencies. We also work toward an overall look and feel of the space and establish what the main accents will be. Sometimes it's the light fixture, sometimes it's a wall or ceiling treatment, sometimes it's a color brought in with the chairs or window coverings.'
2. Get your dining room flooring right
Maybe you are sticking with the floors you have inherited, but practical as it may sound flooring in a dining room is a key element to make sure it functions well. A dining room floor should not only look lovely, but it also needs to work hard too, these rooms are high-traffic spaces and are susceptible to spills and stains too.
'When it comes to choosing flooring for your dining room, there are three main things to consider: style and design, durability and ease of cleaning.' explains David Snazel of Carpetright.
'Dining rooms usually see a lot of traffic, so it's best to opt for high quality, durable flooring that is low maintenance and will stand the test of time. It is likely there will be spills and splashes from food and drinks so choosing a material that is easy to clean is essential, particularly when entertaining. Darker designs and styles will be a little more forgiving to everyday marks.'
'Hard flooring is a popular option in many homes that often host guests. Engineered wood is a premium solution providing a durable and attractive finish. If you want to add a tactile touch underfoot, layer rugs to add interest with color and pattern.'
3. Plan for plenty of lighting
Plan your dining room lighting early on in the design process because it's a really important element as it will set the tone for the whole room. You want to make sure there's enough light so your guests don't appear to be sat in a cave, but you still want it to feel glowy and ambient. Avoid any really strong downlights as not only will they create awkward shadows, they'll spotlight on a single space rather than disperse a low light throughout the room.
Opt for plenty of light sources – a chandelier or a pendant light looks lovely above a dining table, making it the clear focal point of the room but add in lights around the edges of the room at eye level too in the form of lamps or sconces.
If the room is used for more practical tasks like working, or if it's your many dining space that you use day to day, consider going for dimmer switches so you can easily change the mood of the room depending on what it's being used for.
4. Pick the perfect color scheme
Moving on from the move practical aspects of designing a dining room to the more fun and creative decisions. First up color. The dining room color scheme you choose will come down the overall feel you want to create in the room – are you thinking dark and sumptuous or bright and airy?
Again, these decisions will come down to how often you use the room and at what time of day. If you often use it for breakfasts and lunches, going super dark might be a bit intense, maybe stick with neutrals or experiment with blues and greens. But if it's solely a place for entertaining of an evening, we say be brave with something deep and rich.
'Dining rooms are often used for more formal social gatherings such as evening dinner parties and therefore tend to be the domain of more ambient lighting such as candles & table lamps so think of colors that deliver richness and dare it be said, glamour!' says Patrick O'Donnell of Farrow & Ball.
'Red was often the preferred color for dining rooms in the 1990s, the color red apparently helps your metabolism! To revisit this tried and tested formula but for a more discerning look, consider the supersaturated Bordeaux red, Preference Red, a decadent, deep wine red that will envelop you in its richness. Use a softer white for your trim as clean whites can be too stark with reds such as Stony Ground whose earthy hue will complement beautifully.'
5. Or add pattern with a wallpaper
Paint isn't the only thing that can bring together a color scheme, dining room wallpaper is a really easy way to bring pattern, color, and texture into a space. We love the fresh, bright colors and prints going on in this space, proving our point that dining rooms are not the rooms to play it safe, have fun with it and choose unexpected patterns that would just be too over the top for your more lived-in rooms.
'As a place that combines food, wine and all your favorite people, the dining room is uniquely important and deserves to make a statement. Therefore, a beautiful wallpaper or wall mural is always a great idea.' advises Lucy St George, Co-founder of Rockett St George.
'Introducing an instant hit of color and pattern, wallpaper has the power to instantly change the atmosphere of a space, evoke memories or whisk you away to a beautiful destination. When it comes to selecting a wallpaper for your dining space, we would always recommend going bold. A beautifully bold wallpaper, whether botanical, geometric or abstract helps spark conversation and provides the perfect backdrop for dinner party entertaining. As an added bonus, the pop of color and pattern that wallpaper brings also helps to make every everyday family meals a special occasion.'
6. Find the perfect dining room furniture
It's got to the be the key part of designing a dining room – the dining room table and chairs. And it's not a decision to make quickly, really think about what size and shape will suit your space best. Think about how many people you need to seat when you host? Would an expandable table be the best option or a circular table so you have some flexibility on what the chairs can go?
We'd go as far as to suggest putting down masking tape in the shape and size of your potential buys so you can see how it would look in the space and how easily you can move around it.
And check it's all going to be to scale too, you don't want a tiny table floating in a sea of floor so if your room is more spacious choose a long rectangular design that's going to fill the space nicely. 'When designing a dining room, think of comfort first, we always try to imagine a long cozy dinner party so comfy chairs and a BIG table are a must. Also a connection to the garden, here we use a malachite green as the dining room is right next to the french doors into the garden beyond.' recommend Jordan Cluroe and Russell Whitehead founders of 2LG Studio.
7. Choose the right layout
It might appear that you are quite limited when it comes to dining room layouts – table in the center, chairs around the edge is there any more to it? Well yes, this setup makes sense but it's not the only option, especially if your dining room is small and it's important to factor in other pieces of furniture and seating and also you might want to consider the room's aspect too.
In a smaller dining room, you might want to up to coziness by placing the dining space in one corner – mixing a circular table with a couple of chairs and a built-in banquette. You then have room to potentially add in a second seating area with a love seat and a bar cart that feels like a different zone within the room.
And in larger dining rooms, float the table in the center and adding bookshelves or console tables at the edge of the room that can double up as storage for glassware and crockery. Emily Henderson's key rule when it comes to dining room layouts is always 'give 30″ to 36″ of a walkway between large furniture pieces (if your dining room allows for it) if not then at least 18″-24″. Make sure you have at least 24″ of space all the way around your dining room table so that people can move freely around it without having to bump everyone at the dinner party on their way to use the powder room.'
8. Bring in practical (but beautiful) storage pieces
Speaking of storage, it can be useful to have some extra surface space for drinks and decor and a place to store glassware or crockery. Ben Burbidge of Kitchen Makers says 'good storage is an essential part of a modern dining room. It can help to make your space feel relaxed and, if intelligently designed, means elements such as drinks, cutlery, and crockery are within easy reach yet still discreetly hidden for a relaxed and informal feel. For those that love to socialize including a freestanding larder style cupboard, which could incorporate an integrated wine rack, will make a practical and stylish addition to the dining experience.'
Console tables also make for great storage in a dining room and provide a spot for adding extra lighting and bringing in some decor into a room that most furniture has to be kept clear of clutter. The key to getting this right is to always make sure your console table is higher than the dining table so your eye is drawn to the display and not interrupted by the table.
9. Add softness with a large area rug
Rugs are a lovely way to ground a dining table and add in some texture, pattern and color. The key is to get the right size so your dining table and all the chairs sit comfortably on top but there's still some floor to be seen. Emily's rule on rugs in dining rooms is to 'allow at least 36″ from the edge of your table to the edge of the rug. The average dining table will need a rug that's at least 8′ wide. This gives you room to pull out your chairs without falling off the rug.'
Think about fabrics too. Avoid anything long pile as dining rooms are of course spaces for eating and drinking so spills and stains are inevitable. Pick something that's hardwearing like jute.
10. Inject some personality
Then it's just about decor. Bringing your personal style into the space. We are a big fan of gallery walls in a dining room, mostly because they add so much personality to a room, and yet they take up zero floor space and you can switch them out as often as you like to change the vibe.
'Due to the proportions of a typical dining room, it often provides the largest, blank wall in a house and is an amazing opportunity for a place to hang either a large piece of art or a series, and the art has a captive audience!' says Brenda.
Plan out the layout on the floor before you start hanging anything, and don't just stick to a uniform grid, mix and match frames and hang them slightly more randomly for a more informal, on-trend l look. And bring in objects amongst the prints too – plates work nicely in a dining room and give a gallery wall more texture and interest.
What is the best layout for a dining room?
The best layout for a dining room will depend on the size of your room and the atmosphere you want to create. If you want to go elegant and formal, we'd recommend keeping it simple with a long rectangular table running down the center and a comfortable amount of chairs so your guests all have enough space. Consider adding a console table at one end of the room and add a couple of tall lamps to create a symmetrical feel that always adds extra elegance.
If you have a small dining room, or you just want to create something more cozy and intimate opt for a circular table and either keep it center if you have the space and ground it with a circular rug or take it slightly to one corner and use the rest of the room as a more informal gathering space to entertain before you eat. Add in a love seat and a bar cart too.
What do you need to include in a dining room?
'Comfortable chairs are a must. It's only a successful dinner if you can sit for several hours without getting shifty. Lighting is also incredibly important and the ability to modify the lighting depending on the setting. We like to incorporate different lighting sources together – pot lights, a central fixture, integrated millwork lighting and sometimes even sconces.' says Brenda Izen.
Adding storage in the form of a dresser, console table or credenza is always handy for drinks and extra crockery. And even if you are squeezed for space, a drinks trolley can hold glasses and bottles so you aren't having to constantly go back to the kitchen for top ups.
And candles are an essential for us too! Unscented taper candles would be our go-to and dot around tea lights in pretty holders too, they will disperse a lovely glowy light across whatever surface you put them on.
For style leaders and design lovers.
Hebe is the Digital Editor of Livingetc; she has a background in lifestyle and interior journalism and a passion for renovating small spaces. You'll usually find her attempting DIY, whether it's spray painting her whole kitchen, don't try that at home, or ever changing the wallpaper in her hallway. Livingetc has been such a huge inspiration and has influenced Hebe's style since she moved into her first rental and finally had a small amount of control over the decor and now loves being able to help others make decisions when decorating their own homes. Last year she moved from renting to owning her first teeny tiny Edwardian flat in London with her whippet Willow (who yes she chose to match her interiors...) and is already on the lookout for her next project.