Dining table ideas to elevate your decor out of the ordinary
The latest dining table ideas that show interior designers are bringing new shapes and styles to the table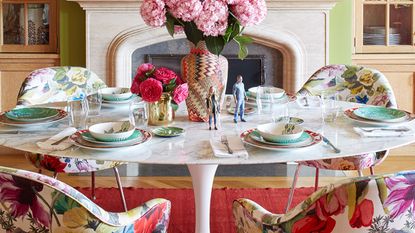 (Image credit: Max Kim Bee)
The Livingetc Newsletter
For style leaders and design lovers.
Thank you for signing up to LivingEtc. You will receive a verification email shortly.
There was a problem. Please refresh the page and try again.
When it comes to dining table ideas, form and function go hand in hand. In the past year, we've leaned heavily on our dining tables for more than just dining. They are gathering spaces, home offices, home schools, and everyday pieces no longer reserved for special occasions.
It's no wonder their designs are bending to our desires. Some of the latest tables embrace amorphous shapes that ooze flexibility, and – increasingly – dining room ideas embody comfort with built-in banquettes and mismatched chairs.
Dining table ideas
We've all seen and continue to love our share of Pierre Jeanneret chair pairings in the dining room. But a little twist can be refreshing.
Take a look at the new, more relaxed dining table ideas and seating set-ups that interior designers are tapping for your next dining room redesign.
1. Bank on a banquette to stretch your space
Not just because they are the perfect small dining room idea, banquettes are having a moment. "Banquettes are ideal for more narrow dining situations as they only require 24 inches or so," says Tatyana Miron Ahlers, co-founder of NYC-based Pappas Miron Design. "Whenever we do a banquette, the real issue in choosing a table is the base—a pedestal works best to allow for the most seating without bumping into the leg of a table, or having to scoot past it on a corner."
In her own home, pictured above, Miron Ahlers chose a sculptural Tobi-Ishi table purchased from B&B Italia that features two trapezoidal bases set at right angles to each other (there's plenty of extra legroom), while a plump, burnt sienna banquette stretches from wall to wall.
"A pedestal table works best, and the ideal scenario is an expandable table with a pedestal, though these are hard to find."
She recommends the Cross Extension table available from Design Within Reach, as the next best thing. Better yet? Miron Ahlers says you don't have to worry about the table filling the entire length of the banquette—a little extra cushion on either end, as in her own apartment, is all the more accommodating.
2. Make it all about that base
Every tabletop needs support. But that doesn't mean it needs four legs: pedestal tables, often designed with a single and substantial base, are increasingly popular as they are functional. The effect is a sculptural piece that floats in the space, less dominant than a four-legged table.
In the apartment above, located in Poland, Warsaw's design firm Colombe crafted a custom dining table with just a single base, offering plenty of legroom with less cumbersome edges.
"When it came to the design, I was limited by the kitchen space, so the only design possible was a one leg table with a very narrow—75 cm—top," says Marta Chrapka, Colombe's founder. The walnut table is still quite long, with room enough for eight guests, and its placement in the kitchen doubles as a counter surface without introducing a hulking kitchen island idea.
3. Mix furniture styles up for a laid-back look
If you're in the market for vintage chairs, sourcing a complete set can be tricky, not to mention pricey. Interior designers, embracing today's relaxed and informal dining, often mix up setups with a range of seating.
"We like to mix two or three types of chairs to create a more relaxed setting," says Noam Dvir, co-founder and principal at BoND, a NYC-based architecture and interior design studio. "Around our dining table we have four comfortable Danish Søborg chairs with two playful Japanese Bunny chairs – people have different preferences when it comes to comfort (and their behinds...) and I love that our guests try a different chair every time."
"For our apartment we selected a LC6 table," says Dvir. "Originally designed as a desk by Le Corbusier in 1928, it is slender and elegant with a welded steel base and a glass top that helps it disappear in the room. It's only 33 inches deep and it's great for conversations. We placed the table against the windows and I love how the glass reflects the outdoors."
4. Make your dining table extra multi-functional
Today, interior designers use the dining table as a Swiss Army knife. In a recent showcase, San Francisco's Kelly Hohla Interiors demonstrated just how flexible new dining rooms can get. "Over the last several years, our clients have been asking us to create rooms that function in more than one way," writes Kelly Hohla, the firm's principal designer. "With the current pandemic, multi-functional rooms are becoming the norm."
Hohla designed a room that works overtime as a gathering spot for cocktails, a home library, workspace, and dining area. What does that mean for the dining table? To make the space even more flexible, Hohla centered the room with a custom dining table that actually separates in the middle.
Pushed together, it reads as a formal dining table, but pulled apart, it creates two separate spaces for informal study. Hohla took this one step further by mixing the seating itself, featuring cushioned steel chairs (perfect for workdays) alongside two-person benches, further breaking down the traditional atmosphere.
5. Go round, then go rounder
A circular dining table isn't exactly reinventing the wheel. But that doesn't mean round tables aren't more on point than ever before. Especially in smaller spaces that can't quite accommodate the larger, longer rectangular dining tables of the past, a round table fits just right.
They're particularly cozy tucked into corners, eschewing hard edges and right angles, and they're better suited for convivial gatherings than most other shapes.
In the West Village apartment above, Shawn Henderson Interior Design created an informal dining nook complete with a small, rounded breakfast table.
Its geometric shape is complemented with other simple furnishing for an all around softer touch, like a globe pendant, a chair that cups the body, and a cushioned cork bench – even a gentle fiddle leaf fig.
6. Get canny with a cantilevered tabletop
In line with softer lines, not to mention limited space, dining tables are merging with kitchen countertop ideas. A simple cantilevered edge on any kitchen island creates space for stools and informal dining, while other designs take it to another level.
In Paris, Hélène Pinaud and Julien Schwartzmann of Heju Studio created a double-level kitchen island in the apartment—hitched to one side of the kitchen island, a wooden table can be extended whenever it's needed, offering dining space for a handful of seats. Informal yet functional, it's the perfect approach to city living where every square inch counts.
7. Take a bench seat
In tandem with breaking down the formal dining room, the breakfast table –otherwise known as the kitchen table – has become the new gathering space.
One hallmark of today's breakfast table might just be the incorporating of bench seating on one or more sides, not only as a means of saving space in cramped kitchens but also as a more informal, accommodating setup.
Sherwood Kypreos, an interior design studio based in L.A., incorporated a cozy breakfast table into the project above. The table itself, part of the utilitarian-inspired Shaker Collection designed by neri&hu, is flanked by two cushioned benches, keeping a low profile that doesn't dominate the kitchen—no heads of the table needed, perfect for children.
8. Choose a wonky and wonderful dining table
Doing away with clean lines and rigid shapes altogether, amorphous tables continue to burst onto our Instagram feeds. Abstract in all the right ways, you'll find new designs embracing asymmetry and movement – expect wonky (arguably blobby) tabletops fit easily into apartments with fluid, flexible layouts.
Inside the Brooklyn apartment above, the owners of Wiggle Room, an affordable made-to-order line of amorphous shaped tables, skipped right angles for squiggles. "We think the resurgence of interesting forms is a response to the rigid minimalism and functionalism that was so popular in the middle 2010's," says Zoe Cohen, Wiggle Room's cofounder. "Our customers are no longer looking for just the 'perfect' product and are now looking for something that has a story and truly brings them joy."The Baltic Birch table makes for an altogether unexpected sight in any space seeking an informal aesthetic—if you fancy whimsy, it's officially on the table.
9. Invest in an all-wood dining table and chairs
Simple, organic lines are a natural fit in new dining table designs that embrace natural materials, which makes all-wood dining tables even more timeless.
"I feel that there's a greater appreciation for authentic, natural and organic materials from buyers more so than before," says Beatriz Rose, owner and designer of L.A.'s Byrdesign. "The artisan look and feel is quite appealing to the younger generation that inherently values individualism and self-expression by way of lifestyle choices."
You'll find slabs of solid woods, from white oak to real birch, that add minimalism and warmth to a space. In California, Rose incorporated an all-wood table to create a beautifully spare dining space that emphasizes harmony. "
The wood finish is beautiful, warm and has subtle straight grain," says Rose. "The architecture and finish of the table reminds me of something that would belong in a Japanese teahouse."
Rose opted for chairs that complemented the table, choosing Lawson-Fenning's Morro dining chair with white oak tones, while the shape and texture of the upholstered backrest and leather sling seat relates to the form of the table leg.
10. Pack your dining space with personality
Of course, some clients are party people, and there's room at the table for a celebration of decor.
"Don't be afraid to experiment and express yourself. Don't follow the rules," says designer Ellen Hamilton of NYC's Hamilton Design Associates Inc. In her firm's art-filled Brooklyn Heights project above, Hamilton didn't hold back.
"Our client likes an expressive and colorful home and the table is really just an extension of the same idea," says Hamilton. "The China on the Knoll Saarinen table is Wedgewood for Conran's. I like the way the digital Tricia Guild print is reminiscent of the same flowers on the Wedgewood China. New and old all at the same time."
What's trending in dining tables?
For Noam Dvir, co-founder and principal at BoND, a NYC-based architecture and interior design studio, one of the immediate effects of the pandemic on interiors has been the shift in our everyday use for dining tables.
"Subsequently, the dining table is having a wonderful revival," says Dvir. "There's a renewed appreciation for dining—rather than eating—and with an increasing amount of people working from home the dining table doubles as a home office."
What's trending? "We like to use relatively skinny and long tables that can accommodate six to eight people but keep everybody relatively close to each other," says Dvir.
What furniture should I put in my dining room?
When it comes to furnishing your dining room, Courtney Sempliner, a New York-based interior designer, starts with understanding some basic needs.
"For a dining room, consider how many people you need to seat, how often you entertain, and exactly how formally you entertain," says Sempliner. "All of these answers will impact your furniture choices."
"For instance, do you need an extendable dining table, do you prefer upholstered dining chairs, or perhaps a more flexible seating option like a bench," adds Sempliner.
"The level of dining room storage you require will also help guide the selection of a sideboard and any other functional pieces that offer both a serving surface and storage. A bar cart or larger bar set up could also be an option in a dining area, should this be a big part of how you entertain."
How can I make my dining table look nice?
While plenty of tables are beautiful enough to leave bare (especially all-wood tabletops), try a more classic approach when you're dressing it up with pretty tableware. "Don't be afraid to mix and layer a lot on the table," says designer Ellen Hamilton of Hamilton Design Associates Inc.
"Matched sets of China are a good starting point. I like mixing fine China with earthenware and matte metals with shiny and gold with silver. Flowers, lots of flowers, make up for whatever else is missing on the table."
For style leaders and design lovers.
Keith Flanagan is a New York based journalist specialising in design, food and travel. He has been an editor at Time Out New York, and has written for such publications as Architectural Digest, Conde Nast Traveller, Food 52 and USA Today. He regularly contributes to Livingetc, reporting on design trends and offering insight from the biggest names in the US. His intelligent approach to interiors also sees him as an expert in explaining the different disciplines in design.