17 small apartment living room ideas for more comfortable, stylish living
Be inspired by these chic but small apartment living room ideas – from quick layout hacks to the perfect color scheme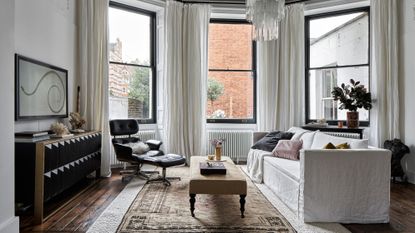 (Image credit: Davide Lovati)
There's no denying that decorating small spaces can feel like a daunting task, but there are so many stylish small apartment living room ideas out there that it shouldn't feel like a mammoth task. Sure, you might have to get clever with layouts and pick furniture more carefully than if you had acres of square footage to play with, but really designing a small living room can be just as an enjoyable experience.
So whether you live in a studio apartment and looking for ways to make your living area feel separate and cozy, or want the living room in your small apartment to appear bigger and brighter, we have you covered with plenty of stylish small living room ideas. The best layouts, space-expanding color schemes, and strategically placed decor will all help you create a gorgeous living space that doesn't feel limited by its smaller proportions.
17 small apartment living room ideas
Not sure where to start with a small apartment living room? What furniture would suit the space? How much furniture should you buy? What colors will make a small living room feel bigger? What layouts are going to work? We could go on, but we answer all those questions, as well as provide lots of lovely living rooms that prove small can still be stylish.
1. Pare back your furniture
If you are starting total from scratch in a space, choosing the perfect small living room furniture is a good place to start. As with most small spaces, the rule less is more usually applies. You don't want your room to be crammed with furniture so go back to basics and focus on the key pieces of furniture your room needs to function as a practical living space. Seating and storage. These are essentially all you want to have in your living room. Keeping it simple with as few pieces of furniture as possible will stop the space feeling cluttered.
2. Float furniture in the room
In small apartment living rooms, a clever layout can make all the difference. The right arrangement will keep the space feeling open and airy rather than boxy and cramped.
When it comes to small living room layouts, we have a tendency to want to push everything against the walls, leaving this empty sea of floor space in the center. In fact, all that layout does is make the room feel empty and uninteresting. Pull your furniture away from the walls, and give those bigger pieces room to breathe. Instead of using the walls as the room's dimensions, throw down a large area rug and place, or partially place, your furniture on top of that.
3. Improve sightlines to make your room feel bigger
An easy way to make a small apartment living room feel larger is to 'borrow' space from your other rooms. And by that we mean keep your layout as open-plan as possible – larger open doorways or glazing instead of solids doors can work so well in small apartments to keep the flow between rooms effortless, plus it means light can easily flow around the space.
Interior designers Tollgard, who designed this apartment living room say, 'We made the apartment (two adjoining apartments originally) as open-plan and connected as possible with sightlines through to shared spaces, using large sliding panels for doorways. The broken-plan apartment feels bigger because of the views into shared spaces and the minimal treatment of architectural features.'
4. Embrace minimalist practices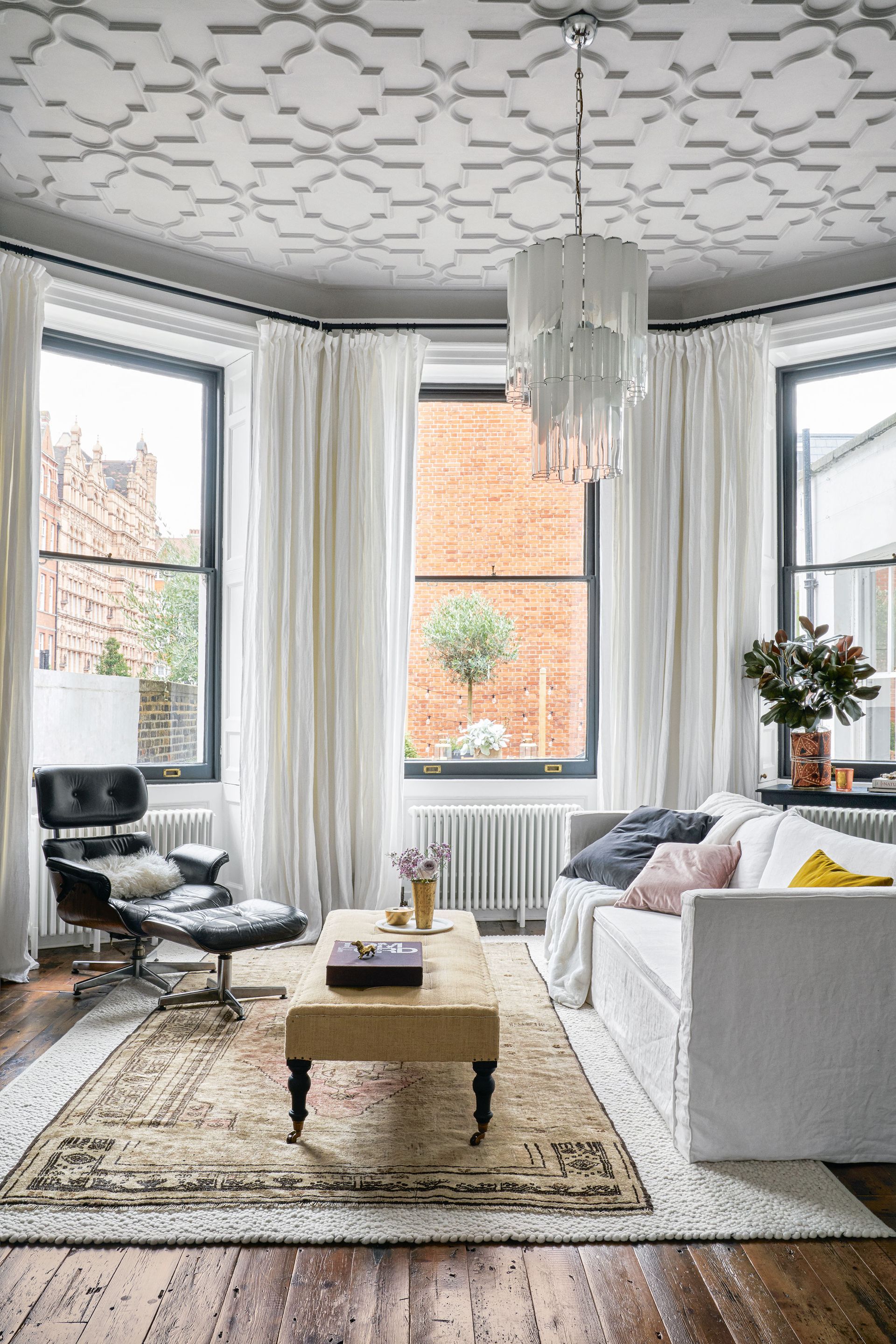 Minimalism is known for working wonders in small spaces. You want your living room to be as clutter-free as you can make it as clutter is only going to make the space feel smaller. So along with sticking with just key pieces of furniture, you want to be organized, and have plenty of closed storage options that you can hide away unsightly essentials like TV remotes, tech, toys, etc.
See how in this lovely white living room, there's not tons of decor or knick-knacks on show. Just a few curated pieces that add interest and personality but not unnecessary clutter.
5. Choose built-in storage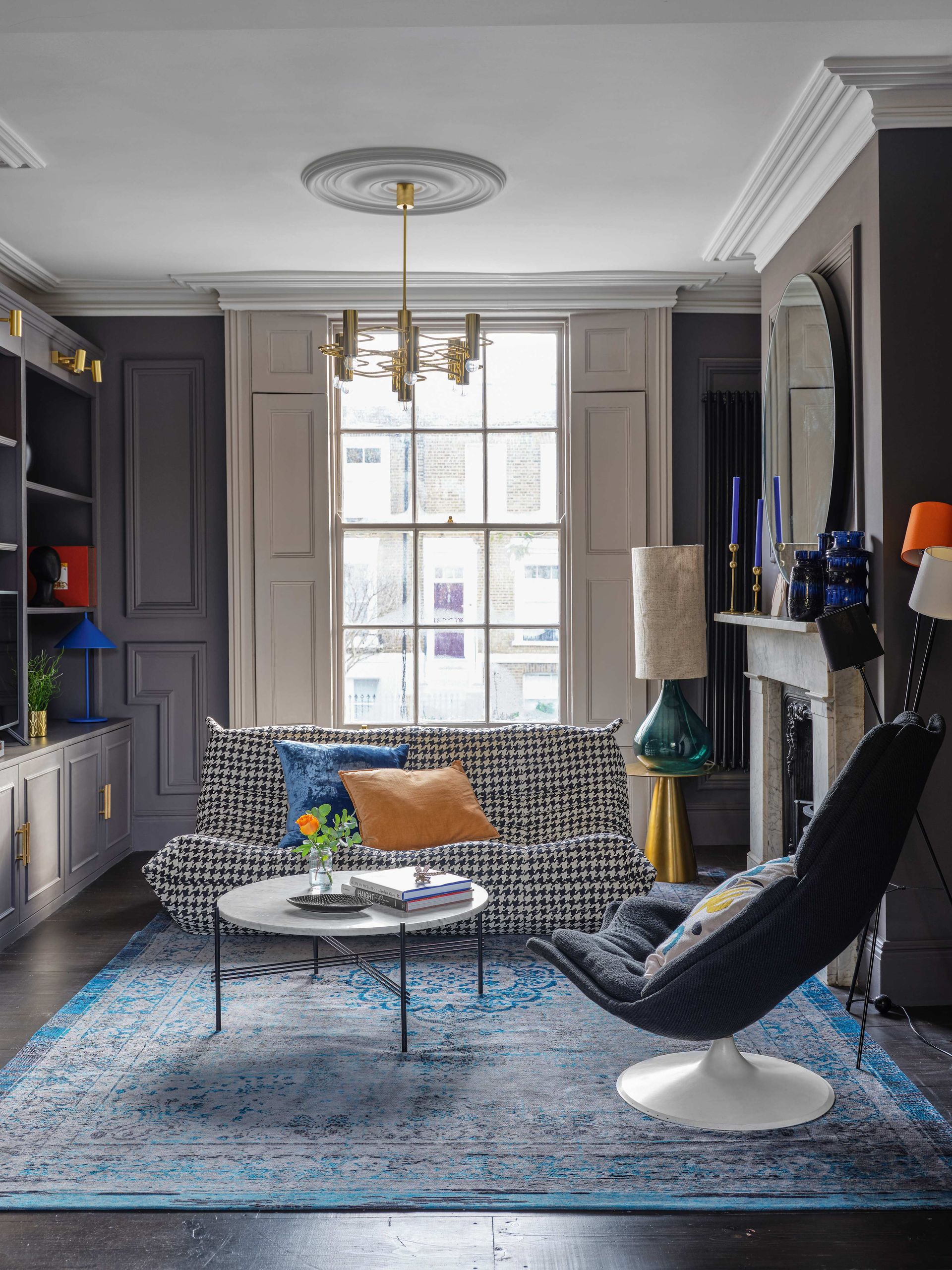 Effective living room storage is key in a small space. Bookcases, cupboards, console tables, all these individual storage pieces will quickly fill up a small room, so opting for built-in storage that can do the job of all these individual pieces is a simple way to gain back some space.
'When designing our clients living space we focus on storage requirements before deciding on the decorative finishes, never more important than in an apartment with confined space. Adding built in bespoke cabinetry will allow you to craft the space to suit your needs. It also means unsightly wires from tv's and soundbars can be hidden, everything will have its place and it effectively becomes a new wall.' explains Rob Lessmann, interior designer and founder of Design'd Living.
6. Layer lighting for a sophisticated scheme
Having a good lighting scheme is particularly important in a small apartment living room as a well-lit space feels much bigger than a dark room with just a single light source. The best approach is to layer your living room lighting, you want to create an all-over glow. Incorporate lighting at different levels, so as well as an overhead source, have floor lamps in the corners, table lamps situated on console tables, or a side table. This way you'll get multiple pools of light around the room.
'Lighting is key and needs to work across the whole space. Many apartments have an open flow between the kitchen, dining and living areas which means that lighting needs to work in different ways.' says Rob Lessmann. 'Living areas or rooms need mood lighting for the evenings that can be dimmed if needed. Take lighting for reading, and if space allows, beautiful pendant or ceiling lighting. If light is at a premium, then LED lighting can help to illuminate the ceiling and any unique details within the space. LED lighting used under cabinetry or furniture can also help add to the ambiance.'
7. Use clever flooring to expand your space
Flooring types might not be top of your list when it comes to your living room design decisions, but it can make all the difference helping 'expand' your, add texture and create a seamless flow if you are dealing with an open or broken plan space.
'Keep flooring consistent throughout the space and add warmth and depth with rugs. Wooden flooring in larger planks allows you to make the space look bigger.' advises Rob. 'And if you can, go for underfloor heating which keeps walls free from radiators and frees up much needed space. Using smart tech allows you to control everything from the heating to lighting and again, frees up space.'
8. Ground an open plan layout with large rugs
A small square of rug floating in the center of your room is only going to make the space feel smaller and fussy. Rugs are also ideal for zoning apartment living rooms that are in an open-plan space as can be seen in this apartment designed by K&H Design. The living space feels separated from the dining room as the rug running underneath all the living room furniture almost acts like walls, making it feel more like it's own room.
Katie Glaister, Co-Founder of K&H Design explains, 'When styling an open plan living room, it's important to create zones and to have a central point where all the seating faces in to. Sourcing the right size rug for a living room is a simple way of achieving this and creates a subtle divide between the living and dining areas.'
9. Clear visual bulk with armless furniture
Ditch the arms on your sofas and chairs. You'd be surprised how much visual bulk it removes from the room and makes a space feel so much more open. See how in this small apartment living room, choosing a huge corner sofa but with an armless design doesn't break up the space. The fact that it's quite low-slung too means plenty of light can still flow around the room.
And in the same vein as keeping furniture visually light, keep any accent pieces like console tables and side tables from cluttering the space by choosing delicate, slimline frames. The small living area in an open-plan apartment manages to squeeze in some extra surface space in the form of two thin-framed nesting tables, and yet they don't block the light or appear to take up any floor space.
10. Lose the legs too
Where you can, wall mount your furniture. Floating pieces like sideboards and shelving free up the floor space underneath and tricks the eye, creating the allusion of a larger room.
Here, a sideboard that originally sat on legs has been secured to the wall, adding plenty of storage and extra surface space for a very impressive home bar. But do you see what we mean about the floor being uninterrupted and how much of a difference that makes?
11. Put oversized furniture in the right places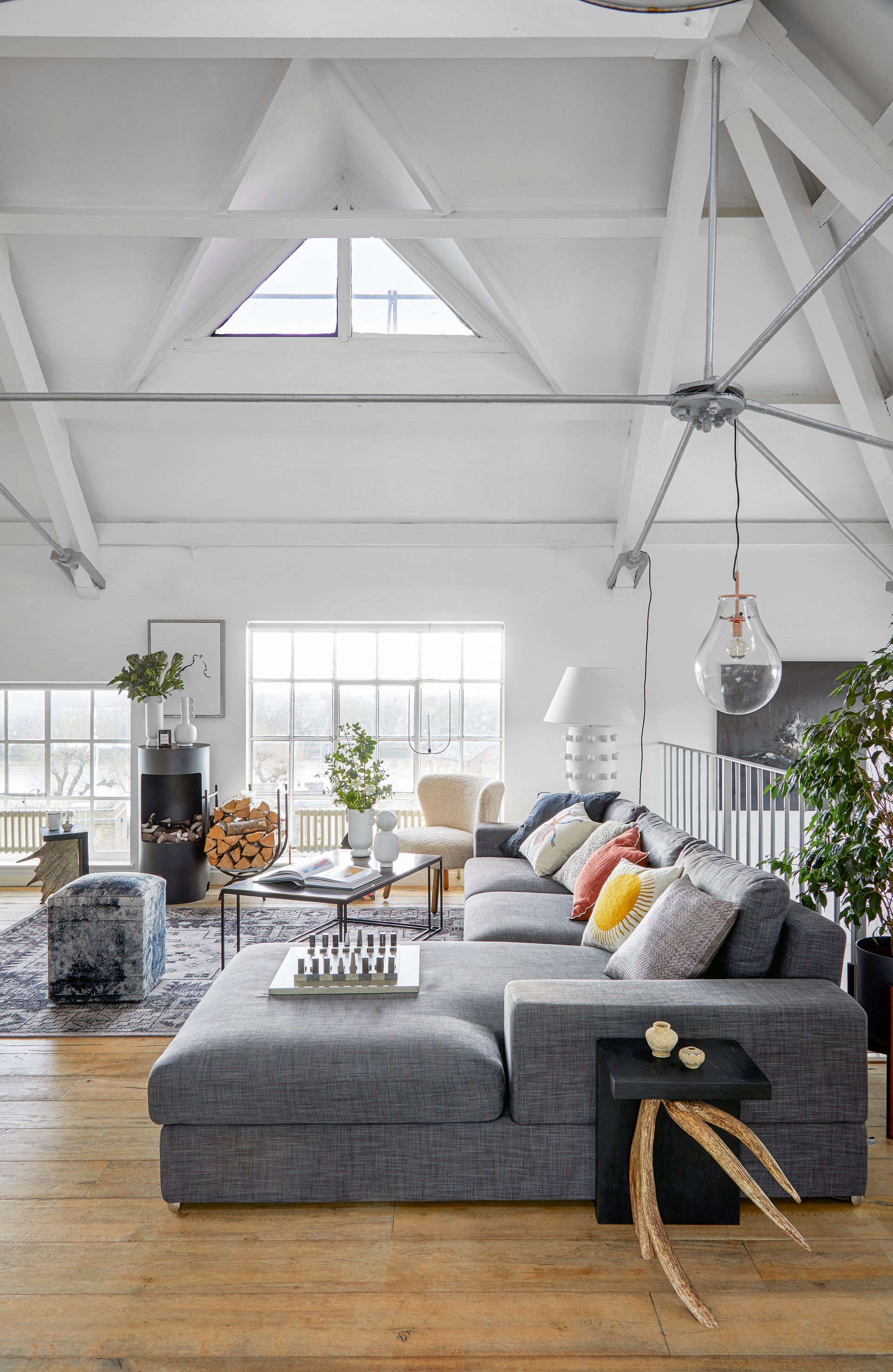 It's tempting to fill a small apartment living room with small furniture for fear of overwhelming the room with large pieces. But sometimes you are best going big, one modular sofa is going to look less busy than a love seat and two armchairs. Plus, a sectional sofa is the ideal choice if your living area is part of an open plan space and they can be used as 'walls' to separate the space, making it feel cozier. Browse our shopping guide to the best sofas to find some versatile options.
Or, if your apartment is short on bedrooms, consider making your living space multifunctional by swapping your sofa for a sofa bed, that way you can still host overnight guests even if you don't have a dedicated guest bedroom. Finding an option that's comfortable enough for everyday sitting and guest bedding can be tricky, but we've narrowed down the options for you in our guide to the best sofa beds.
12. Decorate with a simple color scheme
Generally speaking, the best colors for small living rooms are lighter hues – whites, pale greys, creams, beiges – all these shades are known for their space-expanding effects. So stick with those lighter colors on the walls, you want a foundation of lighter neutrals that you can then bring pops of color into. We'd stick to two or three accents colors as you can see in this fabulous living room, it's enough to make the space feel bold and exciting but the oranges and blues don't feel too busy.
Also note how in this living room, the walls, ceilings, and woodwork are all painted in the same soft grey. A great tip for making rooms feel larger and loftier.
13. Make use of awkward spaces with built-ins
In small living rooms you need to make the most of every square inch, so don't waste awkward nooks and alcoves, put them to work, and build something into these spaces.
For shallow alcoves the obvious choice is shelving or cabinetry, but if you have a larger space, why not create something like this design? In this open-plan apartment, a day bed has been added to a narrow corner of the room add a lovely place to perch, plus some extra storage underneath.
14. Trick the eye with transparent pieces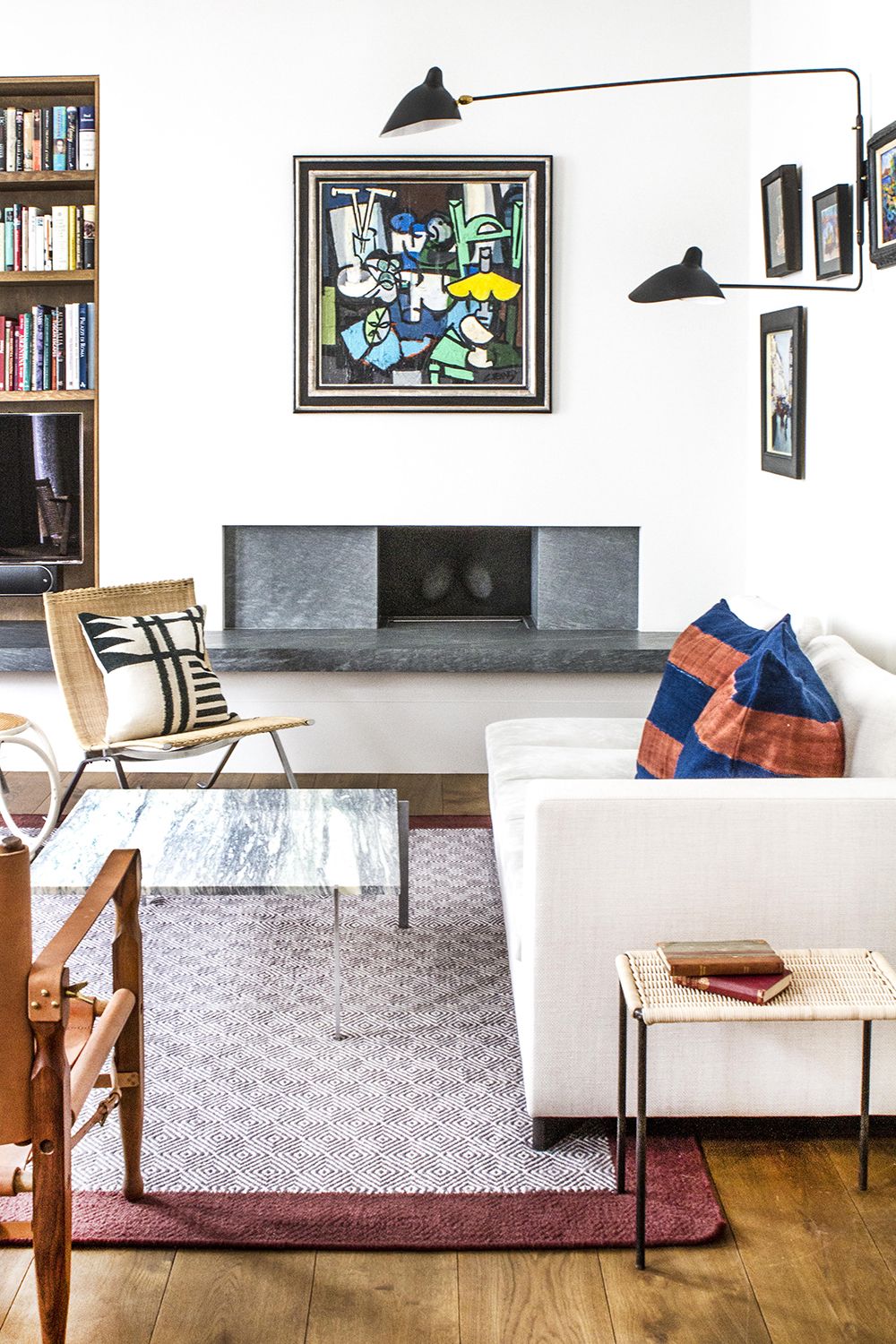 It's the oldest interior design trick in the book, by adding glass, acrylic or lucite furniture to a small space visually takes up zero room but can add extra seating or storage. As light can travel straight through these translucent pieces they keep the space feeling open and airy but are functional too.
See how in this apartment living room, your eye just travels straight over the glass coffee table. Ghost furniture means you have the potential to bring in more pieces too – the amount of furniture in this space would feel way too cluttered if it wasn't for the transparent coffee table, but as that adds zero visual bulk, more seating can be added.
15. Hang mirrors to 'expand' a small space
Another old hack, mirrors. Mirrors are a really simple way to make a small apartment living room feel bigger and brighter. They reflect more light around the room but they can also play the visual trick of alluding to more space, broadening the room and blurring the edges. We would recommend going as big as your room can handle and positioning it in a space it will easily bounce any natural light back into the room.
16. Go large with statement artwork
Avoid gallery walls in small apartment living rooms as they can feel cluttered in a small space and instead pick one large piece of statement art that will be the focal point, as well as a distraction from the room's modest proportions.
As Rob Lessmann advises, 'Don't forget the walls. Adding a feature wall with a unique polished plaster finish, wallpaper or great artwork will create a point of interest. The key is to make the space your own. Framed vintage magazine covers offer a great alternative to artwork and mixed with a monochrome palette create depth to the space.' See how in this open plan living space the large dimensions of the artwork makes the space feel larger too. It also softens the wall dividing the two spaces so it feels less solid and imposing.
17. Add plenty of texture for a cozy feel
Sometimes with small rooms, the best approach is to embrace the small proportions and create a cozy den-like space filled with texture and eclectic pieces. Be inspired by this grey living room and pile up the cushions, throws and rugs to create a cocooning space.
And this room also proves that darker colors can really work in small spaces, in fact, because this deep grey is taken over floors, walls, and ceiling the room appears bigger because the edges of the room aren't clear.
How do you decorate a small apartment living room?
Small apartment living rooms may lack square footage but that doesn't mean you have to compromise on style. As well as the design tricks and ideas above, there are plenty of simple ways to decorate your space so it feels like a reflection of your personal style, despite the size.
Choose furniture carefully. More often than not, what works best is picking pieces that are in proportion to your room. However, sometimes choosing one large piece like a sectional sofa or coffee table can make the room feel less cluttered and fussy. We'd recommend drawing up a floor plan to help you plan out furniture and layouts.
When it comes to colors, you can play it safe with lighter shades as these are tried and tested small apartment living room colors. Or you could go the opposite way and create a moody, cocooning space with darker colors, these deep shades can have just as much of a space expanded effect as lighter ones. And think about finishes too – a semi-gloss finish will reflect more light around the room.
And with decor, keep it simple. Less is more here, so pick a few pieces that aren't going to add too much visual clutter but will add some personal style and interest to the room.
The Livingetc newsletter is your shortcut to the now and the next in home design. Subscribe today to receive a stunning free 200-page book of the best homes from around the world.
Hebe is the Digital Editor of Livingetc; she has a background in lifestyle and interior journalism and a passion for renovating small spaces. You'll usually find her attempting DIY, whether it's spray painting her whole kitchen, don't try that at home, or ever changing the wallpaper in her hallway. Livingetc has been such a huge inspiration and has influenced Hebe's style since she moved into her first rental and finally had a small amount of control over the decor and now loves being able to help others make decisions when decorating their own homes. Last year she moved from renting to owning her first teeny tiny Edwardian flat in London with her whippet Willow (who yes she chose to match her interiors...) and is already on the lookout for her next project.