Small living room furniture - how to choose the best pieces for a tiny space
Make the most of your limited square footage with these stylish living room furniture ideas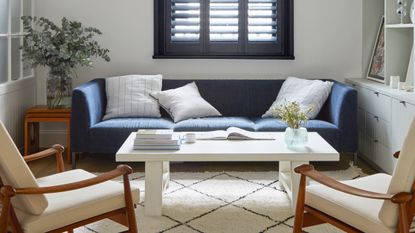 (Image credit: Future)
Choosing small living room furniture is not the easiest of tasks. You've got to cram in all the pieces you need to make the space function as a living room – a sofa, a coffee table, maybe a TV unit, shelving, side tables, console tables – and yet keep it from feeling cramped and like every square inch is filled with bulky furniture. But it's doable; picking out furniture for a small space just means you have to be a bit more clued up on what shapes, colors, and designs to look out for. And we are here to help with that.
We've pulled together lots of lovely small living rooms that are lessons in how to pick the perfect furniture for tiny spaces. From picking out the perfect sofa for a small living room, to deciding exactly what furniture needs to be in there, our ideas and expert advice are sure to help you 'expand' your limited square footage.
What is the best furniture for a small living room?
The best furniture for small living rooms are pieces that don't add too much visual bulk to the room. You don't want furniture that totally breaks up the space and interrupts the line of sight.
Look out for furniture visually light furniture, you want leggy pieces, the taller the legs the more light can pass through making space feel lighter and airy. And look out for multifunctional pieces too – an ottoman that opens up, a coffee table with drawers, a console table that can house your TV. In a small living room, you want fewer pieces that work hard to avoid overcrowding the space with furniture.
1. Choose multi-functional living room furniture
Small living room furniture needs to work hard. To maximize on space you want as few bulky pieces in the room as possible, so choosing furniture that's multi-functional will mean you only have to find the room for one piece of furnishing rather than potentially two or three.
Rather than just go for a coffee table based totally on style, look for designs that can add storage, say with shelves or large drawers. You could even switch out a coffee table for an ottoman that can be used as a coffee table, extra seating, and some handy storage. Nested tables are also great in small spaces as you can pull them out when you need extra surface spaces but neatly tuck them away when not in use. Slimline console tables also make for great small living room furniture as they have so many uses – a place to work if you need your living room to double up as a home office, a place to position the TV if you don't have room for a bulky unit or a surface on which to add lighting or decor.
2. Pick pieces that are visually light
The key to making a small living room feel bigger is to keep as much floor space visible as possible and to allow plenty of light to flow freely around the room. For that reason, you'll want to mostly be choosing living room furniture that's visually light. And by that we mean furniture that has a smaller, slimline frame, with legs that keep it up off the floor.
See how in this space the Mid-century design of the chairs means they don't break up the space, the room still feels open and airy. The same goes for the coffee table, the simple style and tall legs work perfectly in the smaller space.
3. Pick out the best sofa for a small living room
Choosing a sofa for a small living room is perhaps the trickiest piece to get right, and it's the most important too so having a few shapes, styles, and colors to look out for will help you in your search.
As we said, you don't want any small living room furniture to add too much bulk, but by nature sofas are bulky and if you want something that's really comfy, bulky is part of the deal. So rather than go for a small couch with spindly tapered legs, a funky shape, and a foam filling (gorgeous yes, but not one for snuggling up on) look for love seats. A sofa on a small scale that won't take up loads of room but will still have a comfortable seat.
Browse our guide to the best sofas of the year to find some suitable options for a smaller space, and of course, if you want your sofa to really work hard in a small home, our edit of the best sofa beds can help you find multifunctional seating that will also sleep overnight guests.
4. Go large in a small living room (with caution)
And despite going against everything we have said so far, sometimes the best option for a small living is to go big with your sofa. Pick a corner or modular sofa that's going to hug the dimensions of the room, adding plenty of seating and giving the space a really cozy feel.
Going big doesn't just apply to the sofa either, choosing a larger coffee table that fills the center of your seating area will look much more elegant than a tiny coffee table floating in a sea of floor. It will anchor the room and is a practical choice as will give plenty of surface space. Just make sure there is enough room for people to move easily around the space.
5. Free up floor space with wall mounted furniture
Where you can, wall mount your living room furniture. Getting shelving and side tables, even a swing chair up off the floor will trick the eye into thinking the room is bigger as there's nothing breaking up the floor space.
6. Trick the eye with translucent living room furniture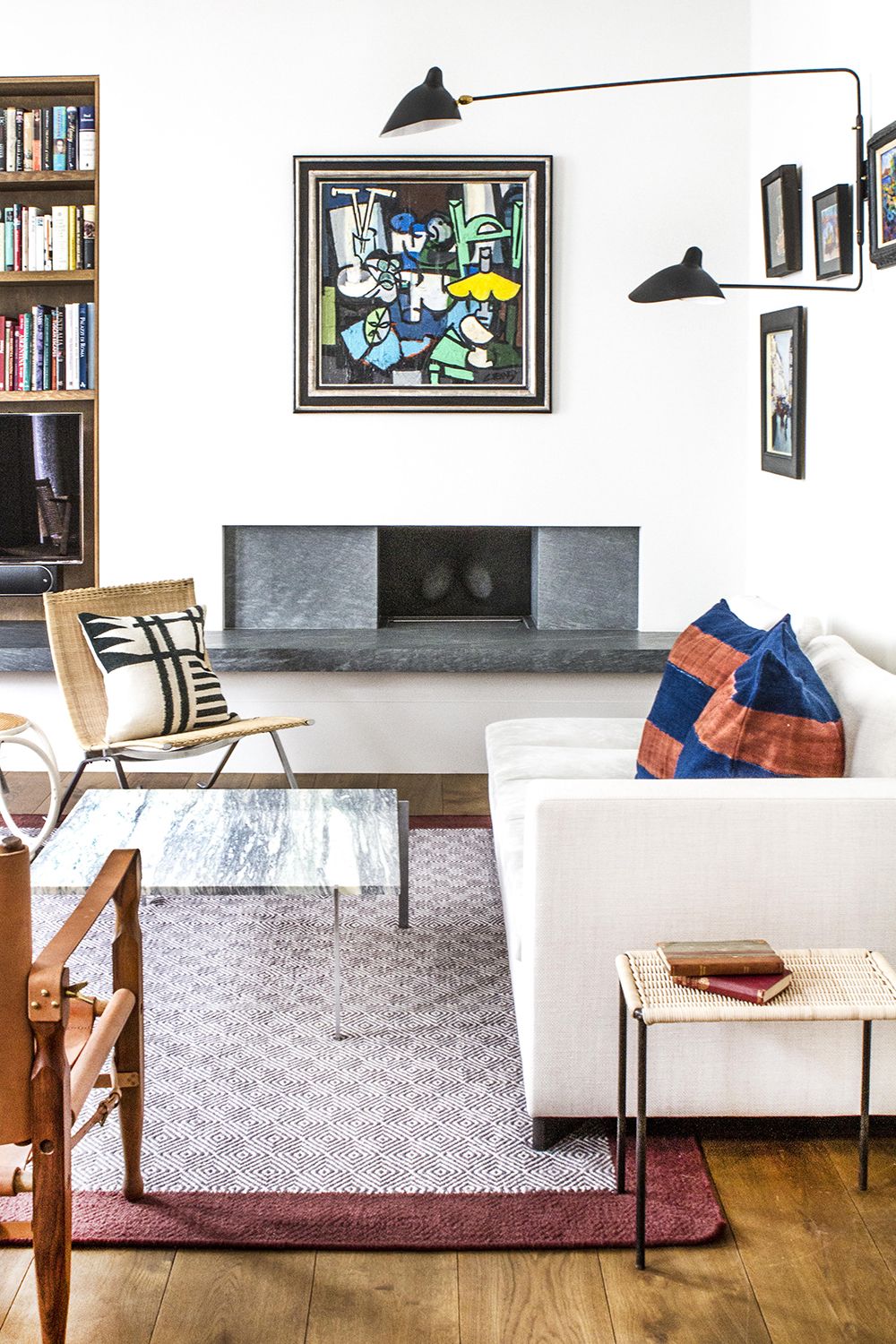 As well as thinking about the shapes and size of your living room furniture, your choice of material can make a big difference to keeping the space feeling open. It's the oldest trick in the book, but glass, acrylic, or lucite furniture is a great choice for small furniture.
Ghost chairs, coffee tables, and side tables add zero visual clutter and yet add a chic, playful edge to any living room. Even in more traditional homes, they provide a stylish contrast with period features.
7. Opt for bespoke built in storage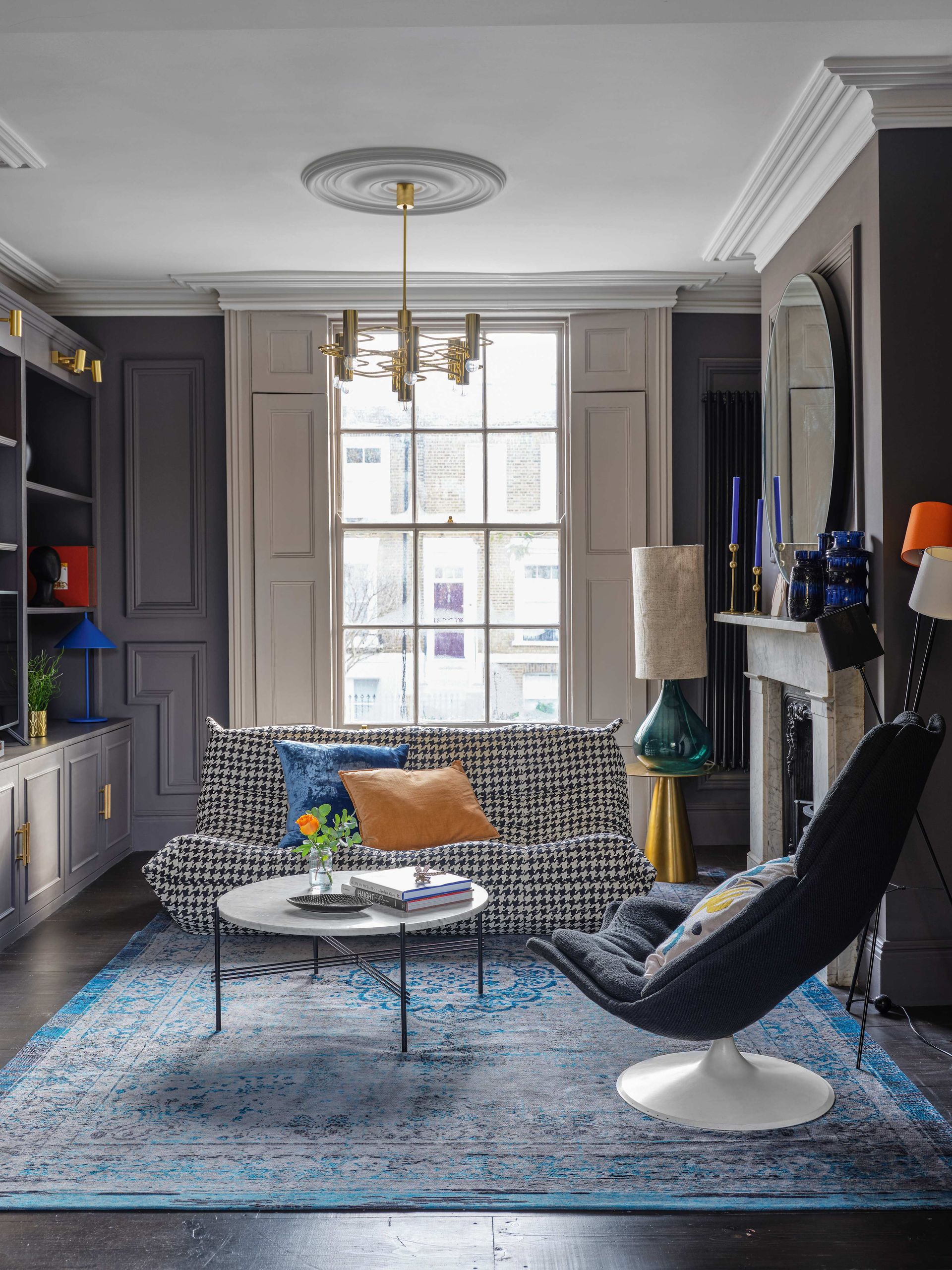 Storage is an essential in a living room, even more essential in a small living room as you don't want to space to be cluttered with things. Bookcases, cupboards, console tables, all these individual storage pieces will quickly fill up a small room, so opting for built-in storage that can do the job of all these individual pieces is a simple way to gain back some space.
Go for a mix of living room storage – shelves, drawers, cupboards – so you can hide away any unsightly mess behind closed doors, but keep shelves free for the more decorative items. You could even have a space for your TV too.
In terms of colors, match your built-in storage to the wall colors used throughout the rest of the room so there a seamless flow between the two, and the shelving or cupboards almost blends into the wall.
8. Choose lighter woods that won't impose
If you want to bring in wooden living room furniture, avoid anything too dark and imposing. We all know lighter colors expand spaces and that rule applies to furniture as well as wall paint. Chose pale wood tones that won't look too heavy or absorb light from the room. And don't be afraid to mix the tones of wood either, layering different woods will add interest and texture to the room.
How should furniture be placed in a small living room?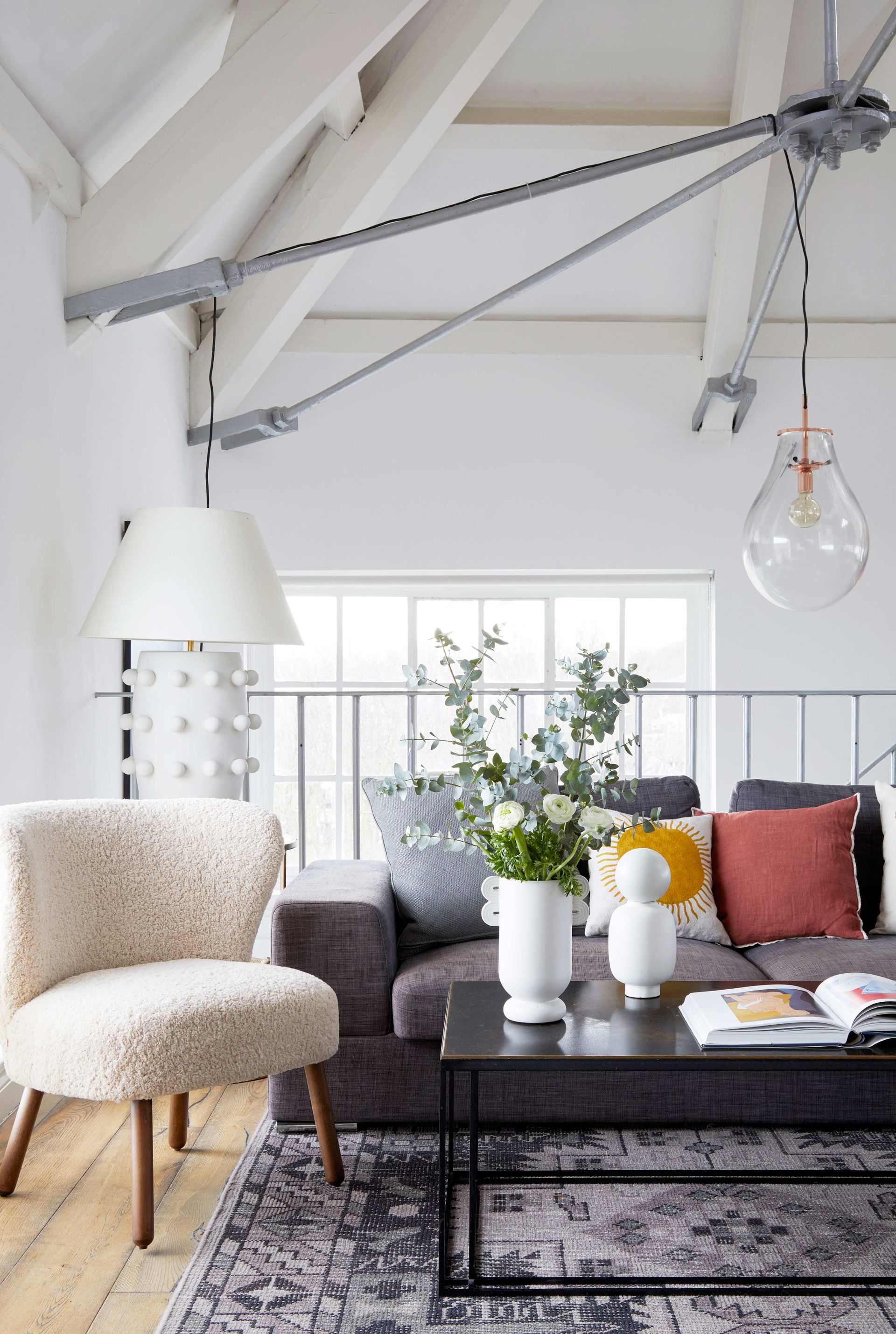 The best small living room layout ideas are ones that float the furniture. We have this tendency with small rooms to want to push all the furniture up against the walls, leaving a sea of empty floor in the middle. Actually, this approach is only going to make the room feel smaller. Pull furniture away from the walls and give it some breathing space. Instead of using the walls as the edges of the room, throw down a large area rug and use that to anchor all of your living room furniture instead.
Symmetrical layouts are also a good choice for small living rooms, but don't be too regimented about it as you don't want to end up making the room feel boxy. Place your seating opposite one another with a coffee table between, but then add a small table with a lamp on to the side of one sofa just to throw off the symmetry slightly.
The Livingetc newsletter is your shortcut to the now and the next in home design. Subscribe today to receive a stunning free 200-page book of the best homes from around the world.
Hebe is the Digital Editor of Livingetc; she has a background in lifestyle and interior journalism and a passion for renovating small spaces. You'll usually find her attempting DIY, whether it's spray painting her whole kitchen, don't try that at home, or ever changing the wallpaper in her hallway. Livingetc has been such a huge inspiration and has influenced Hebe's style since she moved into her first rental and finally had a small amount of control over the decor and now loves being able to help others make decisions when decorating their own homes. Last year she moved from renting to owning her first teeny tiny Edwardian flat in London with her whippet Willow (who yes she chose to match her interiors...) and is already on the lookout for her next project.