How to use color in small living rooms – expert tips for getting the perfect scheme
Bringing color into small living rooms can be tricky, but with the right hues and our top tips, you can make the space look brighter, bigger and just better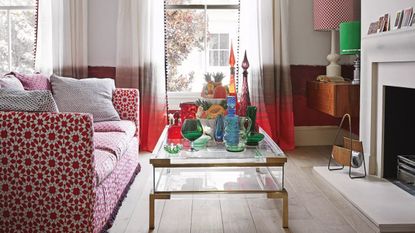 (Image credit: Future)
We all know, using paint color is an easy way to transform a room and can instantly alter the style, mood, and perspective of any space. But when it comes to small living rooms we become stuck: what are the 'rules'? Should certain colors be avoided? What are the tricks to make it look bigger? Panic not! We've got the definitive guide to using color in a small living room alongside expert advice from the paint specialists in the know...
How to choose the best colors for a small living room
Don't think that you're limited with color choice in a small living room. Broadly speaking lighter colors reflect the light in a room and create a perception of depth that makes the walls appear further away. While dark hues are full of hidden tricks too: blurring the corners and lines creating the illusion of a larger space. You can make a tiny room feel dynamic simply by playing up the cozy factor with rich dark colors.
Take a good look at your space before you begin choosing living room paint colors – where is the natural light? Where are its darkest corners? Check which direction the light is coming into your room. A small south-facing living room is filled with natural light so your color choice is endless. Neutrals become golden and cool shades balance out that bright sunlight. North-facing rooms, generally get less light and can feel darker so need warmer shades.
'Many opt to use bright white in small living rooms with the aim of making the room appear larger; however, light neutrals used in a tonal scheme will have the same effect whilst not appearing too stark. If there is a lot of natural light in a small room then using light tones will make the room feel more spacious,' says Ruth Mottershead, Creative Director Little Greene.
Play around with paint – use the same shade on walls and woodwork to maximize the area from floor to ceiling – include skirting boards, door frames and picture rails. Create the illusion of a bigger space with a light-colored ceiling which appears to raise the height. Try painting vertical stripes to create the illusion of height in a small living room to make the eye look upwards. This elongates the room making the space feel taller or similarly horizontal bands exaggerate the width of space tricking your eyes.
The colors in our homes have taken on much more meaning this year where home has become the place we work and play. We're staying at home much more and this new lifestyle requires calm, living spaces we can all enjoy. Dulux's Colour of the Year for 2021 the warm and grounding neutral shade Brave Ground fits this bill. "Brave Ground is a soft elemental clay: the 'Mother Earth' of hues. Use it as the bedrock of a decorating scheme and then team with colors that express who you are, how you want to feel and what you want to do in the room," says Marianne Shilingford, Creative Director of Dulux.
At the other end of the spectrum is Graham & Brown's Colour of the Year for 2021, Epoch - a rich regal plum shade perfect for a small but high-impact interior. 'If drama is your goal then try pairing Epoch with shades of teal and pops of peach for a playful yet sophisticated space,' says Abby Hesketh, Product Manager and Paint & Colour Specialist at Graham & Brown.
What colours make a small living room look bigger?
Light colors reflect the light and make the walls recede, that's why white living rooms are so popular. Create a sense of a bigger room with a shade of white that is not too stark. Make any other item in the room darker and this will become the centerpiece not the walls.
'Either embrace the bold to enhance the depth of your room, or keep it light and neutral to open up every last square inch of your sanctuary. For a light and organic feel check out warmer off-whites or light beiges. Softer colors reflect light rather than absorb it, so can ping it round the room to suggest more space.' explains Rob Green, Co-Founder of COAT Paints.
Should small living rooms be painted light or dark?
'Some fear that adding a deep or bright color to a small space will make it appear claustrophobic, opting instead for light neutrals to keep the space open. However, dark colors cleverly absorb the light making the space appear larger, rather than more cramped as some may fear.' says Helen Shaw, Benjamin Moore UK Director.
It all comes down to personal choice – there are no rules, opt for a shade you love and want to spend time in. 'As humans, we crave natural light. For this reason, it is best to ensure that the rooms in which we spend most of our time during the day, and this is often the kitchen, are the lightest in our homes and then we can retire to deeper colored, cosy rooms in the evening.' says Joa Studholme, Farrow & Ball Color Curator.
What are the most popular paint colours for small living rooms?
'We have seen a huge trend in dark blues over the past few years, but now dark rich greens are becoming very popular. These rich tones mixed with softer setting plaster colors work well,' says David Harris, Design Director at Andrew Martin.
'In challenging times, we crave warm tones that will enrich our homes and create cozy sanctuaries away from the outside world. The understated feel of Jitney and Dead Salmon seems to catch the mood of the moment and are perfect for use in small living rooms,' says Joa Studholme.
What is the on trend colour for small living rooms?
Bold and rich colors give a smaller space an energy all of its own and make a room feel more expansive than it really is. 'Deep forest greens are known to be a healing color and are hugely popular in small spaces. They appear restful to the human eye, so are perfect for a relaxing snug,' Says Helen Shaw.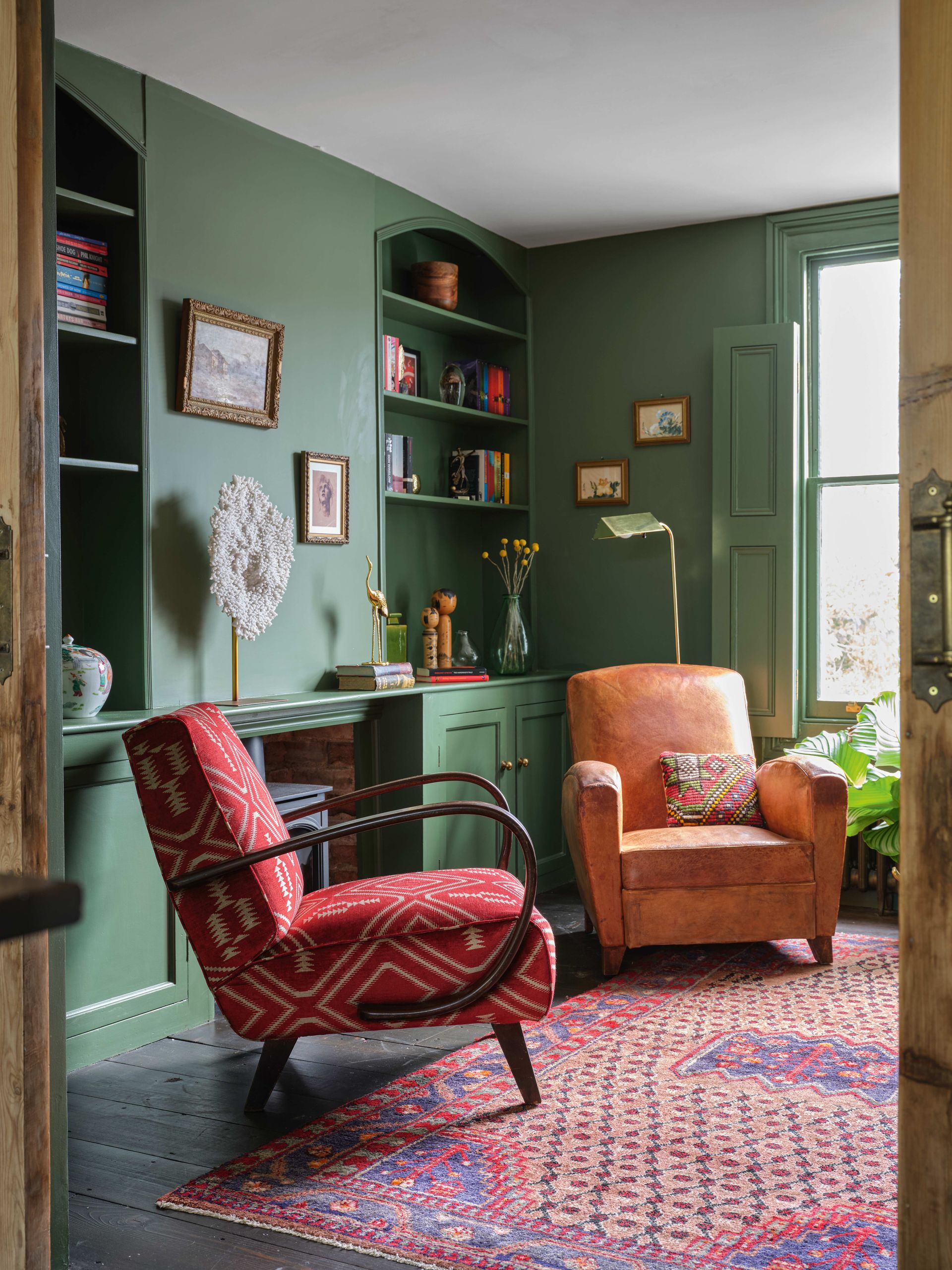 What is the best paint colour for a living room?
Consider when and how you use your room – is it a busy family space or a cozy evening spot for two? Are you looking for attention grabbing walls or a sophisticated backdrop? 'I love to embrace a small room and create a dramatic and intimate interior, with intense cocooning colors to create a real design statement', says Ruth Mottershead, Creative Director Little Greene.
What colours are best for North facing small living rooms?
'Warmer tones are a great choice for North facing rooms where the light is naturally cold. Using warmer tones will provide balance to a scheme, whilst cool tones in the same situation may appear stark,' says Andy Greenall Head of Design, Paint & Paper Library.
What colours are best for South facing small living rooms?
'South facing room get lots of strong, warm light which makes dark paint shades appear brighter and delicate shades paler. If you like a softer kind of vibe, then look for light greige, soft violets, pale teals and dusty blues which will balance out intense light.' says Rob Green, Co-Founder COAT Paints.
The Livingetc newsletter is your shortcut to the now and the next in home design. Subscribe today to receive a stunning free 200-page book of the best homes from around the world.