13 small home office ideas – how to create the perfect WFH setup in a tiny space
These small home office ideas prove that you don't need tons of room to create a stylish, productive work space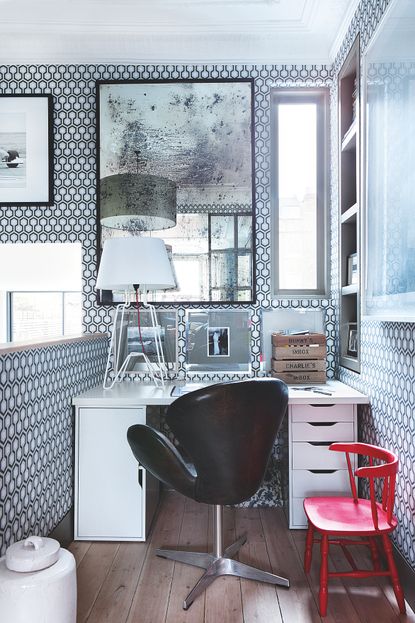 (Image credit: Alexander James)
Looking for stylish small home office ideas? Working from home, if not full time for at least part of our working week, has become the norm for so many of us now. And for us small space dwellers who don't have a large room to dedicate to a workspace, finding the perfect spot to work from can be tricky – the kitchen table or (on lazier days) the sofa will only suffice for so long.
But actually, carving out a dedicated workspace even in the tiniest of homes could be more straightforward than you think. You just have to get creative – an unused alcove, a dead space under the eaves, even a 'cloffice' is now a feasible option to create a practical, functioning, productive place to spend your working day. So be inspired by these small home office ideas and wave goodbye to days spent slouched over your laptop in bed or sat uncomfortably on a bar stool on the kitchen island.
1. Turn an awkward nook into a small home office
So you think you don't have room for a home office? Well while you might not have a room for a home office, you can definitely find some room in your home that you can transform. Alcoves are always our first port of call. These are often dead space, that can be used for so much more than just storage.
Be inspired by this small home office idea and turn an alcove into a workstation. All you need is floating shelves for some handy office storage (and decoration) and either a compact desk that will fit neatly in the space or a slightly deeper shelf you can use as a desk. If you do opt for a floating desk, add some extra drawers underneath to really make the most of the space and make it feel more like an office by adding a pinboard and other practical (but stylish) office accessories.
And have fun with the design so you actually want to spend time there, Patrick O' Donnell of Farrow & Ball says 'If you're lucky enough to have an unused alcove or an old kitchen serving hatch, why not make a feature of it by painting the interior. Voilà: an (almost) instant workspace. Kids will especially love these secret pockets of color for after-school homework sessions, but they're just the right size for part-time home workers to pop a laptop on, too.'
2. Embrace the cloffice trend
Cloffices, as the name suggests, is an office with a closet. It's a very 2021 concept but closet office ideas can work really well if space is tight. If you don't have the luxury of a whole room to work from, these tiny spaces can be carved out of your current space and functional workspace that doesn't have to double up as anything else.
All it takes to create this Pinterest trend is a spare cupboard or a closet that you can sacrifice some clothes storage for a desk. Similar to the alcove concept, simply add in some shelving and a chair that can be tucked away and you have an instant workspace. Plus what we love about this small home office idea is that you can close the doors on your workspace at the end of the day, which is really important for getting the work/life balance right.
3. Pick green tones that inspire productivity
Green is known for its calming, inspiring qualities so is an obvious choice for any home office. As Patrick explains 'Greens are naturally calming and help us to relax, especially if we can create an environment that feels like the great outdoors. The symbolic color of nature's 'green' in all its shades can be a very effective color to focus the mind, from pale, soft cool greens to the deeper richer end of olive tones! Greens inspire thought and logic, perfect for dealing with your daily tasks.'
In smaller spaces pick the green for your home office wall decor carefully as you don't want it to overwhelm the space – look at the aspect of the room and if your workspace is within a room, see if green will work with the color scheme going on in the rest of the space. If this is the case, instead of getting out the green paint, consider hanging a green print or collection of prints above your desk so you still get that uplift.
4. Or go dark and sophisticated for a cocooning small office
We say it's a myth that dark color shouldn't be used in small rooms, sometimes the best option in a small space is to lean into its proportions and embrace the coziness. Deep greys, blues, plums, and even browns can all work well in a small home office – especially if it's in a room of its own so you can go all over with one color.
Patrick agrees saying that, 'Brown is often a surprising choice to create calm spaces but has a similar impact to greens. Teamed with natural materials such as wood, brown becomes an easy zone of zen-like quality! Dark colors can be good to enclose a space and cause limited distraction; ideal for smaller rooms and for those who are working with data and stats.'
5. Create an office 'zone' in your living room
The living room has been a lot of our team's go-to to work from this past year, mostly because this is usually the calmest room that doesn't see as much traffic as the kitchen and doesn't feel as laid back as the bedroom. But you still want that separate feeling of work and play spaces so it's important to create a 'zone' within your living room that's dedicated to.
Again, an alcove is always going to work, but if you don't have alcoves or they are already in use, it can just be a simple switch around of your living room layout to make your workspace feel slightly separated. Try using your living room furniture as a 'wall' to zone off your desk and then wall mount a pinboard to give the space a work-like feel. You could also use paint to add a block of color or a stylish arch around your workstation to define it from the rest of the room.
6. Or add a drop down desk to a kitchen
And if you prefer to work in the kitchen (closer to the coffee machine, we get it) this is a very handy small home office idea that takes up barely any room. A drop-down desk that you can bring out for the working and just hide away in a cubby hole when you have finished work will create an instant home office that doesn't encroach on the kitchen space when not in use.
You could even go bespoke like in this modern kitchen and have it built into a kitchen cabinet so you have some storage for your office things too and you can keep your laptop or computer in the nook full time.
7. Be savvy with storage
The key to a successful home office is storage, so factor it in, even in a small space. To make the most of your space consider having something built-in that includes plenty of wall storage, and you could have your desk fitted too so it's all there on one wall taking up minimal space but really maximizing on the square footage you have. Be sure to go for a mix of different types of storage – drawers, shelves, open and closed cabinets.
'Opting for a fitted home office, whether in a dedicated room, under the stairs or at the end of a dining room, can be an attractive yet practical use of the space providing everything from a desk to ample storage for files and folders.' explains Rachal Hutcheson of Sharps. 'Bespoke, made-to-measure designs will ensure your environment is ideal for both your work and own personal needs; whether that be open shelves for pieces you need quick access to or cupboards and drawers you'd like hidden away at home.'
Don't forget about home office organizers, too, as these can usually prove handy when it comes to considering style and practicality. To keep items in check, and hidden away from eyes.
8. Make a small home office cozy and throw down a rug
Just because they are practical spaces, that doesn't mean small home office shouldn't feel cozy and inviting too. After all you spend the majority of your day in there, it should feel welcoming. The easiest way to cozy up an office? Throw down a rug. Just make sure it's a practical choice, you don't want a long pile rug to constantly be getting caught in the wheels of your desk chair so either make sure it's out of the way of your chair or opt for something short pile and long-wearing like jute. You can always layer something softer and smaller over the top.
9. Float a desk to free up floor space
This is a really easy way to make a small home office feel bigger. Don't break up the floor space with a bulky desk, float it instead. In small spaces the more stuff you can keep up off the floor the better, so do the same for your storage too, add a couple of shelves above the desk so you haven't had to compromise with a more slimline desk.
10. Fill a small office with light using glass doors
Small home offices do tend to be light starved places, but really you want your workspace to be filled with natural light to help with productivity. For your home office lighting ideas, why not pinch this small home office idea and borrow light from the adjoining rooms by replacing a wall or even just a door with a glass partition. And If privacy is going to occasionally be an issue, you could always hang curtains that could be pulled over the door when needed.
11. Pick an all in one modular design
Want to create an instant small home office? Choose an all in one modular unit like this, complete with shelving, storage, and a desk. Plus you can really personalize the set up make it as compact or expanse as you like and you have the option of adding more elements should you even need to. A really flexible option that can be added to any room.
12. Turn an office nook into a room of its own with wallpaper
Another great trick for zoning a small home office that's in an open plan space – wallpaper. It's also an easy way to add some personality into a very practical room without taking up any space. Just be sure to pick a print that's going to bring you joy at the start of each working day but you won't find too distracting.
13. Hang mirrors to expand the space
It's the oldest trick in the interior design book for a reason. Hanging mirrors in any small space will help it feel larger, plus bounce more light around. We wouldn't recommend hanging right in front of your workspace as that will potentially just be distracting but rather hang it high enough so you aren't staring into it while you work. And choose a slightly foxed or vintage design for a more subtle look.
How can I build a small office space at home?
As most of these small home office ideas prove, it can be very simple to build a small home office into your current space. You just have to be creative with what space you do have and look for nooks you can make work for you. Alcoves, closets, unused wall space, all of these can be transformed into a stylish and practical workstation with just a floating desk and some wall-mounted shelves.
How small is too small for a home office?
This will come down to personal preferences. Some people like lots of desk space to spread out papers and notes whereas others are happy with just a space to perch a laptop. Just make sure you have enough room to sit and work comfortably and your desk is at the right height to ensure you can work safely with our straining your wrists or back.
'For those of you fortunate enough to have a study at home, you're off to a head start. If you, like me, don't have a spare room, try to create a space in which you can go 'to work' and leave well clear when your day is done. This way, when you're out of your 'work nook' your home will still feel like home.' says Camilla Clarke, Creative Director at Albion Nord.
'Make sure you sit on a chair (not the sofa) and work from something that is desk height (preferably not your gut, your bed, or your coffee table). It's important to differentiate areas in order to get a sense of relief from work. And keep your work zone calm, clutter-free, ideally with a view outside. Good music, a candle and endless mugs of tea all play pivotal and beneficial parts.'
How can you make a small office cozy?
Making a small office cozy can be very simple since the dimensions are already on your side. A rug will add an instant softness to the space, and ensure you have some soft ambient lighting alongside your task lighting too. Add a throw to the back of your chair and cushions too if that will make the space more comfortable. You can make it feel more homely too by adding a drinks station – just a compact coffee machine and a few of your favorite mugs will add to that cozy office vibe.
Hebe is the Digital Editor of Livingetc; she has a background in lifestyle and interior journalism and a passion for renovating small spaces. You'll usually find her attempting DIY, whether it's spray painting her whole kitchen, don't try that at home, or ever changing the wallpaper in her hallway. Livingetc has been such a huge inspiration and has influenced Hebe's style since she moved into her first rental and finally had a small amount of control over the decor and now loves being able to help others make decisions when decorating their own homes. Last year she moved from renting to owning her first teeny tiny Edwardian flat in London with her whippet Willow (who yes she chose to match her interiors...) and is already on the lookout for her next project.