IKEA hacks - the 12 very best you definitely need to know
IKEA hacks mean you can update everything from Billy bookcases to Rast drawers, the easy way to take your furniture from lacklustre to look-at-me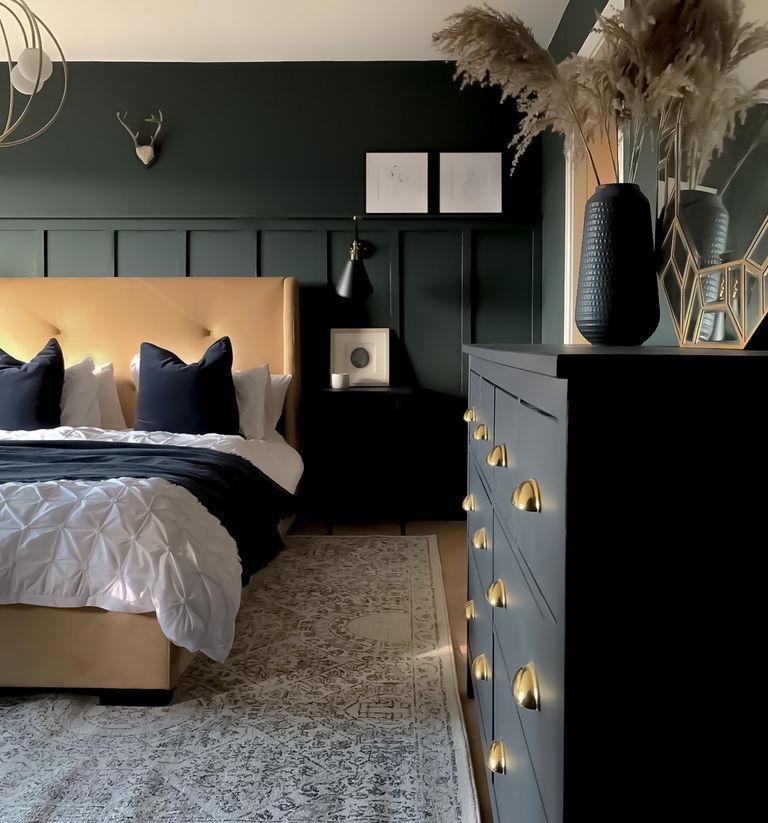 (Image credit: mrs_macks_home)
Whether you want to be more sustainable, or you've got a renovation budget you need to stick to, the best IKEA hacks are an affordable and simple way to give a room fresh appeal without breaking the bank.
Not only are these easy DIY projects easy on your bank account, they also ensure your home boasts a chic style with a cool injection of personality that's unique to you. After all, nobody wants to have exactly the same furniture as all of the neighbours.
Elevating standard pieces with clever IKEA hacks has taken social media by storm, and there's plenty of inspiration to be had from Insta-worthy glow-ups.
We've picked out 11 of the most stylish IKEA hacks you need to know below. Time to up your upcycling game...
1. Create a cool apothecary cabinet with this IKEA MOPPE hack
The unassuming mini MOPPE drawers are perfect IKEA hack fodder. Get creative like @patirobins and make a trendy vintage-style apothecary cabinet with four mini moppe drawers.
Pati says: 'I trimmed the top row as I wanted the cabinet to look more rectangle , then glued the 4 cabinets using adhesive, framed it with wood, and then attached four hairpin legs . I also turned the drawers other way around so I was able to attach my own drawer pulls - giving it a library look. You could wax or stain it for a more retro feel.'
2. Go for gold with this glamorous IKEA HEMNES bedside table hack
Inject a splash of glamour to your sleep sanctuary with this chic IKEA Hemnes bedside table hack by Leoma Harper, Interior Stylist of @styletheclutter/styletheclutter.com.
Leoma explains: 'During the first lockdown I was on an upcycle mission... These IKEA HEMNES bedside tables ended up being victim to this and now have a completely new look.
'The new aesthetic was created using primer, followed by two coats of the lovely Fusion Mineral Paint in Ash, some gold leafing on the drawer, and finished off with a new handle from Anthropologie. I love how a new piece of furniture has evolved through this spontaneous paint over.'
3. Be pretty and practical with this IKEA RUDSTA storage hack
Robyn over @the_house_acc got creative with a RUDSTA cabinet with this easy IKEA hack that adds texture and on-trend fluting to the piece.
'No painting, no messing, it took about 45 minutes and anyone can do it,' says Robyn. She used glass film from @glassfilmseurope to create the look.

Her top tip? 'I've used this glass film product quite a lot now and I find it so much easier to lay the film on wet, mark your cutting line with a pen, lift off and then carefully cut with scissors.'
4. Fashion a stylish WFH space with this IKEA INGO desk hack
Who'd have thought an IKEA desk hack could create such a stylish home office space? The £45 Ingo table has been transformed into a sleek desk perfect for a modern house by Ruth @mrs_macs_home.
She says: 'The INGO is actually a small dining table but also makes a great size desk. It's also so easy to makeover as it's made in untreated solid pine, so it's perfect for painting/staining etc.
'I painted the lower base and legs in Farrow & Ball Modern Eggshell in Railings and then lime waxed the top with Liberon liming wax.'
5. Make a built-in shelving unit with this clever IKEA BILLY bookcase hack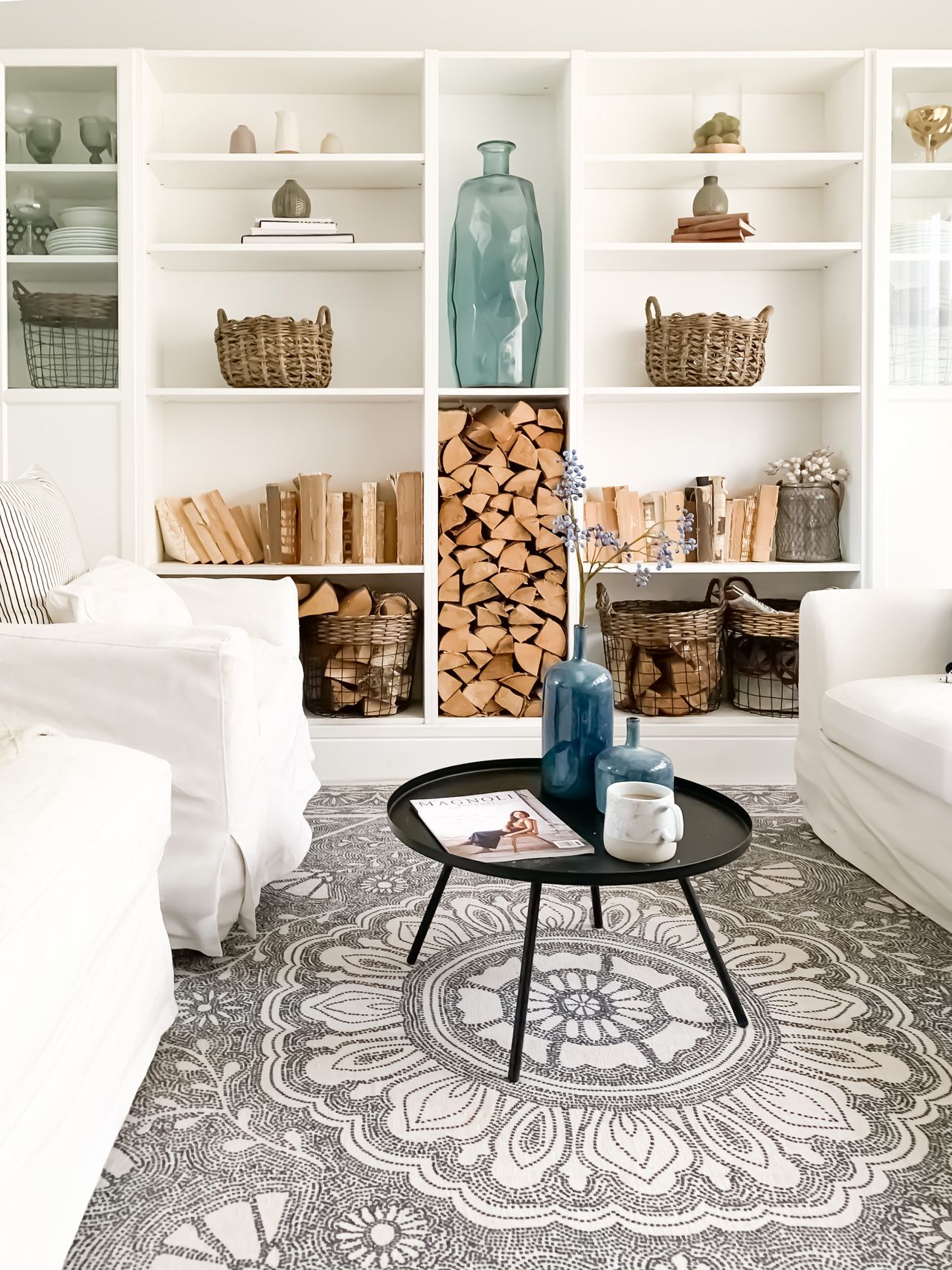 Ruth of @mrs_macs_home is something of a whizz when it comes to IKEA hacks, and we love this clever BILLY bookcase update.
'We first removed the skirting board so the units could go flush against the wall,' says Ruth. 'We had to raise the bookcases to accommodate the height of the skirting so attached adjustable kitchen plinth feet to each unit.
'Once all the units were in position and correct height , we glued and screwed the units together and anchored to wall. Then simply refitted the skirting board to finish.'
Just add books, glassware, oversized bottles, logs, rattan baskets and objet d'art for a super-chic modern rustic finish.
6. Use an IKEA RAST drawers hack for an elevated nightstand
An IKEA RAST chest of drawers hack is so appealing as the plain pine unit is crying out for a lick of paint.
We love how Michelle of @amdolcevita transformed them into a cool, contemporary nightstand. She said: 'I'd been searching for stylish nightstands for our cottage master bedroom, but decided to take it upon myself to hack the ever-popular IKEA Rast drawers. I am so in love with them. The paint colour is Benjamin Moore's Pigeon Grey, and the brass pin pulls are from Martha Steward via Home Depot.'
7. Get a new media unit with a cool IKEA BESTA TV stand hack
Take your IKEA BESTA TV stand to another level with a hip hack involving on-point cane.
Kalthoum of @baytkalthoum, describes how she turned her BESTA into a show piece, saying: 'For this IKEA hack, I kept the BESTA doors and had them cut in a geometrical way. I had to cover the sides that were cut with lipping for a seamless look.
'I then glued cane on the doors' back and added knobs on the front that I found in Zara Home.'
8. Design a hotel-smart bedroom with an IKEA HEMNES chest of drawers hack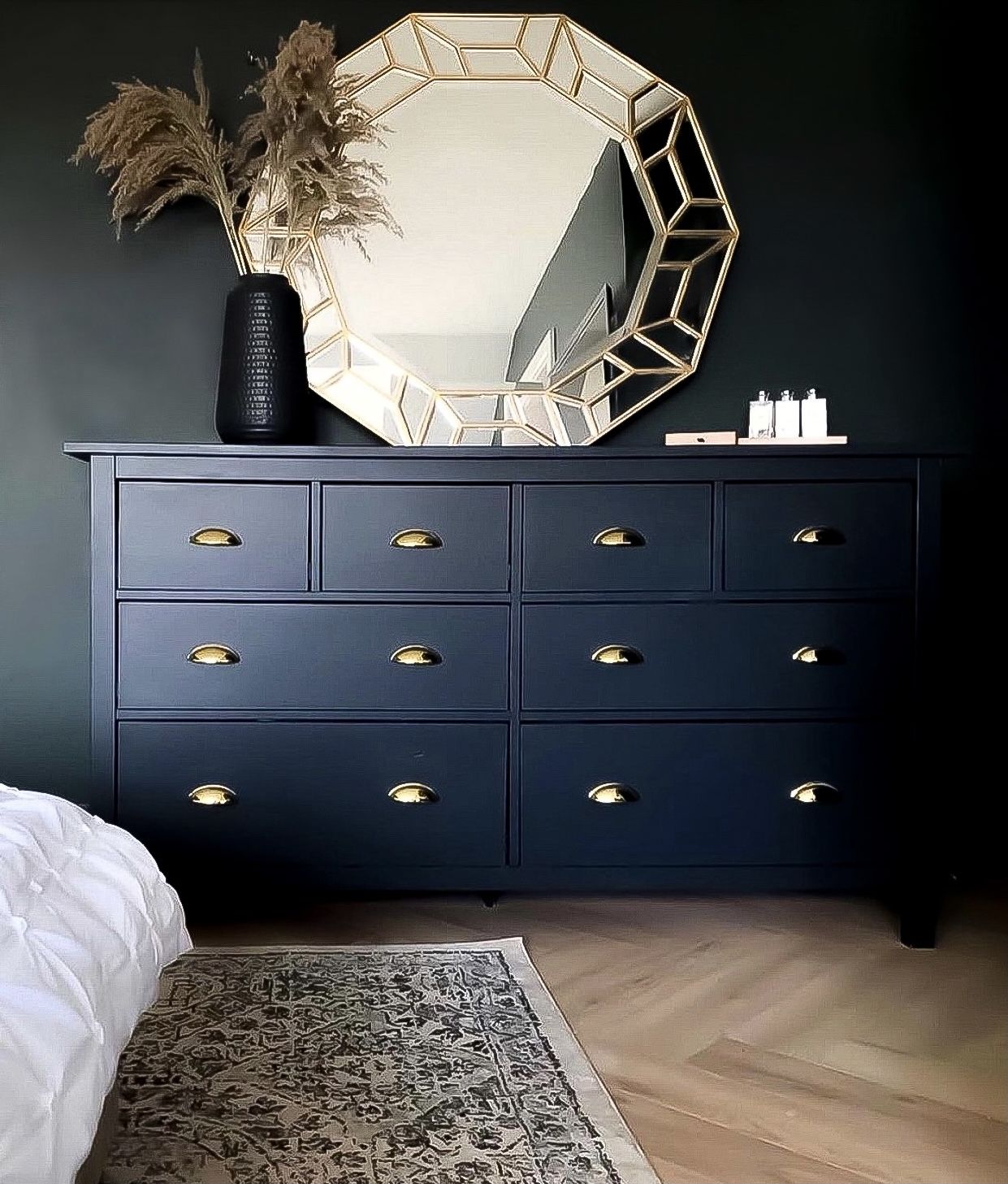 Queen of covetable Ikea hacks @mrs_macs_home hit a home style run again with the IKEA HEMNES hack, transforming the drawers into a design-led bedroom piece. And, while it offers a high-end finish, it's super-simple and affordable.
Ruth says: 'I gave our old HEMNES drawers a makeover with paint and a change of handles.
'I used Zinsser ALLCOAT which is a paint and primer in one, and I applied with a mini foam roller to give a smooth finish.
'I found this pack of 12 brass cup handles on Amazon for just over £20 to complete the makeover.'
9. Pimp your IKEA STENSTORP kitchen island with this contemporary hack
Take one IKEA STENSTORP kitchen trolley, add some cool tiles and a pop of brass, et voila! An ultra-chic IKEA kitchen island hack.
Autumn of @autumnhacheydesign tiled the Ikea island with super-simple hex tiles from the local hardware store and finished with dark grout. Then she added a towel rod from @anthropologie to one of the sides. We love.
10. Overhaul your office with this IKEA Hack for Alex drawers
We'd be really motivated to start work if our home office looked this. Instagrammer @jyll_mackie cleverly turned some IKEA ALEX drawers into a feed-worthy IKEA desk hack.
So how did she do this IKEA hack? Jyll says: 'I used two ALEX desk drawers as my base. I love the functionality of these drawers, especially with the drop file folder drawer but I'm not a big fan of the look.
'I used a 2'x4' piece of 1/4" hardboard and cut it down to cover each drawer. I cut strips of the same hardboard to create the "shaker" style front. I used construction adhesive and clamps to fasten these to the ALEX drawer fronts.
'I primed and painted the whole desk. Once dried I added hardware. I built my own desk top out of birch plywood but you could use the desktops from IKEA. The cost of hacking the actual drawers was less than $20 (hardboard + adhesive).'
11. Transform an IKEA BILLY bookcase into a fabulous dressing table area
Feel like a film star every time you get ready with this ingenious IKEA Billy bookcase hack by Robyn @the_house_acc.
She used two BILLY Bookcases and two IKEA OXBERG glass doors to create the ultiamte Ikea hack, forming these dresser units. Robyn used Frenchic Paint's Black Jack for the doors before adding reeded adhesive film by @glassfilmseurope to create the on-trend fluted glass effect. We're a little starry-eyed over this one. See exactly how she did the hack in her Stories highlights.
12. Elevate an IKEA PAX wardrobe with character-rich additions
What do you do when the IKEA PAX wardrobe isn't quite grand enough for your bedroom? Elevate it with a an upscale IKEA hack, of course.
Clever duo Kevin and Sarah of @readmorehouse did just that. They explained: 'When faced with a no-closet master bedroom in our late-1800s Victorian Italianate home, we hacked the IKEA PAX system to create a character-filled, built-in wardrobe system that looks like it was always here.
'We added crown moulding, baseboard, and wall trim to match the original profiles in the room, seamlessly blending the wardrobes into the architecture. Finally, oversized 18" brass pulls add a touch of modern Victorian luxury.'