IKEA Hacks – 57 Easy, Budget-Friendly Ways to Update and Elevate Furniture
These IKEA hacks demonstrate how easy it is to transform or create the furniture pieces of your dream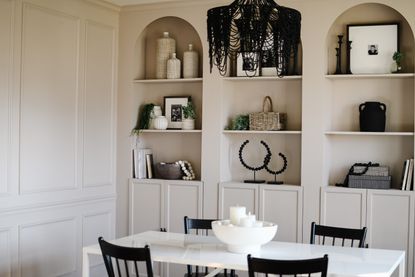 (Image credit: Rachael Young (@firsthouseonfinn))
IKEA hacks can transform your entire home or even a corner into an elevated, stylish, and super practical space, all on a budget.
'IKEA hacks are standard procedure here at Livingetc,' says Pip Rich, global editor-in-chief at Livingetc. 'We love seeing the creativity that is layered on top of IKEA's off-the-shelf products, and how much personality and flair can be added. Based on what we are sharing here, the only limit seems to be how much time and creativity you have.'
If you're in the mood to build, recycle, or transform your furniture, then these hacks by top designers and DIYers will give you all the inspiration you need.
1. Design a side table using IKEA RÖDEBY bamboo armrests
Want to give your living room furniture a brand-new look? This upcycled side table is a great example. Made using a plant pot, a lazy Susan tray, and a bamboo slatted armrest, all from IKEA, home renovator Kerry Kellett (@klk.interiors) was able to create this beautiful side table emblematic of organic style. To design this piece, she used one large IKEA NYPON plant pot for the base, two IKEA RÖDEBY bamboo armrests as the wood veneer wrap, and a SNUDDA Lazy Susan as the tabletop.
'I wrapped the first armrest around the pot and then measured the remaining space,' says Kerry. 'Using the second armrest I cut a piece to size and filled in the gap.' She then made the tabletop by removing the base from the lazy Susan so she was left with just the tray. 'Flip the pot upside down so the base is at the top,' says Kerry. 'You then need to apply adhesive to the base of the pot and place the top of the lazy Susan onto this.' Once dry, Kerry painted her side table with furniture wax to give the IKEA veneer a more rustic effect with a darker tone.
2. Consider IKEA OVERLAYS to give furniture an elevated look
'IKEA overlays are custom-made pieces designed to fit specific IKEA furniture items,' explains Lotta of Norse Interiors. 'They can be made in various materials, such as wood, metal, or plastic, and come in different designs, patterns, and colors.'
These are a great way to transform and personalize regular IKEA furniture into unique, bespoke, and elevated pieces that better match a person's interior design tastes. 'Overlays are lightweight, paint-able, and easily attach to furniture, doors, walls, and glass,' explains Cheryle Rhuda of O'verlays. 'They're more than just an IKEA hack - they are used as mullions on kitchen cabinets, upgrading doors, wall coverings, and can be used on any flat surface in your home.'
To attach these, all you need is adhesive or other mounting methods provided by the overlay manufacturer. You can also switch out the whole front of the IKEA furniture by replacing the entire doors. Overall a great weekend project!
3. Go for built-in storage using IKEA PAX and BESTA units
Home renovator Lacey Moldow (@loft.flora) wanted to expand the storage in her Atlanta home and decided to take the DIY route. For the living room, she used two PAX wardrobes and a BESTA unit in the middle of the room. 'I then had to reconcile the differences in base height and depth to make them look like one cohesive built-in unit,' she says. 'The 29-inch PAX units that fit within my space only came with the option of one larger door and one tiny door. That just looked wonky to me and I wouldn't have it, so I ended up having to buy two of the larger doors and cutting them both down to size, then using some paintable iron-on edge banding to clean up the edges.'
After that, she built a wooden platform from 1x3 boards so the middle BESTA unit could sit flush with the PAX units on either side. To give the units a customized look, she painted them the same color as the walls in that room, which is Warm Blush by Benjamin Moore, but she used a Zinsser's B-I-N shellac primer first. All in all, this project proves that storage ideas for small spaces can be seriously stylish and that a DIY bespoke approach is the way to go!
4. Create a beautiful dining display unit with BILLY bookcases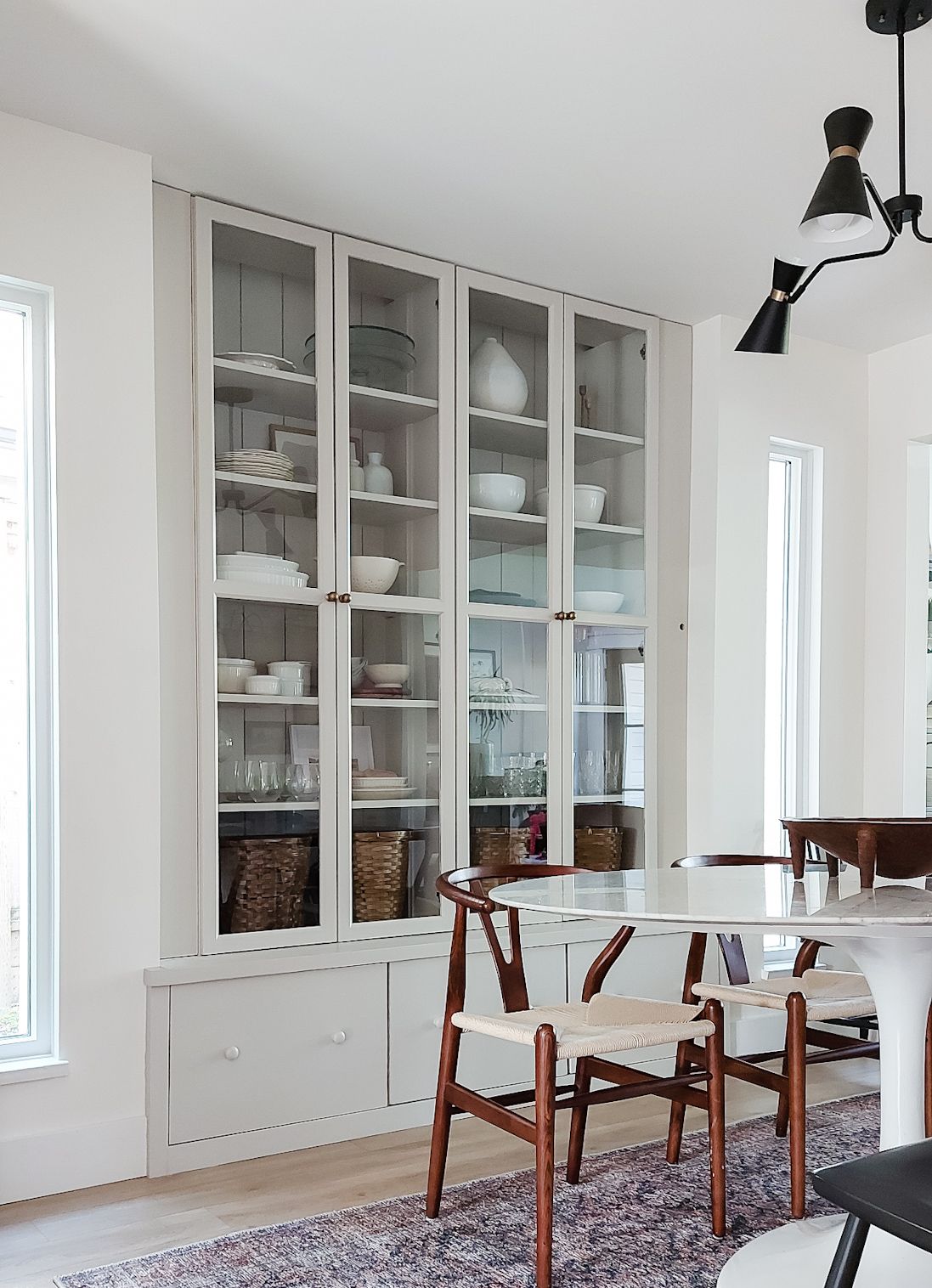 This beautiful wall-to-wall IKEA storage hack was built into an alcove and created by a DIYer with BILLY bookcases and Oxberg glass doors. It took meticulous measuring skills, hard work, and ingenious innovation.
To create the unit, Steph began by removing the skirting boards in the alcove. 'The hardest part was starting and messing up the perfectly good baseboards,' says Steph from Henrik June Home. She cleverly built a sturdy carcass for the base with scrap plywood and added a butcher block countertop for the Billy bookshelves to rest on. She increased the depth of the built-in bookcases by using brackets made from scrap wood, studs, and screws. Then fitted the Billy bookcases and side panels.
She painted the frame white and the doors too but separately. Once dry, she secured them to the frame. 'It was so worth it after all that hard work, effort, and uncertainty,' says Steph.
5. Add a new built-in media wall with EKET cabinets
Multifunctional storage is the name of the game. Home renovator Linsey Learmonth of @thedcdiyer wanted to boost the functionality of her living room and decided to use some of the best IKEA products for alternate uses. She used three EKET cabinets with double doors and one single-door cabinet, as well as four sets of EKET double drawers to create a wall storage unit.
'I'd already assembled and lined up the EKET cabinets and secured them to the studs,' she explains. She added a pine top to the surface of the cabinet. 'For this, I used pocket holes, rounded the edge, and then sanded, stained, and sealed before attaching from the underneath, inside the cabinets,' Lindsey explains.
'I built the upper shelves using ¾ plywood and dado joints, and attached the whole structure to the wall with floating shelf pins,' says Lindsey. She then edge banded all the rough edges and used a stain to match. Not only did this turn out to be a great DIY project, but it also saved her thousands of dollars.
6. Repurpose a chic wireless mushroom lamp with KARAFF and BLANDA
Madycke Elisabeth of @madison.mea used just three simple IKEA items and a few basic materials to design a wireless mushroom lamp from scratch, adding to a long list of IKEA desk hacks.
'My mom got me the 'KARAFF' vase, 'BLANDA' bowl, and the 'KORNSNÖ' lamp,' says Madycke. 'To protect the outside of the vase and bowl I first taped it off. Then I covered the inside completely using the spray paint,' she says.
She colored the outside in a beige-mushroom tone. Then she placed the vase on a table and kept the KORNSNÖ light face down into the vase. Then covered the BLENDA bowl and place it upside down so that it rested on top of the light. When you push it down, you activate the push button on the light, turning on the lamp. Voila!
7. Design Mediterranean-style shelves using KALLAX
Alice, a decorator and DIY expert of @homeflufflyhome has used an IKEA KALLAX hack to create the most eye-catching shelf. 'I thought the original KALLAX was way too plain,' says Alice. 'While useful, IKEA furniture is always very square and symmetrical and everyone has the same, so I wanted something a bit more individual.'
For this, she began by removing the boards to create a less ordered look. After this, she applied Styrofoam sheets to each shelf to build up the width and create that rougher, textured appearance...much like a Mediterranean-style unit. 'I then created rounded shapes in polystyrene sheets, which I glued to some niches,' Alice explains. Once it was dry, she coated the entire piece of furniture with white tile mastic.
Finally, she sanded every surface and added a protective wax to improve the durability of the shelves.
8. Introduce designer style to a drab Alex drawer unit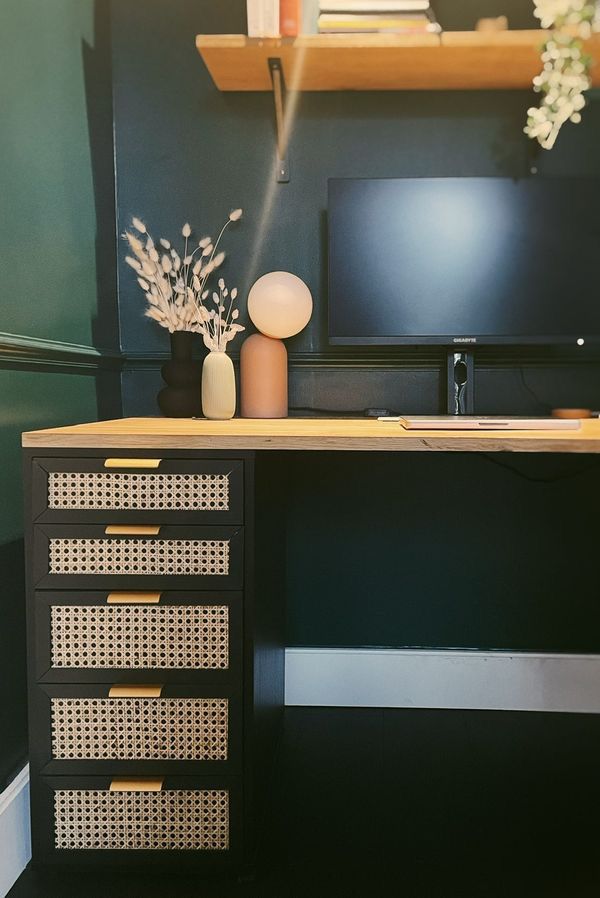 Rattan and cane are a popular interior design trend, popping up on furniture from chairs and beds to cocktail cabinets and more. We love how DIY-er @handymacly has brought this seventies style into the study with an elegant overhaul of IKEA's Alex desk drawer unit.
She assembled the desk without the drawer fronts. Sawed the cleats using the miter box (to get precise angles) to the dimensions of each of the drawer fronts and sanded them down.
She painted the wooden cleats black with two coats and stapled the cane directly to the drawer fronts. Once the cleats were dry, she glued them into place on the drawer fronts and fixed them with clamps while they dried overnight. Finally, she screwed the new gold handles behind the cleats for a total transformation!
9. Hide mud room mess with a brilliant BILLY bookcase hack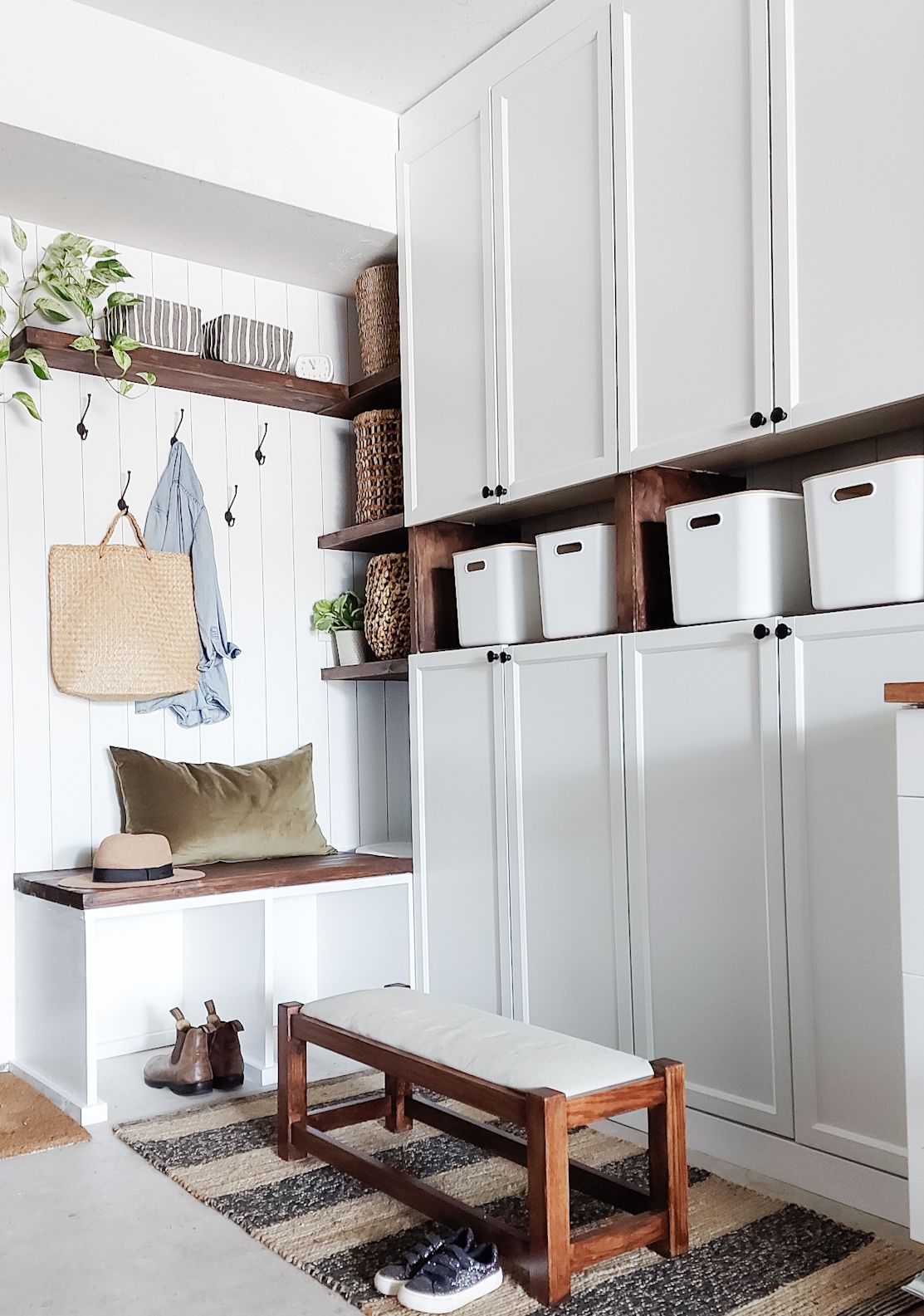 This is another cool and clever creation from DIYer Steph of @henrikjunehome for a small laundry room and mud room . Aside from looking like it was fitted by a high-end design showroom for 000's, it cost Steph only $60 to build.
She fitted height extenders above the shelves (cut to size) for more storage, then fixed eight Oxberg doors. Steph built floating shelves to the left with 1/2" plywood for the top, 1/4" for the bottom, and 1x2s for the support pieces and trim.
She fitted the back bracket first using wall anchors, 3.5" wood screws, and studs, then supports either side and in the middle, then the top, bottom, and front panels. Finally, filled any gaps with wood filler.
Steph glued scrap plywood panels to the cubby holes in the bookcase, clamping them into place and finishing them (and the shelves) with wood stain. She added panels to the top of the bookcase for a fitted floor-to-ceiling look. As well as nailing off cuts and pine moldings to the sides of the bookcase to hide the gap from the wall and for a smart finish.
Finally, she built another floating shelf and a bench to the left of the cabinets.
10. Create a new sideboard using KALLAX doors
Home renovator Emma-Jo Woollin of @mysecrethouseaccount turned her KALLAX from lackluster to a great IKEA dresser hack for the entryway.
She used the KALLAX doors for her fluted credenza idea and added molding. 'We used half-round pine molding and cut them to size (8.6 inches) using a chop saw to cover each door, using sandpaper to file the edges,' she explains. She then attached them to the doors with No Nails glue.
To contrast the white walls in her lofty living room, she used a KALLAX door 'to get a color match service, mixing the paint the same color as the unit,' she says. 'I gave the doors three coats of color.' Finally, she used gold handles and matching feet from Amazon, to raise the credenza off the floor.
11. Revamp a vase with Luftmassa lampshade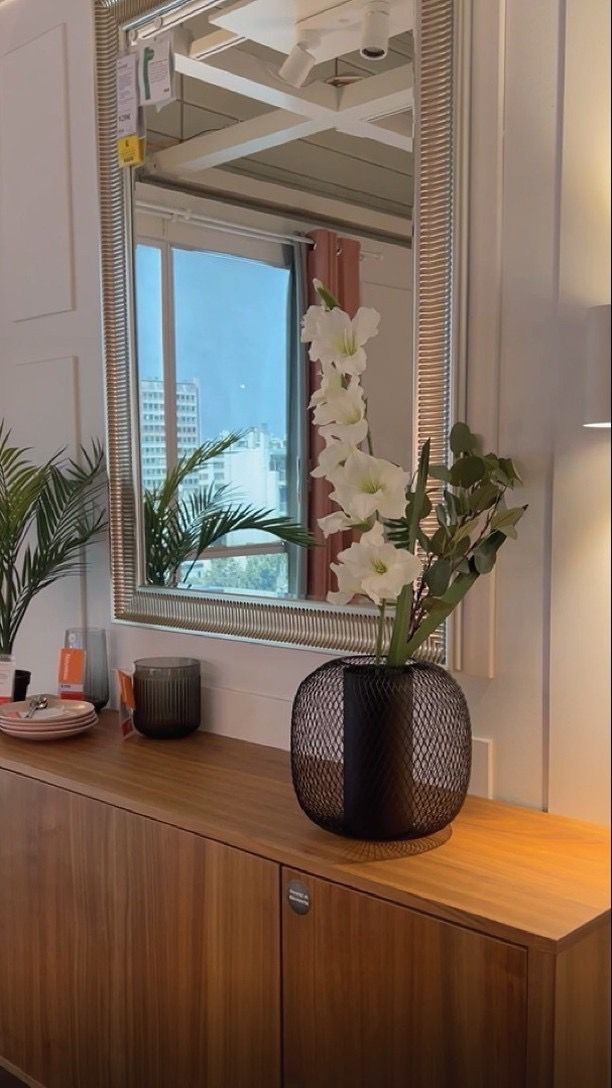 Give flowers and foliage a beautiful boost with an IKEA statement vase revamp. This one by @ikea.toulouse is so easy to achieve.
The design hacker simply sprayed a glass IKEA cylinder vase with matt black paint, and let it dry. Then placed it in the center of an IKEA Luftmassa lampshade. Ready for a striking floral display. What could be simpler?
12. Fashion a stylish fireplace surround with OXBERG doors
Home renovator Melanie Boyden of @melaniejadedesign used an Ikea BILLY bookcase hack to create built-in shelving in just a few simple steps.
She bought 15 3/4 inch wide BILLY units, as well as OXBERG doors, an MDF sheet to cut the arch shapes, trim to go around the edges of the bookcases, and strip wood to give the doors their ribbed effect. 'I also used an old worktop from our kitchen as a hearth and a large shelf to act as a mantelpiece,' says Melanie.
She built the BILLY units and bound them together and attached them to the walls. Then she used the MDF sheets to fit the front of the bookcases and took it up to the ceiling for the built-in effect. She measured the recessed panel on the OXBERG doors and cut the strip wood for the ribbed effect. She also fixed skirting boards to the bottom of the cabinets to hide the bottom of the bookcases.
It took her four weeks to complete the entire shelving project; but at a nominal cost.
13. Create an entryway closet with IKEA PAX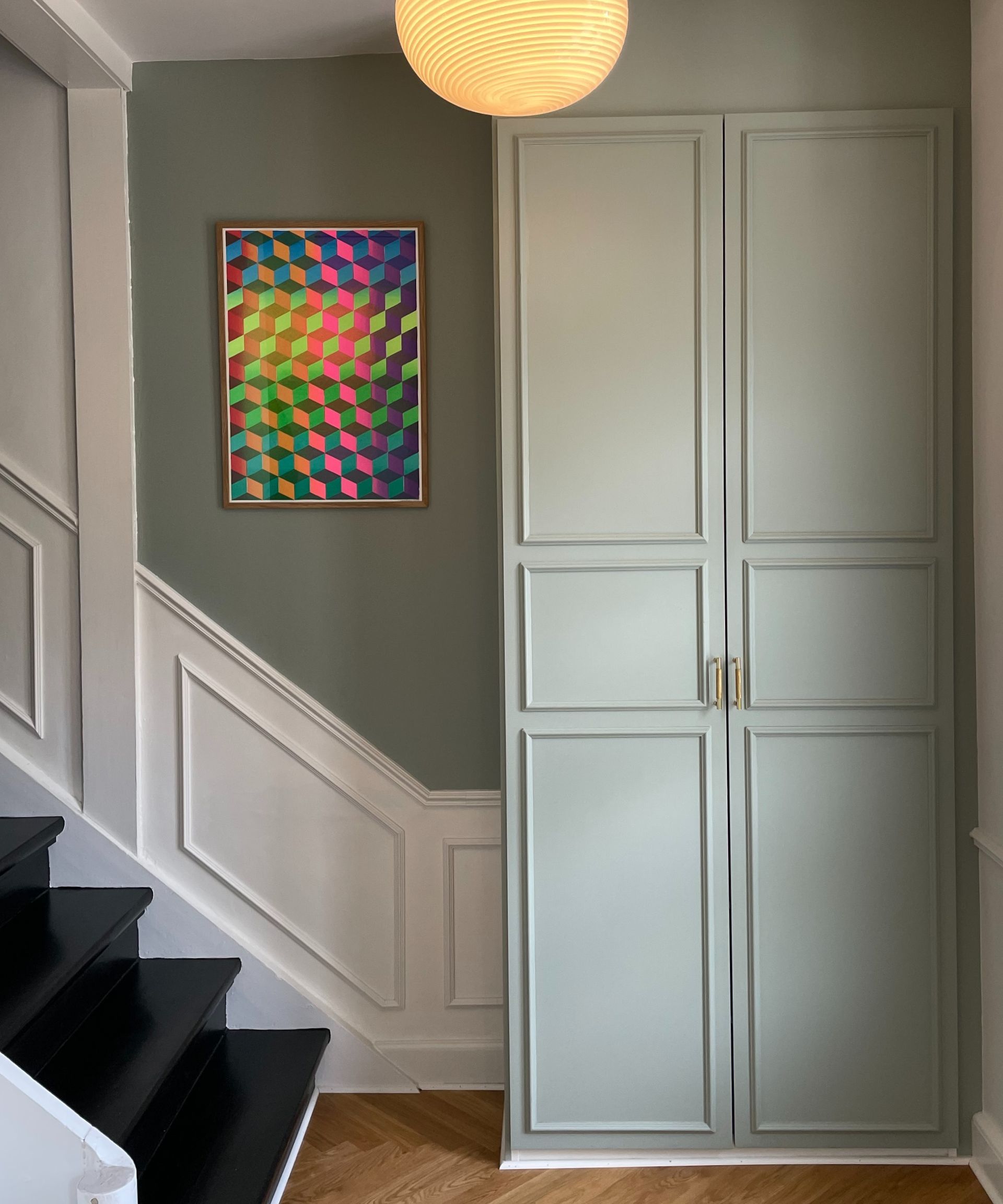 'I transformed our messy hallway with a mint green IKEA hack,' says Danish designer Line Dupont. Before the renovation, the hallway was a darker space, paved with wood on the walls and the roof.
The entryway lacked an effective storage system – so Line sought help from IKEA's PAX system. However, the transformation didn't end after she assembled the flatpack.
Instead of leaving the PAX as a stand-alone unit, she took her hallway idea a step further by building them into the walls. This gave her a more bespoke look that slots into the first room of her home effortlessly. Then Line added IKEA's FORSAND doors – described as a perfect match to the PAX frames.
'I am so happy with this closet solution, which stores outerwear, shoes, bicycle helmets for a family of five away,' Line says. 'I love do-it-yourself projects, including devising and planning smart cheap solutions that can otherwise be quite expensive.'
14. Update cabinets with BJÖRKÖVIKEN doors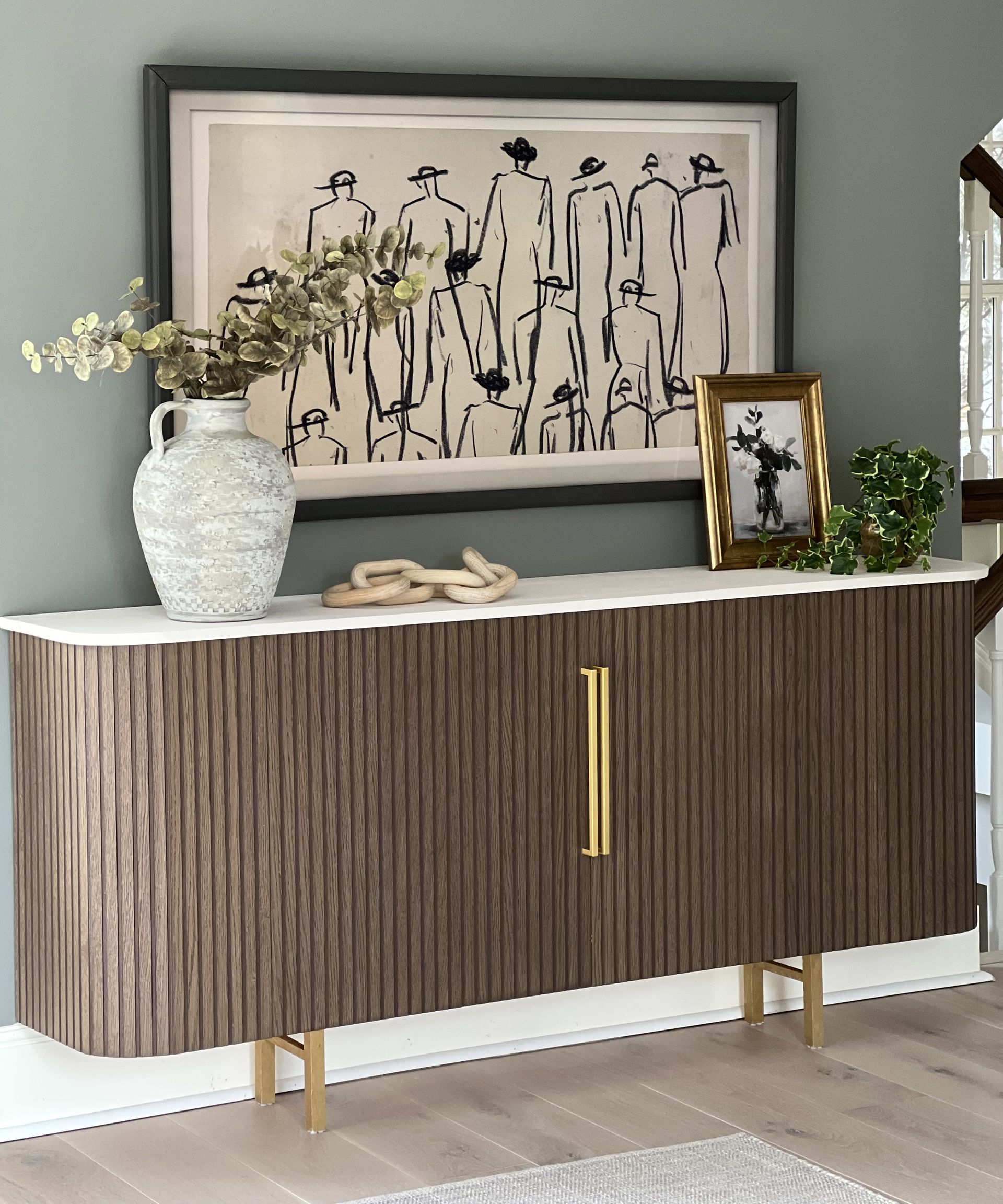 This transformation comes from Annie Williams of @champagne.chaos, an Ohio-based designer who renovated her home in Columbus. Annie was inspired by Arhaus's $3,000 Finnley Media Cabinet – a mixed-material focal point complemented by luxe white marble.
For this Ikea entertainment center hack, she chose the IKEA BJÖRKÖVIKEN cabinet doors 'because they looked so similar to the $3,000 fluted Arhaus media console that I love so much,' Annie says.
'Four IKEA BJÖRKÖVIKEN cabinet doors made up the shell,' Annie says. 'The most difficult part was getting the MDF cabinet doors to curve on the sides, using kerf cuts.' According to the designer, the Kerf cuts were a series of close-together cuts that she made down the back of the wood – almost but not all the way through.
After completing the fluted doors, Annie cut a curved top from the plywood for the top of the unit. She then built platform legs for the bottom and painted both. 'I also attached to studs for added support since the piece is heavy,' Annie adds.
15. Turn an IKEA Pax into a sophisticated dressing room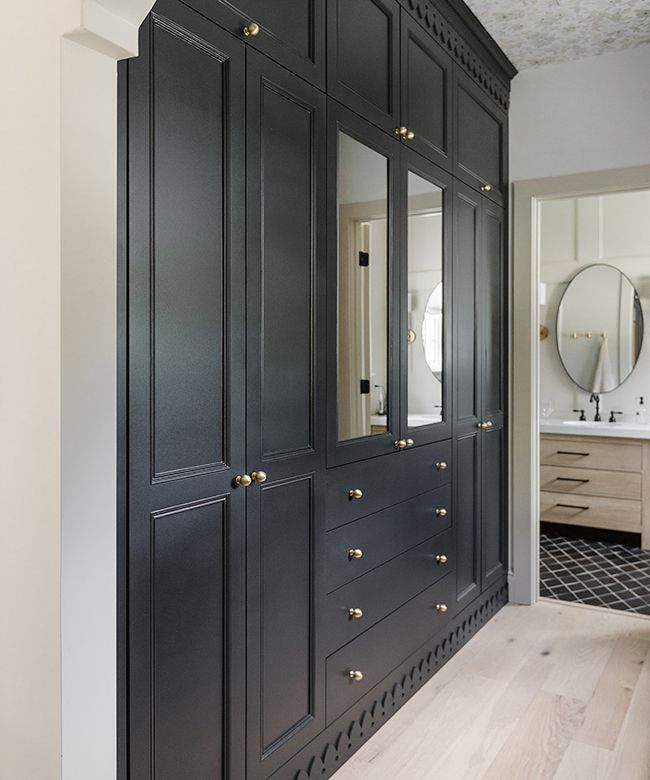 This project is by Jenna Sue of Jenna Sue Design Co, who has transformed her conventional closet into a fashionable boudoir that is only fitting for a French country cottage-style home.
'If you only take away one thing from this project, let it be this trick. Build your cabinets up to the ceiling, use crown molding, and make your ceiling a focal point,' says Jenna. 'You will be amazed at the difference it makes.'
Jenna painted the PAX in Benjamin Moore's Advance in Onyx (satin) before painting the surrounding walls in Sherwin Williams's Alabaster (flat) and the trim in Accessible Beige (semi-gloss).
After completing the installation and painting, Jenna further individualized the units by using unique trim pieces from Ekena Millwork. 'Hardware choice is also important, as it's the 'jewelry' that dresses up the space,' Jenna says. She chose to dress the space with brass accents that create a contrast against the unit's rich dark hues.
Jenna adds that her small bedroom storage secret will accentuate the size of your space – especially if you install the molding up to the ceiling as seen below. The designer notes that your eyes follow the units upwards, thus making the 9'4″ ceilings 'feel a foot taller.'
16. Add kitchen cabinets in an entryway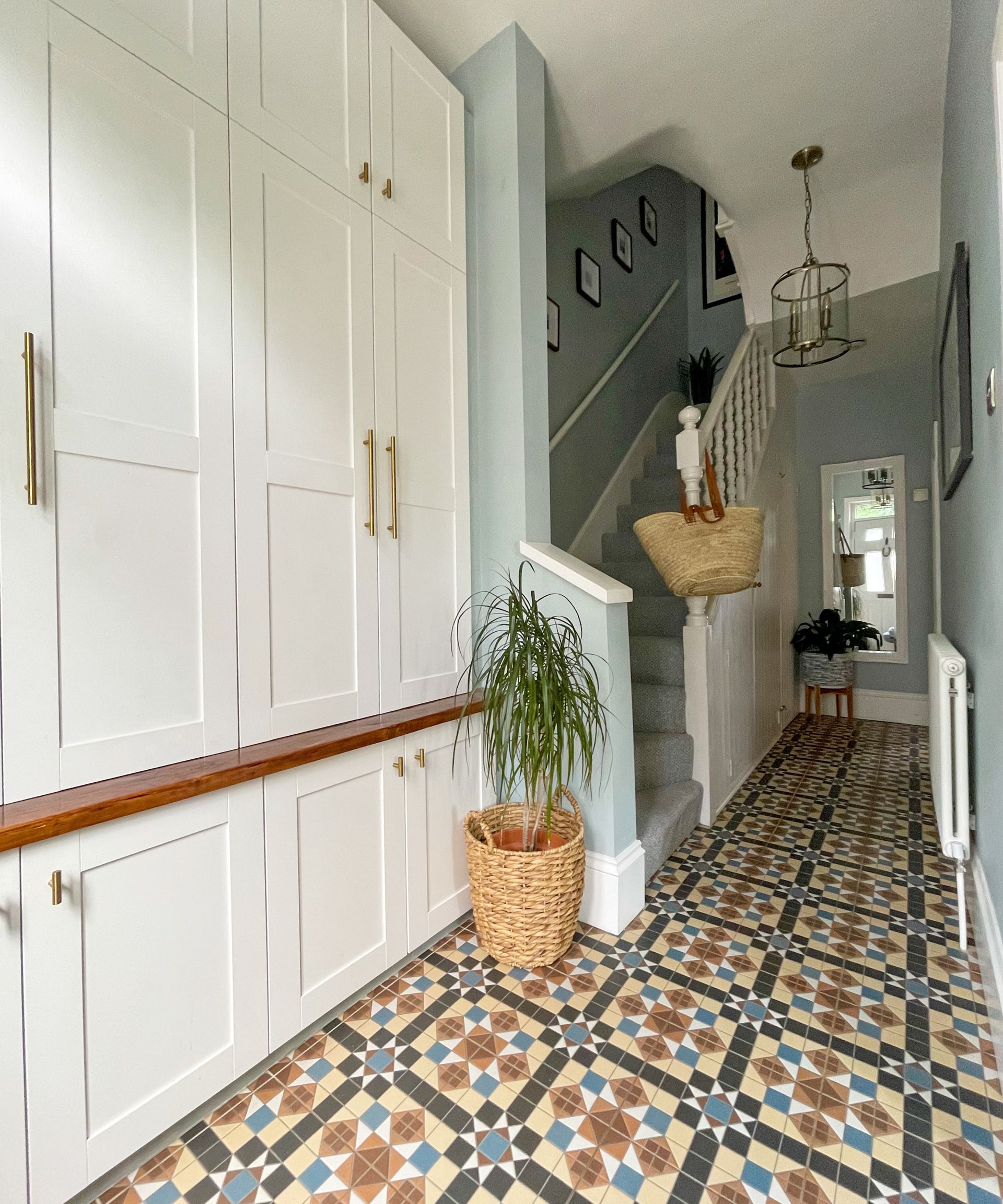 Sophia Hardy of @sophia.at.home, used IKEA kitchen cupboards to create chic coat and hallway shoe storage cabinet.
'We knew we wanted built-in storage in our entryway, so when the time came to renovate, we had a few quotes from local carpenters for some cabinets to be built - these were way out of budget,' Sophia explained.
The designer sketched out what she wanted the storage to look like – most primarily; she wanted four doors to accommodate the four people in her home. She also wanted additional shoe storage and planned to maximize the historic high ceilings by building up by 10 feet.
Sophia used 12 wall cabinets in total – before setting up the lower four to create a ledge. She then chose shaker-style doors with low, closed hinges and ordered the minimalist golden handles separately. The designer also added timber on either side of the cabinets to ensure they remain in place.
17. Display your objects proudly on an Ikea BILLY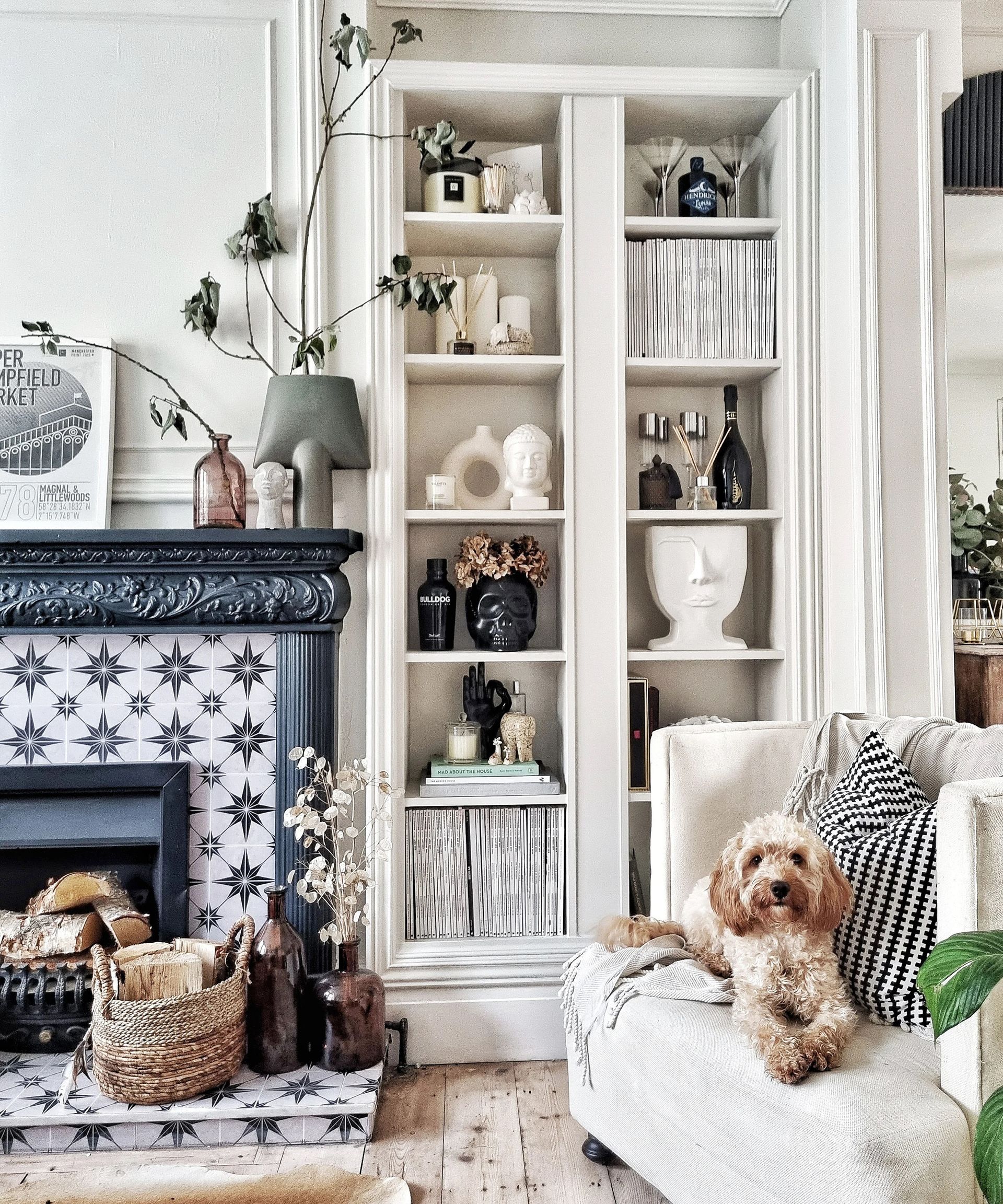 This clever idea is courtesy of Liz of @prettyprospectcottage, who used BILLY bookcases to create a built-in alcove that stands as an exhibition space in her cozy living room.
Using two slim BILLY bookcases, Liz created a raised platform at skirting board height from CLS timber (screwed securely into the back wall) and a piece of MDF. This was for the units to stand upon. 'I [then] put the bookcases on top and fixed them to the wall with small blocks of CLS timber and metal brackets,' she adds.
To emphasize the 'built-in' style, Liz then made a frame surround for the units using molding that matched the paneling details elsewhere in the room. 'I added a piece of skirting board along the front bottom edge and had a strip of timber cut to fit the gap in the middle,' she explains.
Once the units were in place and prepared for painting, Liz finished with a coat of matt varnish.

18. Create symmetrical display cases out of HAVSTA cabinets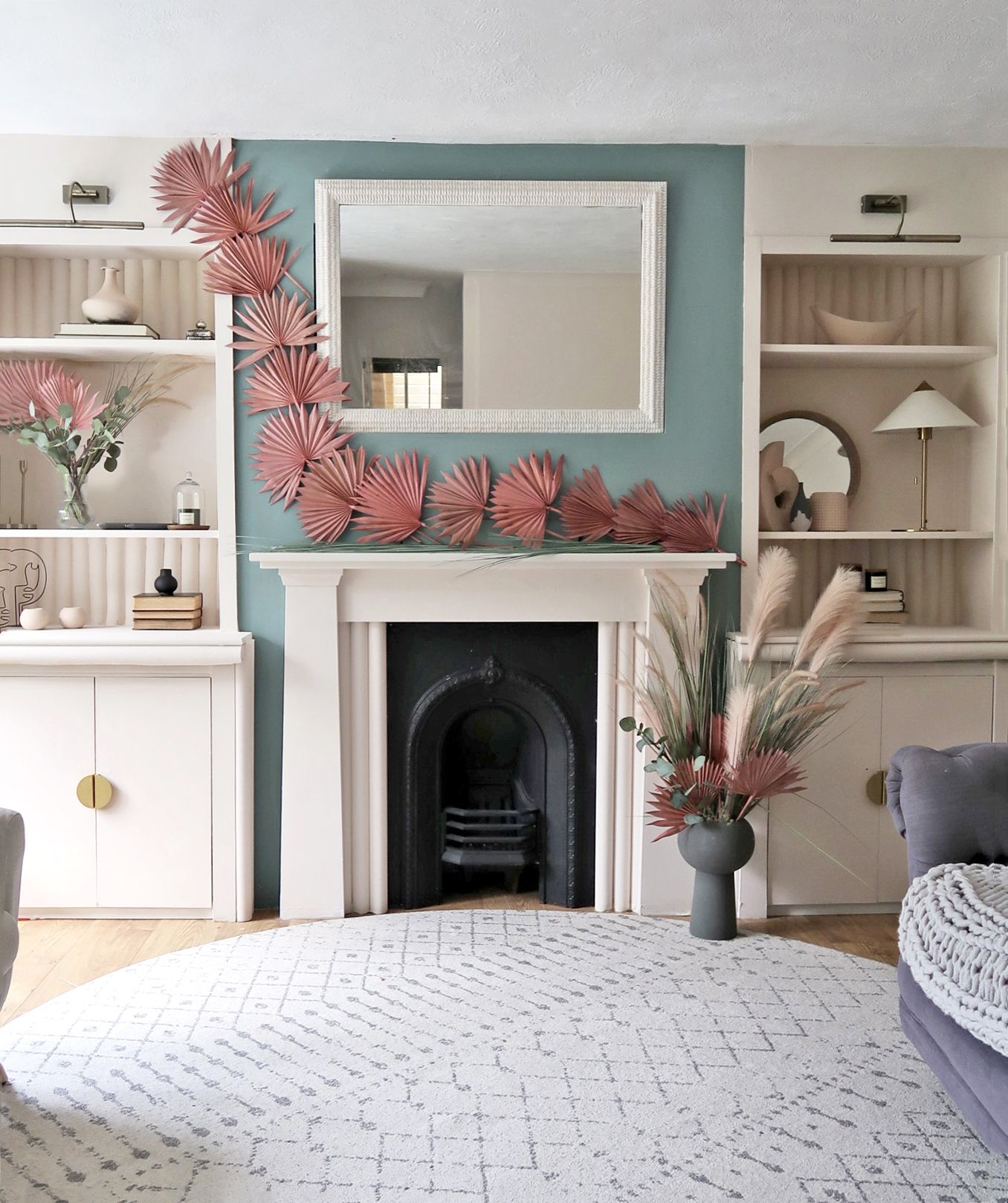 Designer Claire Douglas renovated her living room by customizing the HAVSTA cabinet. 'I wanted the larger section in the middle of the unit, so I decided to move the central, structural shelf. This was easy to do and just required a couple of new drill holes,' Claire explains.
She built and attached her frame to the MDF panel to add both units to the wall. The designer then added an MDF panel to cover the gap between the top of the units and the ceiling – to emphasize the bespoke aesthetic.
She then added lights by attaching the frames of the units with screws and a piece of wood to the ceiling to ensure they were sturdy.
Once Claire had completed the main structure, she added more MDF strips around the edges of the unit. 'This gave the appearance of thicker wood on the unit and allowed me to balance out the width difference between the top and bottom units,' she says.
As with every great IKEA furniture hack, Claire decided to change the HAVSTA's handles. In this case, she used some half-moon-shaped handles that elevated her unit further.
19. Make a cool apothecary cabinet with IKEA MOPPE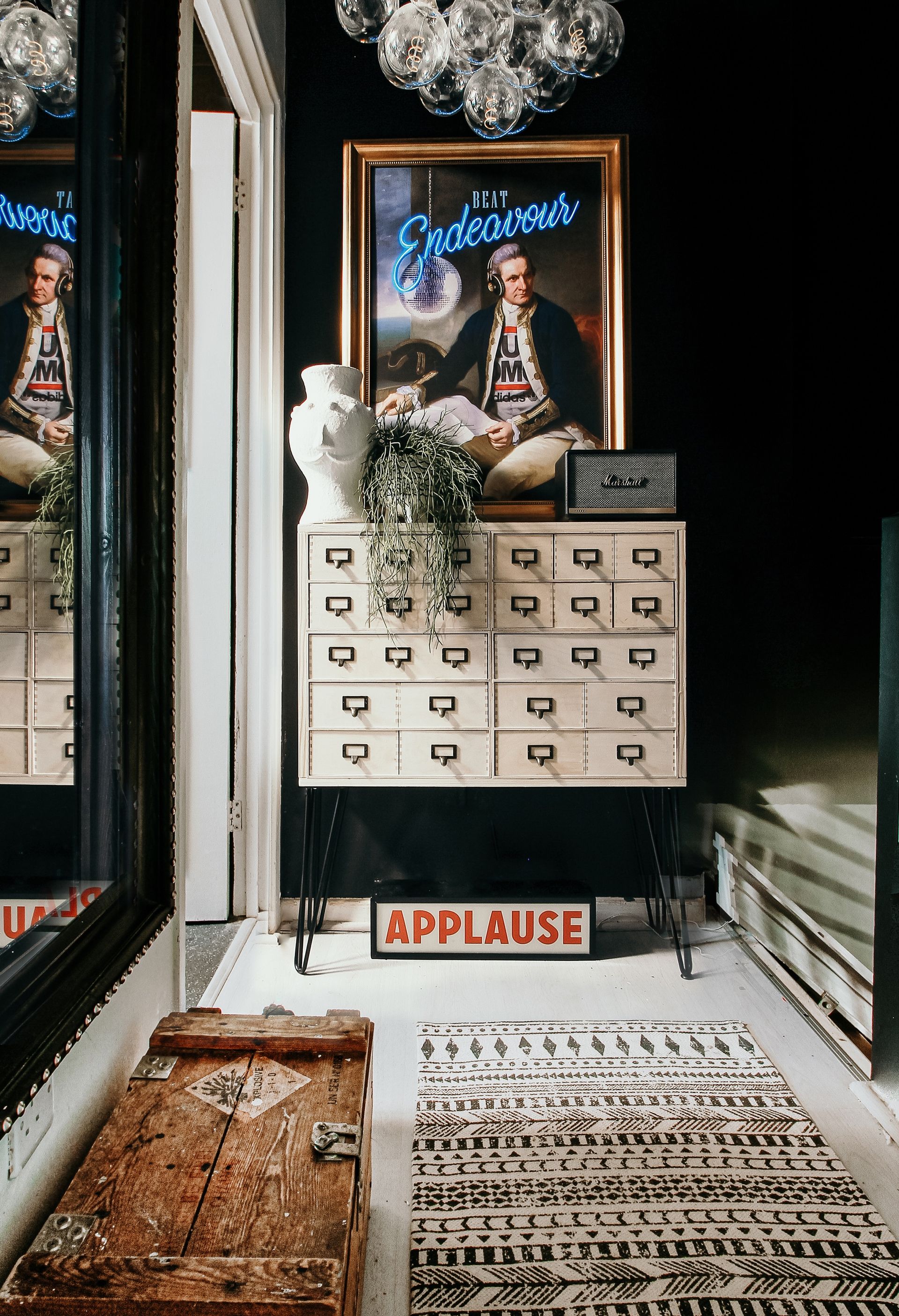 The unassuming mini MOPPE drawers are perfect IKEA hack fodder. Get creative like @patirobins and make a trendy vintage-style apothecary cabinet for living room storage, made with four mini moppe drawers.
'I trimmed the top row as I wanted the cabinet to look more rectangle, then glued the 4 cabinets using adhesive, framed it with wood, and then attached four hairpin legs,' says Pati. 'I also turned the drawers the other way around so I was able to attach my ow drawer pulls - giving it a library look. You could wax or stain it for a more retro feel.'
20. Design a glamorous bedside table using IKEA HEMNES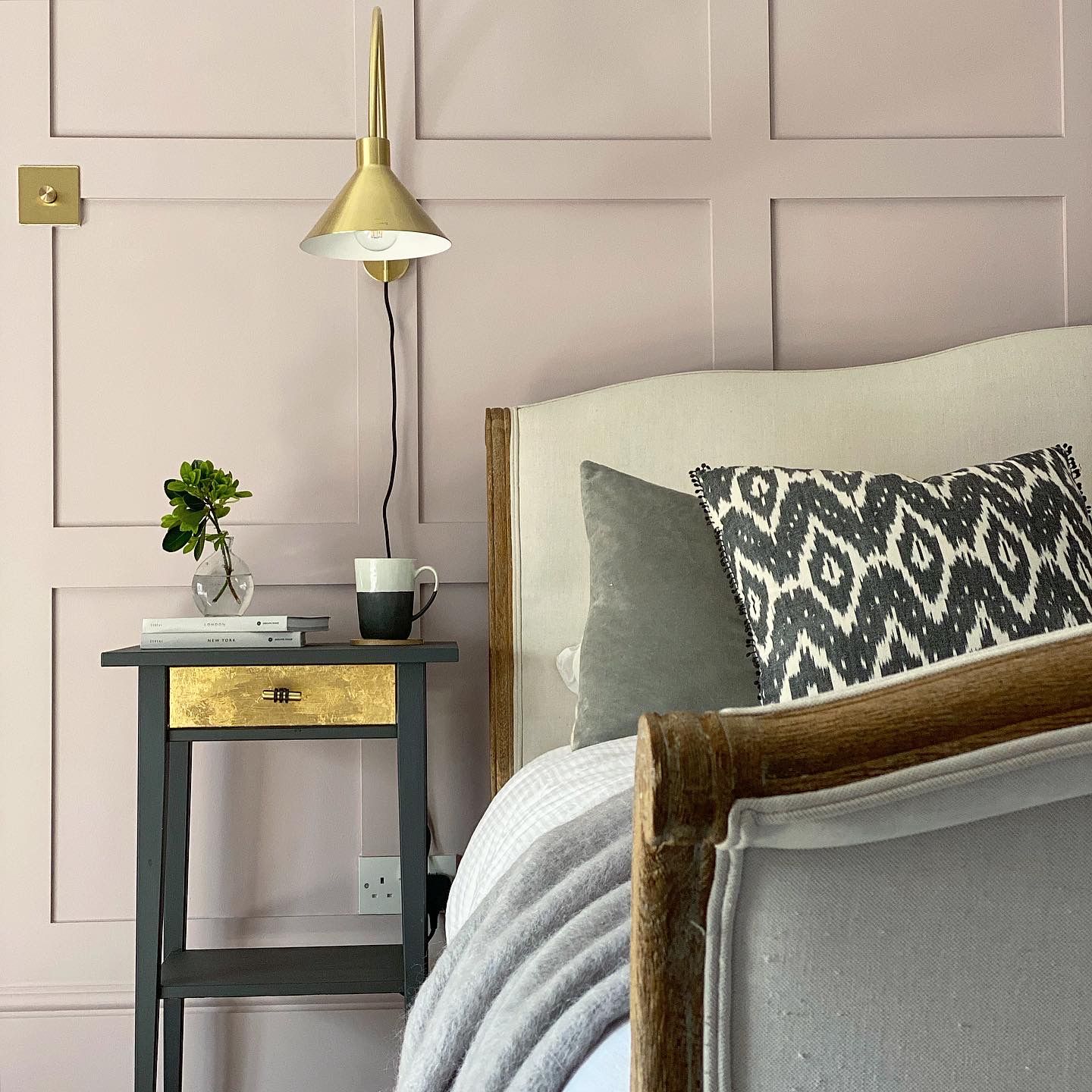 Inject a splash of glamor to your sleep sanctuary with this chic IKEA nightstand hack by Leoma Harper, interior stylist of @styletheclutter.
'During the first lockdown I was on an upcycle mission,' says Leoma. 'These IKEA HEMNES bedside tables ended up being victims of this and now have a completely new look.'
'The new aesthetic was created using primer, followed by two coats of the lovely Fusion Mineral Paint in Ash, some gold leafing on the drawer, and finished off with a new handle from Anthropologie. I love how a new piece of furniture has evolved through this spontaneous paint over.'
21. Fashion a stylish WFH space with IKEA INGO DESK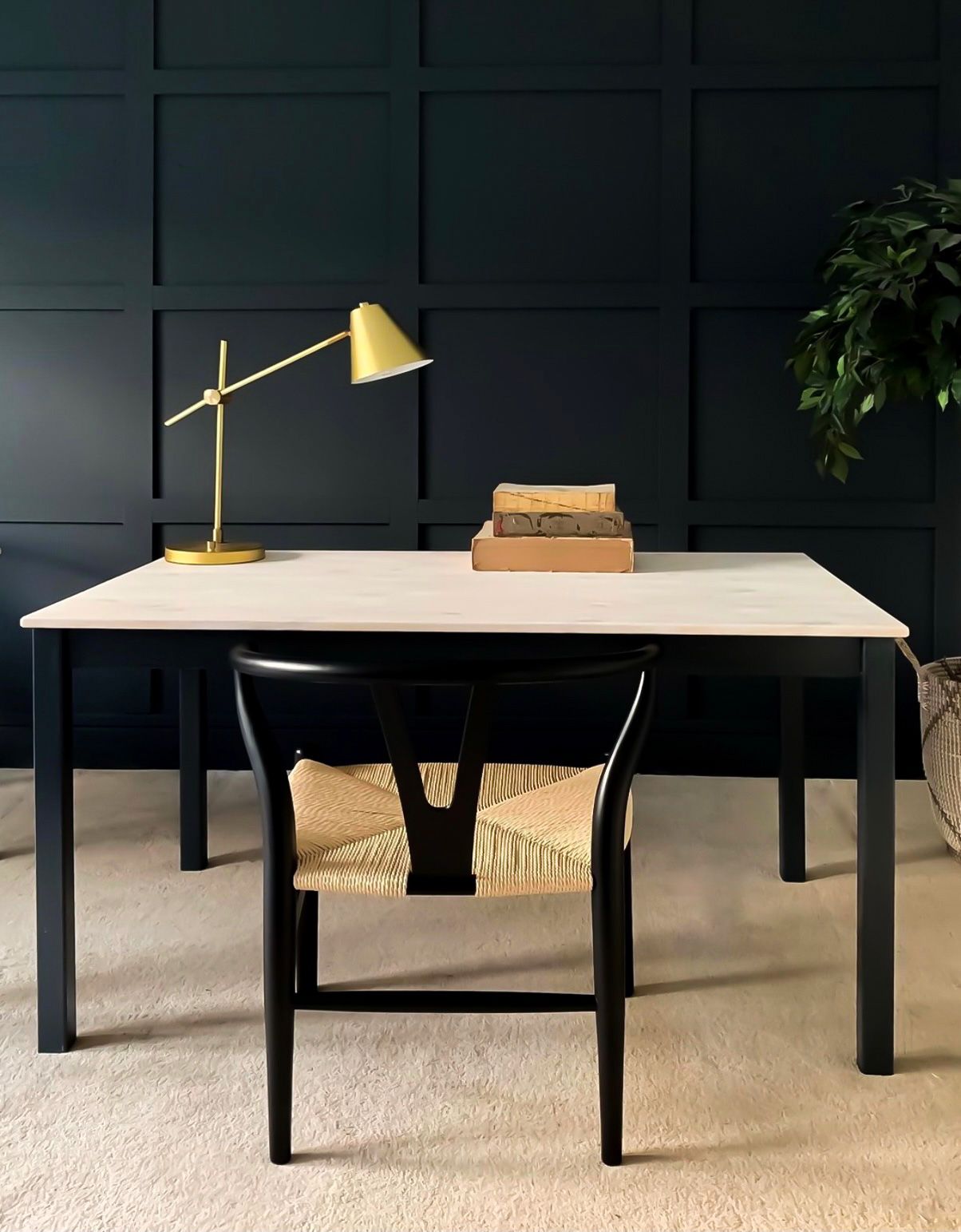 Who'd have thought a small home office could become such a stylish space? The £45 Ingo table has been transformed into a sleek desk perfect for a modern house by Ruth of @mrs_macs_home.
'The INGO is a small dining table but also makes a great size desk,' says Ruth. 'It's also so easy to makeover as it's made in untreated solid pine, so it's perfect for painting/staining etc.'
'I painted the lower base and legs in Farrow & Ball Modern Eggshell in Railings and then lime waxed the top with Liberon liming wax.'
22. Make a built-in shelving unit utilizing IKEA BILLY BOOKCASE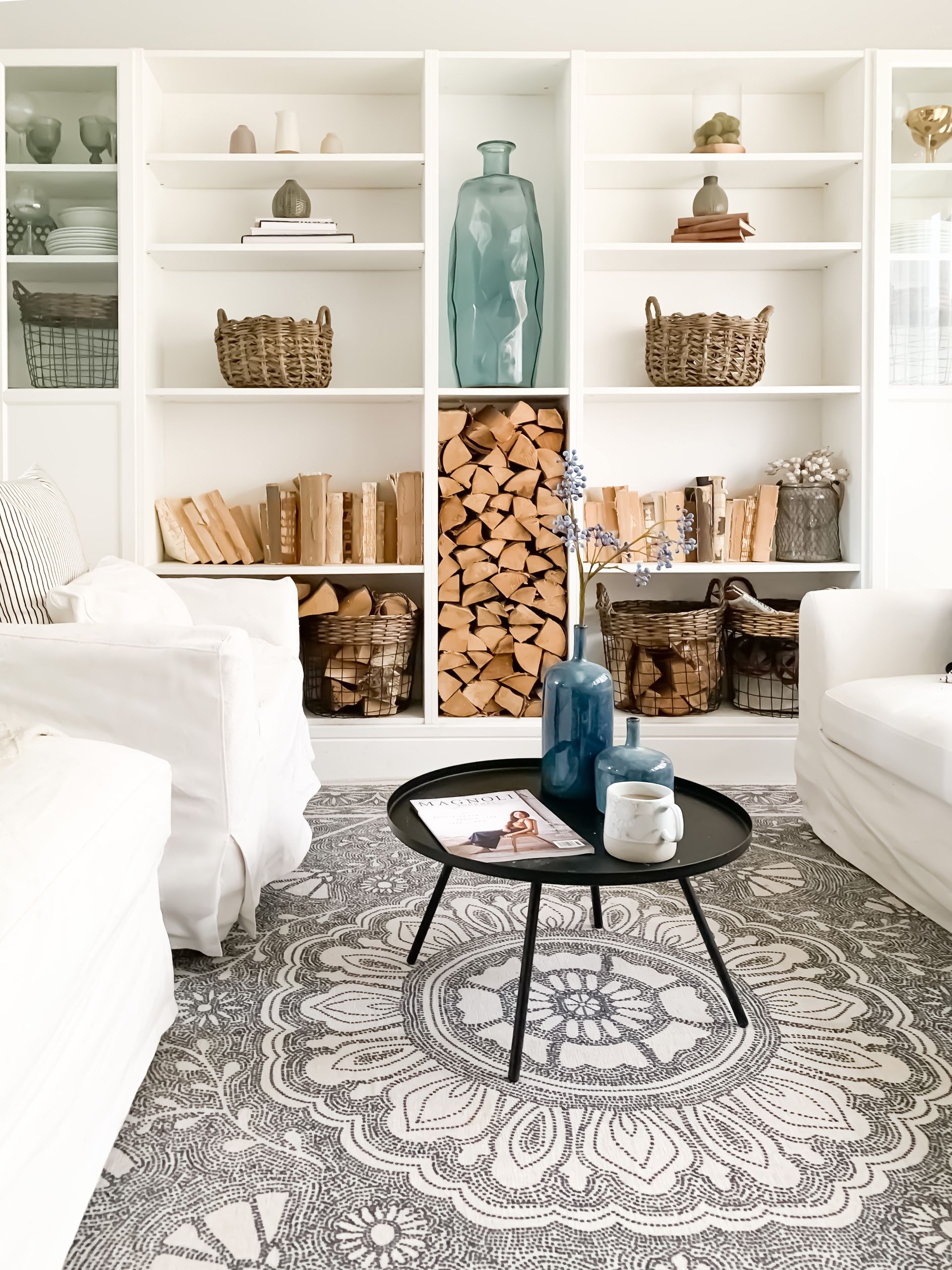 Incidentally, Ruth of @mrs_macs_home has also created an interesting hack with BILLY bookcase.
'We first removed the skirting board so the units could go flush against the wall,' says Ruth. 'We had to raise the bookcases to accommodate the height of the skirting so attached adjustable kitchen plinth feet to each unit.'
'Once all the units were in position and correct height, we glued and screwed the units together and anchored them to the wall. Then simply refitted the skirting board to finish.'
Decorating bookshelves is the easy part. She added books, glassware, oversized bottles, logs, rattan baskets, and objet d'art for a super-chic modern rustic finish.
23. Introduce an elevated nightstand with IKEA RAST DRAWERS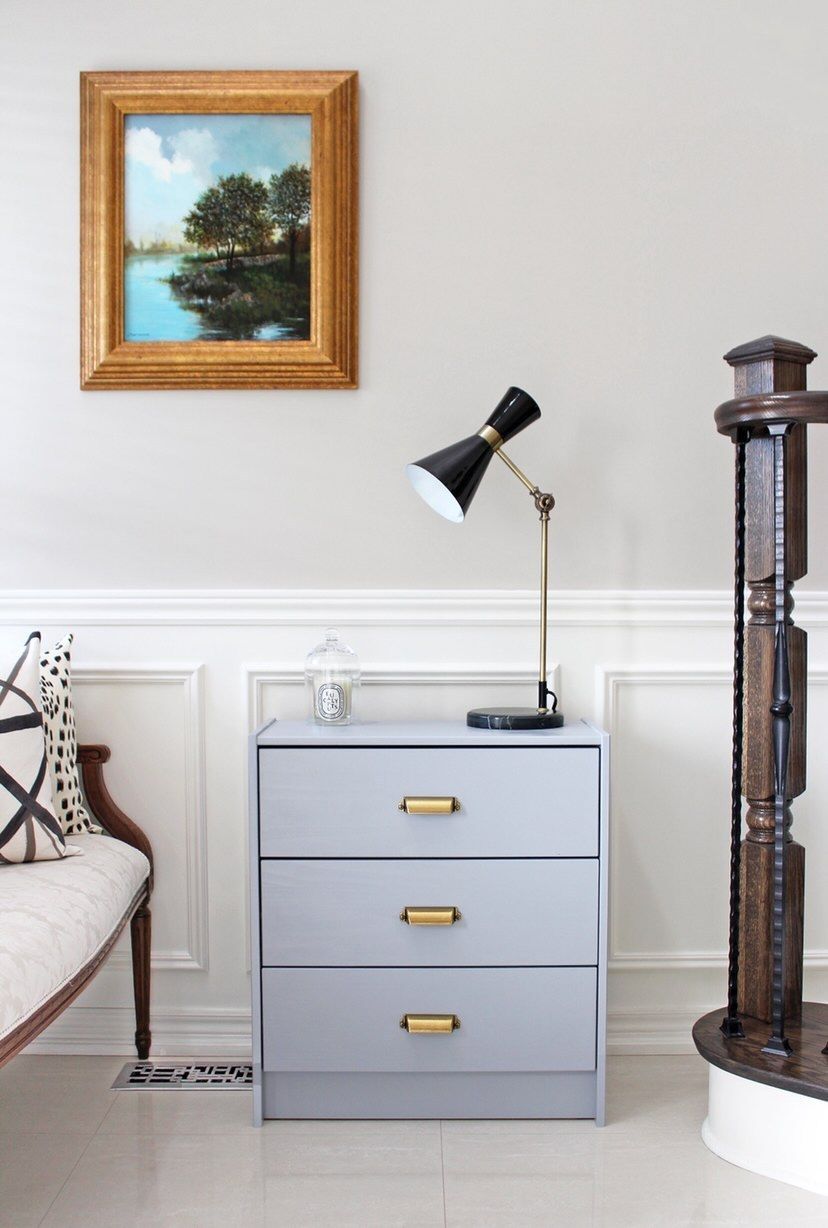 An IKEA RAST chest of drawers hack is so appealing as the plain pine unit is crying out for a lick of paint.
We love how Michelle of @amdolcevita transformed them into a cool, contemporary, best nightstand. 'I'd been searching for stylish nightstands for our cottage master bedroom, but decided to take it upon myself to hack the ever-popular IKEA Rast drawers,' says Michelle. 'I am so in love with them. The paint color is Benjamin Moore's Pigeon Gray, and the brass pin pulls are from Martha Steward via Home Depot.'
24. Give a new media unit a cool Ikea BESTA TV stand hack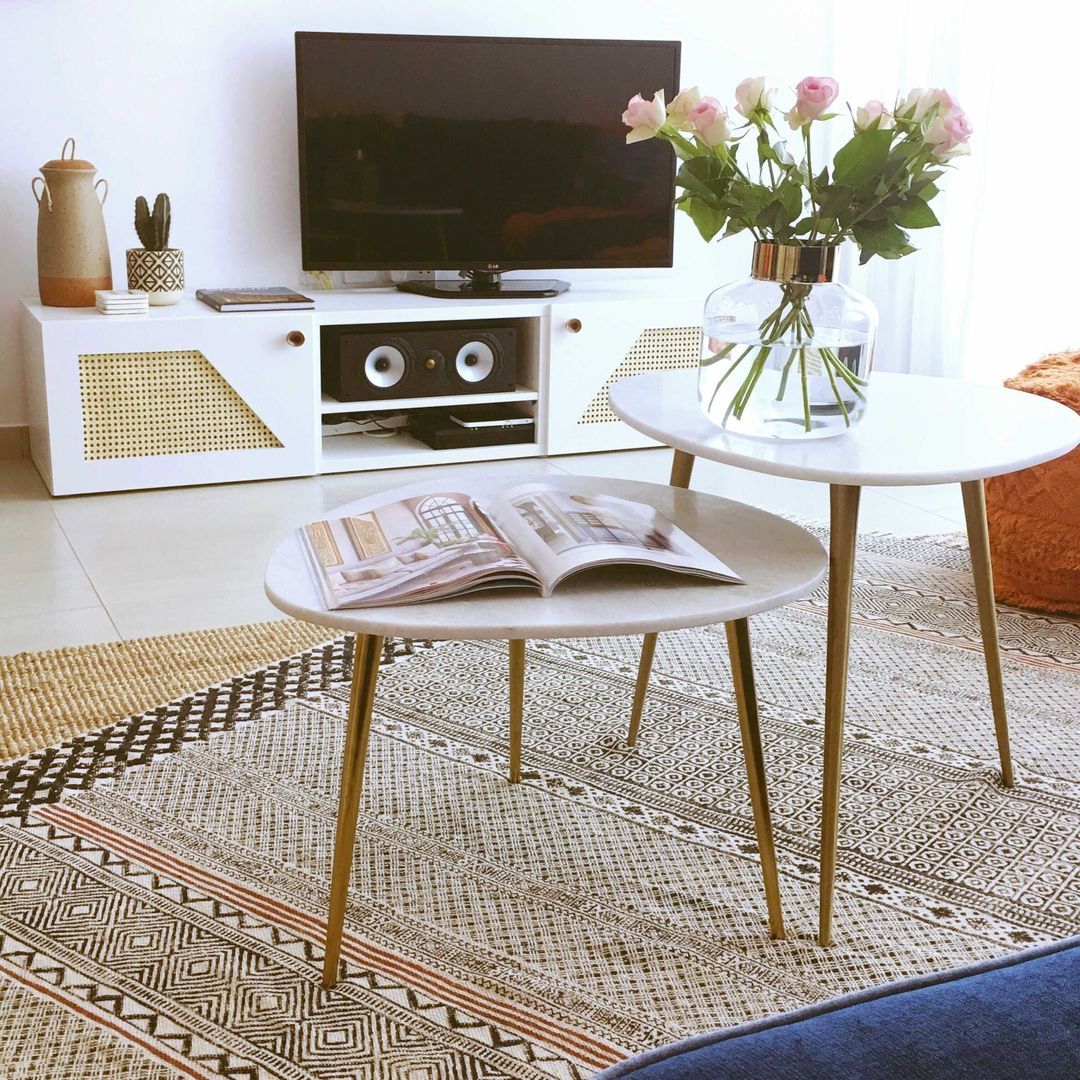 Take your IKEA BESTA TV stand to another level with a hip hack. Kalthouma of @baytkalthoum describes how she turned her BESTA into a showpiece. 'For this IKEA hack, I kept the BESTA doors and had them cut geometrically,' says Kalthouma. 'I had to cover the sides that were cut with lipping for a seamless look.
'I then glued cane on the doors' back and added knobs on the front that I found in Zara Home.' The easiest TV mounting idea!
25. Design a hotel-style bedroom with an IKEA HEMNES chest of drawers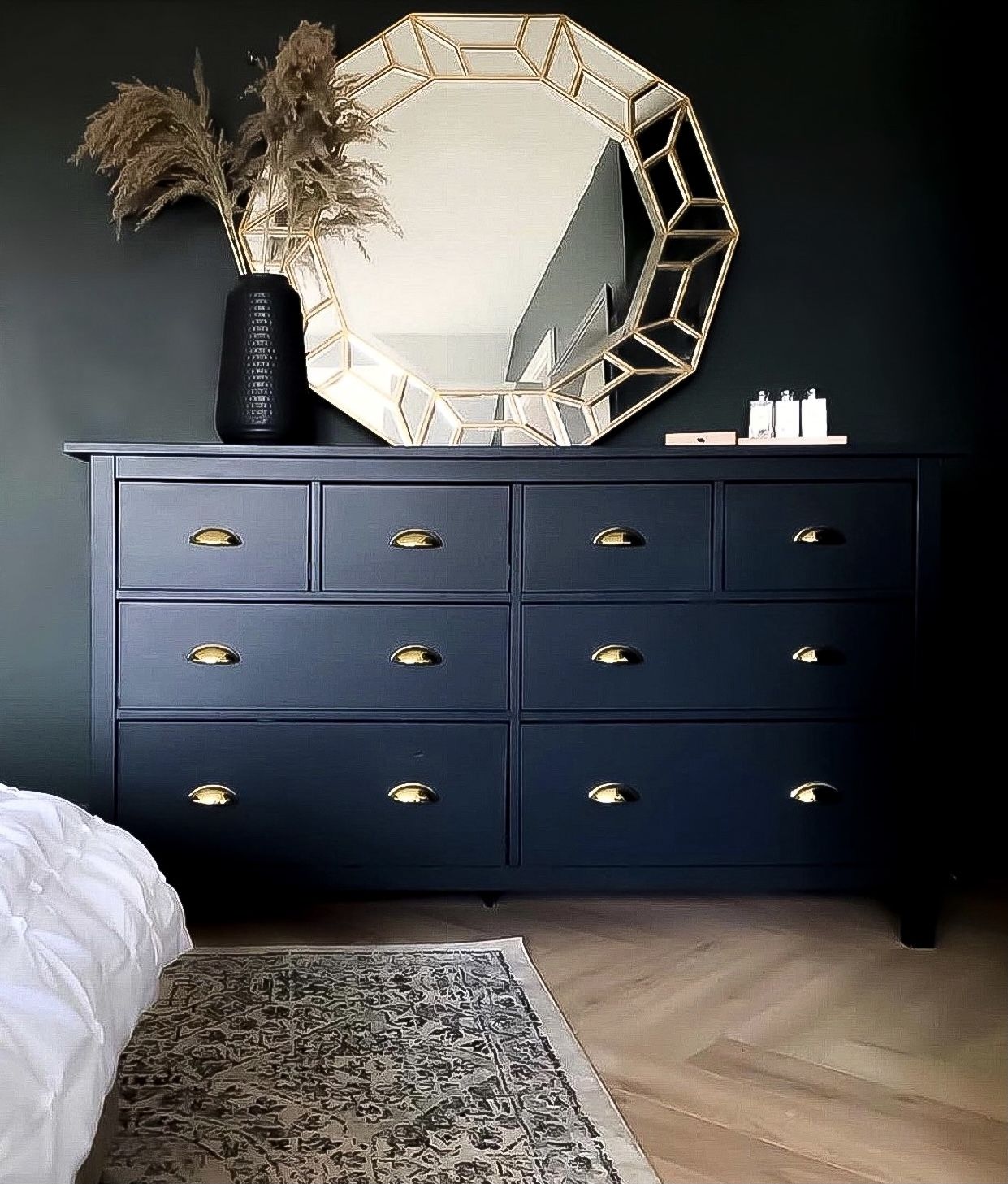 Queen of covetable Ikea hacks @mrs_macs_home hit a home-style run again with the IKEA HEMNES hack, transforming the drawers into a design-led master bedroom piece. And, while it offers a high-end finish, it's super simple and affordable.
'I gave our old HEMNES drawers a makeover with paint and a change of handles,' says Ruth. 'I used Zinsser ALLCOAT which is a paint and primer in one, and I applied with a mini foam roller to give a smooth finish.'
'I found this pack of 12 brass cup handles on Amazon to complete the makeover.'

26. Style a modern planter with IKEA bed slats
Seasoned DIYer Deborah Stubbington of @bangonstyle used a store-bought trellis, a lick of paint, and some old IKEA bed slats to create a modern wooden planter. 'I had to strip off all the webbing and the staples off the bed but once I'd done that, they were the perfect length for a planter,' says Deborah. She used her miter saw to cut the ends of each bed slat. Once she had the four panels to make up the planter, Deborah screwed them all together to form the sides.
To create a base, Deborah bought wider wooden slats from a store and arranged them on one end of her planter, leaving gaps in between for drainage. 'I also added feet to the base of my planter using two offcuts of bed slats to raise it off the floor.' The perfect, most budget-friendly Ikea garden hack!
27. Overhaul your office with this IKEA Hack for Alex drawers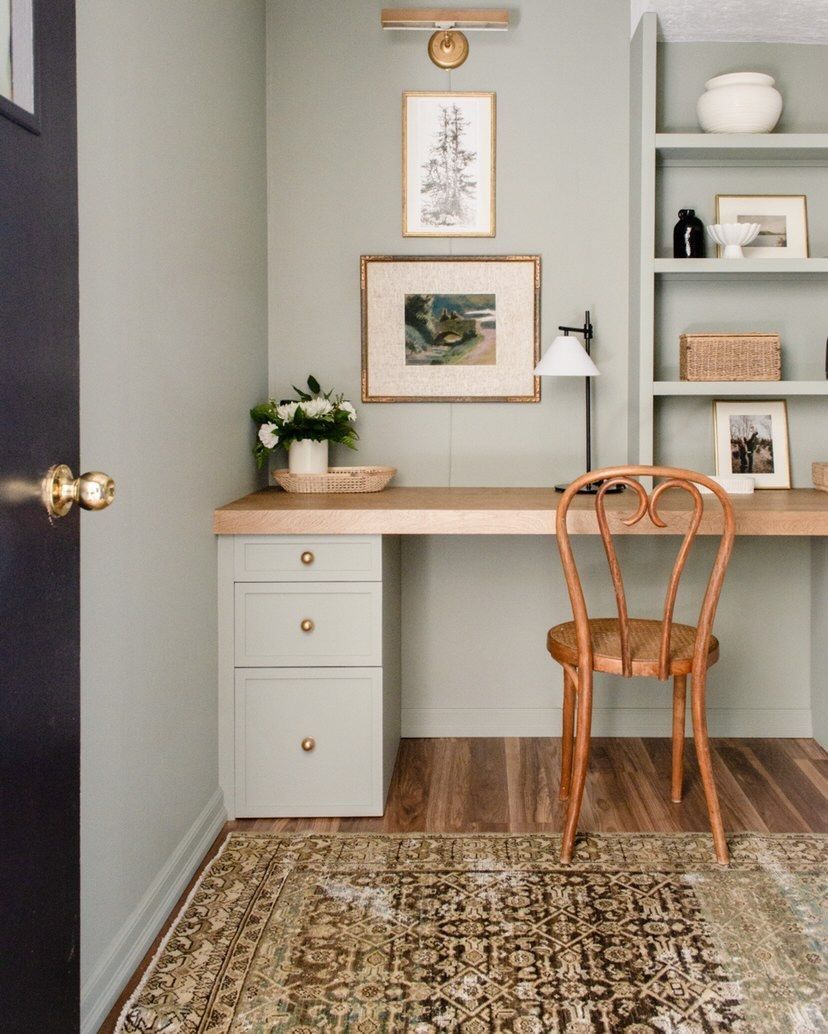 We'd be motivated to start work if our home office looked at this. Instagrammer Jyll Mackie of @jyll_mackie cleverly created an Ikea office idea with some IKEA ALEX drawers into a feed-worthy IKEA desk hack.
So how did she do this IKEA hack? 'I used two ALEX desk drawers as my base,' says Jyll. 'I love the functionality of these drawers, especially with the drop file folder drawer but I'm not a big fan of the look.'
'I used a 2'x4' piece of 1/4" hardboard and cut it down to cover each drawer,' says Jyll. 'I cut strips of the same hardboard to create the 'shaker' style front. I used construction adhesive and clamps to fasten these to the ALEX drawer fronts.
'I primed and painted the whole desk. Once dried I added hardware. I built my desk top out of birch plywood but you could use the desktops from IKEA. The cost of hacking the actual drawers was less than $20 (hardboard + adhesive).'
28. Transform an IKEA BILLY bookcase into a dressing table area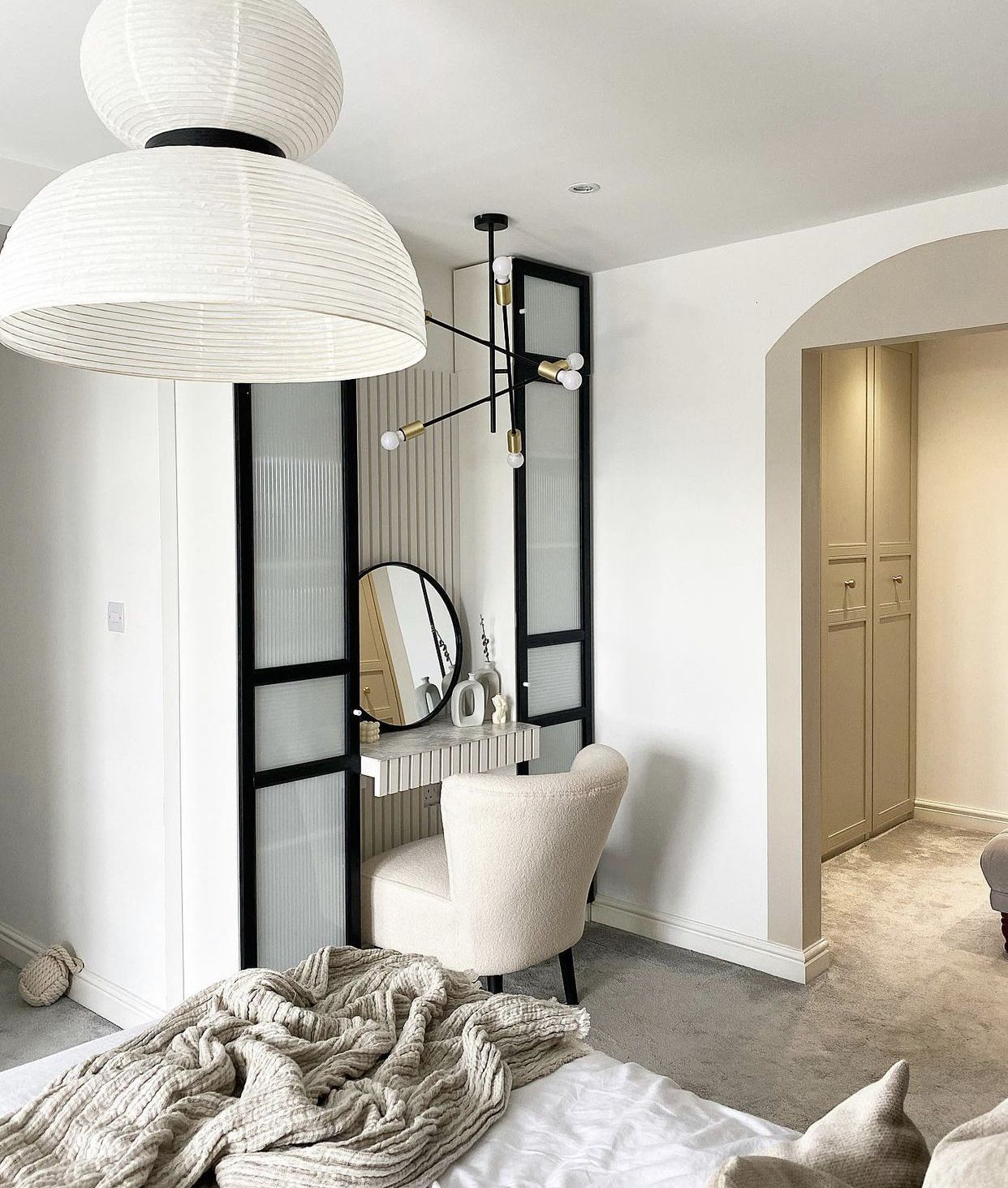 Feel like a film star every time you get ready with this ingenious IKEA Billy bookcase hack by Robyn of @the_house_acc.
She used two BILLY Bookcases and two IKEA OXBERG glass doors to create the ultimate Ikea hack, forming these dresser units. Robyn used Frenchic Paint's Black Jack for the doors before adding reeded adhesive film by Glass Films Europe to create the on-trend fluted glass effect. We're a little starry-eyed over this one.

29. Elevate an IKEA PAX wardrobe with character-rich additions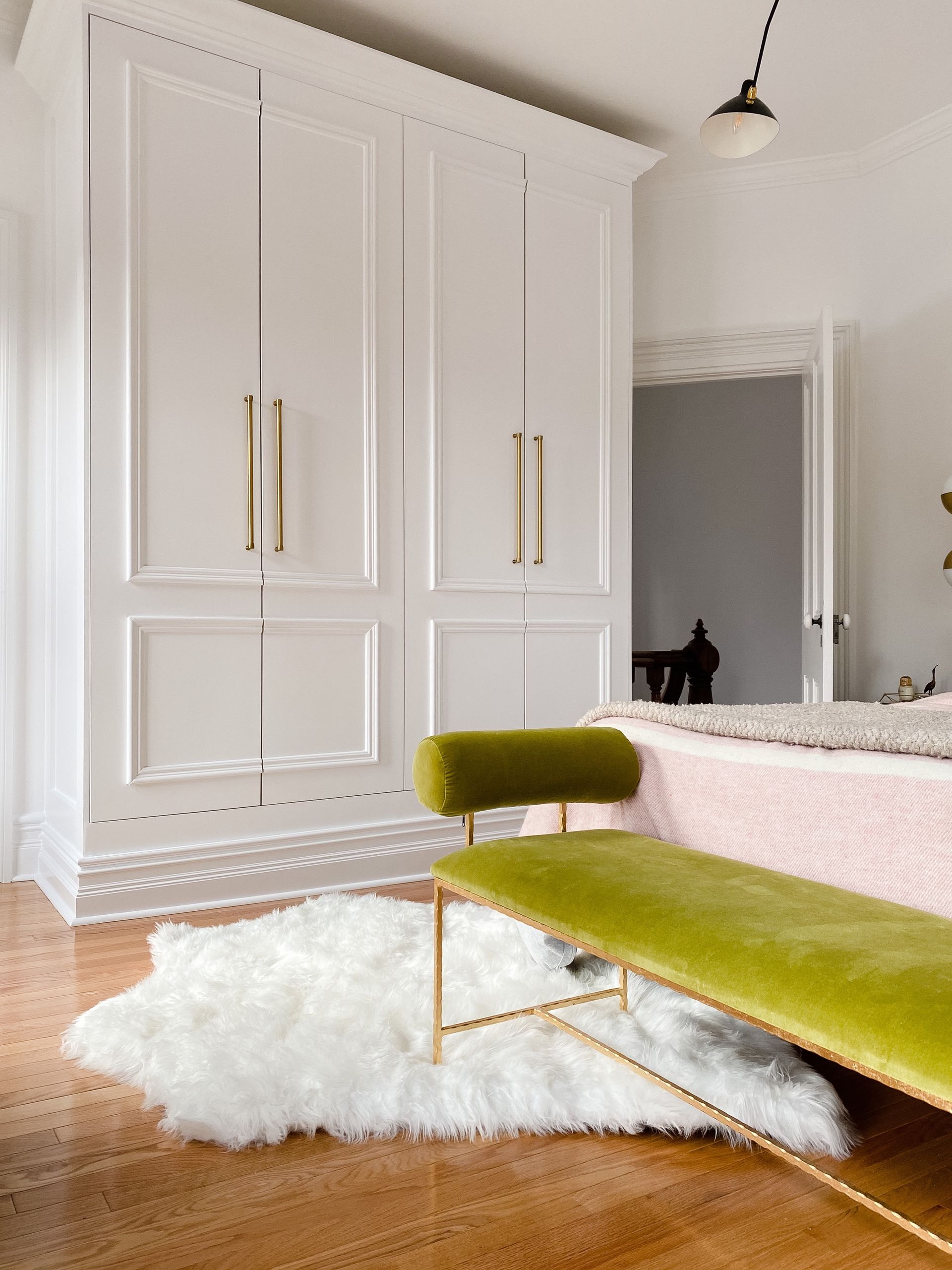 What do you do when the IKEA PAX wardrobe isn't quite grand enough for your glam bedroom? Elevate it with an upscale IKEA hack, of course.
CleverThe clever duo Kevin and Sarah of @readmorehouse did just that. 'When faced with a no-closet master bedroom in our late-1800s Victorian Italianate home, we hacked the IKEA PAX system to create a character-filled, built-in wardrobe system that looks like it was always here,' say Kevin and Sarah.
'We added crown molding , baseboard, and wall trim to match the original profiles in the room, seamlessly blending the wardrobes into the architecture,' share Kevin and Sarah. 'Finally, oversized 18" brass pulls add a touch of modern Victorian luxury.'
30. Create a divine dressing room with an IKEA cabinet frame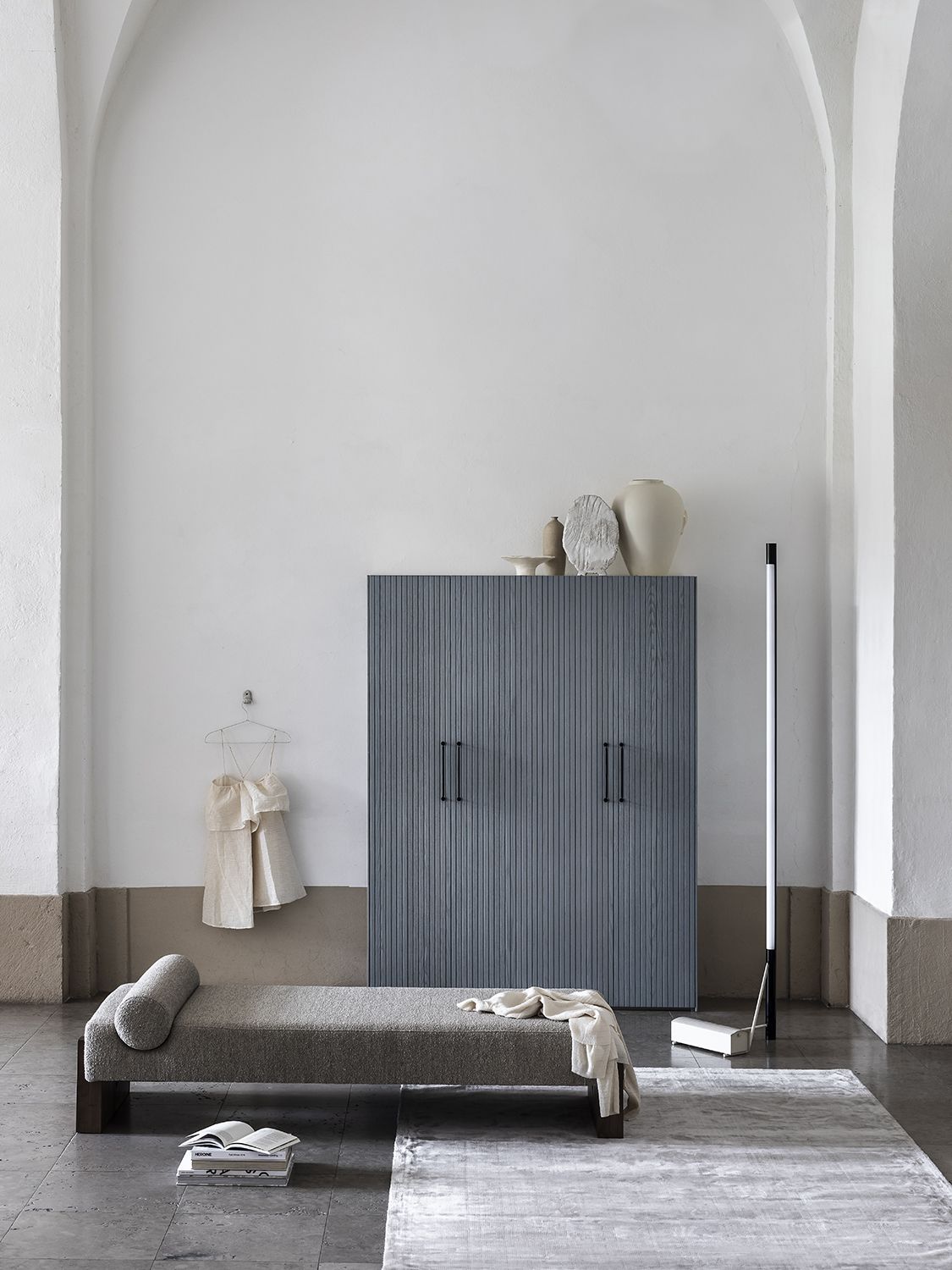 The concept of a dressing room is somewhat of a luxury, but a dressing room with a chic standing wardrobe is something from a higher design realm indeed. Superfront, a company that specializes in the ultimate upcycling of IKEA furniture with its designer door fronts, cabinetry, and hardware, has nailed this dressing room concept. It's an IKEA cabinet frame (which by the way you have to purchase separately) with everything else - brass legs and all - supplied by Superfront.
'For a sophisticated and modern take on a dressing room look no further than Superfront's Parallel collection in cloudy grey,' says Monica Born, co-founder, and CEO of Superfront. 'Available in multiple of sizes to fit a new or existing Ikea unit, Parallel looks great paired with some Pharmacy handles and Slender Low legs in brass for a chic design scheme The simple linear pattern will match a multitude of interior styles and help you create the dressing room of your dreams.'
31. Build a fluted desk with two ALEX units
DIYer Linsey Learmonth of @thedcdiyer decided against buying a stand-alone desk and instead converged on an Ikea hack for her modern home office. She assembled the IKEA ALEX cabinets. 'I sourced real wood paper-backed veneer from The Home Depot that I cut to size and attached to all the sides of the ALEX drawer cabinets with a contact adhesive and then stained them to match the drawers,' says Linsey.
For the drawer fronts, she used fluted trim for the inlay then stained it with Varathane Whitewash followed by Flagstone. She then added some sleek gold budget-friendly drawer pulls from to give the whole thing a high-end feel.
32. Customize built-in shelves with 4 BILLY bookcases
Home renovator Rachael Young of @firsthouseonfinn created shelves with an IKEA shelving hack to transform her front room. 'The room was previously a workspace that I no longer needed,' she says. 'It also wasn't my style and didn't flow with the rest of my home.' She decided to keep the desk, add more seating, and create her DIY shelving for extra storage.
She and her partner assembled one BILLY bookcase unit, to get an ideal spacing between each set of shelves. 'We had to figure out how many bookcases and how many height extensions we would need for our space,' Rachael explains. Between each unit, they installed 2x4s. For a seamless look, they used 1/2 inch MDF for the faces and arches. Once they nailed the arches, the couple reattached the crown molding at the top for a truly built-in appearance. They finally sanded and coated the exterior, and painted the walls, trim, baseboards - everything but the ceiling - in Cinnamon Sugar.
33. Convert BESTA cabinets into sideboard storage