The 10 best IKEA kitchen hacks for a chic space on a budget
These IKEA kitchen hacks will transform the heart of your home into a bespoke retreat without breaking the bank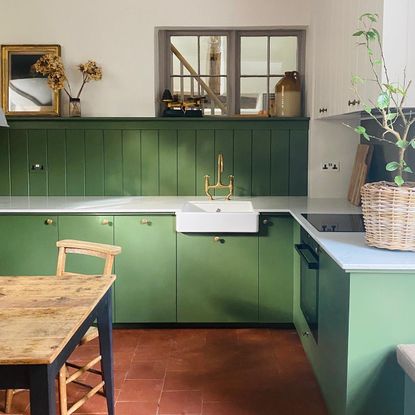 (Image credit: @mytinyestate)
The Livingetc Newsletter
For style leaders and design lovers.
Thank you for signing up to LivingEtc. You will receive a verification email shortly.
There was a problem. Please refresh the page and try again.
These IKEA kitchen hacks will come in very handy when renovating or installing a new kitchen. And, as we spend so much time in our kitchens - for everything from cooking, working to socialising - we all want a chic and stylish space to enjoy that's also unique. The best IKEA hacks ensure you can have a high-end look even if you don't have the budget to match.
Clever couple Dean Poulton and Borja De Maqua are currently renovating a beautiful Georgian home and outbuildings in Warwickshire, and are detailing the process on their inspirational Instagram page @mytinyestate. They sing the praises of using - and hacking - IKEA kitchens.
Borja says: 'Dean and I have had IKEA kitchens in every house we have ever owned. The reason? We are extremely impatient, and going to store and getting everything that you need is very easy. Also, we have always loved the idea that if something breaks for whatever reason, it's very easily replaceable without being as costly as if a kitchen was made bespoke.
'Over the years, we have become more brave at using Ikea carcasses but going a step further and customising the outsides to make it look more high end, so basically hacking it.'
See their beautiful space and other brilliant IKEA kitchen hacks below.
1. Create a beautiful bespoke country kitchen from basic IKEA cabinets
The oldest building on the @mytinyestate is the Caretaker's Cottage, dating back to the 16th century. Dean and Borja used IKEA kitchen base units before turning it into a splendid retreat, it now looks like one of the most successful designer IKEA hacks we've seen.
Borja says: 'We got all the carcasses ready and we then cut 18mm thick MDF to create the doors. We created a very simple design for the doors as we wanted to add panelling to make it look more in keeping with the age of the property.
'Once the doors were cut to the right sizes, we bought an attachment online so we could make the holes for the IKEA hinges and, after some painting and many evenings working, Voila! We made ourselves a kitchen that no one would know is an IKEA kitchen until they open the cupboards. Inside the cupboard we have shelves and drawers from IKEA too (you can't beat their storage solutions).
'We invested in a quartz worktop and the taps and handles, in fact the kitchen tap (from deVOL) cost us more than all the kitchen cupboards put together!'
The beautiful green hue is Jade from Fenwick and Tillbrook and the brass handles are from Yester Home.
2. Make a sleek, tall cupboard with a clever IKEA Ivar hack
Ruth of @mrs_macs_home is a whizz at IKEA storage hacks, and we love her light and bright pantry, which looks far more expensive than it actually was.
She says: 'We used 2 of the larger IVAR pine cabinets to make a worktop pantry for our budget kitchen makeover.
'Once built , we put one on top of the other and screwed them together to secure and then anchored to the wall.
'We then glued on 6mm thick & 90mm wide MDF strips around the front and sides coving to the top and new Shaker-style handles.
'I used Zinsser ALLCOAT colour matched to F&B Cornforth White to paint and match the rest of the kitchen.'
3. Get a Shaker-style kitchen pantry with a cool IKEA Ivar hack
Make doing the laundry a much more pleasant experience with a very cool IKEA Ivar hack from the queen of hacks @mrs_macs_home.
Ruth says: 'We made a kitchen pantry (above) with two cabinets and bought another two to turn into wall cupboards for our utility makeover.

'Once assembled we attached to the wall with heavy duty hollow wall anchors. These cabinets are heavy so, if mounted, you need to make sure they're well secured.

'Then we added 6mm thick x 90mm wide MDF panels to create Shaker-style doors. The MDF also hides all the screws and the gap in the door.

'I then painted in Zinsser ALLCOAT and added the same handles we used in our kitchen makeover from @morehandles.'
4. Fashion a beautiful kitchen island from IKEA base units
Blogger Ananda created the most beautiful kitchen island with IKEA base cabinets, coming up with these brilliant modern kitchen ideas along the way.
She used IKEA Grimslov doors and spray-painted it in Sherwin Williams Emerald latex paint. She added four wooden legs onto each corner with castor wheels to make it portable.
She then added gold hardware, a gold towel rail and brushed gold S hooks to hang pots and pans. Oh-so-pretty. See exactly how she did it in detail at apieceofrainbow.com.
5. Breathe life into a tired kitchen with a stylish Ikea cabinetry hack
Mindy O'Connor, of Melinda Kelson O'Connor Design, used the IKEA Abstrakt Gray Gloss to give an old kitchen new life, one of the simplest IKEA kitchen hacks to follow.
'We inherited a kitchen that had been constructed pretty recently prior to our renovation,' Mindy explains. 'We did not want to waste the existing cabinetry, but needed both a new look and new layout. We reused as many of the Ikea boxes/frames as we could from the kitchen to be positioned under the island and the long run of lower perimeter cabinetry.
'We added new glossy grey IKEA face panels to them, incorporating them into a totally updated design. It saved money and resources, and we then could put more funds into the fully custom ceiling panels, custom wood cabinetry on the ends of the room to house the appliances, and the mitred marble countertop. It is an elegant modern custom kitchen with about half the cabinets reused from IKEA.'
6. Mix and match, with an IKEA EKBAKEN worktop
Want to work a hack that's discrete and a little bit 'design trickery'? Take notes, now. Medina Grillo is the designer and Instagram influencer behind @grillodesigns - a feed which is jam-packed with amazing decor tricks and tips for modern living. A lot of the ideas and advice is 'budget friendly', but don't for a second think that this then compromises the style factor. Medina makes sure that it doesn't. Her wonderful work on this recent kitchen install proves that by weaving in a subtle Ikea hack you can bring a kitchen project in on budget, and looking every bit high-end chic. There's nothing immediately Ikea about this kitchen which is maybe why it's such a swarve hack. It's the worktop, by the way. Medina has opted for the Ikea EKBACKEN marble-effect worktop which is laminated.
You get the marble look and style, but without the hassle of trying to avoid (or clean up) those pesky red wine spills. The hint of marble really elevates the feel of this space and blends beautifully with the rich cabinetry and classic black and white tiled floor. A genius kitchen hack. Sssshhh, just don't tell anyone. They'll never know!
7. Create a dreamy kitchen pantry, with an IKEA VINTAGE wardrobe
Normally a design piece reserved for those with a healthy bespoke kitchen budget, we're somewhat astounded by the intelligent repurposing of this freestanding Ikea VINTAGE wardrobe. Really though, would you have ever known? Sarah, of thesarahchallenge.com, is the mastermind behind this hack.
'I immediately knew I would have to be creative instead of hunting for the perfect cabinet.' Sarah says. 'With the move, money was too tight to fork out £500-1500 on a piece of furniture as we were in need of new appliances. On the list of priorities, a washing machine and dishwasher handily outranked a cabinet, no matter how beautiful. I even searched for second hand cupboards, but found the ones I liked were still out of our price range,' says Sarah. 'With a limited budget, my mind immediately went to an old pine IKEA cupboard my husband received second hand many years ago – it's so old I couldn't even find what the product name was.'
'We had flat packed it into the attic at our old house once we had a built-in closet installed – so it hadn't been used for quite a bit but I knew it would do the job,' Sarah adds. 'It wasn't quite Shaker like the ones I liked, but I could: easily picture putting a few shelves in the IKEA cabinet, hanging shelves on the doors for spices, and using the drawer for tablecloths, napkins, and dishcloths. Most importantly, the price was right. Once we made the move, I measured everything – my soon-to-be DIY kitchen pantry would fit in the reception room, the doors would hide the pantry contents, and best of all – our Lakeland bread maker and Kitchen Aid stand mixer fit width wise.'
Taking an old IKEA wardrobe that her husband had inherited secondhand many years ago, Sarah reworked the layout and put shelves in, and gave the old pine aesthetic a lick of pale grey paint. It looks a little like it belongs in one of the fancy kitchen showrooms, and bearing in mind that this has been converted and constructed for next to no money, we think it's an amazing idea! Try similar, current IKEA wardrobe designs like TYSSEDALE or RAKKESTAD designs.
8. Create a bespoke floating kitchen sideboard unit, with the IKEA IVAR
It's a case of look, and look again. This extraordinarily contemporary and chic looking floating kitchen sideboard unit is, underneath the guise, two £45 IVAR cabinets. We kid you not. Artfully put together by sticking craft wooden dowels onto the front, the standard IVAR pine facades are hidden in plain sight. More suited - we would suggest - to keeping crockery and glassware in, we can't imagine that this design would withstand heavy family use. However, from a decorative perspective and for sheer imagination alone, top marks! Discover more angles of this beautiful Scandi kitchen via @hurmaavaharmaa
9. Don't just add hardware, add hand-crafted leather pull tabs to IKEA kitchen cabinetry
We've shown you how to upgrade your Ikea kitchen cabinetry handles for a brassier style, but how about considering some crafted leather pull tabs? Not as difficult a hack to recreate as you might think, seen as the likes of Etsy and John Lewis even have a selection of these leather tabs to choose from.
We love what @_designtales_ has managed to create with this Ikea kitchen carcass. 'As we do have a lot of rough and industrial elements in our other kitchens, we wanted this one to be fresh, clean and modern, but also cozy at the same time. If you follow our interior account on Instagram, you might have recognized already, that we are quite minimal, when it comes to furnish our places, so it's no surprise, that also our kitchen is quite minimalistic. We do create a lot of mess and chaos in our job during shootings, so for us it's very refreshing to live in a contrast to that and have enough room for thoughts and creativity. I know, some people need a "creative chaos" for that, but for us, it's the other way around.' say Laura and Nora, the stylist and photographer couple behind the enviable @_designtales_ account. The leather tab handles, not to mention the chic and stylish pendant lights, really help vamp the Ikea products into a higher realm of interior aesthetic.
Turn IKEA cabinet boxes into banquette kitchen seating
This stunning kitchen just immediately conjures up the presence and aura of a high end design, doesn't it? The built in cabinetry and banquette seating is everything you'd expect from working with a bespoke kitchen manufacturer. However, Andi Wheelband & Renée Frostick, the co-founders of Two Birds Design, @2birdsdesign, have actually curated this beautiful kitchen table seating using some Ikea cabinet boxes as the base (we think it might be the KALLAX design). Andi and Renee say, 'Can you believe this began with Ikea cabinet boxes?! Thanks to @swedishdoorco and @burlykitchenco for bringing this banquette dream to life!' What a beautiful room.
Ikea kitchen cabinet hacks - the secret to getting them right
IKEA kitchen cabinets are perfect for hacking as they basic yet well-made (try the Metod for an excellent base). A reasonably easy and affordable way to make your IKEA kitchen look bespoke is to paint the cabinet doors. But do be aware that many IKEA kitchens are laminate, so it's a good idea to spray them with an adhesion promoter before the primer and paint, for a stronger application.
Another great secret for getting IKEA kitchen cabinet hacks right is to turn to professionals if you feel your DIY skills are not quite up to the job. Companies like Plykea, Husk and Superfront can help with all sorts of IKEA customisations, including super-smart new cabinets.
IKEA kitchen design hacks that will make the most of your space
When it comes to IKEA kitchen hacks, there are plenty of clever things you can do. Adding bespoke cabinet doors is a brilliant start, whether you want to make like @mytinyestate and add MDF trims for a Shaker-style look or go contemporary and glossy. A lick of paint can transform the look instantly.
Adding fresh hardware, like knobs and handles, to your IKEA kitchen is also an easy way to elevate it. You can find excellent choices at places like Husk, but also other top-notch places to try include Buster & Punch, Yester Home, and Dowsing & Reynolds. We love how the boys @mytinyestate splurged on a beautiful tap from deVOL for an upscale finish.
Another great idea for IKEA kitchen hacks is to add a bespoke countertop, whether you choose a country-style wooden top or industrial concrete or stainless steel, this will add style and a bespoke aesthetic.
Ikea kitchen storage ideas that make a world of difference
If space is tight, there's plenty of IKEA kitchen storage ideas that will make your life easier and keep your kitchen tidy. Investing in a mini kitchen cart is always a good idea for storing extra jars, bowls or tea towels, and something like the Bekvam is crying out for a lick of paint to suit your scheme.
The Bekvam spice racks are also perfect for mounting on any spare wall space, and are also ideal for painting to add a pop of colour, or go black for cool drama. Floating picture frame rails, like the Ribba, are also ideal for wall-mounting and popping your cookbooks on.
And, if you're looking for more storage space in an island, the Billy bookcase is a great option, offering open shelving on one side. Simply pop on a customised countertop for a chic look.
You can also increase the functionality of old kitchen cabinets by modifying them to make smarter use of space. If your cabinets are short on shelves, add wire baskets and plastic containers to keep the contents neat and well-organised.
For style leaders and design lovers.
Ruth Doherty is a lifestyle journalist based in London. An experienced freelance digital writer and editor, she is known for covering everything from travel and interiors to fashion and beauty. She regularly contributes to Livingetc, Ideal Home and Homes & Gardens, as well as titles like Prima and Red. Outside of work, her biggest loves are endless cups of tea, almond croissants, shopping for clothes she doesn't need, and booking holidays she does.