IKEA Kallax hacks – how to turn basic storage into bespoke designs
Turn a basic storage unit into a thing of beauty with these clever IKEA Kallax hacks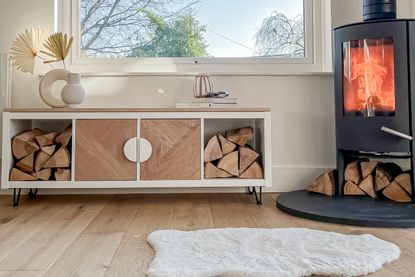 (Image credit: @our_bears_home)
IKEA Kallax hacks are a popular DIY endeavor thanks to the storage unit's ultra-versatile offering; it comes in all sorts of shapes and sizes, from a single 42cm x 42cm cube to a floor-to-ceiling shelving solution.
But, while this is excellent for creating storage solutions for almost any space, the IKEA Kallax is admittedly, well, a bit blah. So it's the perfect piece to customize and transform into a design-driven statement for your home.
From custom built-ins to cool credenzas, we've rounded up some of the best IKEA Kallax hacks below to get you inspired for your next upscale project without the hefty price tag. IKEA hacks are the way to go bespoke on a budget...
8 chic and simple IKEA Kallax hacks
1. Fashion a chic children's room storage unit
Kids' room ideas certainly don't have to be devoid of taste, as this gorgeous hack above reveals. One of the most difficult challenges with these spaces is how to organize a kids' room. But, worry not, as there are plenty of stylish yet affordable ways of keeping the area toy and clutter-free.
This IKEA Kallax hacks by Anna Blomqvist (@by.anna.b) is a clever and chic way to keep things tidy.
She explains: 'I wanted to renew the IKEA Kallax in my daughter's room to make it more airy and fresh. 'I ordered the legs from New Swedish Design - they were so easy to install and fit perfectly. Then I added baskets and doors, also from IKEA, to add a personal touch.'
2. Create a fresh, stylish entryway cabinet
No one will ever realize this stunning sideboard was crafted from a basic IKEA Kallax unit (unless you just can't resist bragging about your amazing DIY skills). Kristy Letterly, of @designingparkside, created the look to achieve a design-forward hallway idea on a budget.
She says: 'I searched for the perfect cabinet for my entryway, but couldn't find anything in my budget, so I decided to hack this Ikea Kallax shelf instead and create my own.
'To create this credenza, I cut a piece of plywood to size to create two doors. Next, using poplar boards, I cut the ends at 45-degree angles and glued them to my new doors.
'Then, I primed and painted the Ikea Kallax shelf and the new doors using Zinsser Bin Primer, Behr Scuff defense paint in the color Frost, and a foam roller.
'I attached the doors to the shelf using soft close hinges, and finished it off by adding legs and door handles for a chic look.'
3. Make a must-have media unit with this clever IKEA Kallax hack
'My husband and I wanted a TV stand from West Elm but didn't want to pay $1,699. So, of course, what is there left to do than to DIY on a budget?' says Jenny @familyrenov8.
'We purchased the IKEA Kallax, IKEA Kallax insert door, and IKEA Rodeny wood panels. We also purchased mid-century modern legs and black mount finger edge pull concealed handles from Amazon.
'We started by attaching the legs to the long side of the IKEA Kallax. We then took the Rodeny wood panels and cut each to fit each door insert's face. Once applied with glue, let dry.
'We used Farrow and Ball in the color Sulking Room Pink and painted each front panel. After allowing 24 hours to dry we inserted each panel into the IKEA Kallax and Installed our black mounted finger edge pull handles.
'Easy enough, right? This was achieved all in under $150!'
4. Display a bohemian bedroom dresser
Some of the best IKEA hacks are simple and straightforward. Case in point? This aesthetically pleasing IKEA Kallax bedroom dresser hack. You can buy separate inserts and doors for the Kallax at IKEA, and then add one or two extra elements, like wooden legs and baskets, to create a sleeker look.
Explaining how she created this bedroom dresser, Aubrey, of @aubreyhearty, said: 'I bought the IKEA Kallax six cube unit with inserts, and added the IKEA baskets.
'I purchased some mid-century furniture replacement legs on Amazon, which easily and cheaply turned an ordinary cube unit into a beautiful and functional pseudo-dresser.'
The wooden legs and rattan baskets work beautifully with a bohemian vibe, including the wood-clad walls, neutral bedroom palette, and Pampas grass.
5. Turn an IKEA Kallax into a cool mid-century credenza
For an on-trend Scandi-meets-mid-century-modern vibe, add black hairpin legs and oak veneers to your IKEA Kallax hack for a rather cool credenza.
Kate, of @our_bears_home, added this hack to fit her cozy living room. She comments: 'We assembled the Kallax unit before adding 100mm thick black matte hairpin legs by Rothley to the base.
'We then made up the Kallax doors before ironing oak veneers to the door fronts and adding the circular wooden handles. We also added an oak top to finish, which offers a high-end and bespoke look to the unit.'
6. Use IKEA Kallax units as custom built-ins for a craft room or office
Custom built-in storage can be a hugely expensive part of a room renovation. So, to save on costs, an IKEA Kallax hack is definitely a bright idea (as is an IKEA Billy bookcase hack).
'One of the biggest needs I addressed in the design of our family home office was the need for storage,' says Katherine, of @hausmatter. 'Not just for my interior design materials, but craft supplies for my daughter as well.
'So, to conserve costs, I decided to use some IKEA Kallax shelving units I have had in storage. They were a glossy white when I purchased them, but have taken a beating over the years, so were in desperate need of some attention.
'To my delight, the units fit perfectly into this room side by side! So I decided to refinish them to make them feel like more of a built-in. I did this by painting them the same color as the walls and adding some finishing details to give them a customized look, including a wooden rosette detail on all four corners.'
7. Go green for a sleek corner unit
Sometimes, clever paint ideas and a new set of legs are all you need for a successful IKEA hack.
The small Kallax unit above was transformed into a stylish storage solution that fits perfectly into the corner in the home of Bethan @shiftabrick.
Bethan says: 'Many years ago my husband handmade some wooden legs for some IKEA cube drawers we've had for about a hundred years. Since then, we've painted and added legs to pretty much every piece of furniture in our home.
'This particular IKEA Kallax hack was carried out in lockdown 2020, while we were living in an upstairs flat in London, which was on the market with a toddler who caused a lot of mess.
'I got a Kallax from Gumtree for £30 with the baskets included and added £11 Scandi-style legs from Amazon. It was my way of stylishly hiding all of the plastic toys for when people came to view the apartment.'
8. Showcase a statement sideboard with geometric doors
'IKEA has clearly caught on to the craze for repurposing its furniture, as they made this very easy,' says @fourcornersinteriors. 'I purchased six IKEA Kallax door inserts and two drawer inserts, which are very easy to install into the cube shelf levels. They come with simple silver handles but I opted for something a little more me, and selected these gold T bar handles instead.

'I bought four black pin legs as I wanted to raise the height of the unit. These were very easy to drill in as the unit is made from chipboard and not hardwood.

'The finishing touch was the best part of all - decorative panels from Lux Hacks. A small Australian-based business specializing in decorative panels that are made specifically for different IKEA furniture pieces. It doesn't get anymore hack-friendly than that, does it?'
Ellie over on @fenloninteriors created a similar IKEA Kallax hack for her hallway storage.
'After searching high and low for a sideboard to fit the space, I decided to purchase the IKEA Kallax unit,' says Ellie. 'I decided to flip it on its side and add legs to create a whole new piece, which fitted the space perfectly.
'For me, it wasn't quite enough, it didn't give a vibe to the room - it needed a glow up! A simple and effective way I found was ordering fab panels from Lux Hax - stylish panels for literally any IKEA item that give a luxurious feel, going from drab to fab.
'It was an easy stick-on design straight onto the doors- which I actually created a reel for over on Instagram to show just how easy it was.
'The Kallax is such a great unit with so much DIY potential, just find your style and change it up to meet it, nobody will even know what your unit is after your glow up, you have the ability to turn what designers would call "boring flat packs" into iconic home pieces that match your style.'
How can you make an IKEA Kallax look expensive?
The best thing about an IKEA Kallax, and why it's such a hackable piece is because it's so simple. Meaning, it's really easy to make it look more expensive than it is as you can working with a blank canvas. All these IKEA Kallax hacks make the Kallax look more expensive, and note that so many of these glow-ups start with adding doors.
Add doors to your Kallax, or even some cute baskets, and you instantly get rid of the recognizable basic cube shape and hide the clutter too. Then you can add hardware that's going to give the Kallax a more bespoke, expensive look.
The Livingetc newsletter is your shortcut to the now and the next in home design. Subscribe today to receive a stunning free 200-page book of the best homes from around the world.
Ruth Doherty is a lifestyle journalist based in London. An experienced freelance digital writer and editor, she is known for covering everything from travel and interiors to fashion and beauty. She regularly contributes to Livingetc, Ideal Home and Homes & Gardens, as well as titles like Prima and Red. Outside of work, her biggest loves are endless cups of tea, almond croissants, shopping for clothes she doesn't need, and booking holidays she does.