Best IKEA dresser hacks - 9 ways to create a design-driven piece for your bedroom
Transform a tired chest of drawers into a thing of beauty with these top IKEA dresser hacks...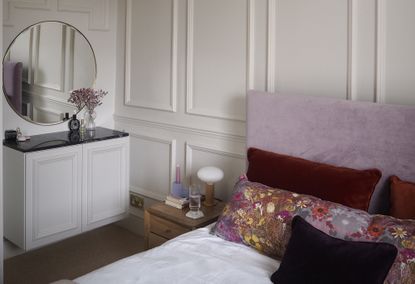 (Image credit: Melanie Lissack Interiors)
When it comes to interior design projects, there usually needs to be some areas of compromise within the budget. IKEA dresser hacks are a stylish way to add some chutzpah to a room while simultaneously saving a little money at the same time.
Whether it's a fresh coat of paint, new hardware, additional decorative features like wood trims, or fluting, there's a myriad of creative things you can do to give your tired old dresser a contemporary glow-up. From the Koppang to the Tarva, we've rounded up a host of inspirational IKEA hacks for your dresser for the ultimate inspiration for your own DIY makeover.
The best IKEA dresser hacks for unique pieces that won't break the bank
A host of Insta-influencers and interior designers share their design-forward IKEA dresser hacks below to get your creative juices flowing...
1. Transform an IKEA Hemnes into a fluted showpiece
We're not sure we've seen an IKEA Hemnes dresser hack this pretty before. Jessica, of @jessicabelteau, upcycled a five-year-old dresser instead of spending a fortune on a new one to create to most beautiful bedroom storage.
She says: 'We've had this Hemnes dresser for about five years. I've been loving the fluted trend and it was the perfect way to give it a refresh.'
'This IKEA fluted dresser hack was accomplished using just a few materials including poplar boards and 1/4" dowels. The first step was to measure all the drawers to frame the drawer fronts with the poplar boards.'
'Next up was cutting the dowels to size and attaching them using wood glue. After that was complete, the entire dresser was primed and painted using Green Labyrinth by Sherwin Williams. Finally, new brass hardware went on and the transformation of this dresser was complete.'
2. Create a chic floating dresser with basic cabinets
'We were looking for a dressing table that provided a lot of storage, but also took up little space,' says Melanie, of @melanielissackinteriors
'To get exactly what I wanted for a minimal amount of money, I decided to DIY the new dresser. Using a plain IKEA Metod kitchen wall cabinet for the carcass, I added a marble top, molding and painted it the same color as the walls so that it blended in with the rest of the room.'
'IKEA kitchen unit carcasses are well made, budget-friendly and saved me having to build the whole frame out of MDF. I chose a two-door, three-shelved METOD wall unit in a plain white as it was the cheapest option. I built the unit (minus the shelves and doors at this point) and hung it on the wall using heavy-duty raw plugs and screws via the fittings in the two top corners of the unit. Once the carcass was secure, I put in the shelves and added on the doors.
'I added some decorative molding to the doors that I had leftover from panelling the walls. These polymer strips are from Screwfix and are lightweight and easy to use. You can also buy simple timber molding strips in most DIY stores. I then added a marble top cut to size from a local stoneyard.'
3. Work a boho rattan look with this IKEA Tarva dresser hack
It's amazing what you can do with some simple cane webbing - as Erica from @_theneutralnook proved with this stylish boho-style IKEA dresser hack.
She explains: 'I assembled the IKEA Tarva dresser and measured the door fronts - 2" on all sides to create a rectangle. I created pilot holes with a drill on the four corners so that my jigsaw would fit. I then used the jigsaw to cut out the center.'
'I painted the dresser black and purchased cane webbing from a local company (you can also try Amazon or Etsy). I measured it to fit the rectangles, leaving about an inch so I could attach it. I then attached the cane webbing to the inside of the dresser drawers with a staple gun.'
Et voila! A chic IKEA dresser hack with a distinctly cool 70s vibe that would look perfect in a rustic bedroom.
4. Elevate an IKEA Tarva with a light, bright makeover
Even top-end designers like Sarah Sherman Samuel happily get involved with chic IKEA hacks. White paint, metallics, and new hardware give this piece a whole new lease of life, making it the perfect piece of minimalist storage for this white bedroom.
Sarah says: 'I painted the bulk of it white. I also cut about 2″ off of each leg (I wasn't loving the proportions) and then painted the base pieces with a metallic gold spray paint. After that, I just swapped out the wooden knobs for antique brass ones.'
5. Give your IKEA Rast dresser an Anthropologie-style makeover
If you want to get an boho look on a budget, stencils are a simple way to do it, and the Neera Bone Inlay Stencil Kit was used in this stylish hack.
This basic IKEA Rast dresser has been taken from blah to beautiful with a little imagination. Jules from ikeahackers.net explains how to do it: 'Begin by taking the plain IKEA Rast dresser and giving it a few base coats. This particular color is custom, Benjamin Moore, using mixed black, Chicago Blues, and New York State of Mind.'
'After removing each individual drawer from the base, stencil the border on the outside base of the dresser. Using the first border design of the Inlay kit and a small stencil brush, apply Benjamin Moore's Navajo white to the stencil.'
'You will apply the same border around the face of drawers as you did for the base of the dresser. Again, using a stencil brush and a light coat of paint fill the stencils with the Navajo White paint from Benjamin Moore.'
'Then, go over the second border from the set as seen below! Be careful to keep a straight light and lightly paint over! After a few minutes of letting it dry, it is time to cover the face of the drawers with the Neera Inlay Stencil.'
'Lastly, use the Neera Inlay Stencil on the top of the dresser using the same roller and paint. After peeling it back make sure everything is up to your liking and the stencil is aligned correctly.'
'For a little extra touch on this bedroom dresser, I replaced the regular wooden ones with adorable glass knobs from Home Depot.'
6. Panel and paint an IKEA Koppang dresser for a high-end hack
'This Ikea Koppang dresser hack was really simple to do,' says Jennifer Rothbury, of @crack_the_shutters. 'Firstly I sanded the unit and ordered some polyurethane ribbed panels from UK Home Interiors and cut them to fit on each of the three drawers.'
'I used No Nails adhesive to stick them on and caulked the joins between the panels so they looked flush. I then countersunk holes for the new handles so that they would sit flat despite the ribs in the panels. The hexagonal knobs were from Plank Hardware. Finally, I primed and painted in Lick Greige 02.'
7. Add depth and drama to an IKEA Hemnes dresser
Give a tired Hemnes dresser a glamorous glow-up to match her dark bedroom with a fresh coat of paint and gold handles, like Ruth of @mrs_macs_home.
She says: 'I gave our old Hemnes drawers a makeover with paint and a change of handles. I used Zinsser ALLCOAT which is a paint amd primer in one , and I applied it with a mini foam roller to give a smooth finish. I found this pack of 12 brass cup handles on Amazon for just over $25 (£20) to complete the makeover.'
8. Go green and gold for an on-trend IKEA Tarva dresser hack
For a mini makeover, take a small IKEA Tarva from dull to design-driven with wood trims and on-trend green paintwork.
Keight from @eightmulberry explains how she carried out this clever IKEA dresser hack: 'I took my daughter's three-drawer $99 IKEA Tarva dresser and added rows of 6" Dollar Tree dowels with wood glue.
'I then trimmed each drawer with 2" thin wood trim. The finished piece got a full coat of Hunt Club Green spray paint and new drawer pulls.'
9. Turn an IKEA Tarva into a cute and stylish dresser for a nursery
The IKEA Tarva is a very plain-looking chest of drawers, which makes it perfect fodder for a brilliant IKEA dresser hack. You might not want to spend a fortune on nursery furniture, but you'll likely want everything to look super-stylish and sweet. Designer Sarah Sherman Samuel nailed that brief with her pretty hack.
She elevated the Tarva by cutting the legs at an angle to give it a higher-end look.
Sarah also spray-painted it a beautiful mint color (Theresa's Green by Farrow & Ball) and added classy, long brass drawer pulls to finish. See the full transformation at sarahshermansamuel.com.
Ruth Doherty is a lifestyle journalist based in London. An experienced freelance digital writer and editor, she is known for covering everything from travel and interiors to fashion and beauty. She regularly contributes to Livingetc, Ideal Home and Homes & Gardens, as well as titles like Prima and Red. Outside of work, her biggest loves are endless cups of tea, almond croissants, shopping for clothes she doesn't need, and booking holidays she does.