Rustic bedroom ideas: 18 ideas for a rustic, country-inspired bedroom scheme
We've pulled together 18 of our favourite rustic bedroom ideas... Because a peaceful bedroom doesn't have to mean plain.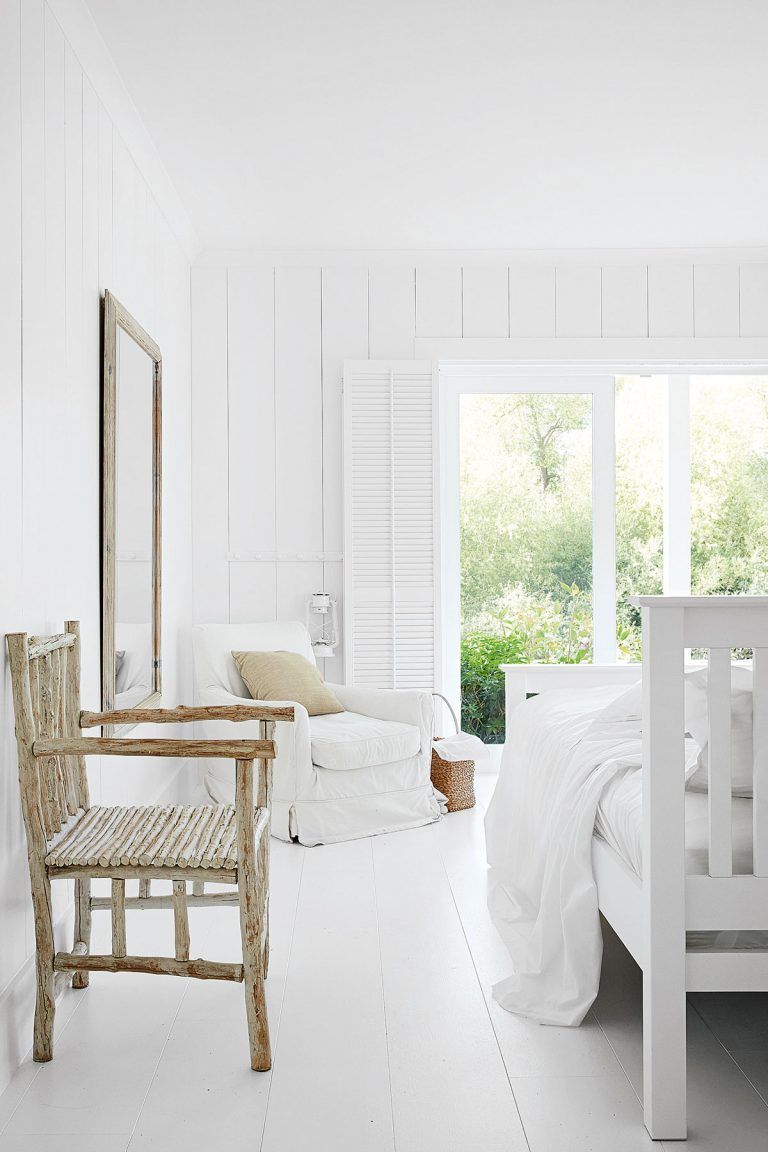 (Image credit: Paul Massey)
We've found 18 gorgeous rustic bedroom ideas perfect for a fresh and summery bedroom look.
Create a natural, chic and restful bedroom with muted, chalky palettes and natural linens, cottons, woods and wickers. The softer shades help create a soothing setting, while earthy tones and organic fibres bring life to a pared-down room.
Layer different shades of one colour rather than multiple hues – the more limited the palette, the more restful the space will be – but keep things interesting with layers of texture. With a blank canvas as your backdrop, it's then easy to change it up with new bedding, throws and artwork.
A neutral palette will also help absorb any brightness and help to make your modern bedroom feel more restful. The below are some of our favourite rustic bedroom ideas...
1. Wrap walls in wood
Wooden walls give this rustic bedroom a cabin-inspired vibe.
2. Go for an all white scheme
The beautiful white bedroom oozes calm, painted top to toe in white paint, and with a white bed and linens too.
3. Incorporate rustic furniture pieces
An old galvanised barrel with weathered wood top complements the rustic vibe of this white bedroom.
4. Use wood to warm up grey schemes
In the rustic bedroom below, wood floors and ceilings help to warm up the grey bedroom colour scheme.
Lang Architecture sourced wood locally to build the house and used oak for the floor and ceiling, complemented here with soothing grey walls. A simple wooden chair, timber-framed print and charcoal hued bed-linen pull the room together.
5. Expose your beams
Exposed, distressed wooden beams create a cosy and rustic-inspired look in the converted loft below. An inset fireplace keeps this space cosy and warm, whatever the weather outside.
6. Choose second hand and vintage pieces
The below bed was found in a salvage yard. It had been used in a movie shoot but was in perfect condition. Second-hand, vintage pieces are perfect for adding rustic charm to a modern room.
7. Paint your floorboards
White painted floorboards help to calm and tranquil bedroom. The white bedroom scheme is layered with enough warmth and texture to stop it being monastic.
8. Take wood up the walls with tongue and groove panelling
The below bedroom is an all-white sanctuary, with white painted floorboards, white furniture pieces, white tongue and groove panelled walls and white shutters. It's easy to cosy up in winter with sheepskin rugs and candles, while in summer it's simple and fresh.
Below, horizontal panelling creates a boutique-hotel vibe (the super-king-size upholstered bed helps too).
9. Line walls with weathered wood
The panelled wall is made from old scaffolding boards, which were washed with watered-down Skimming Stone estate emulsion by Farrow & Ball. The dado rail effect was a happy accident – boards had been put up to where it is, but it didn't look finished. So the owners added this thin horizontal strip which breaks up the wall a bit.
10. Stick to all-natural materials, including bed linen
Here, linen bedding and a rough timber bedside table reflect a natural, rustic look.
11. Layer, layer, layer
This bedroom's restful feel comes from multiple layers of texture and consistent colour.
12. Keep to a white, grey or neutral colour scheme of sand and brown
Soft colours and materials were used for this guest bedroom, such as brown and taupe, and linen and cashmere.
13. Welcome sheer curtains for a summery rustic look
A mix of textures in the same shade of white paint create interest and intrigue to this stunning Barcelona loft apartment.
A raised, painted wood platform sits on a polished concrete floor, and is framed by painted brick walls and light, floaty sheer curtains.
14. Break up the height in a tall space for a cosier bedroom
This airy, light, white space is anything but boring. The impressive ceiling height is broken up with a ceiling fan, a tall four poster and a raised platform. Instead of a headboard, the bed is placed against a freestanding room divider wall that's tiled in pretty mosaics.
15. Keep brick walls exposed and unpainted for a modern, urban look
The exposed brick walls created a stripped-back, industrial mood, while the ultra modern side table and sculpture keep it contemporary. Sanded floors, a low bed and tall ceilings create a spacious but restful atmosphere.
In this modern scheme, sleek, bespoke storage contrasts against exposed brick walls and wooden shutters. The built-in wardrobe design has concealed inset handles that are based on dandelion seeds being blown in the wind. A low bed with minimal furniture and clutter creates a restful feel.
16. Dare to incorporate black
To offset the neutral tones of the bedroom, the floors have been painted in black lacquer, and a collection of antiques and classic 20th-century designs has been added to the scheme.
17. Experiment with a distressed paint effect or wallpaper
The chimney breast was extended to match the exact width of the super-king-size bed and the walls have been distressed and painted to resemble the musty mystique of a flooded château. Layers of paint and varnish build up the elegantly decayed look.
18. Try a winged wooden headboard for a country hotel vibe
The winged wooden headboard and nature-inspired colours in this room give a sense of comfort.