This Sonoma farmhouse has a warming summer style that lasts all year
See inside a 1930s ranch-style Sonoma farmhouse designed in a beautifully contemporary way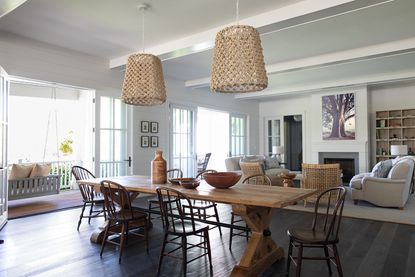 (Image credit: Bess Friday)
The property
Situated in the hills above historic Sonoma Plaza, this 20-acre Sonoma farmhouse included a collection of barns, horse stables, a one-storey ranch house, and separate guest house dating to the 1930s (one of the oldest ranches in Sonoma County).
The new owners of the property wanted to retain some of the intrinsic rustic charms but overlay some modern interior design ideas, requiring a larger, updated modern home for their growing young family and relatives. The new, two-story modern farmhouse occupies the original home site and is nestled into the hill, preserving a Redwood grove and mountain-fed stream running through the property.
All rooms orient towards the majestic valley view and open to the wrap-around porches encompassing the first-floor living areas, which provide deep shade from the southern exposure. A distant view of San Pablo Bay and San Francisco are visible on a clear day from the balcony off the Master Bedroom.
The existing swimming pool was connected to the house more directly by relocating the driveway to the detached garage behind the home. The client requested pieces with rustic charm, and the scheme was created by Anyon Interior Design.
See Also: Explore A Historic Farmhouse In Provence With Modern Rustic Interiors

Living room
There is a pleasing symmetry to the placement of the modern furniture in the living room, and orderliness that comes from the double sofas and double chairs.
Get the look: Photograph by Sara Ferguson available through Anyon Atelier. Bookcase available through Anyon Atelier. Rattan armchairs by Palecek. Custom Coffee Table designed by Anyon. Custom Ikat pillow by Anyon, fabric by Shyam Ahuja. Vintage Kilim pillows sourced by Anyon. Woven throw blankets via Anyon Atelier
Kitchen
The blue kitchen island creates an unexpected but pleasant lift in this neutral scheme, the soft shade of the sky working peacefully with the garden scene outside.
Get the look: Metal & Leather counter stools via Anyon Atelier. Wood cookbook stand via Anyon Atelier. Wood vases via Anyon Atelier. Hand blown glass pendant lights by Cisco Home. Antique bread paddle sourced by Anyon. Custom oak and painted cabinetry designed by Anyon and Cahill Studios
The modern kitchen cabinets were made custom made from oak.
Dining room
Mis-matched furniture adds to the charming modern rustic feel of this open plan laidback dining space, just off the living area.
Get the look: Painting by Shauna Pickering available through Anyon Atelier. Woven Pendants by Serena & Lily. Antique Farm Table (Client's own). Antique American dining chairs (sourced by Anyon). Terracotta Vessel sourced by Anyon. Antique Copper bowls sourced by Anyon
Stairwell
Painted in a charming grey, the stairwell stands out as a beautiful detail in the hallway. Adding a comfy sofa to this space completes the relaxing vibe.
Get the look: Custom Stair designed by Anyon - painted treads and risers in Benjamin Moore Knoxville Grey.
Get the look: Zinc Pendant by Hector Finch
Master bedroom
The master bedroom is actually somewhat of a suite, coming with its own bathroom, balcony even office space.
See Also: Master Bedroom Ideas -31 stunning bedroom schemes

Get the look Bedside Tables via Anyon Atelier. Woven ottoman via Anyon Atelier. White wash canopy bed via Anyon Atelier. Antique English walnut chest sourced by Anyon. Custom settee designed by Anyon. Antique alabaster lamps sourced by Anyon. Rug by Restoration Hardware. Custom brown paisley pillows with Jasper fabric via Shears & Windows. Painting by Anne Neilson. Antique gilt mirror sourced by Anyon. Wallcovering by Kneedler Fauchere. Custom Drapery, fabric by Thibaut. Lamp at dresser from Anyon Atelier. Antique African Currency sourced by Anyon
Bunk room
With white washed bunkbed, this stylish kids room can easily sleep up to four little ones.
Get the look: White washed bunks via Restoration hardware. Vintage chest Thomas Lavin Fabric for custom euro pillows. United Airlines Poster via Vintage Euro Posters. Woven ottomans via Anyon Atelier. Antique American chair
Pool
No Sonoma house would be complete without a pool, and this one comes with a covered seating area and incredible woodland views.
See Also: A 1920's farmhouse in Canada is brought up to date with modern rustic style and Californian funk
Interior design: Anyon Design
Shining a spotlight on the now and the next in home design and decor, Livingetc is the UK's best selling high end and contemporary home design magazine. As a brand, Livingetc showcases the world's very best homes, breaks and makes the trends, and has access to leading international designers for insight and ideas. It was first published in 1998, and is currently edited by Pip Rich.