IKEA BILLY bookcase hacks – 15 ways to upcycle this piece, and maximize storage
These IKEA BILLY bookcase hacks can help you create the most brilliant and functional pieces, all on budget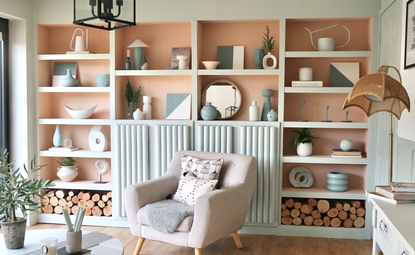 (Image credit: Claire Douglas)
IKEA BILLY bookcase hacks have become a big trend for DIYers and home renovators. This piece of furniture may look pretty basic from first look, but it can be easily transformed into a more personal, made-to-measure piece.
'The BILLY bookcase is an IKEA classic for a reason,' says Hugh Metcalf, deputy editor at Livingetc.com. 'Sure it's affordable and does the job on its own, but it's such a simple design to modify that it's usually an IKEA hacker's first port of call when they're looking to create a built-in shelving design on a budget.'
Here are the best IKEA hacks we've found that all use the BILLY Bookcase as their base.
1. Use the BILLY bookcase to create Art Deco-inspired built ins
Renovator Tamara Smith @mygrandparentschair) decided she wanted a bright, elegant-looking living room storage piece but on a budget. And for that, she experimented with this IKEA storage hack. She chose a bare wall in this space and removed the baseboard along the bottom of the wall so the shelving could sit flush.
She also created a level base for the shelves to sit on using 2 x 3 lumber frames, drilling directly into the floor. She bought three white BILLY Bookcases, as well as three height extenders to create a base underneath for the bookshelves to sit on. 'To ensure the flatpacks were sturdy, I reinforced them by nailing directly into the sides and back to keep all the components in place,' says Tamara.
To create the arches, she used a 1/8-inch tempered hardboard and penciled out the shape. Once she'd cut them out with a jigsaw, it was just a case of fixing them to the shelves. After the frames were all set, she sanded them and added two coats of primer. For the exterior paint, she used white BEHR semi-gloss enamel; for the contrasting interior of the shelves, she used two coats of Sherwin-Williams paint in the shade Tricorn Black.
2. Design a bespoke library at home
Designer Claire Douglas re-invented the Ikea BILLY into an eye-catching and bespoke IKEA shelving hack that looks like a library.
She experimented with the positions of the flatpack units before fixing them to her wall. She then added MDF strips over the joining to make it look thicker. And then, she filled the gaps down the sides of the wall. For the base, she added a skirting board that concealed the individual bookcase bases. She also added pre-drilled shelf holes and inserted MDF panels with poly filler.
To decorate the unit, she added cut foliage and greenery from the garden to help fill the gaps and give a more natural and rustic feel. 'I've also picked up a few bits from some online shops recently and paired them with some antique books to create an interesting mix of old and new color and texture,' says Claire.
3. Create a cozy sleeping space in the kids' bedroom
Designer Johanna Hollstrand @villaalvsjotransformed a minimalist sharing kids room into a wonderland using IKEA BILY. She bought the BILLY and picked up their PLATSA (40x60x60) and eight HJÄLPA drawers. Even the mattress is from IKEA. She erected the frame from the IKEA frames before adding a top shelf in oak veneer. The rest was site-built with MDF boards and a curtain rail attached to the ceiling.
'I painted the nooks in a charcoal hue to complement the surrounding walls,' says Johanna. 'Then, I plastered Woodland – designed by Fleur Harris for Jimmy Cricket – on the main wall.' The toys and pillows were added in, which contributed to the forest theme. The overall look is fascinating and wonderful.
Type: Wipeable
Price: $190 for 1 roll
Add a dramatic touch to your IKEA BILLY hack by adding this tapestry of blooming botanicals that focuses on one floral and one fern.
4. Fashion a stylish display cabinet
If proof were needed that the BILLY bookcase is a versatile piece that you can elevate to a super-chic piece of furniture, then this is it. Jen Rothbury, of @crack_the_shutters, created a beautiful display cabinet with her IKEA BILLY bookcase hacks for a fabulous narrow hallway idea.
'I decided to use a BILLY bookcase with Oxberg glass doors as it was the perfect size to fit in a gap we had on our landing and would make a perfect linen cupboard/display cabinet,' says Jen. 'Firstly, I gave it all a sand down to take off the shine from the laminate finish. We used 6mm thick MDF and cut-out arches for both top sections of the glass and then used decorative reeded pine moldings cut to length along the bottom half of the glass doors.'
'We used No More Nails adhesive to stick the MDF and moldings, caulked the gaps, primed and painted in Craig and Rose Dried Plaster, and added new handles from Plank Hardware,' says Jen.
5. Create an incredible library wall
If you're blessed with ample space, creating a library wall will add to your elegant living room's aesthetic.
'When we first saw the scale of this room we knew it deserved a library wall,' says Sarah from @s.e.w.athome. 'But being over five and a half meters wide, we also knew we couldn't afford fitted cabinetry, so we took seven BILLY bookcases with height extenders and Oxberg doors, and we set to work.'
'We decided we didn't want to use the back panels so that you could see the wall color behind, and as a result, we flipped them upside down so that the backs of the height extenders were hidden at the bottom of the bookcases,' says Sarah. 'This also gave us something to fix moving to the top. We built a plinth to raise the bookcases high enough to add skirting to the bottom, and we then added molding between the vertical joins. In preparation for painting them, we primed them with Zinsser BIN primer and then used furniture paint for the color.'
'To finish them, we chose antique brass pull handles, and I finished them off with some colorful tassels. It was a fair bit of work but we saved a fortune and we're so happy with the result.'
5 Inch Gold Cabinet Pulls
Material: Brass
Price: $28
Suitable for all styles of cabinets, consider these gold hardware handles to pepper your cabinets or update some old furniture.
6. Transform Ikea BILLY bookcases into a sleek and stylish mudroom
Steph @henrikjunehome turned a garage load of IKEA BILLY bookcases into a fortuitous event.
'When we moved into our home, the previous owners left a garage full of BILLY bookcases for storage,' says Steph. 'This area became the primary way we entered our home, so, shoes, jackets, gloves, helmets, leashes - you name it - were stored on open shelves here.'
'As you can imagine, a family of four with a large pup can accumulate a lot of stuff, which leads to an eyesore of a view with open storage,' says Steph. 'So, to keep it all at bay, I bumped out the Ikea BILLY bookcases and secured them to studs. Added height extenders, Oxberg doors, and bins to contain the chaos.'
'Following this, I added a bench, floating shelves, and budget shiplap to finish the look,' says Steph. 'The shiplap cost $30 in total to make. I am a beginner builder and learned how to do this from YouTube and Instagram. So, all in all, I would say this is a doable DIY. Now, we have a catchall spot that holds all the shoes, all the necessities, and all the chaos at the small entryway...all behind closed doors.'
7. Make built-in shelves with two IKEA BILLY bookcases
With metallic wallpaper and lighting - and some creative styling – the BILLY bookcase can be taken from basic and bland to a thing of beauty, as can be seen with this innovative living room storage idea.
'The wall width that I had to work with was 175cm, and as the BILLY bookcase is 80cm wide; I knew I had space for two of the bookcases,' says Melanie Lissack of @melanielissackinteriors. 'I purchased two of the cheapest versions of the BILLY. As the ceiling in this room is high and I wanted to make the most of the wall space, I also purchased two of the 'BILLY Height Extension Kits' to get in another level of shelving.'
'Before screwing the bookcases to the wall I had threaded through an electrical extension bar so that the lights could be plugged in around the back of the bookcase,' says Melanie. 'I also 'pimped up' the unit using several decorative moldings and beading.'
Grasscloth Natural Wallpaper
Material: Grasscloth
Price: $75 for 1 roll
Want to add wallpaper to your storage niches? Consider this grasscloth wallpaper finished in a subtle color, perfect for all types of surfaces.
8. Construct a chic kitchen cabinet
Because bookcases can make for great kitchen shelf storage too! 'When searching for the perfect display cabinet for our dining nook, we wanted something that felt high-end and embodied a timeless, traditional design,' says Katie of @ouracaciagrovehome. 'After hours of searching and considering different cabinets from interior design companies, we concluded that the best way to make what we wanted was to build it. And that's where the IKEA BILLY bookcase came in.'
'We added legs, primed and painted the entire bookcase, attached beadboard to the back, and added custom features, panes, and hardware to give it a more high-style look,' says Katie. 'We love the way it turned out and couldn't have found anything better for this space. By transforming this BILLY we saved ourselves hundreds of dollars. It's amazing how pieces of furniture can make a house feel more like a cozy home, and that's just what this BILLY bookcase did for us.'
9. Add contemporary wall units around your fireplace
For a modern, sleek storage and TV mounting idea, take a basic IKEA BILLY bookcase and elevate it with new handles and modern black paint.
'We wanted to add some contrast to the large open space and decided to go with this bolder, but still calming, Ikea BILLY bookcase, cement fireplace, and cozy furniture combination,' says Carolin Friese, interior stylist at @house_to_home.interiors. 'We changed the handles and the contractor added the header and molding so it looks custom. We used another smaller unit for the extra material and painted it matte black for an on-trend finish.'
10. Craft beautiful built-in alcove shelving
Fitted alcove shelving for a living room corner can be very expensive but, with an IKEA BILLY bookcase hack, it's affordable as well as stylish.
'I made a raised platform for them both to stand on, at skirting board height, out of CLS timber screwed securely into the back wall and a piece of MDF,' says Liz @prettyprospectcottage. 'I put the bookcases on top and fixed them to the wall with small blocks of CLS timber and metal brackets. To make them look fully built-in, I made a frame surround for the bookcases using molding that matched the paneling details elsewhere in the room. I added a piece of skirting board along the front bottom edge and had a strip of timber cut to fit the gap in the middle.'
'I used wood filler to fill all of the shelf adjuster holes and any other gaps and gave the whole bookcase sand all over,' says Liz. 'I then painted them to match the walls and finished them with a coat of matte varnish.'
11. Showcase a stunning fluted vanity unit in your bedroom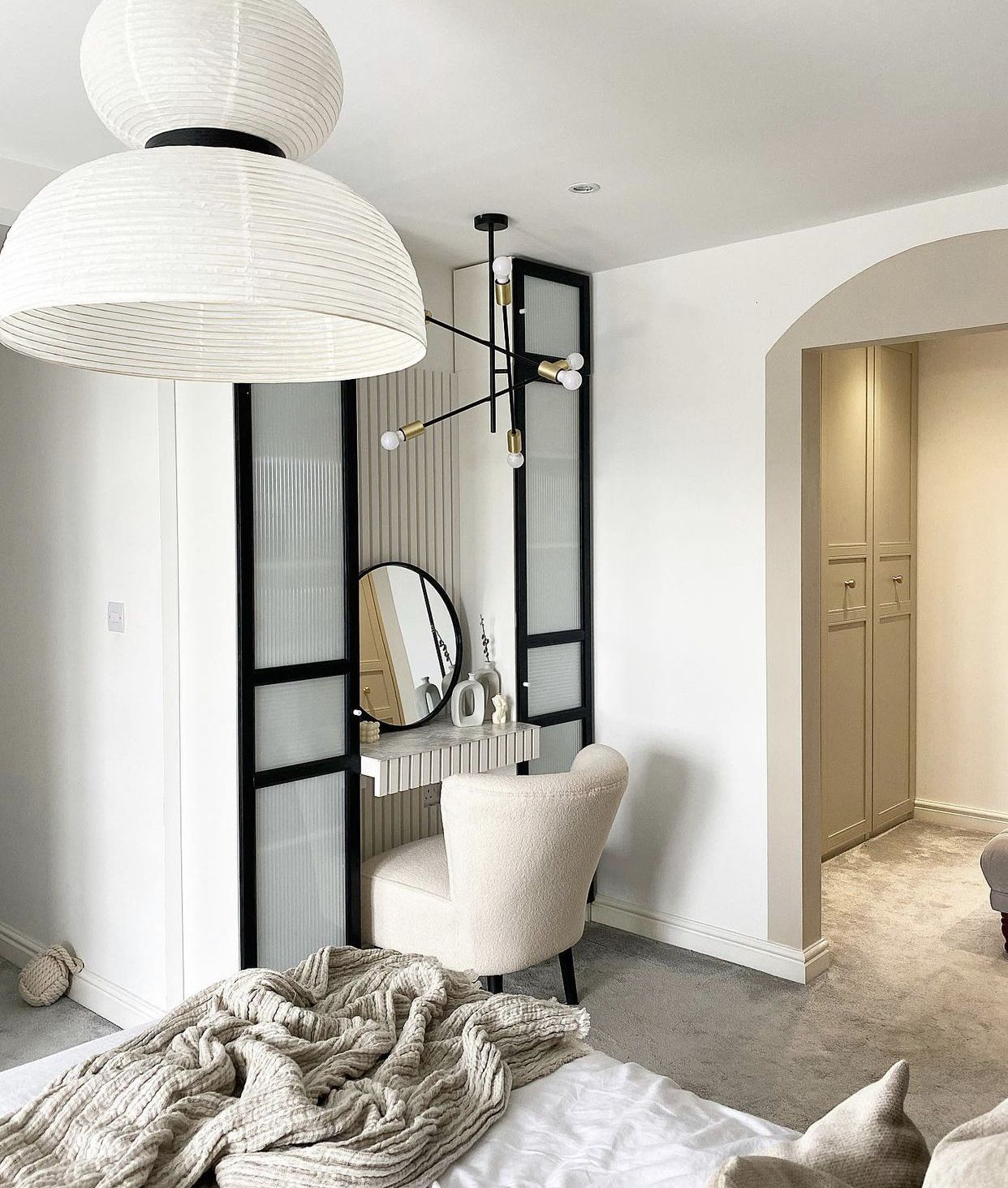 Get a celebrity-worthy dressing room with this high-style IKEA BILLY bookcase hack on a low budget.
Robyn, of @the_house_acc, created this stunning fluted unit for a covetable glow-up.'I used two BILLY bookcases and two Ikea Oxberg glass doors,' says Robyn. 'I used Frenchic Paint's Black Jack for the doors before adding reeded adhesive film to create the on-trend fluted glass effect.'
12. Elevate the IKEA BILLY bookcase with a modern rustic shelving makeover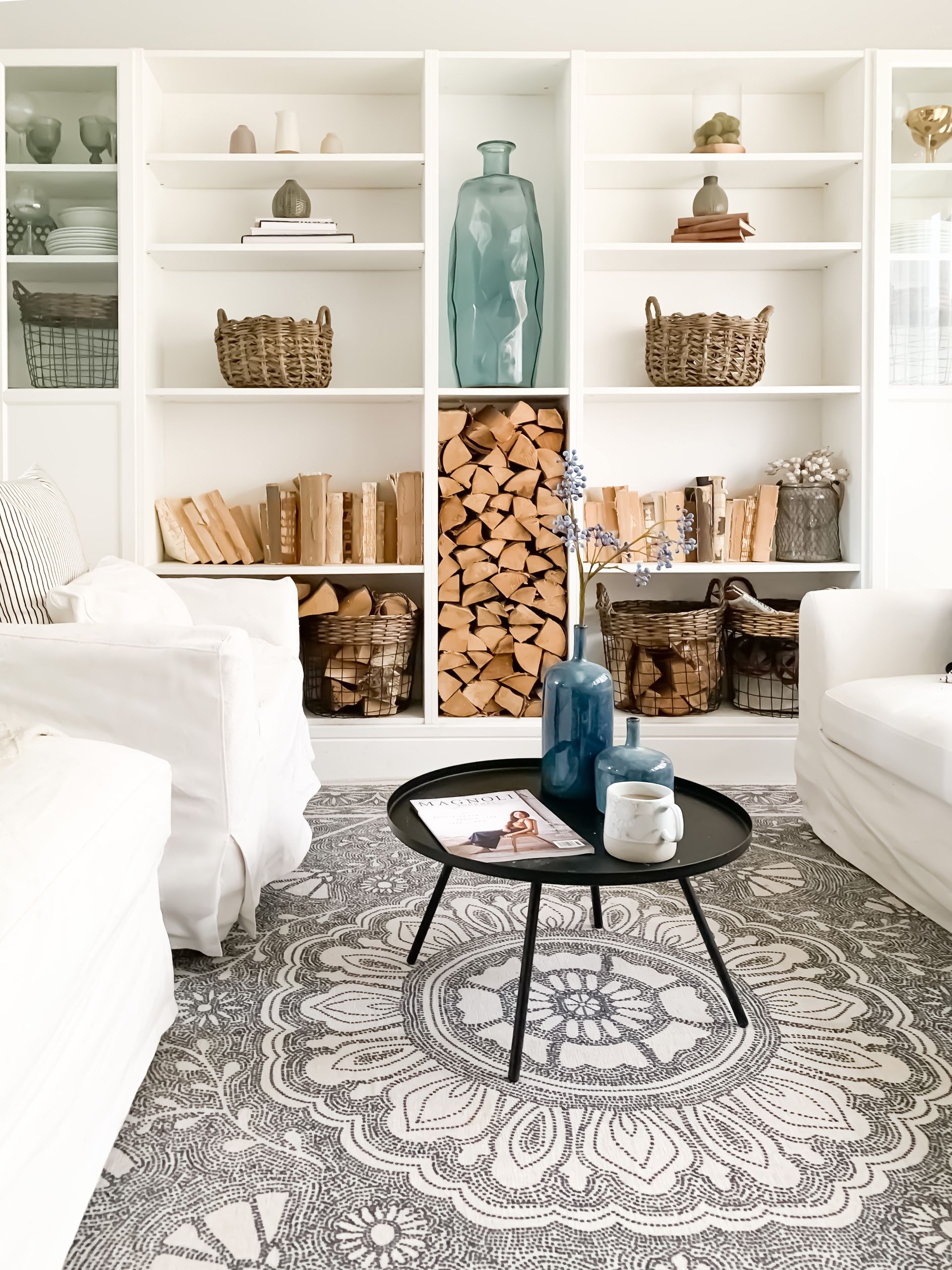 Ruth of @mrs_macs_home is a dab-hand when it comes to Ikea hacks, and we love this clever BILLY bookcase update and how it allows adding so much texture and interest to this neutral living room.
'We first removed the skirting board so the units could go flush against the wall,' says Ruth. 'We had to raise the bookcases to accommodate the height of the skirting so attached adjustable kitchen plinth feet to each unit. Once all the units were in position and correct height, we glued and screwed the units together and anchored them to the wall. Then simply refitted the skirting board to finish.'
Just add books, glassware, oversized bottles, logs, rattan baskets, and objet d'art for a super-chic modern rustic finish.
13. Transform a BILLY bookcase into a boho-luxe rattan kitchen dresser
With a little imagination and a lot of rattan roll, you can take an IKEA BILLY bookcase from boring to showstopping. Add Oxberg doors and replace the middle section with rattan. Then paint the dresser in your color of choice. For decorating the bookshelf, consider adding ceramics and vases inside.
14. Create arched shelving for high-end built-ins
For the small home office, a great storage idea is a BILLY bookcase. 'Firstly, we had to figure out how many BILLY bookcases and how many height extensions we would need for our space,' says Rachael of @firsthouseonfinn. 'For our nine-foot ceilings, we needed two height extensions per bookcase, so a total of four BILLY bookcases, and eight height extensions. It took a day just to put all of these together.
'For the front face and arches, my husband used 1/2 inch MDF because it was so cheap ($20/sheet),' says Rachael. 'To make the arches, he laid out the spacing on a sheet of MDF and cut two circles out using a router and a circle jig. Once the two holes were cut, he cut the MDF down the center to get a total of four arches. He nailed the arches to the bookcases, reattached the crown molding at the top, and then applied filler and sanded to make everything smooth.'
Recommended Primer & Undercoat: Red & Warm Tones
Price: $40 for 3 liters
Give your storage a smart, stylish look with this deep tan hue. Its stonier tone brings an earthy warmth to all rooms.
15. Produce a wall-mounted display unit
Would you believe this design-driven wall display unit is a collection of IKEA BILLY bookcases? Not only does it add functionality, it also creates a cozy living room space.
'I wanted to create a wall-mounted storage/display unit but without the costly price tag,' says Malcolm of @designsixtynine. 'With IKEA BILLY bookcases in mind, I measured the wall to see which configuration would work best to fill the space. Two 800mm and two 400mm bookcases are mounted over four 600mm kitchen bridging units. These are secured into wooden batons, which are screwed into the studs of the wall.'
'The bookcases rest on these (upside down, with the top removed) and are in turn screwed to the wall,' says Malcolm. 'The joins are covered with wooden molding and the base plinths (which are now at the top) are covered with crown molding. The whole thing was given a coat of Zinsser primer and painted the same color as the wall to help blend it into the room.'
How to make a BILLY bookcase look high end?
If you're going in for an IKEA BILLY hack and want to give the new piece a high-end look, consider adding some decorative molding to it. You could purchase those at a store or make some yourself with plywood. Alternatively, you could add lovely wallpaper or paint the front to give the unit a truly high-end look.
The Livingetc newsletter is your shortcut to the now and the next in home design. Subscribe today to receive a stunning free 200-page book of the best homes from around the world.
Ruth Doherty is a lifestyle journalist based in London. An experienced freelance digital writer and editor, she is known for covering everything from travel and interiors to fashion and beauty. She regularly contributes to Livingetc, Ideal Home and Homes & Gardens, as well as titles like Prima and Red. Outside of work, her biggest loves are endless cups of tea, almond croissants, shopping for clothes she doesn't need, and booking holidays she does.
With contributions from