Dressing Room Ideas: 21 super chic dressing room schemes to inspire a more organised wardrobe
These super chic dressing room ideas are both practical and beautiful – the ultimate space for getting dressed in the mornings.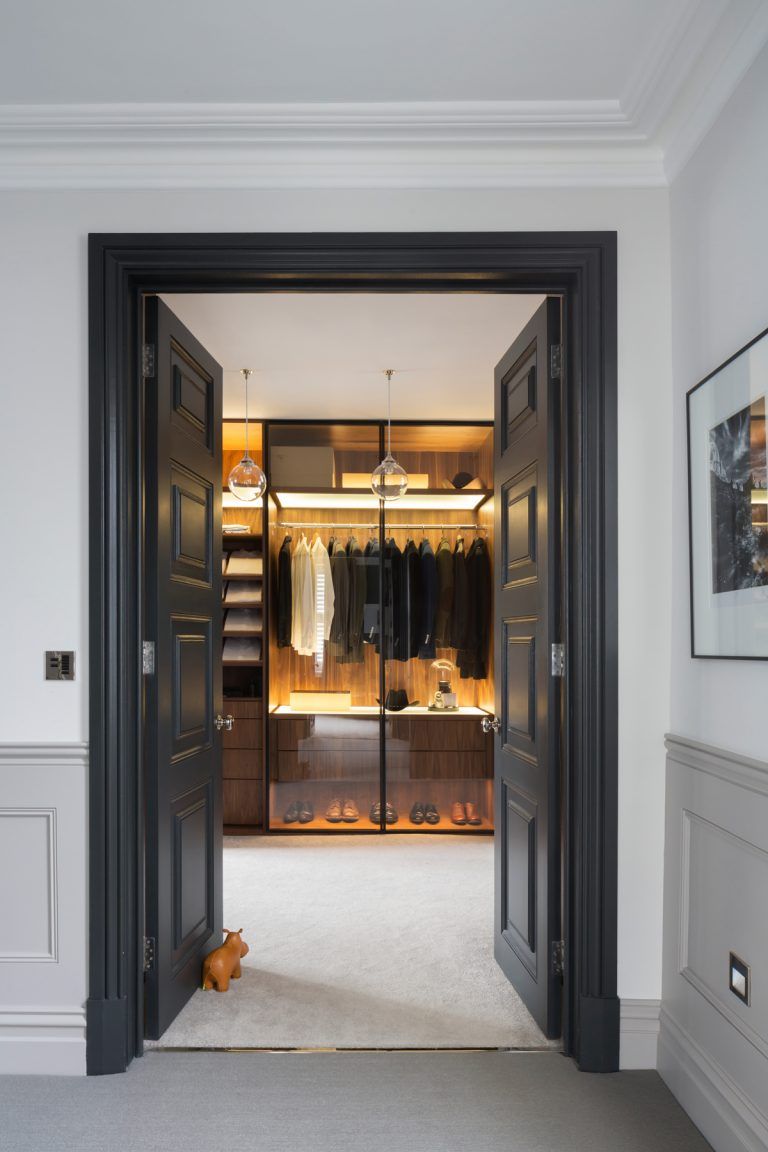 (Image credit: Future)
The below dressing room ideas have our whole office drooling. Offering practical, organised storage for clothes, shoes and accessories while also offering somewhere chic and glamorous to get ready in the morning, dressing rooms are high on our wish list.
As relatively private spaces, dressing rooms are the perfect place to indulge more exotic tastes and striking design ideas. Opt for a bold, large-scale wallpaper (we love the below Gucci design) for a luxurious feel and to draw the eye away from acres of practical storage – or add wallpaper inside wardrobe doors for a flash of colour when they are opened.
We also love the below dressing room idea of creating a trompe l'oeil effect by wallpapering the exterior entrance to your dressing room to create a 'secret' door that's less obvious from your bedroom. Or why not make your dressing room the focal point by choosing floor-to-ceiling glass doors that offer a glimpse into a glamorous dressing space? An upholstered statement chair or chaise longue are the perfect pieces to add pops of colour. We're also big fans of dressing room islands with drawer storage for socks, ties, jewellery etc – plus they're rather handy for draping and sorting outfits on.
Prefer a more neutral look? Plush carpet and sleek cabinetry in calm colours will help to create a create a clean, seamless look. Alternatively, take inspiration from your favourite boutique and display favourite items on open shelving, and invest in a stunning island or statement chandelier, then dial up the glamour with marble, brass, stone, copper and multi-layered lacquers.
From sophisticated grasscloth wallpapers, dark paint colours and walnut woods, to pretty wallpapers, brass detailing, ladder storage and glass partition doors, there's a dressing room design to suit every taste.
See more modern bedroom ideas...
1. Incorporate seating
A velvet ottoman lends an elegant, feminine touch. There's also a built-in bench.
2. Illuminate
Hidden behind double doors is an impressive walk-in-wardrobe with bespoke floor-to-ceiling cabinetry and lighting.
3. Choose a grasscloth wallpaper for a sophisticated look
A smokey blue grasscloth wallcovering with a subtle metallic sheen offers a chic, masculine look to this mens dressing room.
4. Include a Vanity table
This dressing room has a vanity area too, for doing make-up and jewellery.
5. His & Hers
The dressing room is calm and simple, with his and hers nooks of built-in wardrobes.
6. Wallpapered
These built-in wardrobes are covered in Gucci's Heron wallpaper. The stained-glass window is original to the house.
7. Ink stained wood
Walnut wood cabinetry was used to create this masculine dressing room.
8. Walnut Wood
This dressing room carries a masculine look with walnut woods.
9. Painted Ceiling
This dressing room has its very own washer and dryer. It feels a very interior designed space, thanks to the painted ceiling, painted floor to ceiling cabinetry and the pretty blinds that incorporate both colours. A bust on the vanity table offers a fun way to hang jewellery.
10. Open Plan
This bespoke dressing room and walk-in wardrobe is laid out so you can see all the clothes, rather than having everything stuffed in cupboards.
11. Double Height
Salvaged doors divide the main bedroom from this slim storage room, with bespoke cabinets. The design makes the best use of the high ceilings here.
Floor-to-ceiling units make the most of space, plus they'll look neater than wardrobes with boxes on top. Include high shelves for luggage and out-of-season clothes. Glass-fronted doors are ideal for reminding you of what's stored up high, plus they'll help break up a solid bank of units.
12. Brass accents
Glittering brass door furniture and a copper-lined light turn this cupboard-filled landing into a super-glamorous dressing room.
13. Add a wallpaper
Windows are rarely present in dressing rooms, so a mural or patterned wallpaper will create a show-stopping vista. Detailed motifs drawn from nature work well. Hang the mural behind the dressing table as this is the area you'll spend most time looking at. You can tie furniture in by covering your seat in a coordinating material too.
14. Consider a curtain
Jordan Cluroe and Russell Whitehead of 2LG Studio agreed that they wanted to keep shoes behind a curtain in their dressing room. That way, they had the option to hide them or have them on view.
15. Bench Seating
This elegant, feminine space features padded velvet carpeting and a bench for trying shoes on.
16. Crittall divide
Take design inspiration from your favourite boutique store and create a central focal point, such as a beautifully clad island or statement chandelier. Luxe materials help dial up the glamour – think multi-layered lacquers, brass, copper, engineered stone and anything with a pearlescent sheen. A Crittall-style partition keeps an elegant dressing room on show from the bedroom for a seamless feel between the two spaces, with the added bonus of boosting natural daylight when you're getting dressed.
17. Head Over Heels
Footwear takes up less depth than the hanging space required for clothes, so they can fit into a shallow cabinet or reduced-depth shelving. A narrow niche or awkward corner makes the ideal spot for bespoke shoe shelves. Include some seating nearby, so you can easily try on different pairs.
18. Calm & Classic
A sleek bank of built-in wardrobes is ideal for maximising the feeling of space, while keeping everything in place and hidden away. Use the same neutral paint shade on furniture and walls in a velvety matt finish to create a wraparound effect that reflects light without appearing stark, then add concealed hinges, elegant hardware, a pared-back pendant and comfy seating to complete the look.
19. Fine Vintage
For a mix-and-match vibe that looks as if it's taken years to put together, use contemporary fabrics and wallpapers alongside classic prints, traditional-patterned rugs and classic upholstery. Blending old and new elements will help prevent the space from feeling too contrived.
20. Floor To Ceiling Storage
An impressive amount of storage space helps keep it clear of clutter.
21. Padded doors
The dressing room features mirrored and smart, padded doors.