17 dressing room ideas to inspire a super chic organized closet
These super chic dressing room ideas are both practical and beautiful and will definitely inspire you to start making more of your space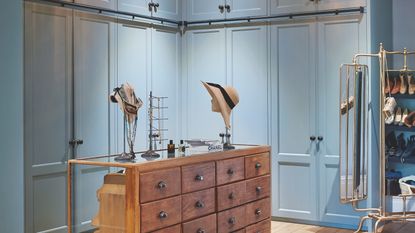 (Image credit: Paul Massey)
We could peruse through dressing room ideas for hours. For what is more satisfying than rows of shoes all lined up perfectly, clothes hung in color order, zero mess, zero clutter, totally dreamy. And actually, while dressing rooms were once reserved for the Cribs-esque homes, they are fast becoming a must-have for homeowners.
'Dressing rooms and walk-in style fitted wardrobes are fast becoming one of the most desirable spaces within a bedroom.' says Rachal Hutcheson of Sharps. 'Not only offering the ultimate in luxury these spaces help to make the most of every inch of space available and can be designed to suit any room size. Because they are bespoke you can fully customize them to complement the way you dress, for instance, if you have lots of long dresses rails will be integral whereas if you love shoes, pull-out or pigeon hole storage can help you see and gain easy access to your favorite pieces.'
Another reason to love dressing rooms? As a space that is usually quite hidden away you can really indulge in the decor, experimenting with colors, prints, and ideas you wouldn't dare to use in the more frequented rooms in your home. From bold wallpapers, to neon color schemes there's plenty here to get you inspired, oh and of course, there are some practical closet organization ideas thrown in there too...
1. Assess your dressing room storage needs
Before we delve into lots of lovely dressing room ideas that are all about color schemes and elegant wallpaper, first let's focus on the practical side of designing a dressing room. If you are starting totally from scratch you need to assess how you want to store your clothes and what layout is going to work best for you.
Good closet organization will create a dressing room that's functional and tailored to your lifestyle. Think about whether you like to fold or hang your clothes? Do you want everything on show and easy to access or hidden behind doors? How much rail space will you need v how many drawers? Factor in shoe and bag storage too, plus space for out-of-season clothes like bulky jumpers, coats and jackets.
2. Go bespoke for the perfect dressing room
To make the most of your space, consider going bespoke with fitted storage that's designed for your specific space. You can they have say over not only how your cabinetry looks from the outside but also the configuration inside, so you can decide on what layout will be best for your needs.
3. Incorporate seating into a dressing room
If you have the space in your dressing room, adding in an ottoman, bench, or window seat not only provides a handy space to perch while you put on shoes or stare at your clothes while deciding what to wear, it can also double up as storage. Ottomans are ideal for keeping bulkier, seasonal clothes that you might still want to have easy access to like jackets and jumpers. They also make for great bag or shoe storage too.
4. Plan how to light your dressing room
Lighting might not be as thrilling as choosing a color scheme or picking the perfect hardware, but it is key to designing a functional dressing room. Dressing rooms do tend to be darker spaces and are often windowless so ensuring they are well lit is crucial.
You will want a strong overhead light but tone down the harshness by incorporating spotlights or LED strip lights within the wardrobes themselves. This makes it easier to instantly see what's inside but also adds that glamorous, luxurious feel to a walk-in closet.
5. Choose a grasscloth wallpaper for a sophisticated look
A smokey grey scheme is perfect for giving a dressing room a sophisticated edge. Plus, with all that joinery going on it's nice to have some soft, subtle pattern to break up the walls of storage. A dressing room is the perfect place to experiment, so go as bold as you like, but we love this blue-toned grasscloth wallcovering with a subtle metallic sheen, it adds texture to the monochrome space and bounces more light around the space.
6. Include a compact vanity table
A dressing table, even if it's compact, is a great addition to a dressing room. They create the perfect space for storing small accessories, jewelry and makeup. Plus taking a vanity area into a dressing room can free up space in the bedroom too. Just make sure the space is well lit and hang a large mirror above to make it a practical as well as pretty space to get ready.
7. Make wardrobes a stylish focal point with wallpaper
Wallpapering the doors is a really simple way to transform a dressing room, adding color and pattern. If your doors sit flush to the wall, you could wallpaper them entirely so it blends seamlessly into the wall or be inspired by this dressing room add wallpaper the whole wardrobe. The wallpaper used in this master bedroom's dressing area is Gucci's gorgeous Heron print.
8. Wallpaper the whole space
Have fun with a dressing room design and rather than just stick with wallpaper on the walls, take it up over the ceiling too. This is a great small closet idea especially if you opt for a busy print or a dark color as this can blur the boundaries of the room and allude to a larger space. Pick a color for the cabinets that blends in seamlessly with the walls to again make the space feel larger.
9. Choose ink stained wood for sleek cabinetry
If your dressing room has a narrow footprint, help expand the space by choosing darker hues. As you can see with this dressing room, it's lined with inky wooden cabinets which not only create a sophisticated, masculine vibe it also makes the room feel more open as you can't quite make out the edges of the room. Note how there's no hardware either, so nothing sticks out into the space and adds unnecessary visual clutter.
10. Create a classic look with walnut wood
How beautiful is this dressing room? It just oozes sophistication with the dark walnut wooden cabinetry and the plush cream carpets. It's a practical space too, with lots of lay out tips to help inspire your layout. See the mix of open and closed storage – open storage for shirts and shoes make them easy to organize and see exactly what you have. Closed storage in the form of deep, roomy drawers are ideal for clothes than get be folded away like jumpers and jeans. Valter hooks provide the perfect spot for hanging outfits for the next day too.
11. Paint the ceiling for a pop of color
Far more stylish and on-trend than a feature wall, painted ceilings add a splash of color to a room in an unexpected way. We love the deep orange ceiling in this dressing room, combined with the dark cabinetry it gives the space a lift, without interrupting the moody vibe going on here. The elegant retro furniture works perfectly with the contemporary color scheme too.
12. Opt for glass fronted cabinetry
Floor-to-ceiling units make the most of space, but they can make a room feel quite boxy, so go for glass fronted doors to keep the space feeling more open and airy. It's also a practical decision too as you can clearly see what's in each cupboard and will (hopefully) encourage you to keep the space organized as everything will be on show.
13. Hide clutter with a curtain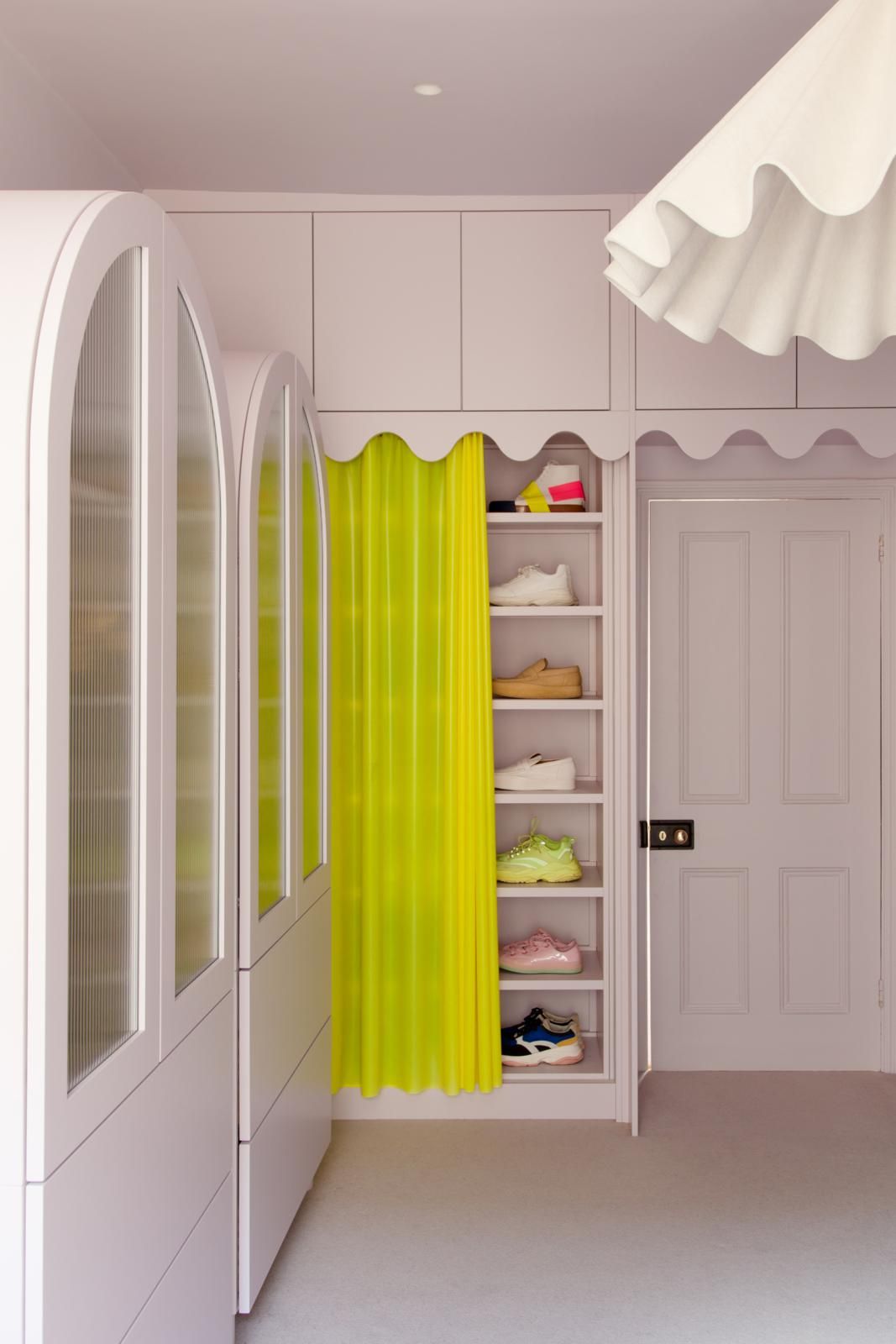 Jordan Cluroe and Russell Whitehead of 2LG Studio agreed that they wanted to keep shoes behind a curtain in their dressing room. That way, they had the option to hide them or have them on view.
14. Divide a dressing room with Crittall doors
Take design inspiration from your favorite boutique hotel and create a central focal point, such as a beautifully clad island or statement chandelier. Luxe materials help dial up the glamour – think multi-layered lacquers, brass, copper, engineered stone and anything with a pearlescent sheen.
A Crittall-style partition keeps an elegant dressing room on show from the bedroom for a seamless feel between the two spaces, with the added bonus of boosting natural daylight when you're getting dressed.
15. Use mirrors to create the allusion of space
It's designed 101 that mirrors expand small spaces, so be inspired by this dressing room idea and switch solid cabinetry for sliding mirror doors. See how it makes space look double the size. And for any open storage add a mirror to the back of the shelving, not only will this show off your collections it will also help create the impression the room is larger.
16. Keep it simple with a calming color pallete
A sleek bank of built-in wardrobes is ideal for maximizing the feeling of space, while keeping everything in place and hidden away. Use the same neutral paint shade on furniture and walls in a velvety matt finish to create a wraparound effect that reflects light without appearing stark, then add concealed hinges, elegant hardware, a pared-back pendant, and comfy seating to complete the look.
17. Bring in vintage pieces for a personal touch.
For a mix-and-match vibe that looks as if it's taken years to put together, use contemporary fabrics and wallpapers alongside classic prints, traditional-patterned rugs and classic upholstery. Blending old and new elements will help prevent the space from feeling too contrived.
What should be in a dressing room?
The purpose of a dressing room is mainly to provide storage for clothes, shoes, and accessories, so you want to make sure to have enough storage for your own collection. Think about how you want your clothes to be stored, do you want lots of hanging space for longer garments, roomy drawers for bulky jumpers or shelves for your ever-growing shoe collection. Do you want to include a space to get ready, in that case you'll want to add in a dressing table and storage for makeup too? Consider adding freestanding pieces like ottomans, benches or storage chests.
'I first try to establish who is using the dressing toom (ie just wife or husband) as well, and establish generally what needs to be accommodated in terms of storage. For example, a key issue is shoes. Some people have designer ones they want prominently displayed - others want to keep them well away from the dressing room. For the women I always try to establish what they have in the way of long hanging items as this is often overlooked. And also whether internal lighting is needed or any other extras.' advises Laurent Drouin from the Heritage Wardrobe Company.
'Ideally, I also think you should have an island as it's a nice feature to use before getting dressed, it's practical and maximizes space in the dressing room, by giving you more drawers in the center for makeup, jewelry, clothes.'
How much space do you need for a dressing room?
Dressing rooms can work on a really small scale, however, we'd recommend not going any smaller than 2m x 2m. You don't have to go all round with fitted wardrobes, opting for just a span along one wall with either no doors or sliding doors will save you space and make a tiny dressing room possible. And think about location too, ideally, you want a dressing room to be situated either off a bedroom or in the adjoining room.
The Livingetc newsletter is your shortcut to the now and the next in home design. Subscribe today to receive a stunning free 200-page book of the best homes from around the world.
Lotte is the Digital Editor for Livingetc, and has been with the website since its launch. She has a background in online journalism and writing for SEO, with previous editor roles at Good Living, Good Housekeeping, Country & Townhouse, and BBC Good Food among others, as well as her own successful interiors blog. When she's not busy writing or tracking analytics, she's doing up houses, two of which have features in interior design magazines. She's just finished doing up her house in Wimbledon, and is eyeing up Bath for her next project.