Closet organization ideas – 16 ways to edit and streamline your wardrobe
With these closet organization ideas make your pesky cupboard a tidy, well-lit, visually pleasing space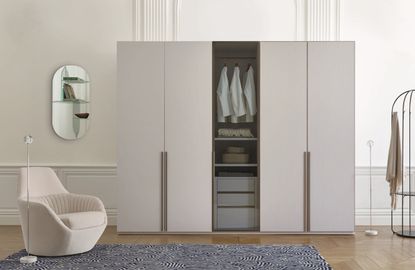 (Image credit: Ligne Roset)
The Livingetc Newsletter
For style leaders and design lovers.
Thank you for signing up to LivingEtc. You will receive a verification email shortly.
There was a problem. Please refresh the page and try again.
Closet organization ideas are always the need of the hour. Since most of us do not have ballroom-sized closets, maintaining order and peace within the small storage space can be understandably hard. Plus, not everyone has the Marie Kondo spirit of editing all your needs down to the basics. So for all those who do love their boots, large coats, and hats, how do you ensure the closet isn't a place where pandemonium reigns?
While there is a sea of organizing products available, it is also important to inculcate certain useful habits and strategies to keep the wardrobe or walk-in closets clutter-free.
Take a look at this useful advice shared by top designers and organizers, and begin tidying up now!
Ruth is an experienced homes writer and editor. She has written hundreds of articles helping readers make the best home design choices, and spends her days interviewing interiors industry experts to bring the latest ideas to her readers. For this piece she spoke to the best design experts and organization gurus who she knew would be best for information on how to get a closet looking good.
16 closet organization ideas to live by
'As with any space organization where you need to maximize available space in an orderly manner so that you can find what you need without stressing and wasting time, creating a specific place for each item is important,' say Hardesh and Monica Chawla, founders of Essentia Environments. 'Think of the various articles of clothing and how they need to be stored so that you can easily see them and pick them up when you need them.
'Consider clothes that need to be placed on the hanger, and those that need to be folded or rolled up, and those that need to be put away in drawers or baskets. Create different hanging spaces for long and short items to reduce the wastage of space. Use storage boxes or baskets that can be piled up so that you can use every inch of vertical space. And make sure to label each box/basket so that you know what is where.'
1. Start by decluttering the closet
'The best way to organize a closet is to declutter it first,' says Charlotte Sitton, founder of Organised by Charlotte. 'There may be items you haven't worn in the last three years and there may be some hidden treasures you have forgotten about.'
This is especially useful if you have a small bedroom storage wardrobe. Do this by taking everything out and making four piles: the now pile, for things that are worn often; the aspirational pile, for clothes you might fit into again or might use if an occasion arises; the discard pile, for things you never reach for; and the seasonal pile, for things you wear only during specific seasons. This will help you edit out all the things you don't need currently, and donate the ones you will never use.
2. Sort as per season
'If you have the space, start by splitting your wardrobe in two – one side for winter and the other for summer,' says Juliette Thomas, founder of Juliettes Interiors. 'Next, group items together such as sweaters, tops, dresses, shirts, etc but ensure you color coordinate them, as this will allow you to find what you're looking for easily. Opt for fabulous storage boxes and organizers in your wardrobe for smaller items such as socks and accessories to keep everything contained, neat, and organized.'
If in fact, you do not have a large enough space in your built-in wardrobe, pack the non-seasonal stuff in clear plastic bins with big, easy-to-read labels that let you know what's inside. Store them out of sight in an easily accessible place. Remember to wash and dry-clean out-of-season clothes before you put them in storage.
3. Ensure your closet is well-lit
To be able to work well in your walk-in closet, dressing room, or wardrobe, ensure it is well-lit. Ensure you have strategic placement of recessed puck lights at top shelves, strip lights along the edges, or one at the cabinet's base. Suspend a pendant light from the ceiling to make sure the overall area is lit up as well.
Whether your closet is big enough to walk inside or has just enough room to store your items, lighting can transform the space and give way to an elevated and chic new look.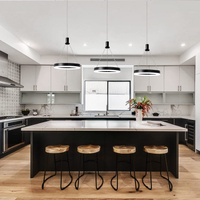 LED Round Dimmable Pendant from Amazon
This modern-style chandelier has a modern form and disperses light equally around the area. The perfect piece for study room, living room, dining room, bar counter, etc.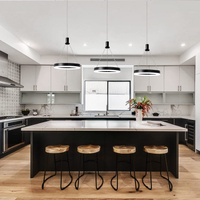 LED Round Dimmable Pendant from Amazon
This modern-style chandelier has a modern form and disperses light equally around the area. The perfect piece for study room, living room, dining room, bar counter, etc.
4. Maximize storage with floor to ceiling wardrobes
You might not realize it but your walls, the insides of doors, and even the ceiling are prime real estate for storage. Put these surfaces to use with built-in wardrobe ideas that scale the length and breadth of your space.
'This closet focuses on sleek, floor-to-ceiling storage and blends seamlessly with the design of the primary bedroom, with a bright pop-of-color to complement the warm tone of the wood paneling,' says Lance Thomas, principal designer at Thomas Guy Interiors. 'The design prioritizes panel fronting on all the doors to keep everything out of sight to ensure the space always looks together even if behind the doors is a different story. We prioritized hanging storage for longer items and created additional storage using drawers for storing smaller items.'
5. Customize a design for all your needs
Have the luxury of space? Make the most of it with a specially customized wardrobe storage that caters to every single need. Want to add more functionality? Bring in a dressing room too in this space.
'This walk-in closet is the epitome of custom design work in collaboration with the client,' says Brittany Farinas, founder of House of One. 'The design focuses on sleek, visible storage and allows for plenty of organization between categories of clothing. The center island provides additional storage for smaller items and accessories, one of which is a hidden tilt-out hamper (surprise!) along with a small bench for putting on shoes with ease.
6. Add drawers and boxes to store smaller items
Add more functionality to your wardrobe storage with drawers and bedroom shelving ideas that allow you to neatly place every single item in an orderly manner. This is especially useful in kids' bedrooms where the little ones have several smaller items that they need, like clips, socks, toys, scarves, and more.
'When it comes to closet organization, it is important to take individual needs into consideration, and personalize storage accordingly,' says Meenu Agarwal, founder of MADS Creations. 'For example, children's closets should have drawers or boxes for small items of clothing, like socks, scarves, etc. It also helps them stay organized. Use shelves of different heights in your closet so that you can pile up different kinds of clothing efficiently without them falling off the pile. For example, woolens and sweaters occupy more vertical space when folded than other clothes, so you can place them on tall shelves. It would be a good idea to create cubbyholes for woolens as they don't stay in a pile properly.'
7. Create a capsule collection
A great small bedroom storage hack is creating capsules within your wardrobe that will make dressing for every day and different situations so much easier.
'My biggest overall tip for organizing a closet is to first divide your wardrobe into capsules before you even try to organize it by color,' says Janelle Burns, lead interior designer of Maestri Studio. 'If you do only one thing, making capsules is perhaps the most helpful. Most people default to a few general capsules: career, casual and athleisure. For ladies, I also recommend a cocktail/date night 'going out' capsule to further reduce a closet from feeling overwhelming.'
8. Organize by color
Add to your preppy bedroom ideas with a vibrant wardrobe! Once you have organized your clothes into different types, you can create an even more practical storage scheme by then introducing color coordination.
'In each capsule, I group clothing by type (tops, skirts, dresses, pants) then by color, and I typically start with white, followed by ROYGBV (the 'rainbow' scheme of red, orange, yellow, green, blue violet), tans, brown, then black,' says Janelle. 'These all also hang in order of least coverage to most coverage, (for instance- for tops I hang them from camisole, tank, short sleeve, 3/4th, to long sleeve).'
9. Have an empty hanger area
'Second to creating capsules is to place empty hangers in a certain spot so that there are never empty hangers mixed in with hanging clothes,' says Janelle. 'When you remove a garment, the hanger comes off the rod, too, then the empty hanger goes to the empty hanger section.'
10. Think about ergonomics
Now it's time to start putting your clothes, shoes, and accessories back into the closet. A good place to start with this seemingly mammoth task is to plan where each of your categories would work best.
'Alongside organizing exactly where everything is placed, it's important to think about the ergonomics, meaning how you move and flow in the space,' say Jen and Marr. 'Consider what order you dress in and design the layout, so it naturally fits with your movement.' .
Literally, practice it. Go to your wardrobe and see where is most natural for you to reach. What shelves and rails do you naturally go to? It might sound silly but it will give you a clear idea of where to store your most used clothes so that they are always easily accessible.
11. Invest in the right clothes hangers
Find the right hanger for the right clothes. In fact, hanger uniformity makes finding garments easier, as it keeps every article of clothing at the same level. It also tames the chaotic look that closets often develop due to a collection of dissimilar hangers. Plus, it's a great small bedroom organizational idea.
'Matching hangers are a must, so all items hang at the same height and width,' states Kellie Burke, founder of Kellie Burke Interiors. 'I love chunky gold metal ones.'
Janelle says felt hangers are a clever idea because they 'actually do help save space and, added bonus, they keep clothes from slipping off'.
She adds that speciality pant and coat hangers are worth the investment, too, explaining: 'When you buy more clothes, either buy more hangers for the garment type or edit clothes out. Every type of garment should have a proper hanger – it looks nice and it also really helps the day-in day-out function of your closet.'
We really like these wooden coat hangers.
12. Assess your storage system
If you're finding that your closet is constantly getting out of hand and no matter how much you declutter, the system isn't working, it's time to rethink the design and configuration. And this doesn't necessarily mean starting from scratch even if you have a built-in closet, it's more than likely you can tweak your current space to make it work harder and suit your needs better.
Look at the clothes you own and assess what your storage needs are. Do you have lots of dresses that require rails? In that case, hang another bar. Do you need to incorporate drawers for t-shirts and sweaters? Can you fill dead space with bins and baskets that you can stash bags and shoes?
'Don't buy any storage until your declutter is complete and your clothes positioned where they will live. Make sure you measure up and only buy extra storage if it is actually going to enhance the area. The basics that I find the biggest help are drawer dividers.' advises Silverthorn Vicky professional organizer and founder of You Need A Vicky.
13. Add in freestanding storage
Really maxed out your built-in closet storage? Add extra storage by bringing in some smaller, freestanding storage pieces; also useful in entryway storage ideas. A coat stand for example is perfect for lighter spring and summer jackets that you want to keep out in the warmer months but take up too much space on your rails. As you can see in this walk-in closet, a stand for bags, scarves, and hats means they can all be kept in one place and are easy to grab when needed.
14. Make space for shoes
Whether you're looking for bedroom or hallway shoe storage ideas, these little pieces can reign chaos in the house if not stored properly. Shelving works really well as shoe storage as you can clearly see what you are working with. If shelving is going to take up too much room, hanging storage solutions can be great too and can fit onto a rail or be hung on the back of a closet door.
Just as you would with clothes, you want to arrange your shoe collection with the most worn front and center so you can just grab them and go. And top tip; if you position your pairs facing opposition directions you can free up way more space than if all your shoes pointed outwards.
15. Hang curtains to hide clutter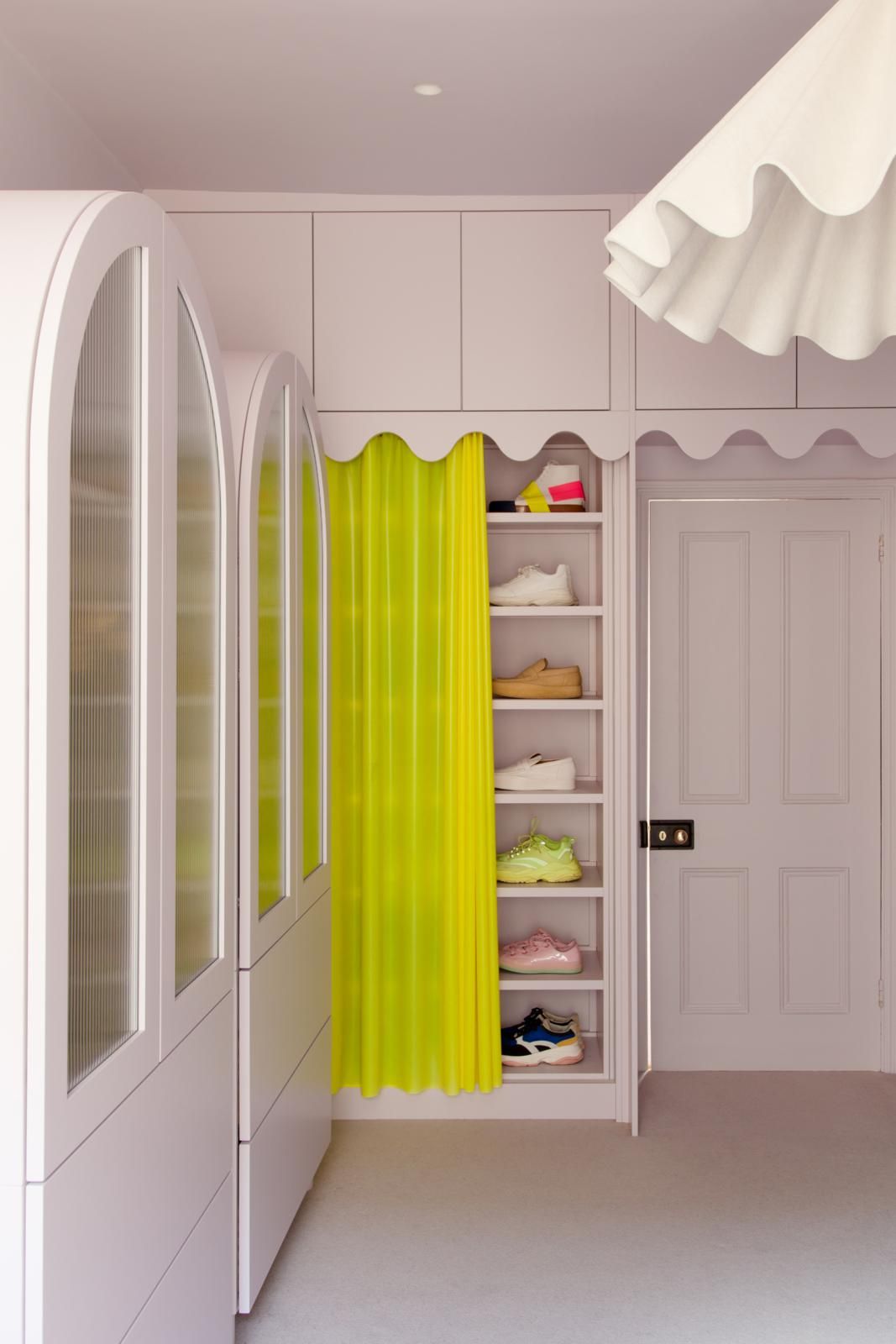 Firstly, can we just note how fabulous this baby pink and neon yellow color scheme is? But there's a clever closet organization idea to steal here too. Hanging a curtain over any open storage you have in your closet gives a much more seamless look to the space.
This would work perfectly if you had a small bedroom with an open closet so you can just pull a pretty curtain over all that visual clutter. Plus, having a curtain is a good way to protect your clothes from fading too.
16. Add an ottoman for seating and storage
If you've got the room an ottoman or a storage bench can be a great addition to a closet. Not only do they look lovely and give a real luxurious feel, they can double up as storage too.
They are perfect for keeping larger pieces that you don't want taking up lots of room in your closet but would still like easy access to. And they are great for outfit planning as you can just pop your clothes for the day on the ottoman the night before to save time rummaging in the morning.
Should I have clothes folded in my closet?
The most common mistake people make when organizing clothes is hanging every single item. According to Nic Shacklock of Online Bedrooms, this isn't an efficient way to store clothes. 'Ideally, you should have hanging space as well as shelves,' he explains. 'To maximize the room you have you should be folding thick clothes such as jumpers and jeans to save space.'
He adds that hanging certain items can affect their shape, too. 'There are certain items of clothing, like hoodies and jumpers, that you're better off folding, not only to make space, but to avoid ruining their shape on a hanger. By making use of shelves and having a bit of an organizational system, you'll be able to maximize the space in your wardrobe in a much more efficient way.'
For style leaders and design lovers.
Ruth Doherty is a lifestyle journalist based in London. An experienced freelance digital writer and editor, she is known for covering everything from travel and interiors to fashion and beauty. She regularly contributes to Livingetc, Ideal Home and Homes & Gardens, as well as titles like Prima and Red. Outside of work, her biggest loves are endless cups of tea, almond croissants, shopping for clothes she doesn't need, and booking holidays she does.
With contributions from