Designer IKEA hacks - the very best elevated expert ideas for the ultimate inspiration
The best designer IKEA hacks show how the professionals reimagine and transform affordable furniture into luxe looks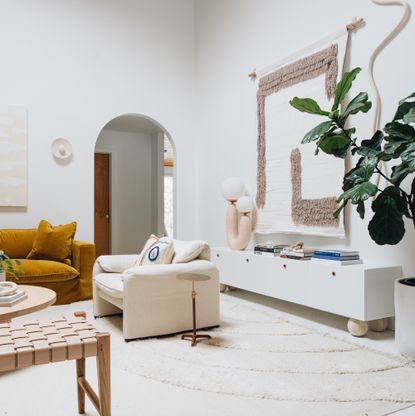 (Image credit: Sarah Sherman Samuel)
The art of IKEA hacks has become an increasingly popular hashtag on social media, with creative DIY-ers wowing us with their clever customisations.
But did you know that the professionals also love to take a run-of-the-mill IKEA piece from basic to bespoke? The best designer IKEA hacks show that you really can achieve a high-end look with a lower-end budget.
'Furniture pieces from IKEA are ideal to change up for a more individual look,' says Gemma Hill, of Bayswater Interiors. 'Painting and changing handles is a simple way to update a piece, but adding new doors from companies such as Superfront, or even creating something yourself can give a unique and stylish look - think of adding textured materials such as grasscloth wallpaper or making a door from fluted MDF to give an interesting finish.'
From brilliant Besta unit glow-ups to easy kitchen transformations, we've rounded up a handful of the best designer hacks we love below. Even top-end designers like Sarah Sherman Samuel are getting in on the IKEA hack action...
1. Turn simple Ikea Besta units into a super-stylish media unit
Top interior designer Sarah Sherman Samuel is a huge IKEA hack fan. Her clever customisations are inspiring and offer excellent ideas for bespoke solutions on a keen budget. Speaking about this chic media unit project, Sarah said: 'Even with the soaring ceilings I wanted this space to feel cosy, so I still installed the media cabinet low to the ground. Low and loungey… which is the opposite of what you might think to do with such a tall ceiling.
'The TV is hung just above the cabinet so it is at eye level when you are siting down. The tapestry that hangs over the TV measures 4′ x 6′. It works great to cover the TV when it is not in use, but I hung it there more for scale than anything. The TV is much too small to carry the height of this wall and by using the super tall tapestry above the low media cabinet it brings the eye up. When we want to watch TV we simply roll the tapestry up by hand and clip it at each side just above the TV.'
So how did she do it? Take two IKEA Besta media units, suspension rails to attach to the wall, wooden balls for cool legs, new doors, and new hardware. See the full steps at sarahshermansamuel.com.
2. Transform IKEA units and spice racks into a sweet girl's bedroom desk and shelving
Keen to utilise the wasted space of an alcove next to the fireplace in her daughter's room, interior stylist Leoma Harper, of @styletheclutter, created a desk area using a plain white IKEA work top cut down to size and two of the IKEA Eket range cabinets each side, to support it.
Of her brilliant girls bedroom idea she says: 'The reason I chose the Eket cabinets is the they are only 35cm deep which worked perfectly for this set up.
'I found some really cute handles to pop on one of the Eket cabinets, an Etsy find, sold by The Leather Handle Company, and also painted up three IKEA spice racks to go above the desk using old sample pots. The colours used were Little Greene Yellow: Mister David Green: Aquamarine Deep and Pink: Little Piggy by Fusion mineral paints. This space adds storage and a great desk area for homework.'
3. Use an IKEA Pax hack to elevate your storage
'Time and time again, we find ourselves using the IKEA PAX units (both in our own homes and client's spaces as well!),' says Tiffany Leigh, of Tiffany Leigh Design. It's one of the best storage ideas for small living rooms. 'They look great free-standing and there are a variety of clean-lined door options to choose from, but we also love to customise them with custom doors and panels to make them look like a full built-in unit (at a fraction of the cost!). We were also recently super-inspired on Instagram when we saw one of our favourite designers, Nate Berkus, add grasscloth wallpaper to the panels of his humble Pax.'
4. Dare to go bold with a velvet-covered IKEA Malm hack
Are you a maximalist more-is-more fan? You'll love this bold, statement piece by interior stylist @baytkalthoum, which started life as a basic IKEA Malm dresser. Cover with pink velvet, add gold nails and feet, and what have you got? A unique talking-point piece.
5. Give an IKEA Tarva an ultra-chic makeover
How do you take your IKEA Tarva from blah to bespoke? Make like Sarah Sherman Samuel and add paint, metallics and new hardware for an elegant and on-trend new piece.
Sarah says: 'I painted the bulk of it white. I also cut about 2″ off of each leg (I wasn't loving the proportions) and then painted the base pieces with a metallic gold spray paint. After that I just swapped out the wooden knobs for antique brass ones.'
What are the best IKEA living room hacks?
We're always looking for living room ideas, and if there's one IKEA basic you should invest in for brilliant IKEA living room hacks, it's the Besta units. These basic pieces are the perfect starting point for creating a bespoke piece with personality that nobody else will have. You can use them to transform into a chic media unit sideboard (add a marble top and cane fronts like @baytkhaltoum, above), or add them into a custom shelving unit to look like built-in cabinets.
If you're looking to create your own built-in shelving, the IKEA Billy bookcases are a great place to start, and can easily be transformed into a unit that looks far more expensive than it really was, as @mrs_macs_home shows below.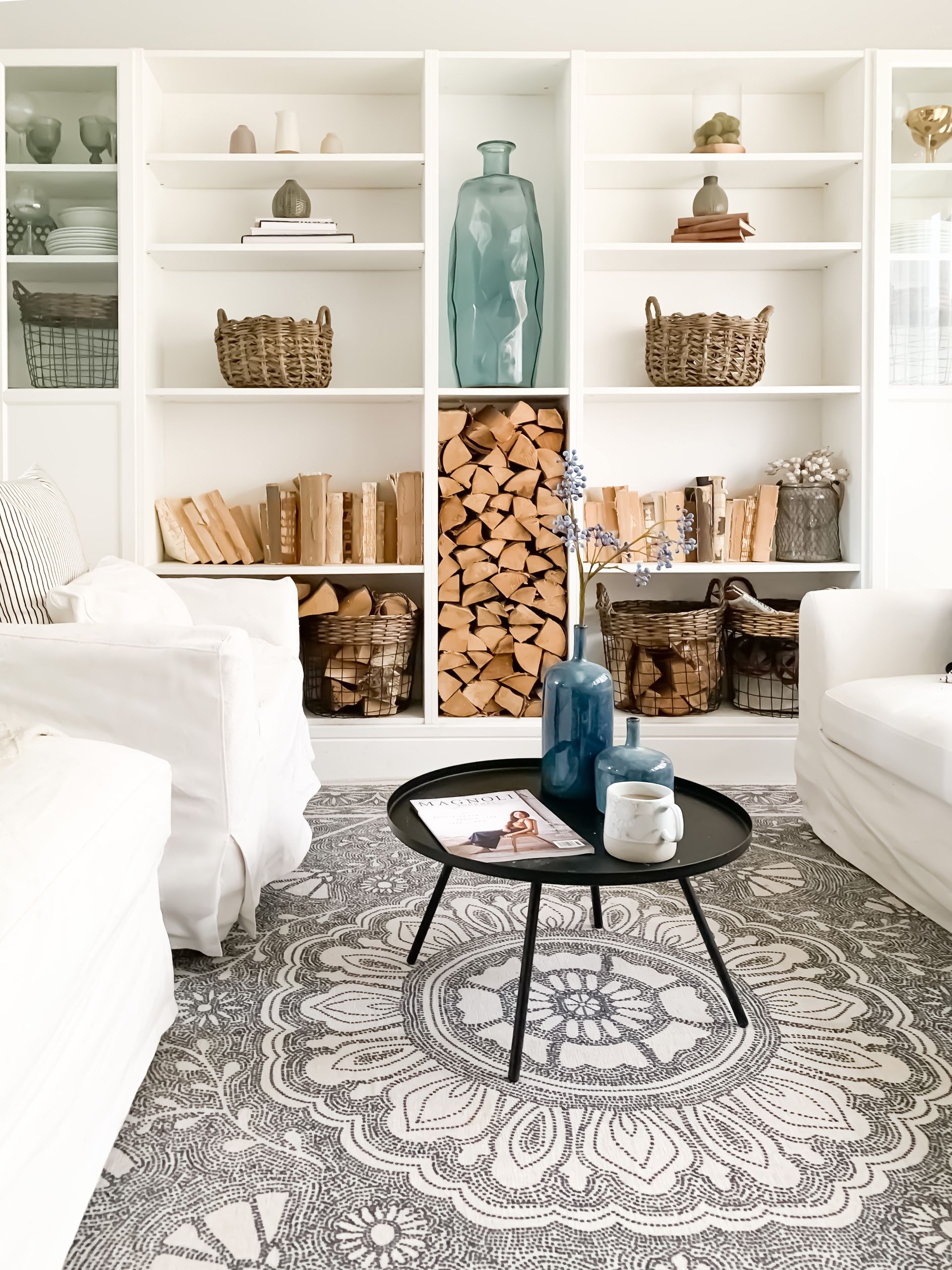 But the best IKEA living room hacks don't have to be complicated. Ruth @mrs_macs_home also showed how to transform an IKEA Snidad basket into a small table in five minutes. Simply remove the two handles and pop a cool tray on top.
Kate, of Kate Lester Interiors, says the Tiphede flatweave rugs are perfect for use as they are, but also for customising.
She said: 'I am currently obsessed with these flatweave rugs from IKEA. I was just there and purchased four in each colour. These are great for a living room or kid's room or secondary space as a rug, but they are thin enough that they can also be used to upholster an ottoman, bench cushion or even cut to make pillows. When shopping at IKEA I am always thinking how I can alter or change the pieces to make them more interesting or unique.'
The Ikea desk hack you need to know
An uninspiring home office can leave you feeling really demotivated. But you don't have to spend a fortune to add a little personality to the space. If you need more storage, try buying two filing cabinets (like the Erik) and add a wooden countertop to create a bespoke desk with in-built storage. Or try painting the Alex drawers in a cool black shade and pop a Gerton table top on it for a customised desk for two, like the clever people @ourfauxfarmhouse.
Ikea dresser hacks make all the difference
A good IKEA dresser hack can completely transform a room - and it really doesn't have to be complicated.
'Sometimes all you need is a nice and simple IKEA hack,' says Sarah Sherman Samuel. And her upgrade of the Tarva chest with a lick of white and gold paint and new knobs is proof in point. Simply adding a fresh coat of paint to suit the decor scheme and some new hardware is often all you need to zhuzh up a room.
The Hemnes dresser is also a brilliant basic piece to elevate into a statement look, as @mrs_macs_home proved by painting hers a rich, deep blue and adding cool, brass half-moon handles.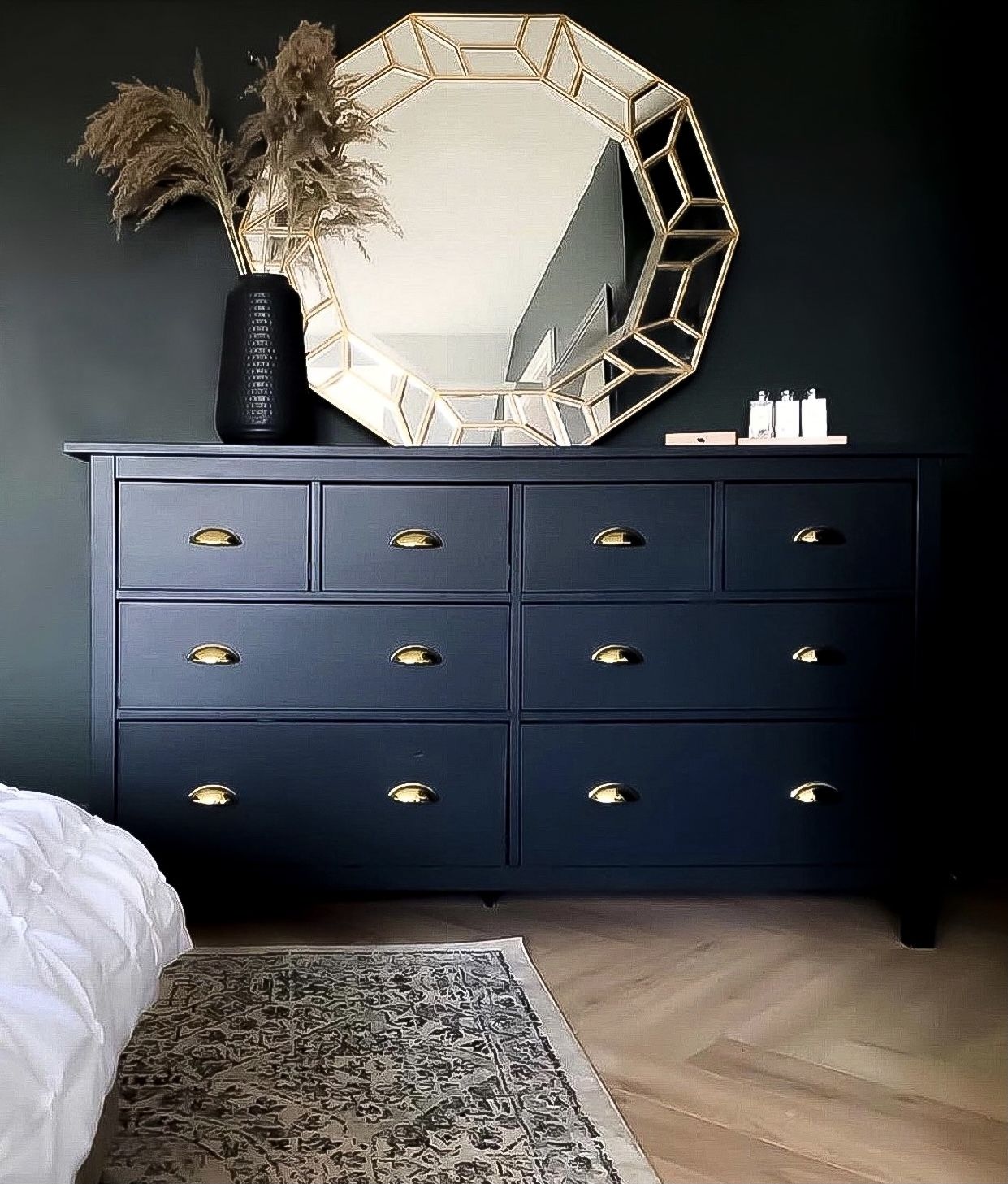 Ruth Doherty is a lifestyle journalist based in London. An experienced freelance digital writer and editor, she is known for covering everything from travel and interiors to fashion and beauty. She regularly contributes to Livingetc, Ideal Home and Homes & Gardens, as well as titles like Prima and Red. Outside of work, her biggest loves are endless cups of tea, almond croissants, shopping for clothes she doesn't need, and booking holidays she does.