The very best Ikea desk hacks to turn your home office into a beautiful creative space
These brilliant Ikea desk hacks mean you can have a workspace at home you feel excited to be sitting at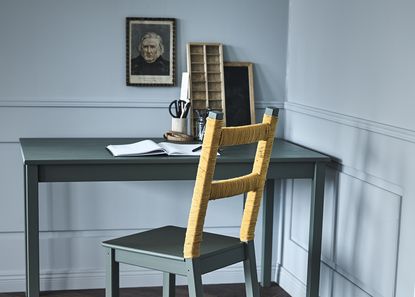 (Image credit: Micke Persson)
Ikea desk hacks are the easiest shortcut to an imaginative and inexpensive home office, and you'd be amazed at some of the imaginative, creative and down righ wonderful things stylists and bloggers have dreamed up.
Yes, this particular subset of the Ikea hacks world is particularly mind-blowing, dreamed up by visionaries who want to work in spaces that are as stimulating as they can be.
Whether you're looking for under-stair setup, a double-width desk, or height adjustable options, we've got you covered with these tried and tested IKEA desk hack ideas!
One of the best Ikea desk hacks that is perfect for under stairs or tight corners
Here's a splash of sheer interior decor magic from Interior DIY guru Medina Grillo of the brilliant instagram account @grillodesigns, who demonstrates that tight corner spaces (add to that under the stairs, too!) can be made into highly useful work areas. Here Medina shows that the IKEA ALEX drawer unit can be fashioned into a DIY desk setup, in a corner under the stairs.
Piecing together a super chic home office idea, we love that Medina has focused on a very honed architectural palette of natural wood with striking black and white, showcasing a design and budget-savvy home work station. It's lovely and linear thanks to the wooden wall battens, which mirror the stair bannister and help zone the space and make it a destination area, rather than just a space under the stairs. Who knew a budget-friendly set of ALEX drawers could look so chic? D
An Ikea desk hack for creating a monochrome double corner work station
Keeping it fully functional, Sharon from @sassandspice demonstrates how simply curating two BESTA BURS IKEA console units together you can create your own corner desk setup - the easiest of designer Ikea hacks. BESTA BUR comes with sleek under-desk storage drawers (handy!) and in a gloss white finish. Not only is it a practical and cost-effective IKEA desk hack, but it's also very stylish too.
That gloss finish adds a new design dimension to the monochromatic colour scheme, switching-up from the matt white walls with a shiny lacquered desktop surface! If you're looking for an inexpensive corner desk then it's worth remembering this one.
Ikea desk hacks can include the chair, too
Stylist and designer Genevieve Jorn has a prolific portfolio of beautifully adapted IKEA furniture. Here, she has completely transformed a standard IKEA IVAR wooden chair (which comes in at a mere £20) with some paint and string - see the before shot, below. This could also be applied to Ikea kitchen hacks, adding pizazz to your dining chairs.
'When it comes to the idea, I would say it's a pretty easy DIY,' Genevieve says. 'Add a lick of paint and wrap up the back of the chair with some spaghetti tricot yarn, and voila!'. Could this Ikea desk hack be any more straight forward? Love!
Make a fully customised stand AND sit desk by adapting some IVAR cabinets
Brittni Mehlhoff has an Instagram account to envy. @paperandstitch documents Brittni's design and decoration of her home just outside L.A. One look and you'll be bathed in a serious dose of sun-drenched Californian color palette. It's not just pretty pictures either - there's a lot of useful DIY tricks and hacks that Brittni covers, like this fully customized sit-and-stand desk made using two tall IKEA IVAR pine cabinets with a bit of wood over the top.
Brittni made this Ikea desk hack specifically so she can both sit and stand - depending on her mood and the task she is working on. 'It's highly functional, with plenty of storage, but doesn't take up too much room,' Brittni says. 'Plus, it's the perfect height - it sits between a standing desk and a regular sitting desk. So you can do both! Tuck in a counter stool (or something similar) when you want to stand and pull it out when your legs need a rest.'
We love that it looks like a very well equipped workbench. It's like a modern and contemporary version of something from Grandpa's wood workshop. Also, we challenge you to resist the feline charms of dear little Franz, the cat. He's a handsome little chap that features on the feed regularly.
The Ikea desk hack that is a tale of two trestles
Let's talk about trestles. The MITTBACK is a beloved IKEA trestle leg design. It's simply never fallen out of favor ever since IKEA first started producing it way back when. Here, IKEA shows us how to create a calming work space at home using the inexpensive trestle leg design. It's not formal but it is super smart, and that's exactly why we love this look. Using two standard MITTBACK Birch trestle legs, with a LINNMON table top resting on top, you can create an instant home workspace that's fully functional and cost effective. It's more classic than trend, which is why we think this off-the-shelf idea is always a winner.
Now you can really hack this and change it up, like the example below from designer Steph Bond who has fully fluoro'd up the look and added a striking floor-standing pegboard with IKEA BEKVAM spice racks made into handy desk storage shelving - see below. However, it's also a winner even when left alone in its original form. That's Scandi chic, after all.
Create a DIY bergere-inspired beauty by adding woven detail onto BESTA cabinets
You would never guess that this sleek looking home office is actually made using off the shelf IKEA products, would you? This Ikea desk hack has been curated using two standard IKEA BESTA cabinets and Esther, the first time buyer and DIY advocate behind @prettylittleterrace, assures us that it's a simple design to hack!
A slick of wooden beading added to the BESTA cabinet doors neatens the woven basket front detailing that Esther has added. The wooden top that runs the entire length of the room was cut to bespoke measurements at Esther's local DIY shop and then glued to the top of both the BESTA cabinets. A coating of Card Room Green from Farrow and Ball brings a visual coherency between the desk elements and the DIY panelled backdrop wall. Better than bespoke.
Use an Ikea desk hack to bespoke your ALEX drawers with this contact paper trick
The classic 'you can have it in any color, as long as it's black' line was originally tipped by car giant Henry Ford. Similarly, IKEA's success is based upon its production means. This infers there's sometimes limited choice in off the shelf specification. The ALEX drawer unit - which Medina of @grillodesigns also used in the bespoke under the stair desk design at the beginning of this feature - is no different. It looks great in its gloss white finish, but you need to get a little creative if you want to add individuality!
No hassle for Medina Grillo who has wrapped the front facade of the unit with a DIY contact paper trick. Medina offers a step-by-step 'how to' instructions on her website, grillodesigns.com, but in short: clean and dry the surface of the ALEX drawers, measure the width and height of the front of the ALEX drawers and then - leaving a couple of centimetres for error either side - cut the contact paper to size, apply the paper to the drawers by peeling away the back of the contact paper (sticking it to the unit),use a sharp knife to cut away the paper around the handles and sides of each drawer, and finish by smoothing out any bubbles in the paper with an old bit of card.' Looks swish!
Crank it up, the height adjustable SKARTSA
Ok, admittedly this isn't so much of an Ikea desk hack as just a straight off the shelf option. But hold it right there. Before you condemn us with a lack of imagination and whilst we are on the subject of height adjustable desks, we just want to say that the SKARSTA (a desk that has been designed specifically so that it can alter between your sitting and standing positions thanks to a handy crank mechanism underneath) is just asking to be jazzed up.
Mask the outer lip of the table and give it a splash of brightly coloured paint, or spray paint the metal legs in red for a 1980s vibe. Essentially though, the underpinnings of this design are perfect for those seeking an adaptable workspace, and it's a blank canvas just begging to be pimped.
Spray paint the LINNMON legs, for a midas touch
Carrie Waller, founder of dreamgreendiy.com and @dreamgreen, shows us how to take a desk leg and turn it into something deluxe. We adore this golden shimmer aesthetic that's been achieved. What's the trick? Take a LINNMON table top and add some ADILS legs (you buy them separately, so you can actually choose from any IKEA table top that you want) but just before you put it all together spray paint those legs in a shimmery tone with some DIY spray paint. Simple, but with a somewhat maximalist aesthetic for such a straightforward hack, don't you think?
'IKEA may just be my version of heaven,' Carrie says. 'Funky finishes and patterns you can't get anywhere else, the perfect (and I mean perfect) white frame, affordable organization and those prices – not to mention an "As Is" section full of pieces they're practically giving away.'
Case in point, Carrie's studio desks. 'These actually came to me by way of my friend Liz, who had in fact snagged them for a pittance from the "As Is" section,' Carrie says. 'Although the legs didn't match, I wasn't deterred knowing that a can of spray paint would do the trick. I lived with the desks for some time because I wanted to make sure that the dual surface set up would work for me. It definitely proved itself after a couple of Career Contessa work days with fellow director Mallory B., and more than a few solo occasions using one side for computing and the other for drafting with good old fashioned pen and paper', explains Carrie. 'Once I knew that I was set on the configuration, I began planning my paint attack. In the end, I decided to unscrew the legs of the table, drape on an inexpensive plastic tarp to protect the undersides of the table and then screw the legs back into place. Happily, it worked like a charm and having those legs sticking straight up in the air (as opposed to rolling around in the horizontal position) made painting them a breeze.'
Turn an IDASEN table top into a mid-century masterpiece with this handy hairpin hack
Hairpin metal legs (readily available on the likes of Ebay, or the aptly named @hairpinlegco) are super stylish and perfectly embody the finesse of the mid-century modern furniture style. Their slenderness and transparency (you can see right through them) keeps living spaces feeling light and airy, and better still you can adapt and re-model lots of different kinds of furniture by updating the legs with a set of these.
Morgan Trinker opened her Alabama home to the design duo Elsie Larson and Emma Chapman, co-founders of abeautifulmess.com. Morgan has a keen eye for an IKEA hack and has pursued a few of them whilst designing her home in Manchester, Alabama. For her desk space Morgan used a straightforward IKEA table top (try LAGKAPTAN or LINNMON designs) and added elegant hairpin legs, giving the desk amid-century modern look, but for a fraction of the price of the real deal. This is high-end style but on a budget. Ingenious, if you ask us. @abeautifulmess
What is the best ikea hack for a corner desk?
Joining two IKEA desks together, like Sharon from @sassandpsice has done with her two matching BESTA BURS console tables, is probably the easiest and most straightforward answer to hacking an IKEA corner desk setup because it really is just a case of placing two readymade pieces next to each other.
However, don't forget you can also mould an existing desk from IKEA into a corner design by adding an extra length of wood or worktop, and supporting it with wall brackets or a separate IKEA drawer unit for support - and additional storage!
What is the best Ikea hack for a standing desk?
If you're looking to DIY your own standing desk then we suggest you think about the practicalities of ergonomics first. Afterall, you don't want to design a desk which is going to be too tall, or too short! If you are the end user then measure your height and work out your most comfortable standing position for the desk top to sit. Do this before you start hacking a table top or trestle!
One of the most successful standing setups we have seen has to be the super functional sit and stand desk by Brittni Mehlhoff from @paperandstitch. Brittni hacked two tall IVAR cabinets and had a long piece of wood positioned on top to create the perfect height workspace.'What I love most about this IVAR Ikea hack is how customizable it is. You can keep the pine cabinets and desktop as is, or stain them, or paint them. You could even paint the cabinets and leave the desktop raw or vice versa. Lots of options depending on your needs. The length is extremely customizable, since the cabinets can be spread apart more or less than I did for mine. And because the IVAR Ikea cabinets come in two different depths, the depth is also (semi) customizable based on your needs. You can also change the height of this DIY standing desk from what I have pictured to something taller, by attaching short legs to the cabinets before installing. I personally like the final height of my desk (which is about 34 inches), but if you're looking for something taller, attaching legs would be a great option. I also considered going a normal desk height for this one, which would have meant making some precise cuts and measurements before assembling the cabinets. But ultimately decided that a standing desk option was a better option for what I needed in the space (more storage and something great for doodling, working on small projects, etc', says Brittni.
You can add colour and texture to your standing desk desk, similar to how Medina from @grillodesigns has demonstrated with her printed contact paper trick. There are also specific websites such as luxhax.com who offer easy-apply trellis-like designs which simply stick on and are three-dimensional too!
Lastly, when it comes to standing desks, be sure to check out the brand new KNOTTEN desk which is IKEA's latest answer to a compact, off the shelf standing desk design. The designers at IKEA have realised the need for compact standing desk design. Better still it's in a typically IKEA pale wood finish, meaning yes you guessed right, we think you can hack it by painting it up.
What is a good ikea hack for table legs?
This has to be one of the most impactful home hacks you can carry out, let alone on an IKEA product! There's so many options too, but the most effective is probably spray painting a set of IKEA table legs in a metallic tone, such as silver, bronze, or gold, and voila You have instantly transformed an off the shelf IKEA product into something that looks like it belong in the higher echelons of the design world!
Carrie Waller, the founder and face behind dreamgreendiy.com @dreamgreendiy simply spray painted a set of ADILS legs in gold metallic and, placing a LINNMON table surface on top, created a super cost effective and luxe looking desk. Could a hack get any easier? We don't think so.
The Livingetc newsletter is your shortcut to the now and the next in home design. Subscribe today to receive a stunning free 200-page book of the best homes from around the world.
Rory Alastair Robertson has a long-standing history working across the interiors industry. Raised in Morningside, Edinburgh, Rory grew up surrounded by classically grand Scottish Georgian and Victorian architecture.
His first appreciation for interior decoration sparked when his mother hired scaffolding and decorated their three-storey Victorian staircase in Farrow & Ball Picture Gallery Red, by herself. She then painstakingly gold leafed the drawing room - by hand - over a base coat of Sudbury Yellow. This was the era of Jocasta Innes and Kenneth Turner, when paint techniques and maximalist style were the decorating raison d'être.
With this inherited gene of creativity, Rory went on to study Interior Architecture at the University of Edinburgh, and later, Theatre Set Design and Architectural Illustration at The Rhode Island School of Design on America's East Coast.
Rory's foray with the editorial world started a decade ago at Livingetc magazine, a title which he regularly contributes to today. Specialising with a deep-seated appreciation for historical homes and interiors, Rory often travels far and wide to be inspired by unique properties with a fascinating history.
If he's not uncovering an unusual National Trust property in the UK, then he's seeking out a Neo-Classical clifftop villa in Capri or a Palazzo in Florence.
Based in London's Shoreditch, working as a Senior Interiors Editor and Consultant, Rory's portfolio of work is a creative melting pot of residential and commercial interior design projects and a plethora of editorial writing work. Rory is also Guest Interiors Lecturer at the prestigious KLC School of Interior Design in Chelsea, London. His most cosseted possession is a ramshackle Citroen Deux Chevaux, which he has reupholstered in Pierre Frey yellow and turquoise silk fabric.
Discover more at roryrobertson.co.uk and @rory_stylist.