Ikea bed hacks – how to give your sleep sanctuary a stylish uplift in just a weekend
These luxe IKEA bed hacks will transform any bedroom without blowing the budget...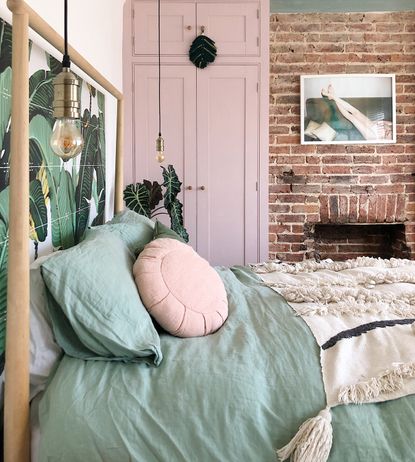 (Image credit: Kelly Day)
Ikea bed hacks are a surefire way to create a space that feels unique to you, without having to splurge on something too pricey. The whole point in IKEA hacks is to create something that doesn't instantly look like it's from IKEA right? So we've scoured design blogs and Instagram influencers alike to bring you what we think are the best and most effective IKEA furniture hacks for the bedroom. From cost-effective under-bed storage solutions, to nifty ways to spruce up an IKEA fitted wardrobe, there are chic Ikea bed hacks aplenty.
Whether you're looking for a sumptuous velvet headboard or a boho rattan vibe, these IKEA bed hacks will serve up some seriously stylish inspiration...
IKEA bed hacks for ultra-stylish snoozing
1. Turn a plain IKEA wooden bed into a pretty upholstered piece
Upholstered headboards are a lovely luxury bedroom idea but can be quite pricey. Minimize the cost and get the look by taking a plain wooden IKEA bed and transforming it with an upholstery hack. Kara @beglorifiedhome did just that to create the pretty bedhead above.
She says: 'I started with an older style natural IKEA bed, very similar to the current Tarva bed frame. After lightly sanding it, I stained the legs and sides with the Flagstone and Special Walnut stains.
'I wanted to increase the height of the headboard for a more dramatic look, so I used 2x2s and metal brackets to extend the headboard frame.
'Once I got the desired height, I added plywood to the front of the headboard for stability and also so that I could upholster it. I used staples to attach a few layers of batting and then covered it upholstery fabric.'
2. Use rattan to create a bohemian-style bed
Rattan is enjoying a real resurgence in the world of interior design trends thanks to its timeless appeal and tranquil, organic aesthetic. You can use cane webbing on multiple pieces of furniture to create that Palm Springs style.
Natasha, of @at_home_with_taddy, added rattan to an old wooden IKEA bed frame to give it a modern makeover.
Natasha comments: 'My husband had brought this bed from IKEA long before I knew him and it was definitely time for a revamp! I started by painting the white wooden frame with black chalk paint then distressing it with sandpaper to give it more of a 'worn' feel.
'Then I finished that bit off by waxing it to protect the paint. After that came the fun bit…I cut squares of cane webbing and attached them with upholstery nail stud strips, and job done!'
3. Ooze a modern rustic style with relaxed linens
Beautiful crumpled linen has a relaxed, dive-in quality that works to create an inviting rustic bedroom vibe with its organic, textural appeal. What's more, linen is a sustainable material so has a feel-good, as well as a look-good, allure.
Queen of Scandi chic, Niki @myscandinavianhome, says of this informal look: 'I bought the IKEA Stavangar/Boroy headboard, which is perfect as it just slots behind the bed, and then added a Bemz universal headboard cover in white linen. It's got much harder to get out of bed as a result.'
4. Create bunk beds for a whimsical wonderland children's room
When it comes to sharing kids' room ideas, this whimsical retreat has to be one of the cutest - and most stylish.
Over @villaalvsjo, cool bunk beds were created with a number of IKEA products, which sit against a gorgeous backdrop of Fleur Harris Jimmy Cricket wallpaper.
The owner explains: 'We used four pieces of IKEA Platsa 40x60x60, and then eight pieces of IKEA Hjälpa drawers with just a plain front as the frame. And in the middle, it's the IKEA Billy bookcase, with the rack made from an old baby crib bed (also bought from IKEA ages ago). The rest was measured and built to fit our space with MDF wood from Bauhaus and then painted to be the same color.
'The mattresses are also from IKEA, and are a standard regular for a toddler's bed. 'We have adjusted the measurements to fit our beds, which is 80x120cm.'
5. Make a cool cabin-style children's bed from the IKEA Kura
This is another fab kids' room idea that manages to be cool and cute at the same time.
So how was the cabin-style bed created? Frances, of @100yearsinthemaking, explains: 'We bought the IKEA Kura bed on FB marketplace, which I absolutely love, especially for upcycles.
'It was already painted blue so I gave it a sand and then primed with BIN before painting with F&B Strong White in eggshell.
'We used 1.5inch by 1.5inch pine stripwood to create the roof and screwed them together, and to the original frame.' Et voila! Your child will actually be asking when bedtime is...
6. Fashion your own linen headboard for cool comfort
If you're a bit of a DIY fan, why not try making your own linen bedhead cover, like Sanna of @luovodesign? We love this charcoal piece, which adds depth to an otherwise all-white room.
'I designed and made this slipcover for the IKEA Malm bed head,' says Sanna. 'First I made a separate padded slipcover so that the bed head would be softer to lean on.
'Then I sewed the linen slipcover and placed it over the padded one. This way you could wash the linen cover if needed and also easily change the color and fabric of the bed head by only sewing a new top cover if you wanted to change the look of the bed.'
7. Add a black stain to an IKEA Tarva for a modern overhaul
Black furniture is fast becoming the way to freshen up your interiors with its contemporary, sleek appeal. And adding some black stain to an IKEA Tarva bed is one of the easier black bedroom ideas.
Sabah, of @thepimlotts, explains: 'Having just moved house and being midway through our renovation, we needed a cost-effective bed fix for our bedroom.
'I went for the IKEA Tarva bed frame, which is simple and functional. It's very plain so to make it more on-trend I decided to stain the headboard black.
'The wood is untreated and IKEA actually sell a wood stain that worked a treat. Two coats later we had a stylish Scandinavian bed frame that made the room feel stylish and modern.'
8. Make a basic bunkbed so much more exciting
How's this for an original small boy's bedroom idea? A super-fun IKEA Kura bed hack that will make bedtime so much easier.
'We originally bought an IKEA Kura bunk bed for my son's room before we renovated the house,' says Fran, of @twopigsonehouse. 'However, when we moved back in he decided he wanted a space theme to his room decor.
'Having looked around for inspiration, I was very much drawn to a Scandi-style approach and loved the idea of making his bunk bed look like it was floating in space.
'We ended up achieving this look by bolting joists to the wall, which we then painted the dark blue of the wall.
'We then cut the frame to leave us with just the top bed and sat it on the joists. We used the off-cuts to extend the ladder, which acts as the fourth leg to hold it up.
'Finally, I bought some wood slats from a local DIY store, which I cut to size and screwed end-on to the bed frame.' And we think it's out of this world.
9. Transform an IKEA Tarva bed into a boho focal point
Sarah @sarah.la.lune took a plain-looking IKEA Tarva bed and totally transformed it into a beautiful rattan piece perfect for the back-to-nature trend.She explains exactly what she did below: 'To do this hack, you will need:
- A big roll of pre-woven rattan cane (I bought mine on Etsy). I bought a roll of 6 foots long and 27,5 in large and I still have some to do other small projects.- Wood moldings of your choice to make the frame around the rattan cane (if you have a Queen bed, you'll need approx 9.3ft.)
- A heavy-duty stapler
- Wood glue and small nails
'First, you'll need to soak the rattan cane in water for approximately 1 hour. This will help you to handle it more easily since it will be more pliable.
'After that, you will have to cut the rattan to the desired length and width. It will need to cover all the bedhead. Leave yourself some extras just in case. You can cut it more after it is stapled on the bedhead.
'Once it is cut, you can start to staple it on the bedhead. Start from the top left corner and be sure to always keep it stretched to the maximum so there are no loose parts in it. I stapled mostly in the top and bottom extremity but you'll need to put some in the center too.
'Once the rattan is well stapled to the bed, you can cut the extra cane and start working on the moldings. Mine were so small that I cut them with an Exacto. You'll need to cut them the length and width of the bedhead. I stained mine, but it is not essential.
'Once they are cut and ready to assemble, You can apply wood glue beneath them before putting them on the bed frame. I also used small nails to attach them to the bedhead.
'And that's it! It's a really easy DIY to do with your Tarva bed, and I think there's a lot of ways to modify this hack to make it suit your style.'
10. Revamp an ASPELUND bed frame for a vintage-style aesthetic
With a very vintage feel, Natasha from @at_home_with_taddy has taken a standard Ikea ASPLEUND bed frame and made it into something completely unique. By painting the bed frame in a matte black paint, the frame has been instantly transformed into a different design look. Natasha has then added a fabric upholstery detail and finished it off with a clever studded detail.
It reminds us of a chic hotel, but Natasha has done this all on a strict budget, we promise. 'A big thank you to @ourlayeredhome for major inspo with this one!' says Natasha.
11. Create a floral kids bed, with a draped den underneath
This clever Ikea bed hack means it's easier than ever to create the dream fairytale-style bedroom if those are the girl bedroom ideas you're after. Taking a standard KURA bed frame (which yes, the eagle-eyed of you will notice has already appeared once before), Stephanie Goldfarb of @thedivinelivingspace has turned a flatpack Ikea wooden bed frame into a work of art by adding hide-and-seek curtains and a patterned fabric side panel.
The result? Well, it's one of the best children's bed ideas we've ever seen, and all for a small budget too. It's very different to @thesterlinggreyolive's fairy-lit pitched roof house hack, as this ones is all about the pattern, print, and theatrical drama with the under-bed curtains! This is fully customizable, so you could choose any kind of color and fabric you desire. Rig a little curtain wire by means of two hooks to the underside of the frame to create the curtains, and upholster the side panel in seconds by stapling or gluing the fabric to the existing side panels. We love the addition of the faux sheepskin rug underneath too - what could be more inviting. Naptime awaits, that's for sure.
12. Frame a GJORA bed frame, for a splurge of botanical pattern and print
Speaking of the wonders of fabric and wallpaper pattern and print. Look how this Ikea GJORA bed frame is immediately transformed into a jungle-like extravaganza with some oversized big leaf wallpaper tile print. This is the inspired idea of Instagram influencer @thisismyhomestyle, aka Kelly Day.
Kelly's GJORA Ikea bed frame has, over the past year and half, been through many different looks. Lovehearts, twinkling fairy lights, and even macrame, have all taken a stylish turn at adorning this GJORA. However, it's now dressed in a green and leafy fabric guise. A section of printed leaf pattern tiles that have been applied to the wall (sized so that the wooden bed frames the pattern, and so that it looks like a headboard) creates instant wow-factor in Kelly's home.
'I believe a bedroom should be a serene space, not too cluttered, a room which you can relax in and get a good night's sleep,' Kelly says. 'For that reason, I kept the walls & floor white but have used green, plants & natural decor for a calm, botanical look & feel. I painted the wardrobe dusky pink at a later date to add a little more warmth to the scheme. I love the simple but contemporary wooden frame of the IKEA Gjora bed which I have used to 'frame' the tiled plant artwork on the wall. The tropical leaf artwork is mounted directly onto the wall but gives the appearance of a headboard. I have played with a few variations styling this bed frame but this is by far my favorite look', says Kelly.
Instant wow-factor, and a speedy way of styling up a standard GJORA Ikea bed frame.
13. Create a whimsical four poster bed frame
Evoking all the joy of a Greek island holiday, this fresh white bedroom scene looks like it belongs in the villa that, after a stint in the sunshine, you just don't want to leave. Remember that feeling? Yes well, it does feel like a bit of a distant memory at the moment.
All-white interiors bounced onto the interior design scene in the 1930s, with Syrie Maugham steering the way. Her 'all white' interiors were considered groundbreaking, and there was always an element of glamour woven thickly into the make-up of her design schemes. There's nothing more glamorous, one might argue, than the presence of a four-poster bed. It is possibly the ultimate statement piece to have in a bedroom, closely followed by the presence of a roll top bath of course.
A four-poster on a budget? Here, designer Hester Van Overbeek demonstrates how to take an IKEA bed and make it into a statement four-poster. 'When we moved house I wanted a four-poster bed to fit the style of the new room,' Hester says. 'However, my Ikea MALM bed was only a few years old and still in good condition, so instead of buying a whole new bed I decided to modify the MALM bed.'
Hester began to plan. 'I initially sketched out several designs to work out the easiest option possible, and this is the result,' she says. 'It's an Ikea bed hack you can achieve in one afternoon. I even added a shelf and some storage behind the bed for art and books!'
How did Hester do it? Using a MALM Ikea bed as a base, Hester then simply recycled 4 x same-sized offcut wooden beams as her bed posts, and 4 x thinner wooden battens to make the horizontal sections at the top. 'You can leave your four-poster the way it is for a clean, sharp look but I added a small drape on top to soften the strong lines. Simply sew two battens into a piece of thin cotton and your drape is done, couldn't be easier and if you're bored of the white look, change it for a different pattern,' says Hester.
What are the best ikea hacks for bed storage?
Now, before we hale the wonders of under-bed storage hacks, please be cautious that your design should first and foremost be safe. For example, if you are using drawers or cabinets underneath a mattress then we advise that you make sure that it passes safety regulations and standards before you do your best Princes and the Pea impression and climb aboard for a good night's sleep.
Safety advisory now out of the way, let's consider how design duo Pella Hedeby and Marie Ramse have highlighted the potential of Ikea MALM drawer units with their unique approach to a raised bed design. Their chic, teal MALM drawers (top of the list at the beginning of this feature) show you just how adaptable Ikea furniture can be. MALM is a somewhat inconspicuous range anyway - it's inoffensive and super sleek, all in a non-attention seeking way. Precisely why it can be such a surprising and successful range to hack, perhaps?
Elsewhere, @thisismyhomstyle's Kelly Day proves that with some straightforward storage containers you can neaten up even an open-sided IKEA bed frame, such as the wooden GJORA frame, concealing any under-bed gubbins that might collate.
What are the best ikea bed hacks for small rooms?
There's a bounty of ideas to choose from. We love the ideas that designer Megan Zietz @meganzietz has put into practice, transforming her smaller-sized double bedroom into a deep blue and teal dream. Her clever idea to hack the fitted IKEA wardrobes by painting them in a similar coordinating tone to the wall (blending them into the room design), and then face-lifting the doors themselves by spray painting some elegant and elongated Ikea kitchen handles with gold spray paint - this is also one of the simplest Ikea kitchen hacks. An ingenious approach to elevating the look of a small, and practically designed, bedroom! Magan also demonstrates that scaled-down furniture, such as the super compact and inexpensive RAST drawers, can look a million dollars with a lick of paint and a switch for upgraded or more unusual handles - a perfectly sized little drawer unit addition for smaller sized bedroom spaces!
How can you hack an ikea bed frame?
Take some bed frame hacking tips from the likes of influencer @at_home_with_taddy who has taken possibly one of the plainest Ikea bed frame designs, the ASPELUND, and turned it into something quite boutique and very unique. Natasha's influence came from the jungle-style Instagram feed of @ourlayeredhome (showing that all the best design ideas are often inspired from other designs and makers!). Natasha has painted the white Ikea frame in a matt black finish, distressed it, and then added upholstery panelling with a worn brass studded detail. You'd be hard pushed to guess it's an Ikea bed now, which surely is the sign of a good IKEA design hack, right? Discover more @at_home_with_taddy.
The Livingetc newsletter is your shortcut to the now and the next in home design. Subscribe today to receive a stunning free 200-page book of the best homes from around the world.
Rory Alastair Robertson has a long-standing history working across the interiors industry. Raised in Morningside, Edinburgh, Rory grew up surrounded by classically grand Scottish Georgian and Victorian architecture.
His first appreciation for interior decoration sparked when his mother hired scaffolding and decorated their three-storey Victorian staircase in Farrow & Ball Picture Gallery Red, by herself. She then painstakingly gold leafed the drawing room - by hand - over a base coat of Sudbury Yellow. This was the era of Jocasta Innes and Kenneth Turner, when paint techniques and maximalist style were the decorating raison d'être.
With this inherited gene of creativity, Rory went on to study Interior Architecture at the University of Edinburgh, and later, Theatre Set Design and Architectural Illustration at The Rhode Island School of Design on America's East Coast.
Rory's foray with the editorial world started a decade ago at Livingetc magazine, a title which he regularly contributes to today. Specialising with a deep-seated appreciation for historical homes and interiors, Rory often travels far and wide to be inspired by unique properties with a fascinating history.
If he's not uncovering an unusual National Trust property in the UK, then he's seeking out a Neo-Classical clifftop villa in Capri or a Palazzo in Florence.
Based in London's Shoreditch, working as a Senior Interiors Editor and Consultant, Rory's portfolio of work is a creative melting pot of residential and commercial interior design projects and a plethora of editorial writing work. Rory is also Guest Interiors Lecturer at the prestigious KLC School of Interior Design in Chelsea, London. His most cosseted possession is a ramshackle Citroen Deux Chevaux, which he has reupholstered in Pierre Frey yellow and turquoise silk fabric.
Discover more at roryrobertson.co.uk and @rory_stylist.